News, Notes & Quotes from Week 1




8/15/11





Week One

| Week Two | Week Three | Week Four


Heed these following words of caution. Training Camp Hype ("TCH") is not the bible of fantasy football insight. When you view the information contained in this article, remember that every NFL team is fraught with the delivery of misinformation, sometimes to psyche out an opponent, other times to motivate players within its own camp and other times simply because the teams have no concept of reality (i.e. the Oakland Raiders). The press who write about their observations are easily manipulated and often have as much knowledge of football as British Petroleum has when it comes to capping an underwater oil leak.

Before I send you off into a deluge of often meaningless information, it is with great fondness to those of you who have faithfully read this article and provided feedback over the years, that I express my gratefulness for your kind words and understanding. For the intent of this article is solely to pass on news, unfiltered, and allow you the reader to decide what will make the difference to you on draft day.

And with that in mind, I send you off for year IV of Training Camp Hype, beginning with Week 1.

Arizona Cardinals



QB:

Consider Arizona a work in progress that needs to be closely watched. A new QB and a receiving corps with only one seasoned vet lends for a scary combination. In its opening scrimmage, with only three days of practice under his belt, Kevin Kolb threw three picks and one touchdown to WR Larry Fitzgerald. The silver lining however, at least according to Darnell Dockett, is the difference in QB from last year is "like night and day." Per Craig Morgan of Fox Sports Arizona, "the gap between Kolb and the three other quarterbacks was noticeable on his first day. He had more zip, more touch and more poise."



WR/TE:

With Steve Breaston signed to Kansas City, the receiver opposite of Fitzgerald appears to be Andre Roberts, with Early Doucet making a push behind him. The other non-notables are Chansi Stuckey, Max Komar, Stephen Williams and seventh-round pick DeMarco Simpson, who has had a promising camp. TE Todd Heap came up huge in the scrimmage and given Kolb's learning curve, his tight end might get significant looks.



RB:

The starting gig belongs to Beanie Wells. Reports have him looking healthy and no lingering effects from last year's knee injury. Rookie Ryan Williams looks to be a passing down filler for now, but his early draft slot and talent level suggests more is in store. It's Beanie's job to lose.

Atlanta Falcons



QB:

In camp, Matt Ryan is sailing a lot more balls deep down the field.The Falcons have been talking about opening up the deep passing game and they're sticking to their word.



WR/TE:

One of the reasons the Falcons may open up the pass offense is the talent of Roddy White and the fast start of Julio Jones who may already be the most impressive player in camp. He is more explosive off the ball than even the Falcons thought. The veterans are praising Jones more for his precise route-running and attention to detail, than his speed. Also garnering significant praise is Kerry Meier.



RB:

Very little is coming out about Michael Turner, who is on the back nine of 29-years old and has led the league in rushing attempts two of the last three years. Turner underwent minor groin surgery in the off-season. After the first few days in camp, there have been no problems reported. While the Falcons re-signed Jason Snelling keep your eyes on Jacquizz Rogers. The Falcons are high on their late round draft pick whose footwork and quickness have really stood out. According to Jay Adams of AtlantaFalcons.com "Rodgers is a whole lot of athleticism packed into a small frame, and it seems like he could be looking to make a case as the steal of the 2011 Draft." Keep in check that the praise for Rogers was dished out only days before Snelling was re-signed.

Baltimore Ravens



You know things are tough all over, when the best news coming out of training camp is that your kicker made a field goal. Ahh but wait, Lee Evans to the rescure?



QB:

Joe Flacco has nothing to worry about with Tyrod Taylor and Hunter Cantwell behind him. That is unless you are concerned about the receivers to whom he is throwing. Flacco completed 306 passes last year, spread evenly between his main pass catchers: 64 to Boldin, 61 to Mason, 63 to Ray Rice, 40 to Todd Heap, 30 to T.J. Houshmandzadeh and 21 to Le'Ron McClain. Gone from the team are almost half the receptions. In fact, if one were to extract Boldin from the equation, the entire group of wide receivers and tight ends have only caught 12 NFL receptions, 11 of which came from last year rookie TE Ed Dickson.



WR/TE:

Well, this section had to be updated at the last minute when the Ravens traded their 4th round pick for Lee Evans. Prior to the trade, the question of the day, was "who is that behind Anquan Boldin?" The projected depth chart had rookie Torrey Smith lining up as a starter. James Hardy and Tandon Doss rounded out the next receivers on the depth chart. The problem is rookie Smith has been in and out of practice due to a sore hamstring and Hardy has yet to suit up due to his own hamstring issue. While I suspected the Ravens were going to sign Jerricho Crotchery, he decided to sign instead with the overcrowded receiving corps of the divisional rival Steelers. As for Boldin, he expects much better production this year: "We're definitely feeling the chemistry getting better. We're starting to see the same things, be on the same page as far as this offense," Boldin said. "I definitely see us having a better year together." In light of the lack of competition at the receiver position, you should count on Boldin seeing a lot more targets – just be concerned with the fact that he may be seeing a lot more coverage too.

Fighting it out for tight end are Ed Dickson, Dennis Pitta and Davon Drew, with Dickson having the edge, but due to undisclosed conditions is not practicing and leaving the door open for Pitta. In their preseason opener, Pitta took all the reps on the first and second team and was targeted five times for whatever that may be worth.



RB:

What more could you ask for with Ray Rice than to have Willis McGahee leave the nest and to bring in Vonta Leach as a lead blocker? Ricky Williams coming in to vulture touchdowns may be of concern.

Buffalo Bills



QB:

No competition here. Ryan Fitzpatrick is the starter. "When I called Tyler I told him exactly the situation," said Gailey. "Ryan Fitzpatrick is the starter; there is absolutely no question about that. You can compete and you can work and see how close you can get and that will be good. But Ryan is the starter." According to Sal Maiorana of the Democrat and Chronicle after a week of camp, "I'm really rooting for Ryan Fitzpatrick. He's a great guy, he has leadership skills, he's smart, his teammates love him, and so do the coaches. But I'm just not sure he's a full-time guy who can win consistently in the NFL."



WR/TE:

Steve Johnson, Donald Jones, Roscoe Parrish, and David Nelson are considered the team's top four receivers. Marcus Easley has missed most of training camp but appears close to returning and Donald Jones has been out with a sore right calf, but looked good up until then. According to Dan Goldman of MPNNOw.com, "Fitz to Stevie is still a good connection: It looks like these two are picking up where they left off last year. Stevie Johnson appears to be Ryan Fitzpatrick's favorite target on the field. Johnson runs great routes and has good hands. After the catch, he is explosive and gets up field quickly. I was most impressed with Johnson's feet near the sideline and in the end zone. He always gets two feet down, no matter how tough the catch is." Naaman Roosevelt has been the training camp surprise and with some of the injuries has received second-team reps and performed well.



RB:

C.J. Spiller is already feeling more comfortable now that he has his number from his college and high school days back (28). Spiller was disappointed by what happened in 2010, and he's determined to prove that he's not another first-round mistake. Fred Jackson is expected to handle most of the inside carries, but Spiller should see more touches. According to Gailey, he needs to take better care of the football and improve his blocking.

Carolina Panthers



QB:

Coach Ron Rivera said the team hasn't and won't make a decision on the quarterback battle anytime soon." Cam Newton has had the expected ups and downs of a rookie in training camp after a lengthy lock out. He still looks uncomfortable when he lines up behind center. In practice one day, Jimmy Clausen took first team reps and was booed, even after throwing a TD to Greg Olsen. Cam Newton comes out and its euphoria. Steve Smith, as do the other teammates gush praise over Newton: "I mean, he's on his back foot throwing 50-yard passes." Steve Reed of the Carolina Growl states "when this guy is on the field, you can't help but keep your eyes glued to him. Not only is he a physically imposing figure, but he's simply exciting to watch. He may struggle as a rookie, but he's also going to make his fair share of plays. He's an exciting player. And it's going to be fun to watch." Even if Jimmy Clausen somehow lands the role as starter, don't expect a lengthy tenure. And as for Derek Anderson, there is little chance of him making a push with third team reps only.



WR/TE:

Is it time to believe in Steve Smith again? Smith is happy with the new regime. "It's real refreshing now because in the offense now I can move around." As for a possible number two, in just his first practice, Legedu Naanee impressed Steve Smith. Suffering from jet lag, Naanee caught two passes including a 15-yard touchdown strike from Newton. Brandon LaFell has been sidelined by a hamstring injury and Armanti Edwards cooled off after a hot start. In signing Naanee, Coach Ron Rivera stated nobody else has stepped up to claim the No. 2 receiver spot. TE Greg Olsen has turned some heads with his pass catching ability and great hands, but there is still Jeremy Shockey to contend with. David Gettis is out for season after tearing his ACL.



RB:

If you haven't noticed by now, it's a new look offense and a new regime in Carolina. What does this mean for DeAngelo Williams and Jonathan Stewart? Expect DeAngelo and his huge contract to be the lead back.

Chicago Bears


QB:

Jay Cutler does not appear to be suffering from his MCL sprain and is extremely pleased with his WR dilemmas.



WR/TE:

Devin Hester and Earl Bennett appear to be locks, with Hester the starting flanker and Bennett as the slot receiver. Hester has been putting on a show in camp. But Johnny Knox and Roy Williams are battling it out for the split end position. Williams has been impressive, but Knox is the best route runner the Bears have. Knox didn't practice Friday or Saturday because of a minor back injury and appears to be in the doghouse. Jay Cutler has early on expressed his praise for Roy Williams. He is going to be dynamic for us," Cutler said. "He is very steady, very consistent in his routes. You know where he's going to be. He knows the offense. I am excited." Not to sound like a bad infomercial, "but wait, there's more." Who is this Dane Sanzenbacher? Apparently, even he is challenging Bennett for first team reps in the slot. Seriously, does an undrafted rookie without the benefit of team off-season workouts really have a chance to crack this line-up? Keep one eye open.



RB:

Matt Forte showed up to camp in better shape than seen before. The words "chiseled frame" were thrown about. Marion Barber's early practice has been characterized by tough inside running. Forte is talking about taking pre-season games off to stay healthy, but look at that more as contract negotiation than anything else.

Cincinnati Bengals



QB:

Its probably time to indelibly pen in rookie QB Andy Dalton. The Bengals opening depth chart says so. All indications reveal that Dalton has been taking nearly three-quarters of the first team snaps at practice. Bruce Gradkowski is the seasoned vet who looks to have the number two role locked up.



WR/TE:

Why not join a rookie receiver with a rookie QB. Bengals receivers' coach James Urban admitted that he has not seen a first week display like the one A.J. Green put on. "He makes hard catches look routine. No one's covered him, and when he is, he jumps up and takes it away." Lewis calls Green an upgrade on Ochocinco and Terrell Owens. A.J. Green joins Jerome Simpson as the starting tandem, with Quan Crosby and Andre Caldwell as second team. Simpson has been looking good in camp and is thriving off his competition with Green. Jordan Shipley is third team, which may be meaningless as he was listed there last year, but was the first team slot receiver.



RB:

Cedric Benson returns for one more year. I guess you can't have a rookie lead off at all skill positions. Marvin Lewis wants to use Benson more in the passing game. Benson showed off his fresh legs with some high-stepping bursts, and he's clearly in shape. Bernard Scott coming up with an apparent hamstring pull won't put pressure on Benson's starting job.

Cleveland Browns


QB:

Implementing a new West Coast system is never easy and doing it with your star receiver sidelined is another thing. Colt McCoy is having to do so without Mohamed Massaquoi. Nevertheless, McCoy has experienced some very productive practices. His two primary targets from last year do not line up on either end of the field. Instead, Ben Watson (68 catches) and Peyton Hillis (61 catches) line up tight and close. Some reports out of training camp are that the team has a long way to go in getting the West Coast offense up and moving and not to expect much production during the first part of the season, while others are reporting good results already. It might not be imprudent to resort to the less myopic reports and wait until you see it with your own eyes.



WR/TE:

Mohamed Massaquoi has not participated since reporting to camp with a chipped ankle fracture. While Holmgren reports they expect to get him back soon, it is an ankle injury to a receiver. The NFL limited the playmaking abilities of Joshua Cribbs by moving the kicker from the 30 to the 35. The Browns went further to limit their playmaker by removing the Wildcat offense. Despite this, the Browns see Cribbs as an explosive playmaker and they will find ways to get the ball into his hands. The Browns second round draft pick, Greg Little, has seen a lot of first team reps due to injury issues at the receiver position. He has been plagued by the dropsies (which is contradicted by other reporters who say he has good hands), but is projected to be an opening day starter. While underloaded at the receiver position, the Browns appear to be overloaded at TE. Last year's leading catcher Ben Watson returns and is shadowed by Evan Moore who has shown great promise and expectations are high. During family fun day, Moore caught four TD passes. He is a big target that runs well and catches everything thrown to him.



RB:

Montario Hardesty has been held out of practice since the third day of camp but returned yesterday taking part in team drills. The Browns signed Brandon Jackson as a potential back-up to Hillis in case Hardesty can't shake the injury bug.

Dallas Cowboys



QB:

Preseason hype may be affecting no one player greater than Tony Romo. He is fully recovered from his shoulder injury, considered one of the most efficient passers, and has a full contingency of capable receivers in Miles Austin, Dez Bryant, Jason Witten, Martellus Bennett and Felix Jones. The offensive line has beefed up. Romo's sharpness is exemplified in his completing 18 of 21 passes in team and 7-on-7 drills and 14 of 20 passes with three touchdowns in the Blue and White Scrimmage.



WR/TE:

No one player may benefit more from the alleged Romo recovery than Miles Austin who has had an excellent camp so far, making some jaw dropping catches. Kevin Ogletree's consistency and effort are an issue. "It's the little things that frustrate the Cowboys regarding Ogletree, who runs good routes and is consistent in catching the ball" but fails to fight for the extra yards.



RB:

The departure of Marion Barber may or may not have any affect on Felix Jones as Jason Garrett intends to continue the rotation of running backs. Tashard Choice (strained calf) has been injured since the first training camp practice; Rookie DeMarco Murray (strained hamstring) hasn't practiced either. They are both expected back next week, but there has been murmuring of Choice being cut. Making a name for himself, and the reason for Choice's potential departure is undrafted free agent Lonyae Miller who has become a strong candidate to the make the team's roster. Miller is drawing raves from the coaches as a big strong back and is doing well in special teams, nearly securing his job. However, no RB has stepped it up to be a clear goal line back.

Denver Broncos


QB:

Unless you recently fell off the turnip truck, Kyle Orton appears to be a lock at the starting quarterback position. Tim Tebow may be selling a ton more jerseys, but he is still second on the depth chart behind Orton. According to Jeff Legwold of the Denver Post, Orton is the starter because of his consistency, arm strength and most importantly his anticipation, especially with Brandon Lloyd. The only thing that should concern fantasy owners is Tebow's ability to vulture TDs from Orton in the red zone,



WR/TE:

Demaryius Thomas ruptured his Achilles tendon and isn't close to playing. Eddie Royal missed practices to give his surgically repaired hip some rest. Brandon Lloyd left practice because of knee swelling. In other words, typical veterans taking some time off in camp (other than Thomas). John Fox has been impressed by Lloyd's play making abilities. Eric Decker may be providing Eddie Royal with a challenge at the number two position. While he hasn't secured the starting TE role from Daniel Fells, keep your eyes on rookie Julius Thomas who has been labeled as Bronco's training camp's "Mr. Red Zone." Thomas has emerged as a player to watch and has been creating the most buzz of any of the highly touted rookies in Bronco camp. He has made several highlight-reel catches against the Broncos' top defenders and is picking up the NFL game a lot more quickly than anyone expected. Who knows, the other two basketball playing tight ends have gone on to have pretty successful NFL careers.



RB:

Early depth chart has Knowshon Moreno as the starting tailback with Willis McGahee on the second team. This does not appear to be changing before opening day. Moreno looks the healthiest, fittest, and fastest" he has ever looked. However, McGahee has been having a very good camp and has been proving to be tough to tackle.

Detroit Lions



QB:

Matthew Stafford is assuring the writers and anyone listening that his knee and shoulder are fully recovered.



WR/TE:

Dave Birkett of the Detroit Free Press says that Calvin Johnson is "having arguably the best training camp of his career." Johnson has put on even more muscle "in order to generate more power and explosion." Rookie Titus Young, who has not had the benefit of a full day of practice and thus has not made the best of his opportunity to get in the starting line-up. Derrick Williams has been impressive in training camp, running crisp routes and catching everything. However, he is only battling for a roster spot and does not appear to be overtaking Nate Burleson. TE Brandon Pettigrew has thinned down, but is also suffering from a minor ankle issue.



RB:

Big things were expected of Lions rookie big back Mikel Leshoure, but when he tore his Achilles tendon, he paved the way for incumbent Jahvid Best, who is displaying the quickness and burst he exhibited at the beginning of last season.

Green Bay Packers



QB:

Aaron Rodgers is being Aaron Rodgers in camp.



WR/TE:

Per Lori Nickel of the Milwaukee Journal Sentinel, the receivers haven't skipped a beat. Jordy Nelson "has had a training camp filled with standout plays." "Donald Driver...hasn't shown his age at all. Greg Jennings remains in Pro Bowl form. And now the Packers have added rookie draft pick Randall Cobb - who has had an outstanding camp." The resigning of James Jones has the Packers loaded at the WR position.



RB:

Ryan Grant has been the Packers' first team tailback throughout camp so far. James Starks has come into camp heavier or " bigger." Starks is up to 225 pounds, eight more than last year. Coach McCarthy says he "looks more powerful than he did a year ago. He puts his foot down and gets to that second level. He's had a very good camp. He came in great shape."

Houston Texans



QB:

As is often the case, there is little to report on a team's signal caller because he is so well entrenched and his history speaks volumes. This is the case with Matt Schaub. However, there is much to report on his backup, Matt Leinart who has, according to Coach Gary Kubiak, been "playing well." "He's confident and he knows our offense...if something happened, we know we can keep moving forward because of the way he's practicing and the way he leads this group." The other coaches have reiterated this sentiment, stating that Leinart has been making perfect throws and has looked "outstanding."



WR/TE:

Perhaps my favorite quote ever, came from Kevin Walter about Andre Johnson: "But if Andre Johnson was cloned, and they put him on the other side of Andre Johnson as the No. 2 receiver, you'd still have to double-cover the original Andre." As for Kevin Walter himself, the consensus is that he "runs hard every play, blocks, catches the ball when it's thrown to him" and has had an excellent camp. With Jacoby Jones temporarily shelved by a bone bruise, Walter is looking to garner a lot more reps this season. TE Owen Daniels appears to be healthy and is referred to by Kubiak as a "playmaking receiver." Daniels stated "it was a great off-season for me, being able to focus on just conditioning and getting stronger."



RB:

Arian Foster - hamstring injury. Ben Tate - hamstring injury. Steve Slaton - hamstring injury (but running great prior thereto). This leaves Derrick Ward and Chris Ogbonnaya in an uncrowded backfield. Foster should return soon and Slaton, Tate and Ogbonnaya are competing for some playing time and a roster spot behind Foster and Ward.

Indianapolis Colts



QB:

Since the inception of this article, the Colts QB is one section that never merited discussion. That is until now. Peyton Manning's off-season neck surgery has resulted in some cautionary concerns about his durability. While he has not suited up and Coach Jim Caldwell has stated that he is not certain Peyton will return by the end of training camp, it will take an act of nature to keep Manning off the field on opening day. As for his backup, Bill Polian has indicated that Curtis Painter's training camp performance has been "terrific." Other reports indicate that Dan Orlovsky, who is presently third string, may leap frog Painter. Either way, unlike earlier years where the Colts only maintained one backup QB, these two will likely remain on the roster and time will determine if either sees the field.



WR/TE:

Colts WR Blair White has been sidelined early in camp with a back injury. Dallas Clark will wear a brace on his wrist all season. "Right now, it feels really good with it," Clark said. "I can go out and do everything I need to do with it at my position. So far, it's been a good adjustment."



RB:

Joseph Addai and Donald Brown lead the running backs, but fourth-round draft pick Delone Carter has garnered some interest and has been touted by Colts observers as the steal of the draft - he is "a big piece of muscle and runs hard."

Jacksonville Jaguars



QB:

Pete Prisco has raved about Blaine Gabbert's "size, vision, big arm, and improvisational skills." "He's a playmaker." Gabbert however, has looked much better in practices then he has in scrimmage and in the preseason opener. He has not looked as prepared when the heat is on. David Garrard's back has kept him out of practice and the opener and while he says he is feeling better every day, he's not ready to play yet.



WR:

Mike Thomas has been about the only receiver standing out. Jason Hill, who has been slotted as the number two has "hardly been heard from" in camp. Coordinator Dirk Koetter says that Jarrett Dillard looks "...faster than ever" and "real explosive." Rookie Cecil Shorts appears to be battling for the No. 3 receiver role. Shorts has also had a decent camp.



RB:

Maurice Jones-Drew is being limited early in Jaguars camp as he returns from off-season meniscus surgery on his right knee. It is unlikely he will see much practice time, but should be ready to play on opening day. Meanwhile Rashad Jennings gets the first team reps. DuJuan Harris has looked good, but needs work on blitz pickup, routes and blocking.


Kansas City Chiefs



With respect to all positions, beat writer Bob Gretz states: "But a stroll through the roster on a position-by position basis and there does not appear to be an overall increase in talent at the majority of positions. We speak here of additional talent, not the growth of players already on the roster."



QB:

Quick, name the backups to Matt Cassell, who himself is generally considered a backup in most fantasy formats? They are Tyler Palko and Ricky Stanzi. While Coach Todd Haley is "encouraged by their development" the local writers are not as comfortable with the Chiefs chances should Cassell go down.



WR/TE:

The level of talent at wide receiver is much improved. Jerheme Urban is lining up opposite Dwayne Bowe and is expected to remain the starter over Steve Breaston into the regular season. Rookie Jonathan Baldwin is dealing with a hamstring injury and has done little to impress so far. Given the fact that the Chiefs focus on the run, a second WR on the Chiefs may have little fantasy value. Says Gretz on the TE position: "I would hope…that tight end would be better with more experience for Moeaki, but they needed more help there than just a second-year for him. They needed better players, and they didn't find them."



RB:

The official depth chart has Thomas Jones number one and Jamaal Charles number two, but Charles position in fantasy drafts is secure and there should be no real concern that he will be anything but a top five back this year. Says Haley, "I know the depth chart is like Christmas for you guys…it doesn't carry as much weight in our meeting rooms…I wouldn't put too much into it…."

Miami Dolphins



QB:

Armando Salguero of the Miami Herald expresses little confidence in Chad Henne. "Henne will never be a winning quarterback… He's consistently inconsistent… the worst kind of frustrating and the most kind of dangerous…he shows glimpses of a franchise quarterback… But Henne will also overthrow. Or underthrow. Or misread. Or he'll know a play is wrong, like his miscommunication with Bess, and he'll force the ball anyway." Matt Moore has looked "competent", but the job is Henne's to lose. Dolphin fans are pulling for Tim Tebow to take over the starting role in Denver.



WR/TE:

Do not let Brandon Marshall's quarterback, off-field problems, or borderline personality disorder dissuade you from continuing to rate him as a high quality wide receiver. Because these issues sure as heck are not showing up at practice or during scrimmages. Brian Hartline has returned from his fractured hand injury and is holding down the starting position opposite Marshall. However, since the Dolphins need a true deep threat to clear the lanes, keep an eye on speedster rookie Clyde Gates. Roberto Wallace is benefiting from Marshall's absence and took a lot of reps in the opener. For those of you old enough to remember Muhammad Ali just prior to the Rumble in the Jungle, you might see a connection between he and Davone Bess. He done something new, he's been chopping trees during the off-season. Since he's in Miami, it would not surprise me to next hear that he has tussled with an alligator.



RB:

Fantasy managers seem to be placing more confidence and earlier draft positions on Daniel Thomas than Reggie Bush, but it as Reggie Bush who was held out of the preseason opener for fear of injuring one of the Dolphins more dynamic players (Brandon Marshall was the other). While the Palm Beach Post predicts "10-12 touches ," Bush's potential is far greater. He has also been lining up in the slot and as a wideout. Sure Bush has been labeled as relatively fragile, but he is still a young dynamic back with limited mileage on his legs.

Minnesota Vikings



QB:

Donovan McNabb is showing more command of new scheme. Christian Ponder has appeared indecisive at times. Joe Webb is still raw and working to manage the offense better while rotating between the second and third teams.



WR/TE:

Percy Harvin has excelled early in camp. He's been a standout through the first week and is "optimistic" that he's found a cure for his migraines. Bernard Berrian has come back with a "great approach and the right attitude." Percy Harvin, Bernard Berrian and Michael Jenkins are all but assured starting roles. Fighting for lesser roles are Jaymar Johnson who has looked good in camp, Manny Arceneaux, Devin Aromashodu, Greg Camarillo, and Juaquin Iglesias.



RB:

Adrian Peterson has not missed a game over three seasons. If anything, the Vikings are only looking to increase his role.

New England Patriots



QB:

While New England has historically been a tough team to get hype out of its preseason, there is no lack of information coming from camp this year. Obviously, nothing needs discussion as to Tom Brady, who is a top three pick in most formats. Brian Hoyer has emerged as one of the top young backups in the league. "Hoyer looks like a fine candidate that can step in and put points on the board in that ultimate unfortunate scenario of a Tom Brady injury." Ryan Mallett has been equally impressive in his short tenure. According to Zuri Berry of Boston.com, "right now, Hoyer looks like the guy who should be under center if the Patriots are ever at that worst case scenario."



WR/TE:

Wes Welker and Chad Ochocinco are entrenched as starters. However, the competition at wide receiver is heating up. Taylor Price had a hot preseason opener with 5 catches, 105 yards, 1 touchdown. In camp, Price has "certainly made his case that he's here to stay in the rotation". With Deion Branch and Julian Edelman at the three and four spots, the other wide receivers in camp look to be struggling to make the team.

Do not let the preseason opener fool you into accepting Aaron Hernandez as the number one tight end (6 catches – 68 yards). Rob Gronkowski has been an "absolute beast" in camp. "No one has come close to being able to guard him, or contain him," writes Ian Rapoport of the Boston Herald. He made linebacker Gary Guyton look "completely overmatched" in a practice session. Gronkowski did not play in the opener and while Hernandez' numbers were good, he also fumbled the ball twice, which is far from foreign to him.



RB:

Third-round rookie RB Stevan Ridley got the nod with second round rookie Shane Vereen sidelined with a hamstring injury. Ridley's numbers were impressive (16 carries, 64 yards, 7 receptions, 47 yards and 3 touchdowns). Ridley isn't just a power back, he exhibits "nice wiggle, soft hands, RAC ability, and goal-line drive." The starters did not play, but this bodes well for Ridley to climb the depth chart over Vereen who has been unable to practice. Ridley is larger than Danny Woodhead and faster than Kevin Faulk. Ridley and Vereen's draft positions alone, suggest that Woodhead and Faulk may be losing any fantasy value.

New Orleans Saints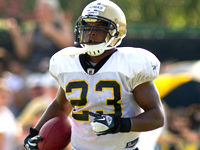 Pierre Thomas s being pressed by the rookie.

QB:

Chase Daniel is firmly entrenched as Drew Brees' primary backup.



WR/TE:

Marques Colston continues to have swelling flare ups in his knee and has been shut down for a good portion of training camp. With Colston sidelined, Lance Moore is reasserting himself as Drew Brees' top target. According to the Times-Picayune, "Moore appears poised for perhaps the best season of his career. Robert Meachem insists he's healthy and there is talk of a breakout season. Jimmy Graham has struggled with dropped passes early in training camp. "He'll make a couple of tough catches and then drop a routine pass."



RB:

Mark Ingram taking first team reps with Pierre Thomas. Ingram is "turning heads" with his "power, shiftiness, and breakaway ability." His lower body strength and balance and ability to break into the secondary is impressing. In fact, Ingram is "the only New Orleans rookie who is not being brought along slowly." Chris Ivory underwent sports hernia surgery, earlier underwent Lisfranc fracture repair and should likely open the season on the PUP list. Joique Bell was making an impact getting significant reps.

New York Giants


QB:

When asked about losing Steve Smith and Kevin Boss, Eli Manning was quoted as saying "I'm not concerned." After his preseason opener, New York Pos writer Paul Schwartz doesn't share the same optimism, as he expressed concerns that the Giants did not reload in the off-season.



WR/TE:

Steve Smith and Kevin Boss are gone, leaving a void in the Giants pass offense. Who will fill this void? Doubtful it will be Domenik Hixon, who practices every other day as he recovers from ACL surgery. When he practices Hixon runs as the Giants' third receiver, when he doesn't it's Victor Cruz. It seems unanimous at this point that the favorite to fill Steve Smith's spot is Cruz. Giants GM Jerry Reese when asked which receiver will step up to fill Steve Smith's old shoes says Cruz. Tom Coughlin has noted Cruz's outstanding camp and simply says "Justice has been served." Ramses Barden still has no timetable to be activated from camp PUP. However Bart Hubbuch of the New York Post believes the slot will be filled by Jerrel Jernigan, a "speedy mite." The New York Daily News confirms that Travis Beckum will now be the pass-catching tight end. Bear Pascoe will be in for blocking.



RB:

Ahmad Bradshaw is running as the first team tailback at Giants camp. Coach Tom Coughlin said that Brandon Jacobs did not get enough touches last year and there is talk that this will cut into Bradshaw's workload. One thing is clear, a combined 470 touches (rushing and receiving) leaves little room on the depth chart. In any event, one of the Giants top priorities this off-season was to re-sign Bradshaw as others were courting him. Don't be quick to downgrade him.

New York Jets



QB:

In his third year, Mark Sanchez has new-old toys to play with in Plaxico Burress and Derrick Mason. He may have experienced receivers, but he has not had time to build chemistry, especially with Burress who has been sidelined with an ankle injury. Gone are Braylon Edwards, Jerricho Cotchery, Brad Smith, Chansi Stuckey and David Clowney. In fact, the only wide receiver to have caught an NFL pass from Sanchez, still wearing a Jet uniform, is Santonio Holmers. Paramount for Sanchez is to master his timing with his aged receivers. Says Derrick Mason about Sanchez: "I think Sanchez is a little more vocal than Joe in his third year. I think both of 'em will end up being great leaders of their team. Sanchez is showing it right now, being very vocal, taking control of the offense, taking control of the huddle, in a classroom…I think he does it more by his play, and I played with a guy like that, Steve McNair."



WR/TE:

Ryan said the team feels like it went from renting to owning since Santonio Holmes signed. "We tried it out and now he's one of us," Ryan said. "I expect the last jersey he will ever wear will be a New York Jet jersey. We're extremely happy that he chose to come back." Ryan rewarded Holmes with naming him one of the team's captains. Burress has only made it into a handful of team drills and is coming off a 20-month lay-off. Burress however, is far more confident. "If I remember correctly, the last time I had a little tweaked ankle in training camp, I won the Super Bowl." A lot of praise has been heaped on rookie Jeremy Kerley who is the leading candidate for punt returner and kick returner right now. But keep an eye on him if the recently signed veterans begin to show their age.

TE Dustin Keller added weight in the off-season to help him become a better blocker. His goal is to get himself into more packages so he can better disguise when he will be used as a weapon. His new offensive consultant is Tom Moore, the mastermind behind Dallas Clark. Rex Ryan is not as sold on Keller's blocking prowess yet. "No, not really…I saw some improvement last year from him but I think he's around where he was last year so I hope to see him get a little more aggressive and all that stuff."



RB:

Rex Ryan confirmed that he plans on giving defenses "a heavy dose of Shonn Greene." Anthony Lynn says he hopes to get 300-plus touches out of Greene this year (who only had 185 last year).

Oakland Raiders


QB:

The Raiders have been emphasizing the deep passing game early in training camp. This bodes well for Jason Campbell to maintain his hold on the starting QB position, which shouldn't be a problem as his primary threat is Trentative Edwards.



WR/TE:

Jacoby Ford and Darrius Heyward-Bey are listed as the starting receivers on the depth chart. Ford recently removed the cast from his broken hand and should be ready for the season opener. According to Jackson, Darrius Heyward-Bey "is working his tail off. He is very determined…He's catching the ball when we throw it to him, and that's what matters. Obviously, his confidence is up, and the quarterback's confidence is up in him."

This leaves Louis Murphy and Chaz Schilens as the back ups to DHB and Ford. OR DOES IT? Both have been nursing their own injuries, Schilens, a knee and Murphy, a hamstring. In the meantime, 5th round rookie Denarius Moore has been the absolute sensation from Raiders' camp. Moore has been a standout since the beginning and has been "outshining every other receiver."He is "fast" and "smooth" with "reliable hands," and he's been able to get open seemingly at will -- especially on double moves and fly routes "Without waiving any objection, He's a tremendous young player," Jackson said. "I mean when you look around, every time you look up, there's No. 17 making a play." Says Campbell: "He's so talented, he's so athletic... Some things you just can't coach, he has about him. He's a guy that can add a lot to our offense this year."

TE Kevin Boss has shown "sure hands" and plenty of speed. With a different coaching scheme Boss could be a sleeper.



RB:

Darren McFadden suffered a cracked orbital bone, which is no cause for concern as it was a freak injury, which should be fully healed well before opening day. Coach Hugh Jackson says "Darren McFadden is to me one of the most complete and elite runners in this league…Obviously, he had a very good season last year. He's going to build on that." McFadden is making defenders miss "on a routine basis" early in camp and blowing by tacklers "with ease." McFadden reported to camp looking like a chiseled specimen, and it's translated to practices. Michael Bush will get some good reps in while McFadden is down, but look to McFadden for the lion's share of carries this season.

Philadelphia Eagles



QB:

Even PETA seems to be in love with Michael Vick these days. The Eagles rewarded Vick by shipping Kevin Kolb off to Arizona while adding Vince Young. The Eagles are not expecting early miracles and recognize that it took Vick an entire year to get into their system. With respect to Young, "Things have been slow…We have to understand [Young] is new to the system. This offense is very sophisticated. There's a lot of verbiage, a lot of terminology, a lot of concepts that you've got to be able to grasp. It's not easy. It takes a lot of studying." Young has looked uncomfortable and ineffective. While Marty Mornhingweg is confident in his ability to coach quarterbacks that have problems elsewhere, certain Eagles observers think things might prove more challenging with Young.



WR/TE:

DeSean Jackson immediately got to work putting on a show with highlight plays in his first practice back. D-Jax burned Rodgers-Cromartie and then became an equal opportunity offender to Asante Samuel. His legs are fresh and he's catching everything. Andy Reid does not know when Jeremy Maclin will return to camp from his undisclosed illness, but many are contemplating this will not resolve anytime soon. Accordingly, the Eagles signed Steve Smith, who will not likely be ready for opening day and may or may not start the season on the PUP list. Reid said he would consider Jason Avant "the best guy in this league as an inside player." Avant may have the best hands on the Eagles, but has little ability after the catch. Second year WR Riley Cooper could get the starting nod if Jeremy Maclin is not ready to go. Cooper is a large receiver at 6'3 and 220 plus pounds. Sinorice Moss has been inconsistent and has battled a groin injury.

Michael Vick says "I went back on some of my Atlanta film and how I used Alge…We're going to get Brent involved this year – I think he deserves that." The less strenuous camp could benefit Celek, who has caught nearly everything thrown in his direction thus far.



RB:

LeSean McCoy has great expectations: 1,300 yards rushing - 90 catches for 700 yards.

Pittsburgh Steelers



QB:

Per Ed Bouchette of the Pittsburgh Post-Gazette, "this will serve as your morning news flash emanating from Saint Vincent College involving Steelers quarterback Ben Roethlisberger: There is no news, and that is significant." Between near death motorcycle crashes and legal issues, as Ben Roethlisberger says himself: "It's kind of refreshing to come into camp to just, you know, focus on football and focus on what I want to do in this 'second half' of my career, if you will…It's kind of a fun time right now."



WR/TE:

The only news regarding starting receiver Hines Ward is that his thumb injury is behind him, he has been activated off the PUP list and he is ready to resume practice. Emmanuel Sanders is looking to be back from his foot surgery by the end of the preseason, but this does not bode well for him breaking out this season as anticipated. With Ward and Sanders sidelined, Antonio Brown was installed into the first team reps at Steelers practice. There's a real chance Brown opens the season as the No. 3 receiver. Jerricho Cotchery is now in the line-up, but it does not appear that he will be in the top four, as he appears to be little more than insurance against Emmanuel Sanders' foot injury.

TE Heath Miller has been lining up in the backfield "more than ever." This is to provide more protection to Ben given the concerns along the Steeler offensive line.



RB:

Coach Kirby Wilson calls Rashard Mendenhall a "four-phase, all-phase running back." Mendenhall will have a "tremendous year." He is "...an outstanding blitz-pickup player…route runner…very, very good hands as a receiver." "There's nothing he can't do." The coaches are also fond of Isaac Redman, an accomplished, strong 240-pound halfback who produces every chance he gets.

St. Louis Rams


QB:

Sam Bradford is learning a new system under Josh McDaniels, but it should be a pass-happy one. In the preseason opener, Bradford completed 7-of-12 for 45 yards and a score.



WR/TE:

Danny Amendola has been "head and shoulders above the competition" at receiver in camp. Head coach Steve Spagnuolo said "Danny has come out here and kind of sparked things." In scrimmage, he started as the slot receiver and caught 8 balls for 70 yards with a touchdown. Donnie Avery has again been sidelined with a hamstring issue and makes one wonder if he will ever put in a full season. Running opposite of Amendola is Brandon Gibson who has showed an "improved attitude and work ethic." He's developed a nice rapport with Bradford, it appears for now that Amendola and Gibson will start with Sims-Walker entering three-wide sets.

Rookie TE Lance Kendricks is the talk of camp. He has run with the starting team and has looked impressive. He bolstered his chances with a strong performance against the Colts reeling in five catches for 47 yards and a touchdown.



RB:

Steven Jackson said he feels better physically during this training camp than at any other preseason outside of his rookie year. "I feel great…Tip-top condition, my strength is there. ... (I'm) not worried if something is going to let up on me. The timidness of my game is gone." The Rams backfield looked strong against the Colts with Jackson not in the line-up. Cadillac Williams and Jerious Norwood provide the Rams with seasoned backs to spell Jackson.

San Diego Chargers



QB:

Nothing to see here. Philip Rivers is QB. Billy Volek holds the clipboard.

WR: Vincent Jackson is back and appears to have a positive attitude after an ugly holdout last year. Joining him on the other side is Malcolm Floyd, who resisted a larger payday and re-signed with the Chargers. No. 3 is Patrick Crayton. Rookie Vincent Brown was hoping to create fantasy waves, but he has been sidelined by a quadriceps injury since the first day of training camp. Kelley Washington was having a strong camp until he strained his knee and is out anywhere from 3-6 weeks. Seyi Ajirotutu has been showing improvement in all facets.

TE Antonio Gates said he "felt good" after practicing this week, but then did not practice the following day. Gates is "resigned to a training camp of starts and stops as he and the team manages his lingering soreness due to plantar fasciitis. "We're taking it slow," he said. "We're being smart."



RB:

Coach Norv Turner indicated he will be employing a two-back system. "The emergence of Tolbert gives us a chance to have a one-two punch. Tolbert gives us a nice change-up. Obviously he's a physical, hard-to-tackle, punishing runner and Ryan has great speed." Kevin Acee suspects however, that Ryan Mathews will be the featured back and that Matthews is "starting to really progress" in passing-down situations. "Ryan has the speed to catch the ball and go a long way with it," said Philip Rivers. The game is starting to "slow down" for Mathews. Rookie Jordan Todman has had a good camp.

San Francisco 49ers



QB:

I have heard fantasy pundits talk about this being Alex Smith's breakout year. This is Smith's sixth/seventh NFL campaign and he still has more picks than TDs and has never thrown for 3,000 yards (coming close only once). Is it because coach Jim Harbaugh was a passing coach in college? Neither Smith nor rookie Colin Kaepernick look ready and the offensive line is doing them no favors allowing five sacks in the first quarter of their preseason opener. Smith may be getting first-team reps, but the 49ers calling on Daunte Culpepper, who has been out of the game for two years, is not a confidence booster.



WR/TE:

Braylon Edwards selected the 49ers because either he would be the lead wideout or because the market on Edwards was limited. Either way, he garnered only a one-year contract for just $1 million with no guarantees. But, his competition at the receiver position is light. Michael Crabtree won't play in the preseason and has his ankle booted. Crabtree will have little time to develop chemistry with his quarterback before suiting up for the season.



RB:

Frank Gore has "looked good" in camp.

Seattle Seahawks



QB:

Granted he had little time to prepare with his new team, but Tarvaris Jackson did not have a stellar opening night, going 3-of-5 for just 13 yards. The coaches seem to like him, but nothing on the field backs up that sentiment.



WR/TE:

Sidney Rice dinged his shoulder and was out for the first preseason game. Rice however, has practiced and impressed. Mike Williams has been out with a toe injury but returned to practice on Sunday.



RB:

Pete Carroll proclaimed that the Seahawks are going to take a very close look at running back Leon Washington during the preseason. He has come back in great shape" and is "going to get a lot of work in preseason now."

Tampa Bay Buccaneers



QB:

Josh Freeman says that the lack of moves in free agency is not a concern. "We're only continuing to get better…We're solid on all fronts. Our offensive line is as solid as I've ever seen them. They're looking awesome. We had all the time in the world the other night in the preseason game. You look at Mike Williams, LeGarrette Blount, Arrelious Benn and Kellen Winslow and I think we'll be extremely strong on offense.''



WR/TE:

Bucs receivers coach Eric Yarber says that Mike Williams only used 70-75 percent of his athletic ability last season. Williams is learning multiple receiver spots and expects to be moved around to avoid double teams. Arrelious Benn is still considered the Bucs' starting flanker (coming off ACL surgery). Dezmon Briscoe looked good against the Chiefs catching four passes for 60 yards. "I remember talking about Dez a while ago and how he might be one of our better receivers, and he's done nothing but show me and prove to us that he can play this game,'' Bucs coach Raheem Morris said. "I'm fired up about him.'' Eric Yarber refers to Briscoe as the Bucs' best route runner.

TE Kellen Winslow is off to one of his best camps and looks "superb".



RB:

LeGarrette Blount says he has been getting "a lot" of third-down reps at camp. But then so have Earnest Graham and Kregg Lumpkin.

Tennessee Titans



QB:

Matt Hasselbeck is making progress learning the Titans offense, but is also encountering predictable issues after 10 years of quarterbacking the Seahawks. "He's struggling," stated offensive coordinator Chris Palmer. "But he's doing a good job as far as what he's picking up each day is becoming clearer and clearer to him." Quarterback Coach Dowell Loggains said he's noticed big improvements in both Hasselbeck and Jake Locker. He said Locker's "throwing the ball well, and fundamentally he is getting things cleaned up. Every day he is throwing the ball better and better. … Jake's done a nice job taking charge, leading. His command has been good. He's done a good job with his huddle etiquette. He is exactly what we thought he is, really."



WR/TE:

More than halfway through camp, Kenny Britt has yet to participate in a full-speed practice. The Titans are bringing him along slowly because of a hamstring injury. Damian Williams added 10 pounds to his upper body this off-season and looks to start opposite Nate Washington if Kenny Britt ends up suspended for his off-field issues.



RB:

Javon Ringer is running with the starters as Chris Johnson's holdout continues.

Washington Redskins



QB:

Rex Grossman is listed as the first-team quarterback on the Redskins' depth chart. John Beck, who had been running with the starters, has suffered a setback from a groin injury, but is back to practice. Despite a strong showing in their opener, according to the Washington Times, Rex Grossman has been "erratic" in camp, and "accuracy has been a problem."



WR/TE:

Rookie Leonard Hankerson has struggled with drops. According to Rich Campbell of the Washington Times, "the frequency at which he drops passes is a bit stunning." The Washington Times confirms Jabar Gaffney has been running as the No. 2 receiver ahead of Anthony Armstrong, who is only playing when the Redskins go with three receivers. Moss moves into the slot in those formations, with Armstrong and Gaffney out wide.



RB:

Tim Hightower has taken the majority of the first-team reps and has been named the starting back. Hightower is a one-cut runner, pass-catcher, goal-line back and pass-blocker and is praised as such. The Shanahans believe he's ideally suited to the zone-blocking scheme. Nor is he being pressed by rookie Roy Helu, who is not "starting-caliber material just yet." Helu may be the fastest runner on the squad but needs work in blitz pickup. Ryan Torain underwent hand surgery on August 4th.