In a fantasy football draft, every single pick is important. Sure, it's not impossible to recover from a terrible pick if you find a breakout player deep in the draft or discover a waiver wire gem, or perhaps your fellow league-mates make some terrible picks as well. The reality, however, is that those things cannot be counted on and do not happen all that often, so it is vital to make every one of your draft picks count rather than be wasted on players that will under-produce in terms of where they were drafted, what you expect from them, or who you could have had instead. In this piece I will be examining some players I think can ruin your draft based on where they are being drafted, or sometimes just in general. It is important to note that this info is based on 12-team standard-scoring leagues. And while I don't necessarily think all these players will have bad years, I do think they are either very bad values where they are being taken or simply too risky to be taken at all. Also, I picked 10 players that all have seventh-round ADPs or better because these picks are generally going to be starters for your team, thus making them extremely valuable and important picks.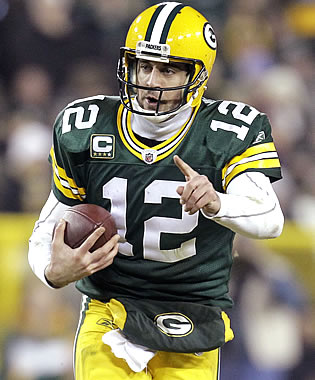 We love Rodgers but the depth at QB this fantasy season makes it easy to pass on him in the 2nd round.

Aaron Rodgers, GB


(ADP 2.10, QB1)



Let's just get this out of the way right now: Rodgers is a fantasy stud. He has a strong, accurate arm, an excellent set of skill position players to throw to, a pass-first offense, and the mobility to add some yards and touchdowns on the ground. Of course, the loss of his starting left tackle for the year may hurt his production, and the loss of Greg Jennings certainly doesn't help, but Rodgers is still an easy top 5 fantasy QB. The issue I have with taking him is not Rodgers himself but the premium you will have to pay to get him. I've seen Rodgers go as high as mid first round in a few drafts I've done and never lower than early third round. The big issue I see here (and why I think taking him hurts your draft) is that the first three to three and a half rounds are vital to loading up on RBs and WRs because the quality of each drops fairly dramatically after Round 3. In a 12-team standard league, most if not all teams will draft just one QB in the first eight or so rounds, meaning even if you are the last team to get a QB, the position is so deep this year that you should still end up with a guy like RG3 or Tony Romo, who both could conceivably be as good as Rodgers when all is said and done. If you take Rodgers within the first three rounds, however, you are missing out on sure-fire starters at the RB and WR positions, which are much harder to find in the later rounds of the draft. You could very well miss out on WRs like Demaryius Thomas, Larry Fitzgerald, Randall Cobb, Roddy White, and Vincent Jackson and have to draft an Antonio Brown, Marques Colston, Wes Welker, or Danny Amendola in their place. That is a significant drop from a low- to mid-range WR1 to a low-end WR2 or high-end WR3. For RBs the drop is even more significant, as guys like Reggie Bush, Lamar Miller, Le'Veon Bell, and David Wilson are usually there to take around where Rodgers is going. In their place you would get a Giovani Bernard, Chris Ivory, Eddie Lacy, and Ahmad Bradshaw. Once again, to me this is a scary drop-off since the guys you may miss out on are pretty sure-fire starters (RB2s), whereas the other group are more RB3s or flex guys that you might have to count on to be RB2s. Once again, this is not a knock on Rodgers ability, as I believe he will have a great year, but in order to get him I believe you have to pay a price that ultimately could ruin your draft, and thereby possibly your season.

Tom Brady, NE


(ADP 5.05, QB6)



A lot of what I said about Rodgers would apply to Brady here; he is a very talented quarterback who I think will have a fine year but is being drafted too soon. Of course, the quality of players at this point in the draft (two and a half rounds after Rodgers) is certainly less, but the same principle applies; you can get an equal or better QB one to three rounds after where Brady goes, so why not load up on more shallow positions instead of taking Brady? Why I would urge you to pass over Brady even more so than Rogers is that Brady's situation has changed significantly this offseason, and not for the better. The Pats lost four significant players in the passing game: Wes Welker, Aaron Hernandez, Danny Woodhead, and Brandon Lloyd. Obviously Lloyd and Woodhead's loss is to a much lesser degree than the others, but the fact remains that Brady will have to throw to a lot of new faces, many of whom are rookies and unproven players. Add this to the fact that Brady's top target, tight end Rob Gronkowski, is currently recovering from multiple surgeries and may either miss or be rusty for much of the regular season, and newly acquired receiver Danny Amendola is an injury risk, and you have a possible recipe for disaster. As talented as Tom Brady is, the Pats may actually move to a run-first attack if the passing game doesn't click, since they have two nice running backs (Ridley and Vereen) and a decent defense to keep games close. People may forget since it has been awhile, but Bill Belichick came into the league as a run-first coach, and he would not be afraid to revert to that if the personnel so dictates. The bottom line is that Tom Brady is a great NFL quarterback but this is fantasy football, and this year you should probably skip over him in your drafts, take another (probably better) QB later, and reap the benefits of the increased value you are getting.

Marshawn Lynch, SEA


(ADP: 1.06, RB5)



There is a lot to like about Lynch; he's coming off a career year in which he ran for over 1,500 yards and scored 12 touchdowns, he's the main running back in a run-based attack, and he is still just 27 years old. With this being said, Lynch is obviously a great fantasy RB option to own, and I'm not totally taking him off my draft board. However, I do think there is cause for concern, and he is being drafted too high in my opinion. Lynch may be only 27 years old, but he has a lot of mileage on his wheels, with well over 1,600 total touches in his six-year career. Add to this the fact that Lynch's game is not about trying to dance around people and avoid hits but rather run through them, and you begin to wonder about the toll this type of pounding has on his body. While it is impossible to predict injuries, most NFL running backs don't make it more than a few years without injury, and with Lynch's running style, his time may be coming. While last year's numbers were indeed fantastic, Lynch was not exactly a fantasy stud his previous five years. He totaled 1,590 yards on the ground while his previous high was 300 yards less, and in his first five years he averaged a bit less than 1,000 yards per year. Another career high last year was his 5.0 yards per carry; but in his previous five years he averaged 3.9, a significant difference. These numbers tell me that last year may have been a bit of a fluke rather than the norm, meaning you are drafting Lynch based on last year's numbers and not what he will most likely do this year. Another drawback to Lynch is that he is not involved in the passing game much, so when a game gets a bit out of hand for the Seahawks, Lynch may be on the sideline. Speaking of the sideline, it may be harder to keep Lynch's fellow running backs there this season, as the Seahawks used a second-round pick on Christine Michael, a super-talented running back who is having a very strong offseason. Combined with Robert Turbin, a rookie last year who showed flashes of excellence, the Seahawks may begin to give their younger guys more looks in order to see what they have for the future. All in all, I'm not predicting a total bust of a year for Lynch, but as a mid-first round pick, there are much safer guys out there with just as much, or more, upside.

Darren McFadden, RB


(ADP: 3.07, RB20)



McFadden has as much talent as any other running back in the league. He has elite size, speed, quickness and vision and a good set of hands as well. He has a firm lock on the every-down back job for a team that should run the ball a good amount. But with all this being said, McFadden will not be on a single one of my teams this year. While he has loads of talent and the skills to be a top 5 fantasy back, with the cold hard fact that he is injury prone, he is also not fooling anyone. How does that old saying go? Fool me once shame on you, but fool me five seasons in a row, shame on all of us. In five seasons McFadden has played just 47 games, averaging fewer than 10 per year. In addition to missing a ton of games, he has left early in a good handful of games he started and was the dreaded "game time decision" in a whole lot more. In other words, he is basically a walking ulcer for his fantasy owners, who have to constantly monitor and worry about his situation each week. Add all this to the fact that the Oakland quarterback situation will make defenses put eight in the box to stop McFadden, and you have an ugly situation. While his ADP may not seem that high for a back of his talent level, the players that you miss out on by taking him are way safer with nearly as much upside. They include Randall Cobb, Roddy White, Andre Johnson, Victor Cruz, Vincent Jackson, and Le'Veon Bell. I would take any of these guys in a heartbeat before I took McFadden, and I wouldn't take McFadden at all unless by some crazy chance he was there in the sixth round or so. While it is tempting to take a guy who could hypothetically end up a top 10 fantasy back in the middle of the third round, it is smarter to be realistic and realize that McFadden is more hype than substance and more risk than value.

Darren Sproles, NO


(ADP: 3.12, RB23)



In PPR leagues Sproles is a potential top 15 RB, with the likelihood of his seeing or more catches every single game. Sproles is a much riskier play in standard leagues, where the amount of catches he gets matters very little. This is not to say I would totally avoid Sproles in standard leagues, as he still has some intrigue as a flex player, but I feel there is better talent out there at the end of the third round in guys that should see more consistent playing time. As for touches in the receiving game, Sproles is probably fourth in line at the very best, behind tight end Jimmy Graham and wide receivers Marques Colston and Lance Moore. Pierre Thomas (currently atop the running back depth chart) is also a very good receiver out of the backfield, and there is a good buzz about receivers Nick Toon and Kenny Stills in training camp. In other words, Sproles will in no way be the focus of the passing game this season. While running the ball has never been Sproles' strength, the Saints have publicly stated they want to emphasize the run more this year, and in this sense Sproles is no better than third on the depth chart in the run game behind Thomas and Mark Ingram, who has also had a great training camp by all accounts. I don't think Sproles will have a bad year, but with his late-third-round ADP, it seems people are expecting him to return to his 2011 form, and I see that as a bit out of reach now that there is greater competition and may be less emphasis on the passing game. There are a ton of upper-tier WRs in the range in which Sproles is being drafted, so do yourself a favor and grab one of them rather than reaching for Sproles.

Chris Ivory, NYJ


(ADP: 5:03, RB26)



I really liked Ivory in New Orleans where I (along with a lot of people) thought he was being underutilized. Ivory has a good combination of size, speed and burst and talent-wise may be capable of NFL stardom. One of the main problems with Ivory unfortunately is that even though he was not used very often, he still battled a host of injuries including knee, foot, hamstring, and concussion issues. Now he is supposedly being counted on as a near full-time back and we are supposed to trust that, with more banging and running and hitting, he will be injured less? That is a huge leap of faith that I am not willing to take. If Ivory were the main guy on a high-powered offense with an excellent passing game to free the running back to find big holes, then maybe I would say the risk is worth it. He is likely to be very productive when he is healthy. This, however, is the 2013 New York Jets, with a big problem (or problems) at quarterback, no real legitimate threats in the receiving department, and a good but not great offensive line. Besides maybe the Jags and the Raiders, I see this as one of the NFL's worst offenses and, thus, it may be hard to get consistent production from anyone on this team—whether they are healthy or not. I see the very best scenario for Ivory being that he plays a full 12-14 games and ends up with just over 1,000 yards and 4-5 touchdowns. The worst-case scenario is that he plays much less and struggles in a constantly over-matched offense, putting up less than 500 yards on the season. The reality is probably somewhere in the middle, but to me he is someone I am avoiding. He's practically a wasted pick at that point in the draft. I'd much rather have Matt Ryan, Vernon Davis, Jordy Nelson, Giovani Bernard, or Shane Vereen, just to name a few guys being drafted after Ivory.

DeMarco Murray, DAL


(ADP 3.02. RB18)



Murray is another guy that I really like watching and want to believe in as a possible star, but I see him as more of a guy who will burn you and be a terrible value at where he is being drafted. In just two seasons, Murray has already missed nine games with leg injuries and has been injury-prone dating back to his college days. Of course the argument can be made that these were fluke injuries, but Murray is reminding me more and more of Darren McFadden at this point in his career—a guy who has a ton of talent but due to his running style or his makeup or something, he just can't stay on the field. On top of injuries being a major red flag, the Cowboys offense itself may be another reason to scare away potential Murray owners. The Cowboys have ranked 24th and 31st in rushing attempts the past two seasons and have made the passing game much more of a focal point. With weapons like Dez Bryant, Jason Witten, and Miles Austin still around, there is little reason to imagine much changing this year. That means that even if Murray is healthy, he may not get the touches necessary to justify his fairly high ADP. In addition to this, the Cowboys have some talented backs behind Murray in Joseph Randle and Lance Dunbar, who have looked good this preseason and may be used to keep Murray fresh. All this adds up to a severely limited for Murray, despite his physical talent. I therefore see him as more of a mid to late fourth-round pick, not an early third, which is where he is currently being taken. At his ADP, I'd much rather have Larry Fitzgerald, Lamar Miller, Randall Cobb, Victor Cruz, or Roddy White, to name just a few.

Wes Welker, DEN


(ADP: 4.07, WR15)



I love Welker as a player, not only because he works hard, is scrappy, and has been consistent, but because he's one of the few big-time NFL players that I'm actually quite a bit bigger than! The problem that I see with Welker this year is that many people are drafting him based more on his past performance than this year's potential, which I see as significantly less than years past. Unlike many of the guys profiled in this article, Welker is not much of an injury risk (4 games missed in 9 years) but is more of a risk to drop significantly in production. Most of his previous production has been based on volume, as he is not a touchdown machine and doesn't have the long speed to catch deep bombs. In New England, Welker was a great fantasy player because he would catch a hundred balls every year, making him an excellent WR2 because he would rack up 70 or 80 yards every game, even if his touchdown totals were not on par with other top fantasy WRs. This year Welker will not be the focal point of the offense, and in fact may not even be among the top two options, as both Demaryius Thomas and Eric Decker are entrenched as solid passing game options and have a year of experience with quarterback Peyton Manning. Welker, by his own admittance, expects his reception total to drop significantly, saying "If I have to catch 112 balls, that probably means we're in trouble." Most people around the Broncos organization feel that 75 or so receptions is about what to look for this year, and while this is certainly a nice number for most NFL receivers, it is not that of a high-end fantasy WR2 (where he is being drafted) unless his touchdown totals rise significantly over the six or so he averaged each year with the Patriots. I would not bet on that, and neither should you. Welker is currently being over-valued in the mid-fourth round. If I'm looking for a high-upside but fairly safe player to be my WR2 this year, I'd much rather take Pierre Garcon, Torrey Smith, Dwayne Bowe, or DeSean Jackson, who are all being drafted around or after Welker's current ADP.

Tavon Austin, STL


(ADP; 7.03, WR29)



In a PPR league and especially a dynasty league, I like the chances of Austin becoming a very valuable player. But this is a standard redraft league we are talking about here, and in this case I believe Austin is a wasted pick. Austin was a dynamic playmaker in college and has the potential to be the same in the NFL. And with comparisons to Randall Cobb and Percy Harvin already being made, I'm sure many fantasy owners are drooling at his potential. The real issue this year is that he also has a lot of things going against him. For one, he is a rookie, and very few rookie wide receivers, especially those with his lack of dominating size, make a real significant impact as fantasy players. Secondly, the Rams have some real potential in a lot of areas, including quarterback, where Sam Bradford seems to be improving yearly, but they are still very much a work in progress and are far from an offensive powerhouse. Third, while there are no real studs in the Rams receiving corps right now, they are fairly deep with tight end Jared Cook and receivers Chris Givens, Brian Quick, Austin Pettis, and third-round pick Stedman Bailey. While Austin has as much or more talent than all of these guys, he still needs to show it and battle for touches within a deep roster of hungry talent. The most likely scenario involves a big timeshare among the receivers, where everybody contributes and has some good games but nobody really dominates to the level of fantasy stardom. Rams front office man Kevin Demoff recently echoed these sentiments, saying that they won't necessarily have any one player catching 70 plus balls, but rather four or five guys catching 40 to 50. For the Rams this may be a good strategy to get everyone involved and spread the wealth, but for fantasy owners this is most likely a maddening scenario where a guy like Austin catches five balls for 80 yards one week then one for nine the next. Long term, Tavon Austin is a player to closely monitor; but this year you should do yourself a favor and pass him up. While the players at Austin's ADP begin to thin out, I still much prefer Cecil Shorts, Anquan Boldin, Andre Brown, and Miles Austin, all with lower ADPs then Austin.

Greg Jennings, MIN


(ADP 7.11, WR32)



You would think a guy with Jennings' resume would be among the top 20 wide receivers off the board, but after an injury-filled season and a huge change of scenery—and about to turn 30—Jennings' value, upside, and outlook is very poor. After knocking the Packers organization this offseason, Jennings has the opportunity to put his money where his mouth is and remain an above-average player for a different team. Of course, the main issue about Jennings' move to the Vikings is that he went from a pass-happy team with an elite quarterback and plenty of supporting talent to take the pressure off, to a run-happy team with one of the least talented quarterbacks with unproven talent around him. In the seventh to tenth rounds of redraft leagues, I want to find sleepers that might break out big or at least be a steady and consistent option as a bye-week fill in or injury replacement. Jennings would qualify as neither of those this year, as you will most likely see a couple of good games scattered within a bunch where he would be unstartable in all but the very deepest leagues. Even if Christian Ponder somehow improves enough to put up decent stats on a consistent basis, the ball will likely be spread around more to the slot receiver or tight end Kyle Rudolph, or possibly even to talented rookie wide receiver Cordarrelle Patterson. To me, Jennings is being drafted on name basis and past performance, but anyone who takes him before the last couple of rounds will be sorely disappointed. At his current ADP (late 7th) I'd much rather take my chances on guys like Mark Ingram, Ronnie Hillman, Kenny Britt, Josh Gordon, and Golden Tate.


Suggestions, comments? E-mail me.