Four years ago, I introduced "The Dirty Dozen" and "The Delicious Dozen" around Thanksgiving time. The idea then - as it is today - was to identify negative and positive receiver matchups, respectively, as a way to prepare owners for the upcoming stretch of fantasy games that usually determine who moves on and who doesn't.

Receiver-cornerback matchups are among the most critical ones in the real game, yet very few fantasy analysts spend any time breaking them down in much (if any) detail for what I can only imagine is a fear of being wrong or a general lack of readily available information. While progress has been made in terms of more attention on the week-to-week matchups, far too little time is being spent on looking ahead to the fantasy playoffs.

Although football is the quintessential team game, the receiver/cornerback battle is often as individual as it gets at the skill positions. Without getting into too much of a philosophical discussion about how individual it is, we can generally assume that a defense will remain either a team that uses a "shadow" cornerback or opts to "play sides" and not change its method during the course of a game. Receivers tend to move all around the formation and many of the top receivers nowadays spend time in the slot, so the most any analyst can say with any certainty is that a certain receiver should see a lot of a certain receiver in coverage based on where he has lined up in the past.

While the receiver position will probably always remain the most difficult fantasy position to predict from week to week, we do have some tools at our disposal to evaluate just how difficult their upcoming matchups are. Pro Football Focus has many stats that can help us to make informed decisions about what receiver/cornerback matchups we should target, and I am using their coverage grade (as opposed to their overall grade) as a tool to help discern what receivers could be in for a slow day. Below is a list of the 12 cornerbacks most likely to slow down fantasy receivers, ranked from the 12th-best to the best.

Note: The average number of coverage snaps for the 117 cornerbacks to qualify (as in the player isn't currently suspended, on IR, no longer employed, etc.) for PFF's rankings was 261 this week, so I chose to use that number to eliminate players who aren't or haven't been "full-timers". Below each write-up is the remaining schedule and the projected matchups each corner should see in coverage in that week. Please note while I do watch enough film to feel confident about my projected matchups, I am not so naïve to believe I've got each one pegged. Receivers move across the formation a lot nowadays, while most defensive coordinators seem to favor keeping their corners on one side of the formation.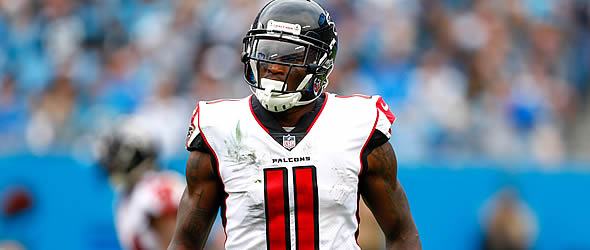 Julio Jones owners beware: Atlanta's top wideout will face Marshon Lattimore in Weeks 14 and 16.
*** - Indicates corner that has been/will be used as a "shadow"
12. Aqib Talib, Denver (PFF Coverage Grade: 84.5)
The "No-Fly Zone" has come under some heavy fire lately, although it is a bit unfair to say the secondary - at least the parts of it fantasy owners have come to fear in recent years - deserves much blame. Need proof? New England didn't bother targeting a receiver until Philip Dorsett gained 11 yards against zone coverage on a drag route with about 10 1/2 minutes left in the second quarter. In all, Patriots' running backs and tight ends accounted for 171 of the 297 passing yards allowed by the Broncos. One week earlier, Philadelphia only threw for 222 yards; receivers shared 139 of those yards. In other words, despite getting "destroyed" by two of the NFL's top quarterbacks, Denver still ranks fifth overall in pass defense. So while folks are jumping off the train of the Broncos' defense, this pass defense is still one for "normal" passing games to fear, especially for those receivers who line up across from Talib and Chris Harris Jr.

Week 11: Brandon LaFell/Josh Malone (Cincinnati)
Week 12: Amari Cooper (Oakland)
Week 13: DeVante Parker/Kenny Stills (Miami)
Week 14: Robby Anderson (NY Jets)
Week 15: T.Y. Hilton (Indianapolis)
Week 16: Josh Doctson/Ryan Grant (Washington)
11. Rashaan Melvin, Indianapolis (PFF Coverage Grade: 84.6)
One example of how slowly information can travel from reality to fantasy is what has happened this year in the Colts' defensive backfield. For the first three weeks of the season, owners targeted receiver matchups against Indianapolis in large part because top corner Vontae Davis was recovering from a groin injury. Less than two months later, Davis was cut and Melvin had earned enough trust from the coaching staff to shadow Antonio Brown in Week 10, holding the best receiver in football to three catches for 47 scoreless yards. He's quickly emerging as this year's A.J. Bouye and needs to be feared in the same way the former Texan was last season. Given his success against Brown last week, it would seem obvious he'll be asked to chase receivers more often after the team's Week 11 bye. However, if there are two things we've learned over the years regarding true shadow cornerbacks, they are how few of them there are and the unpredictability in which coaches choose to use them as such.
Week 11: bye
Week 12: Corey Davis (Tennessee)
Week 13: Marqise Lee (Jacksonville)
Week 14: Kelvin Benjamin (Buffalo)
Week 15: Demaryius Thomas (Denver)
Week 16: Mike Wallace (Baltimore)
10. Kendall Fuller, Washington (PFF Coverage Grade: 85.8)
Coming off microfracture surgery late in 2015, Fuller allowed the second-highest passer rating (122.7) among slot corners as a rookie last season. It appears another year to heal and a reunion with his position coach from Virginia Tech has done him wonders, as the second-year corner's coverage grade is noticeably better than his two more "big-name" teammates in Josh Norman (80.9) and Bashaud Breeland (47.1), while his passer rating allowed is fourth in the league (55.0). Fuller is unquestionably a slot corner, playing 95 percent of his snaps there. He is fairly tall (5-11) for a slot cornerback, so this may be the rare case in which he will benefit from the recent trend of offenses putting their bigger receivers in the slot in order to get better matchups. In other words, players like Keenan Allen (Week 14) and Larry Fitzgerald (Week 15) may struggle a bit more than they otherwise would.
Week 11: Brandon Coleman (New Orleans)
Week 12: Sterling Shepard (NY Giants)
Week 13: Cole Beasley (Dallas)
Week 14: Keenan Allen (LA Chargers)
Week 15: Larry Fitzgerald (Arizona)
Week 16: Emmanuel Sanders (Denver)
9. Trevor Williams, LA Chargers (PFF Coverage Grade: 86.2)
Another season-ending injury to Jason Verrett was supposed to sink the Chargers' secondary, but a funny thing happened instead: Los Angeles found a bigger corner nearly as capable and one that is probably a better fit for DC Gus Bradley's zone-heavy defense in Williams. Obviously, not much was expected from a 2016 undrafted free agent out of Penn State who played the position for only 2 1/2 years in college. Even less was expected after he surrendered 18 catches on 29 targets in his coverage last season, including 12 first downs. This year, he's being targeted on only 16 percent of the pass routes in which he is on the field. More impressively, the Chargers trust him everywhere; Williams is one of only several defensive backs to line up on left, right or in the slot on at least 10 percent of his snaps.
Week 11: Zay Jones (Buffalo)
Week 12: Dez Bryant (Dallas)
Week 13: Corey Coleman (Cleveland)
Week 14: Josh Doctson/Ryan Grant (Washington)
Week 15: Demarcus Robinson (Kansas City)
Week 16: Jermaine Kearse (NY Jets)
8. Darius Slay, Detroit (PFF Coverage Grade: 87.7) ***
Slay leads all cornerbacks in interceptions (four) and passes defended (13) through nine games, while allowing a passer rating of 63.4 against receivers in his coverage. Despite following the likes of Odell Beckham Jr., Julio Jones, Antonio Brown and Jordy Nelson, he's given up more than 70 yards receiving just once this season - a Week 5 loss in Carolina when he gave up 71 - and held opponents under 50 yards receiving to his coverage seven times. All told, wideouts have mustered 348 receiving yards and three touchdowns in his coverage this season.
Week 11: Josh Bellamy (Chicago)
Week 12: Stefon Diggs (Minnesota)
Week 13: Jeremy Maclin/Mike Wallace (Baltimore)
Week 14: Mike Evans (Tampa Bay)
Week 15: Dontrelle Inman (Chicago)
Week 16: A.J. Green (Cincinnati)
7. Tre'Davious White, Buffalo (PFF Coverage Grade: 87.9)
White was drafted at No. 27 overall this spring and was a bit of a divisive prospect in that he succeeded at LSU more on technique than raw athleticism. He was supposed to be the steady second cornerback alongside Ronald Darby, someone the Bills were hoping could bounce back from a rough 2016. In the blink of an eye, he ascended to the top of the depth chart once Darby was traded to Philadelphia and E.J. Gaines was acquired from the Los Angeles Rams. So how's he doing? Per PFF, White has broken up a league high 10 passes and is allowing only one catch per every 13.5 snaps spent in coverage. Considering he is defending an average of 37.1 routes, it means he is routinely giving up two or fewer receptions in his coverage. White has played 86 percent of his snaps on the left side this season, so owners can expect him to remain a "stationary" corner moving forward.
Week 11: Travis Benjamin (LA Chargers)
Week 12: Tyreek Hill (Kansas City)
Week 13: Chris Hogan/Philip Dorsett (New England)
Week 14: T.Y. Hilton (Indianapolis)
Week 15: DeVante Parker/Kenny Stills (Miami)
Week 16: Chris Hogan/Phillip Dorsett (New England)
6. A.J. Bouye, Jacksonville (PFF Coverage Grade: 88.1)
In regards to his overall grade, Bouye is performing slightly worse than he did last year (90.7 versus 88.7). The drop is hardly an indictment of his play, as quarterbacks have to pick their poison when it comes to throwing at him, Jalen Ramsey or slot CB Aaron Colvin. He has yet to allow a touchdown in his coverage while quarterbacks have a 36.8 passer rating when throwing at him. DC Todd Wash has occasionally used Ramsey to shadow - which by extension means Bouye has done the same with the opponent's No. 2 wideout. For the most part, however, Bouye (right) and Ramsey (left) have stuck to one side, each logging 77 percent of their playing time on the aforementioned side.
Week 11: Corey Coleman (Cleveland)
Week 12: Larry Fitzgerald/Jaron Brown (Arizona)
Week 13: Donte Moncrief (Indianapolis)
Week 14: Tyler Lockett (Seattle)
Week 15: Will Fuller (Houston)
Week 16: Aldrick Robinson (San Francisco)
5. Casey Hayward, LA Chargers (PFF Coverage Grade: 89.2) ***
Hayward doesn't always follow receivers across the formation - he didn't do so against Marqise Lee last week - but he has chased the likes of Demaryius Thomas, Alshon Jeffery and Amari Cooper in recent games, so perhaps DC Gus Bradley likes to match up the 5-11, 192-pound Hayward against bigger receivers and less against the shifty and more elusive ones. It is noteworthy Hayward has logged roughly 70 percent of his snaps this season at left cornerback and no team has allowed fewer fantasy points from that spot on the field than the Chargers.
Week 11: Kelvin Benjamin (Buffalo)
Week 12: Dez Bryant (Dallas)
Week 13: Corey Coleman (Cleveland)
Week 14: Josh Doctson (Washington)
Week 15: Tyreek Hill (Kansas City)
Week 16: Robby Anderson (NY Jets)
4. Jimmy Smith, Baltimore (PFF Coverage Grade: 89.7)
Smith spends 95 percent of his time lined up on the left side of the defense. Over the first half of the season (prior to the team's Week 9 loss to the Titans and the Week 10 bye), the seven-year veteran led all quarterbacks in defensive passer rating (24.5) and had yielded 12 catches for 100 yards and no touchdowns. And he hasn't done it against slouches either. Smith held A.J. Green to one catch for 13 yards, Antonio Brown to one catch for 14 yards and Michael Crabtree to a single three-yard reception. Jarvis Landry did not catch either one of the two targets thrown in his direction while in Smith's coverage. As long as he stays healthy - which has long been his biggest issue - it's not unthinkable Smith will be mentioned in the same breath as Patrick Peterson sooner than later.
Week 11: Davante Adams (Green Bay)
Week 12: Will Fuller/Bruce Ellington/Braxton Miller (Houston)
Week 13: Marvin Jones/Kenny Golladay (Detroit)
Week 14: Martavis Bryant (Pittsburgh)
Week 15: Ricardo Louis (Cleveland)
Week 16: T.Y. Hilton (Indianapolis)
3. Patrick Robinson, Philadelphia (PFF Coverage Grade: 90.7)
While Robinson has the pedigree of being a top-flight cornerback - he was the No. 32 overall pick in 2010 - rare is the occasion in which a 30-year-old on his fourth different team finds himself. When he wasn't battling injuries in his career, he had confidence issues. PFF gave him a 78.2 overall grade in 2015 in his only year with the Chargers but, outside of that, he has mixed in as many poor seasons with good ones. One of those came during an injury-plagued campaign with the Colts last season, which resulted in him getting cut by incoming GM Chris Ballard in March. He was forced to take a one-year, $1 million prove-it deal with the Eagles. That investment has paid off handsomely for Philadelphia, as Robinson has been far and away the team's top corner while playing nearly 70 percent of his snaps in the slot. He spends about a quarter of his time at right corner as well.
Week 11: Cole Beasley/Terrance Williams (Dallas)
Week 12: Kendall Wright (Chicago)
Week 13: Doug Baldwin/Tyler Lockett (Seattle)
Week 14: Cooper Kupp (LA Rams)
Week 15: Sterling Shepard (NY Giants)
Week 16: Seth Roberts (Oakland)
2. Jalen Ramsey, Jacksonville (PFF Coverage Grade: 91.1)
Ramsey showed plenty of promise in 2016, finishing his rookie season as PFF's 18th-best cornerback last year. The few people who were not aware of the level he is playing at this year probably received their a-ha moment in Week 9 when he jawed on virtually every play with A.J. Green and held him to one catch for six yards before Green had enough and took a couple swings at Ramsey, resulting in ejections for both players. The 23-year-old Florida State product was the highest-graded cover corner for a good part of this season and may soon be recognized as the best at his position before long, especially if the Jaguars continue to make a playoff push this season. The one caveat: Ramsey has been ejected twice in 25 career games for fighting (or being involved in a fight, as was the case in Week 9). Hopefully, he'll let his play speak louder than his words as he matures.
Week 11: Ricardo Louis (Cleveland)
Week 12: Larry Fitzgerald/John Brown (Arizona)
Week 13: T.Y. Hilton (Indianapolis)
Week 14: Paul Richardson (Seattle)
Week 15: DeAndre Hopkins (Houston)
Week 16: Marquise Goodwin (San Francisco)
1. Marshon Lattimore, New Orleans (PFF Coverage Grade: 93.9)
The Saints are seeing immediate returns on their 2017 draft class, as Lattimore and Alvin Kamara are the headliners who have completely changed the way people see New Orleans. Per PFF, quarterbacks targeting Lattimore - which they have done 35 times - have posted a measly 42.3 passer rating. Furthermore, the rookie has yet to allow more than 38 receiving yards in a game this season. Lattimore has obviously already done enough to convince DC Dennis Allen he can and should shadow, so it means little he has spent 75 percent of the time on the right side of the defense. The fact he is performing at such a high level at 21 years old means owners have to start getting used to the idea their WR1s may not produce against the Saints for the next five to 10 years.
Week 11: Josh Doctson (Washington)
Week 12: Sammy Watkins (LA Rams)
Week 13: Devin Funchess (Carolina)
Week 14: Julio Jones (Atlanta)
Week 15: Robby Anderson (NY Jets)
Week 16: Julio Jones (Atlanta)
Other top-flight corners who missed the list due to lack of coverage snaps (coverage grade in parentheses: Jason McCourty, Cleveland (92.1); Tramon Williams, Arizona (84.3); Desmond King, LA Chargers (83.3), Briean Boddy-Calhoun, Cleveland (83.3)
---
Doug Orth has written for FF Today since 2006 and been featured in USA Today's Fantasy Football Preview magazine since 2010. He hosted USA Today's hour-long, pre-kickoff fantasy football internet chat every Sunday in 2012-13 and appears as a guest analyst on a number of national sports radio shows, including Sirius XM's "Fantasy Drive". Doug is also a member of the Fantasy Sports Writers Association.