The final four is set. And thanks to a finish for the ages, my NFL.com Playoff Challenge roster remains intact. The rest of this column will be devoted to DFS prognostications and my in-depth fantasy analysis.



NFL.com Playoff Challenge





NFL.com Playoff Challenge Roster


QB: Case Keenum (x3)
RB: Latavius Murray (x3)
RB: Dion Lewis (x3)
WR: Adam Thielen (x3)
WR: Stefon Diggs (x3)
TE: Rob Gronkowski (x3)
K: Stephen Gostkowski (x3)
D/ST: Vikings (x3)


DraftKings/Fuzzy's

Since the pick-your-studs competition with Fuzzy's and the salary cap game of DraftKings essentially use the same PPR scoring (six points for passing touchdowns with Fuzzy's versus four fantasy points with DraftKings; three bonus points for 300 yards passing or 100 yards rushing/receiving versus no such bonus with Fuzzy's being the biggest differences), I'm going to essentially combine the two again this postseason.

Below you will find my position-by-position projections. Please note I have included DraftKings' dollar value for each player, followed by their projected point total in that format (DraftKings and then Fuzzy's). Because I went into some detail above, I won't spend a great deal of time explaining each projection here - only some of the more notable ones. Each position is sorted by my DraftKings' projected point total.

Key for quarterbacks, running backs, receivers and tight ends:
P Yds - Passing Yards
P TD - Passing Touchdowns
INT - Interceptions
Ru Yds - Rushing Yards
Ru TD - Rushing Touchdowns
Rec Yds - Receiving Yards
Rec TD - Receiving Touchdowns
Rec - Receptions
Quarterbacks
Player
DK $
DK Pt Total
Fuzzy Pt Total
P Yds
P TD
INT
Ru Yds
Ru TD
Case Keenum
6,600
19.9
23.9
260
2
0
15
0
Tom Brady
7,700
17.9
20.9
260
2
1
5
0
Blake Bortles
5,000
15.3
13.3
220
0
2
25
1
Nick Foles
4,800
12.4
12.4
260
1
2
0
0

Most people by now know New England systematically attacks its opponent's weaknesses rather than hoping its strength will beat the other team's strength. So where is Brady going to attack Jacksonville? Great question. Unfortunately, I'm not sure either of the Jaguars' first two playoff games give us the answer, as the Patriots aren't exactly comparable to the Bills or Steelers in terms of offensive personnel. However, one of the Patriots' core beliefs is that controlling the middle of the field is essential to winning football games. It just so happens to be where Jacksonville is probably the weakest in terms of the passing game. MLB Paul Posluszny is the one Jaguars linebacker who cannot be considered an exceptional athlete (at least not anymore), while FS Tashaun Gipson could be entering this game at less than 100 percent after suffering a foot injury last week. Brady and OC Josh McDaniels showed again last week they can and will manipulate the formation pre-snap however they see fit in order to create a matchup Brady likes.

Another interesting dynamic of this matchup is Jacksonville - like most NFL teams nowadays - uses more zone than man coverage. It's a good strategy for defenses who play against dual-threat passers who may be a little inaccurate with their throws from time to time because it allows all 11 defenders to keep their eye on the quarterback (not to mention theoretically gives a safety a better chance to break up or intercept a pass). For the most part, Brady tears up zone coverage because the Patriots' scheme attacks the middle of the field with short throws (zone attempts to limit big plays) and he has Rob Gronkowski, who is a mismatch for virtually any linebacker or safety.

Whereas it appears many have already penciled in the Patriots as the AFC representative for the Super Bowl, it is worth noting Jacksonville has several of the ingredients necessary to pull the upset: 1) a serviceable if not good rushing attack to limit possessions and keep Brady off the field, 2) a defensive line capable of generating consistent pressure with four rushers while keeping seven in coverage, 3) an athletic back seven capable of minimizing the impact of New England's running back to create big plays in the passing game and 4) a secondary deep and talented enough to leave the cornerbacks on an island and not give up big plays.

It would be unfair to say the Jaguars haven't earned their trip to the conference championship, but in a league where more teams lose games than win them, Jacksonville survived two weeks ago because Buffalo simply did not have the horses to compete offensively and, last week, because Pittsburgh failed to stop the one thing - the running game - it knew it had to and made some curious choices along the way from a strategic standpoint. In part because he is barely completing 50 percent of his passes in the playoffs and in part because the Patriots have a solid pair of perimeter cornerbacks, it would be beyond surprising if New England doesn't "mush rush" Bortles this weekend to eliminate the threat of him beating the Patriots' defense with his legs. The biggest defensive failing of the Bills and Steelers was an ability to keep Bortles inside the pocket. Don't expect that to happen again this week. Bortles has attempted a total of 49 passes in the first two weeks of the playoffs; if New England gets off to its usual fast start, he could push that number in this game. It is worth noting Bortles threw at least one interception in seven of the eight games in which he attempted more than 30 passes (12 of his 13 interceptions for the season came in those contests), so volume is not a good thing for him or the offense.

Like it or not, the NFC Championship boasts a pair of team who like to win with defense and conservative offense. Last week marked the first time in four games in which Keenum attempted more than 30 passes and only the second time since Week 11 he has done so. As for Foles, he has thrown for a total of one touchdown in games in which he didn't play against the Giants' injury-ravaged secondary. As such, it wouldn't be a surprise if the first half of the NFC Championship features a ton of three-and-outs, field goals and/or punts by a pair of teams who hope the opponent cracks first offensively with a big mistake or fumble. Short of an early defense/special teams touchdown that allows one side to get up by 10 points or more, it's hard to see either quarterback being allowed to air it out enough to be match Brady's likely volume.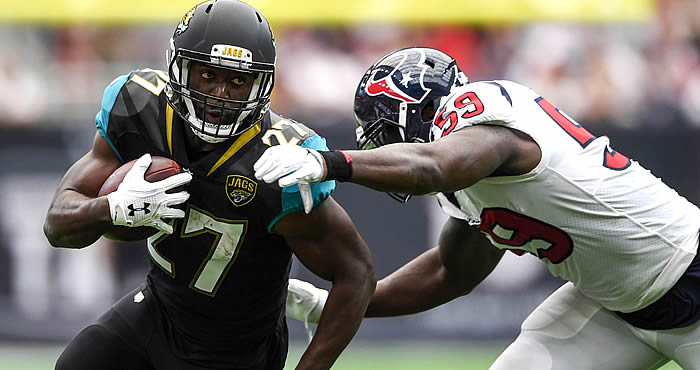 Goaline opportunities make Leonard Fournette a viable play this week despite a difficult matchup against the Patriots.
Running Backs
Player
DK $
DK Pt Total
Fuzzy Pt Total
Ru Yds
Ru TD
Re Yds
Re TD
Rec
Leonard Fournette
7,200
20.5
20.5
65
1
40
0
4
Corey Clement
3,100
15.5
15.5
5
0
40
1
5
James White
4,900
15.5
15.5
15
0
40
1
4
Dion Lewis
8,100
13.5
13.5
70
0
35
0
3
Rex Burkhead
5,400
13.5
13.5
35
1
20
0
2
Jay Ajayi
5,200
10.0
10.0
45
0
25
0
3
Jerick McKinnon
5,100
9.0
9.0
30
0
30
0
3
Latavius Murray
5,700
8.5
8.5
65
0
10
0
1
T.J. Yeldon
4,200
8.0
8.0
20
0
30
0
3
LeGarrette Blount
3,700
2.0
2.0
20
0
0
0
0

Outside of Fournette, it's hard to feel overly confident about most of the remaining running backs pushing for 20 touches this weekend. And based on how quickly and easily the Patriots took Derrick Henry out of the game last weekend, it's hard to feel overly confident Fournette is a RB1 lock as a fantasy play in this matchup. If there is one positive with using him, however, it is that Jacksonville wants to give him the ball inside the 20. Four of the Jaguars' six offensive touchdowns this postseason have been scored by the rookie.

Lewis was an easy selection for fantasy owners to make last week once it became clear Burkhead wasn't going to play, but it appears the latter is ready to make his return this week. Naturally, New England did the most Patriot-like thing it could in the Divisional Round, giving White his biggest offensive role since Week 13 - in the red zone, no less - and depriving Lewis of a truly huge fantasy performance despite the fact he is - by all accounts - a superior back in just about every way to White. Lewis is still the safest play from this backfield if only because he has seen at least 10 touches in all but one game since Week 5, but it should not surprise anyone if Burkhead scores twice near the goal line or White continues to conveniently replace Lewis in scoring territory.

Hardly a week goes by where I don't watch the Vikings' offense and think about how much better it would be with Dalvin Cook in the backfield. With that said, Minnesota wants to set the physical tone each week and establish its willingness to run in between the tackles with Murray, and its defense pretty much locks him into 20 touches - most of which will not come close to producing a big play. Nevertheless, he is the favored option at the goal line and the Vikings' offense is good enough to get him there pretty much at least once on a weekly basis. The odds are stacked against him converting this week, however, as Philadelphia has yet to give up a rushing touchdown at home. McKinnon is the mostly a change-of-pace/third-down option at this point, although OC Pat Shurmur would be wise to see his speed and elusiveness isn't a better fit for this matchup than Murray's grinding style. Shurmur could also do his offense a favor by running a bit of no-huddle this week, as the Eagles are starting to rely heavily on their stud defensive linemen late in the year after liberally substituting them early in the season. Trapping them on the field and wearing them out physically - a tactic New England used against Tennessee last week when the Titans inexplicably dressed only four defensive lineman - may be a good way to overcome the Eagles' depth up front.

Since Ajayi became an Eagle in Week 9, only Alvin Kamara has a higher yards per attempt average among backs with 50 or more carries (including playoffs). If he doesn't push for 20 touches in this game - his 18 touches last week were his most with Philadelphia - the Eagles aren't putting their best foot forward in an attempt to make the Super Bowl. However, even with his lofty YPC and the fact he is producing at least one big play every game, Ajayi is going to need to score a touchdown in order to be relevant in fantasy, and it is not as if Minnesota is just coughing those up to running backs. Perhaps his one saving grace is the fact the Vikings' key defensive numbers are pretty much down across the board on the road. Working against him is the fact Blount could easily steal his potential goal-line touches on the ground and Clement could do the same through the air. Furthermore, a Carson Wentz-less offense gives Minnesota very little reason to employ additional resources to the passing game. As such, it would be a mild surprise if HC Mike Zimmer isn't dialing up his patented "A-gap" blitzes (on either side of the center) on a fairly regular basis on all downs, and not just on passing downs as has become the Vikings' norm.
Wide Receivers
Player
DK $
DK Pt Total
Fuzzy Pt Total
Re Yds
Re TD
Rec
Adam Thielen
7,400
23.5
23.5
95
1
8
Stefon Diggs
6,900
18.5
18.5
75
1
5
Nelson Agholor
4,800
13.5
13.5
75
0
6
Danny Amendola
5,500
9.5
9.5
45
0
5
Marqise Lee
4,400
7.5
7.5
45
0
3
Keelan Cole
3,500
7.0
7.0
50
0
2
Alshon Jeffery
4,600
6.5
6.5
35
0
3
Brandin Cooks
6,100
5.5
5.5
35
0
2
Dede Westbrook
3,900
5.5
5.5
35
0
2
Torrey Smith
3,000
2.0
2.0
10
0
1
Mack Hollins
3,000
2.0
2.0
10
0
1
Chris Hogan
5,000
2.0
2.0
10
0
1
Allen Hurns
3,300
2.0
2.0
10
0
1
Jarius Wright
3,000
2.0
2.0
10
0
1
Michael Floyd
3,000
1.5
1.5
5
0
1

Antonio Brown proved again last week why he is far and away the best receiver in the NFL by twice making highlight-worthy plays in A.J. Bouye's coverage, but it seems highly improbable Cooks will come anywhere close to matching that standard. It also seems unlikely the Jaguars will feel the need to use Jalen Ramsey to shadow him, so expect Jacksonville's top two corners to play sides this weekend. New England's usage of Hogan suggests he is still a ways away from finding the form that made him such a fantasy stud in the first half of the season, and the Jaguars defended the slot (with Aaron Colvin) about as well as any team in the league this season, so it would be a mild surprise if Amendola went off again. While I doubt the Patriots' receivers will be able to top 100 yards as a group. I will give Amendola the best chance of the bunch to succeed despite Colvin's sticky coverage.

Lee (39 of 61) and Westbrook (42) saw the most snaps among Jacksonville receivers last week, but each lost more playing time to their backups than one would normally expect from the top two receivers on a team. The Jaguars remain hesitant to rely too heavily on Cole despite the fact he continues to make plays, so the lack of every-down snaps combined with low volume from Bortles makes every Jacksonville receiver this week a low-floor play with limited upside. New England CB Malcolm Butler struggled last week, so if you must have a Jaguar receiver in your lineup and want to pick on the corner who appears to be the weakest link at the moment, Westbrook may have a slight edge over his teammates.

While you probably couldn't have predicted it from watching how things played out for the Falcons against the Eagles last week, owners looking for decent fantasy production for receivers this week may want to target Philadelphia's secondary. During the regular season in PPR scoring, the Eagles allowed 33.2 fantasy points per game to receivers - eighth-most in the league. Although Philadelphia's outside corners did enjoy some sporadic success, it was slot CB Patrick Robinson who did the best job on a consistent basis. Thielen has recently started playing outside more often (71 percent last week) as Wright has seen his role increase a bit, so Diggs and Thielen should not only see the most targets of all the Minnesota receivers - as is usually the case - but they also figure to have the easiest matchups in the game. When one considers Thielen generated most of his 74 yards receiving (on six catches) in the Marshon Lattimore's coverage last week, there is a very good chance he ends up being the best play at his position this weekend.

The loss of Wentz has obviously been troublesome for the entire Philadelphia offense, but perhaps no one has struggled more as a result than Jeffery. Don't look for that to change this week, as he figures to see Xavier Rhodes lined up across from him on just about every play. Smith has scored a total of 12.1 PPR fantasy points in four full games since Wentz got hurt and wasn't tearing things up when the quarterback was healthy. He seems to be getting the nod over Mack Hollins in terms of playing time due to the fact he is a veteran, but there's just not enough upside with him to even consider him as a contrarian play. The Vikings aren't exactly hurting at defending the slot - third-best at doing so in the league during regular season - but if any Philadelphia receiver is going to have a decent day against Minnesota, it will probably be Agholor. Terence Newman and Mackensie Alexander share slot duties at the moment for the Vikings, and Agholor could be problematic for both of them. With that said, my prediction for Agholor still feels optimistic.


There has been some discussion the Jaguars could have Ramsey shadow Gronkowski given the former's size and athleticism as well as the Patriots' lack of a dynamic playmaker outside of Cooks. It's a reasonable thought, but not one I expect Jacksonville to execute very often, if at all. First and foremost, defensive coordinators typically don't like to change something that has worked for them the bulk of the season. Secondly, the Jaguars have two of the most athletic linebackers in the league in Telvin Smith and Myles Jack, so the prospect of turning the defense inside out to account for Gronk may seem unnecessary to DC Todd Wash anyway. Assuming that is the case, Gronkowski remains the best play at his position again this week. As I stated earlier, the Patriots have an incredible ability to move their chess pieces across the board in order to get the matchup they want. If I'm the New England coaching staff, my goal would be to use motion and formation to isolate Gronk on Posluszny and Colvin (in that order) as often as possible. Lining Ramsey across from Gronk would also be problematic in neutral or positive game script for the Patriots, as the latter may literally steamroll the former if Brady checks to a run.

Ertz was quieted by Atlanta's athletic and speedy linebackers last week, and it figures to be more of the same this week since the middle of Minnesota's defense is more formidable than the Falcons'. FS Harrison Smith is about as good as it gets at his position, so if the Eagles get lax in moving Ertz around and try to use him more as a downfield threat, then they could be in trouble. If Wentz was playing, Minnesota's athleticism and talent up the middle wouldn't seem as big of a deal to Ertz for fantasy purposes. Now, it almost feels as if the Eagles have no choice but to target him relentlessly in the red zone, because the odds are strong they won't get there more than twice.

Rudolph's red zone involvement seemingly dropped about the same time Diggs became a more important part of the offense again. The inability to make all three key players (Thielen, Diggs and Rudolph) significant threats on a consistent basis is probably one of several reasons why Zimmer refuses to throw all of his support behind Keenum. Rudolph has not scored in three straight games - tying a season high - so one could say he is "due." With that said, the Vikings usually don't go out of their way in order to isolate Rudolph in the same way New England does Gronkowski or Philadelphia does Ertz, so another 3-4 catch game with minimal yards and no touchdowns seems likely for him this weekend.

Lewis has not scored since Week 11 and topped 50 yards only once all season, so betting on him to emerge to make a significant impact in this game seems like a longshot at best.

Key for kickers and defense/special teams units:
XP - Extra point
FG - Field goal
PA - Points allowed
TD - Defensive/return touchdowns
TO - Total turnovers
Bonus - Points allowed bonus



Defense / Special Teams
Team
DK $
DK Pt Total
Fuzzy Pt Total
PA
Sacks
TD
TO
Bonus
Vikings
3,800
10.0
10.0
13
4
0
2
2
Patriots
3,500
9.0
9.0
17
4
0
2
1
Jaguars
2,800
5.0
5.0
27
3
0
1
0
Eagles
3,000
4.0
4.0
27
2
0
0
0

Lost in the amazing finish last week is the fact Minnesota pitched a shutout in the first half against the Saints. While New Orleans obviously played better in the second half, it's easy to lose sight of the fact the Vikings' defense gave up all of their points after Michael Thomas knocked S Andrew Sendejo (concussion) out of the game. Such a loss this week won't mean as much because the Eagles aren't the offensive powerhouse the Saints are, but I've already documented the Vikings' defensive struggles on the road, so they will want to have all hands on deck. (Minnesota gave up an average of 6.5 more points away from home.) Nevertheless, the Vikings still feel like a solid bet to hold the Eagles to fewer than 17 points.

Once again, New England seems to be the master of letting offenses self-destruct half of the time and holding them to field goals the few times they keep drives alive and get inside scoring territory the rest of the time. While the recent competition (Bills, Jets and Titans) has afforded the Patriots the ability to rush the passer relentlessly, New England's 18 sacks over the last three weeks alone is still quite impressive. Much of that is the product of playing from ahead and forcing the opponent to be one-dimensional, but sacking the quarterback at that rate doesn't just happen because there are more opportunities. For all of the pressure they have generated in those games, however, they haven't forced a turnover.

The Jaguars' blueprint to beat the Patriots this weekend was laid out above and will be the same one the Giants used in Super Bowls twice under Tom Coughlin, who is obviously now in Jacksonville's front office. The Jaguars excel at forcing turnovers but face a team that rarely commits them. Predicting the one or two times a year New England is going to have "that game" is nearly impossible, so as tempting as it may be to see if Jacksonville's defense can create another non-offensive touchdown this week, the smart money suggests it is probably a good idea to avoid the Jags in fantasy.

Philadelphia managed to limit the Falcons to 10 points despite not forcing a turnover and by getting lucky on a slip in the end zone by Julio Jones on Atlanta's last play of the game. What the Vikings lack in offensive aggressiveness, they make up for with talent and adaptability - the latter of which Atlanta failed to show much of this season. The Eagles' defense has been a beast at home lately (three, 10, six and 10 are the point totals of their last four opponents), although Chicago, Oakland, Dallas and Atlanta weren't exactly offensive juggernauts this year. From a fantasy perspective, Philadelphia's three sacks last week were its most in a game since Week 11 and generating turnovers hasn't been a consistent theme for this unit lately - nor have Vikings committed a lot of them. The Eagles are worth using as a contrarian play in DFS, but recent production suggests the Patriots and Vikings have the most fantasy upside this weekend.


---
Doug Orth has written for FF Today since 2006 and been featured in USA Today's Fantasy Football Preview magazine since 2010. He hosted USA Today's hour-long, pre-kickoff fantasy football internet chat every Sunday in 2012-13 and appears as a guest analyst on a number of national sports radio shows, including Sirius XM's "Fantasy Drive". Doug is also a member of the Fantasy Sports Writers Association.