Well, it's the first Tuesday in November and the fantasy football season is now hitting that critical stretch where teams either rise to make the playoffs or crash and burn between now and Thanksgiving. Seventy-five percent of NFL teams have their bye weeks behind them, so teams should return to full strength soon. In the meantime, Week 9 was a week to remember - let's review it, shall we?



Sensational Sophomore Signal-Callers

Is there anything more shocking than the transformation of Jared Goff? On Sunday, Goff and fellow sophomore Carson Wentz threw 4 touchdowns apiece and led their teams to identical 51-point performances. The two QBs will always be lumped together much like Eli Manning and Philip Rivers are, but coming into this season, no one viewed Goff as a legitimate NFL QB and no one thought of Wentz as the favorite to win the NFL's MVP award. Yet, here they are making history together and providing teams with fantasy production not foreseen. For Wentz, the fantasy future looks better than ever heading into his bye with Jay Ajayi's solid debut on Sunday (49 yard TD run) and Alshon Jeffery's continued emergence (3 TDs in his past two games). Goff, meanwhile, is making Robert Woods (2 TDs on Sunday) fantasy relevant as he continues to complement the running of Todd Gurley with timely shots down the field. Next up for Goff? How about the Texans pass defense which has been shredded the past two weeks. Oh, and Week 14 (fantasy playoffs for most) features Wentz vs. Goff head-to-head. Circle your calendars for that one. Sunday's symmetry between these two rising stars was uncanny to say the least.

Trying Times In Tampa

It doesn't matter which Buccaneer you started on Sunday as every scenario left you with the same lament. Jameis Winston, Doug Martin, Mike Evans, DeSean Jackson, Cameron Brate, O.J. Howard…they all suffered the same fate. Rarely are the ripple effects of an entire team's woes so readily felt throughout the realm of fantasy football as they were this weekend. Part of the disappointment comes from past stereotypes. NFC South games vs. the Saints are supposed to be yardage-fests. Not quite Oklahoma vs. Oklahoma State, but in the same ball park. When you consider that the combined yards from scrimmage from Martin, Evans, Jackson, Brate, and Howard was 60 TOTAL yards, you really get a feel for what a misfire it was to count on any of them. So, what lies ahead for this offense? Much of that will depend on how long Winston ends up being out (shoulder injury, 2 weeks) and whether or not Mike Evans can successfully appeal a one-week suspension. Weeks 11-13 are home games for the Bucs, so hopefully they'll right the pirate ship by then no matter who is under center.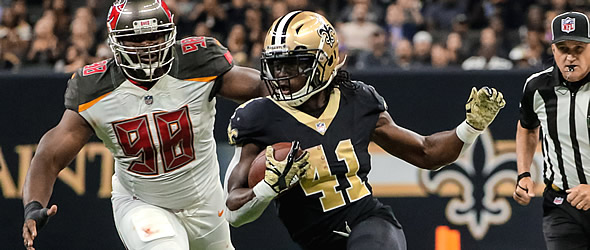 The Sainst RB to own in Wk 9: Alvin Kamara led all fantasy running backs in points on only 16 touches.
Alvin Attacking From All Angles
This isn't the first time we've spotlighted Alvin Kamara this season here at the Buzz and from the looks of things, it won't be the last. While Mark Ingram continues to get his share of the workload in New Orleans, Kamara is fast becoming a star in fantasy football and in PPR leagues in particular. Kamara is on pace to catch 74 passes as a RB this season, gain 1500 total yards, and score 10 TDs. His 152 total yards on Sunday was a season-best as was his pair of touchdowns on the ground and through the air. Granted, the Tampa Bay defense is easily one of the league's worst, but in PPR leagues, Kamara was Sunday's brightest star at his position. With Kareem Hunt continuing to slow down (no TDs since Week 3) and Leonard Fournette struggling to get back on the field (see below), Kamara is looking like the rookie RB to own at the moment. In dynasty or keeper leagues, he's a guy you need to obtain while you still can. His price may be steep after this latest outburst, but move forward with that plan just the same.
Feast Or Famine: The Story of T.Y.
In the dictionary, under the heading of Feast or Famine, you will find a picture of T.Y. Hilton. The moniker has been true of Hilton for years, but has never fit as prominently as it does in 2017. Consider this: Hilton has 505 yards receiving this season in just three combined games - Weeks 3, 5, and 9. As for the other six games, he's averaging less than 33 yards receiving with no trips to the end zone. Four of his next six games, Hilton will go up against a top-5 pass defense including the Jaguars and Titans who shut him down already this season. His three big games have come against the 49ers, Browns, and Texans, so perspective is needed here. Will T.Y. have another big game this season? Most likely, yes. Can you count on it happening when you need it most? Most likely, no. Riding with Hilton each and every week in your lineup is quite a ride indeed. Our advice is to start him as a WR3 so as to not base your week's fate in what he does or doesn't do. Then, if the feast happens, it's gravy. My analogies today suggest that Thanksgiving is on my brain more that I realized…
Sunday Morning Surprises
Nobody, and I mean nobody, likes Sunday morning surprises in fantasy football. And yet, they happen. Some leagues allow for you to declare "backup" players so that if an assigned starter does not play, another person can be inserted into the lineup. For those who don't exercise that practice, however, Zach Ertz and Leonard Fournette's last-minute omissions from active duty on Sunday came as a shock and gave owners little time to scramble and find replacements. It's another reminder that you have to prepare for the unexpected and make sure you have enough quality depth on your team to adequately respond to such challenges. Hopefully, you had Chris Ivory waiting in tow or maybe Jared Cook as your backup tight end. And, hopefully, next Sunday will feature no such scrambles.
Ejection Day
While the first Tuesday in November is Election Day all over our country, Sunday was ejection day for a couple of very prominent fantasy stand-outs. The most damaging of the two ejections was to A.J. Green, who some feared might also miss Week 10 for his involvement in a fight just before halftime. Green's performance in the game (1 catch, 6 yards, 2 targets) probably cost a lot of fantasy owners wins this past weekend and while we never begrudge players who get hurt for obvious/sane reasons, a player getting themselves removed from a game for mischief is super frustrating. Carlos Hyde was the other ejectee, but at least he gained 100+ yards before calling it a day. If I was the lone bright spot in an offense, I might be a little testy, too, though, so maybe Green and Hyde's actions carry with them some degree of understanding.
Thirty is Just a Number…
We're not going to get overly excited about Adrian Peterson's numbers on Sunday as they did come against the lowly 49ers. Still, 37 carries in a game suggests that the coaching staff has a lot of faith in you and with Drew Stanton now at quarterback, the Cardinals' primary means of securing victories now lies with ball control offense and opportunistic defense. Relying on a 30+ year old running back in fantasy football is a risky proposition, but Peterson and fellow 30-something RB Matt Forte (2 TDs) both turned out to be very solid plays in Week 9. The Jets also want to run the ball and/or keep the offense close to the vest, which means more usage for Forte moving forward. If you're looking for a solid RB2 to carry into the playoffs, Peterson is a great bet. If it's a reliable flex play you prefer, Forte has a chance to fill that role nicely also.
Sometimes, One Play Can Define a Season…
There comes a point in every season when you stop looking for that break-out game from a player and realize that he's probably not going to meet the lofty preseason expectations you and others had for him. Sometimes, that realization in one single play. Cue Julio Jones vs. Carolina on Sunday as he dropped an easy touchdown that would have given him at least 10 additional fantasy points for the week and maybe more than that in leagues with various yardage bonuses. It's becoming apparent that while Jones will likely indeed have at least one game this season that he "blows up", he's not likely going to finish as a top-5 WR for the first time in a number of years. If you were actually watching the Falcons-Panthers game, there aren't words for how you feel as a Jones owner. Brutal.
It's Raining Touchdowns!
Last week, we took time to acknowledge the guys who had failed to reach the end zone all year. This week, the two most prominent guys noted in that write-up are scoreless no more. We referenced Jay Ajayi's touchdown run earlier, but Denver's Demaryius Thomas also scored in a blowout loss. Ajayi projects to score several more this season as does Thomas, but there are a lot more touchdowns in Philly's offense overall than in Denver's, so Ajayi is the higher upside play. Next overdue guy to break through and score his first TD this week? Look no further than Tennessee's Delanie Walker. Thank us later.
The Curious Case of Corey Clement (And Other Bye Week Heroes)
When teams like Pittsburgh and New England take a week off, you're going to see some guys in starting lineups that never would be otherwise. I have a friend who I ridiculed in my head for marching out just such a player on Sunday - Philadelphia's Corey Clement. Turns out my friend had the last laugh as Clement netted 65 total yards and THREE scores. No one could have predicted that and probably few benefited from it, but my friend most certainly did. Here's to you, Tim. Other bye week heroes on Sunday included Cowboy wideouts Terrance Williams and Cole Beasley as well as Dolphin runners Damien Williams and Kenyan Drake. Who were your most unexpected contributors this weekend? Let us know…
Catch your breath. Week 10 is coming. And, we'll be back next Tuesday to turn it on its ear. Enjoy the rest of your week!