Over the past two weeks I've looked at quarterbacks and running backs so it's time for the third and final analysis of our series – rookie wide receivers.

As in the past two studies, I researched rookies from 2011-20 to see what it took to be a viable fantasy-worthy wideout in the NFL. My analysis of the top-36 receivers over the past 10 seasons in full PPR leagues showed that you must produce an average of 12.02 FPts/G to be of value to an owner.

With this knowledge I evaluated the 122 receivers drafted over that span to see how they stacked up.

Of the 122 rookies, 22 or 18% produced more than 12 fantasy points per game (see chart below). They averaged 107.3 targets, 67.8 receptions, 982.8 receiving yards and 7.3 touchdowns.

Looking deeper, however, reveals that fantasy owners should probably stick to the first two rounds of draftees because the odds are extremely small that you can find a third-rounder who will be of value. The numbers say that just 2-of-36 third-round selections produced enough points to be fantasy-worthy; Terry McLaurin and T.Y. Hilton. Both saw unusually high targets as a "freshman" which likely explains their success.

The pair of McLaurin and Hilton finished second and third among third-rounders in targets and No.1, Cooper Kupp, with 94, just missed our list with 11.9 FPts/G. It appears that 90 targets is a likely good measure for fantasy success. Of the 30 receivers who reached that mark, 19 produced fantasy-worthy numbers.

Second-round selections made the grade 16.3% of the time (8-of-49) and first-round selections had the best chance of rookie success at 32.4% (12-of-37). The chart below has more interesting numbers concerning rookie wide receivers.
Rookie WRs 2011-2020
Rd 1
Rd 2
Rd 3
Players
37
49
36
Ave FPts/G
9.2
8.1
5.3
Avg Targets
73.1
62.5
33.8
Avg Receptions
42.2
36.6
20.1
Avg Rec Yards
587.8
498.5
280.1
Avg Rec TDs
3.8
3.5
1.9
With these statistics in mind, let's look at the 2021 rookie wide receiver options.
Ja'Marr Chase, Cincinnati – Chase will reunite with his college quarterback Joe Burrow after sitting out his final year at LSU due to the pandemic. However, when we last saw him he was producing huge numbers (84-1780-20). Under Burrow's direction, the Bengals were a throw-first team, with the rookie QB passing an average of 40 times a game. Three receivers saw 100+ targets (Tyler Boyd, Tee Higgins and A.J. Green). Green is no longer in Cincinnati which very reasonably opens up triple-digit targets for the rookie. He's almost certain to crack the 12 FPts/G mark.
Jaylen Waddle, Miami – Another wide receiver who joins his college QB (Tua Tagovailoa). However, Waddle may have a tougher time seeing triple-digit or even 90 targets as Chase should. DeVante Parker led the team in targets last season with 103 and the team signed talented speedster Will Fuller (53-879-8). Where the Dolphins differ significantly from the Bengals is the presence of a pass-catching tight end in Mike Gesicki who saw 85 targets and has emerged as a serious threat (53-703-6). Compare him to the Bengal's Drew Sample (40-349-1). That makes four mouths to feed and a tougher road for the Alabama alum. I do not think Waddle will be fantasy worthy in 2021 barring an injury to Parker or Fuller.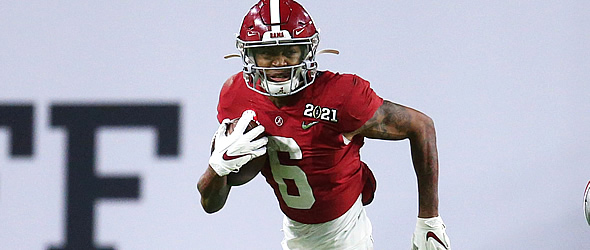 DeVonta Smith, Philadelphia – Smith also played a bit with new Eagles starter Jalen Hurts, though not to the extent of Chase and Burrow as Hurts transferred to Oklahoma for his senior season. Smith is the second consecutive first-round pick Philadelphia has used on a wideout. Jalen Reagor was a disappointment in 2020 (31-396-1) as his third-round-like statistics suggest. Of course, Carson Wentz didn't play well last season, so it's possible to lay some of the blame at QB, but I'm expecting a better performance from Smith, the Heisman trophy winner, who produced monster totals (117-1856-23) in the tough SEC. Smith should end up as the leading receiver for the Eagles. However, there are too many questions with the Eagles offense to "guarantee" fantasy-worthy production from any of the pass-catchers. Start with a barely tested QB, a completely new coaching staff and unknown quantities at receivers, but Smith should have the best chance between himself, Reagor, Travis Fulgham, Greg Ward, John Hightower, Quez Watkins and JJ Arcega-Whiteside. I believe he will be a low-end fantasy value with huge upside.
Kadarius Toney, New York Giants – Toney joins an interesting group in New York. In addition to returning wideouts Sterling Shepard and Darius Slayton, the Giants signed a big-money free agent - Kenny Golladay and also added 2017 Bengals first-round selection John Ross. Golladay, Shepard and Slayton figure to get the bulk of the work with Toney as No.4. Toney was a little-used receiver for Florida until his senior season (70-984-10) and will likely take time to move up the depth chart. He should only be chosen in dynasty leagues in 2021.
Rashod Bateman, Baltimore – Bateman has talent, but landed in a situation where there is no way he sees enough targets to be fantasy-worthy. The Ravens threw the ball just 406 times last season and 440 times the previous season … both league lows. That isn't likely to change much in 2021. Given Marquise Brown's 100+ targets and another 90-100 for tight end Mark Andrews, the opportunities are already shrinking. Add in the signing of Sammy Watkins and Bateman's chances to produce 12 points-a-game seem miniscule.
Elijah Moore, New York Jets – Like the Giants and Baltimore, the Jets brought in free agent talent in the form of Corey Davis (65-984-5 with Tennessee) to lead the receiving corps. He joins veteran Jamison Crowder and 2020 second-round selection Denzel Mims. The Jets threw the ball 499 times last season and now have a rookie quarterback (Zach Wilson) to go along with a rookie head coach (Robert Saleh) and staff. Saleh is a former defensive coordinator and they rarely like wide-open offenses. Moore was good as Mississippi (86-1193-8), a school which has been producing pass catchers of late (A.J. Brown, DK Metcalf, Evan Engram, Van Jefferson, Laquon Treadwell, Donte Moncrief). Despite that history, Moore doesn't figure to help you in 2021.
Rondale Moore, Arizona – A second-round pick, Moore is stuck behind three big names; DeAndre Hopkins, Christian Kirk and A.J. Green. Coach Cliff Kingsbury spoke about Moore's talent and seemed excited to draw up stuff for him, but that usually means trick plays or jet sweeps and not consistent targets. If you choose him, your best opportunity will likely be the oft-injured Green hitting the injured list again.
D'Wayne Eskridge, Seattle – Eskridge was a combine "giant" with 4.33 speed, 350 bench, 505 squat and 37.5 vertical, but his domination of the MAC may not translate to the NFL. DK Metcalf and Tyler Lockett should continue to dominate the Seahawks targets, but with so much attention to those two, Eskridge could have occasional big games as he should be the guy in three-receiver sets replacing David Moore (Carolina). Eskridge could be a nice late-round pick to handcuff for either Metcalf or Lockett.
Tutu Atwell, Los Angeles Rams – I see no scenario where Atwell produces double-digit fantasy points. Wideouts Robert Woods, Cooper Kupp, Van Jefferson and tight end Tyler Higbee will soak up most of the opportunities. The Rams also signed DeSean Jackson, though he should be injured by Week 4 … if not earlier.
Terrace Marshall Jr., Carolina – Marshall had a couple of nice seasons for LSU, but never cracked 50 receptions in a season. He was, however, a touchdown maker, producing 23 scores in two seasons. He should slot in as the Panthers' third receiver and fourth options behind D.J. Moore, Robby Anderson and RB Christian McCaffrey. The big question is; how much will Matt Ruhle allow Sam Darnold to throw? In New York he never threw more than 441 passes in a season which probably won't leave much for Marshall this season, but Anderson will be a free agent after this year and 2022 could be when Marshall shines.
Josh Palmer, Los Angeles Chargers – Considering the poor quarterback play he dealt with at the University of Tennessee, joining the Chargers and rookie sensation Justin Herbert should help get the most out of Palmer, but he'll have to fight for targets. Keenan Allen, Mike Williams, TE Jared Cook and RB Austin Ekeler should see most of the work with Palmer fighting Jalen Guyton for the scraps. Barring injury, he probably has few scenarios to be fantasy-worthy in his first year.
Dyami Brown, Washington – Brown was the deep threat at North Carolina averaging more than 20-yards-per catch over the past two seasons. He figures to do that for Washington, but few players can make a fantasy living doing only that unless they are elite. The good news is that gunslinger Ryan Fitzpatrick has never been afraid to let it fly. McLaurin, free-agent signee Curtis Samuel, running back J.D. McKissic and tight end Logan Thomas figure to be the first four options leaving little for Brown, but he'll likely have a couple big games because of his explosiveness. Predicting when that happens will be the hard part.
Amari Rodgers, Green Bay – Rodgers had a nice senior season at Clemson (77-1020-7) catching balls from Trevor Lawrence, but he's not particularly fast or big. The Packers have been looking for someone to play opposite Davante Adams for a while now, so if he proves himself early on he could become a viable option for the Packers starting QB. That would be great news if it's Aaron Rodgers, but not so good if it's Jordan Love. More likely he'll be a punt returner and sit behind Marquez Valdes-Scantling and Allen Lazard.
Nico Collins, Houston – Mediocre numbers at Michigan and the question marks at quarterback for the Texans likely makes it moot whether he can earn Will Fullers' target share. This is an offense that you should probably avoid.
Anthony Schwartz, Cleveland – Schwartz was a 100-meter guy and lightning fast, but Odell Beckham Jr., Jarvis Landry, Rashard Higgins and tight end Austin Hooper figure to see the vast majority of targets. Schwartz is more likely a "gadget" player in 2021. Nothing to see here.