Good morning and welcome to the Halloween edition of the Buzz! This week's feature will take on a little holiday flavor given the occasion, but mostly, it's all about the football. We've haunted down all the news and now we're ghouling to bring it to you, Buzz-style!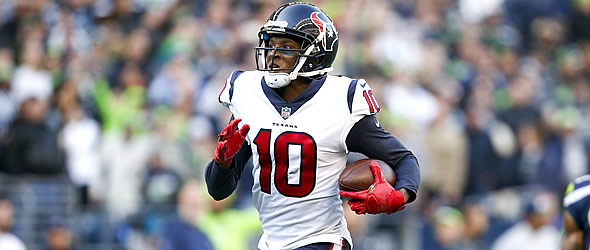 Step 1: DeAndre Hopkins finished as the WR1 in Week 8 with 224 yards, 1 TD on 8 receptions.
The Texas Three-Step…
It's officially time to call a spade a spade. The Houston Texans have one of the most dynamic aerial attacks in the game of professional football. Deshaun Watson has now thrown 16 TD passes in his last four games - and 13 of those have gone to his pair of star wideouts, DeAndre Hopkins and Will Fuller. How many QBs in the league throw more to wide receivers than Watson? Short answer: Nobody. Of Watson's 402 passing yards on Sunday afternoon, 349 of them were passes to Hopkins and Fuller. Together, this trio is becoming what Kurt Warner, Torry Holt, and Isaac Bruce were back in the day - a QB and 2 WRs capable of carrying fantasy teams on their back. Lamar Miller scored 2 touchdowns on Sunday and continues to garner a high number of touches each and every game. And, did I mention that Watson also ran for 67 yards for the second time this year? Nobody could have seen this coming, but now that we've seen in raging for four straight games, everybody can see where it's headed.
…And The Seattle Swing

You can't talk about what Houston did on Sunday and leave out Seattle's part in one of the biggest offensive shootouts in recent memory. Anything Watson did, Russell Wilson did as well and as such, he also topped the 400-yard mark to go along with 4 TD passes and 30 yards rushing. It was a day to remember for Wilson, WR Paul Richardson and TE Jimmy Graham as those two targets accounted for all the scores. Part of the reason Wilson's numbers continue to be so stellar is that Seattle is an absolute dead-end street with respect to running the ball. Consider this: Wilson ran for 6 times the number of yards on the ground as Eddie Lacy, Thomas Rawls, and J.D. McKissic combined on a fourth of the carries. That's right. The trio of Seahawk RBs gained 5 total yards on 16 totes. If that doesn't get fixed somehow (we're not holding our breath), it's going to be the Russell Wilson show in Seattle for the foreseeable future. For the record, is anyone more frustrated this week than Doug Baldwin owners? Who would have dreamed that 400 of Wilson's passing yards would go to guys not named Baldwin. Still, no matter who you had or didn't have starting in the Houston-Seattle game on Sunday, it was easily the game of the year in fantasy football. I went up against Wilson and Hopkins in my oldest league and got wiped out.
JuJu and Jack: Scary Good

OK, so I went a little over the top with the Halloween descriptor, but there's no denying that both JuJu Smith-Schuster and Jack Doyle were two of Sunday's unexpected stars. With six teams on bye, there's also a likelihood that both made it into quite a few starting lineups and saved the day for some. Smith-Schuster's recent rise (400+ yards, 4 TDs this season) has allowed Pittsburgh to play hardball with disgruntled WR Martavis Bryant and if Bryant were to be traded before this week's trade deadline (not likely), JuJu would become a borderline WR2/3 the rest of the way. As for Jack Doyle, it has become obvious based on his targets (39 in the last four weeks) that Jacoby Brissett is checking down to him on a consistent basis. While wide receivers T.Y. Hilton and Donte Moncrief rot in the land of the Luckless, Doyle will continue to be a TE1 in PPR circles.

Eight Weeks and Still No Touchdowns
It's always interesting at this point in the season to see who has piled up plenty of yards, but has yet to find paydirt. In Week 8, several guys finally broke out of the No-Touchdown club, so hat's off to those guys first. They include: Isaiah Crowell, Jonathan Stewart and Adam Thielen. Now, the club has shrunk to Miami RB Jay Ajayi, Baltimore RB Alex Collins, 49ers WR Pierre Garcon, and Broncos WR Demaryius Thomas. Who will end their drought first you ask? I would put my money on Collins as Javorius Allen fumbled at the goal line this past week and Collins's stock in trending up. Ajayi and Thomas are the two biggest names without a score, but both are playing in putrid offenses right now and as such, their slumps may continue a bit longer. As for Garcon, he came out of the game early on Sunday, so his status will need to monitored this week assuming there are still owners out there desperate enough to be starting him week in and week out (there are).

Dak Goes Frighteningly Quiet
As the rain poured down and the wind howled in Washington, D.C. on Sunday, Ezekiel Elliott was staying red-hot in terms of production on the field with 150 yards rushing and a pair of TDs. It's not surprising given how good he looked the week before and how much Dallas likes to lean on him in close games. What was surprising was how little Dak Prescott produced in terms of offensive numbers. Granted, the weather was an issue, but Kirk Cousins was able to throw for over 260 yards and a TD. Prescott's disappearing act was exactly what his owners feared would happen at times this year with Dallas being a run-first team. Obviously, if Elliott's suspension holds (at the moment, it's back on), the Week 8 version of Prescott will likely be an aberration rather than the rule. He remains one of the most difficult players in fantasy football to predict.

Three Treats and Two Tricks

And, now, with the fantasy season having reached its halfway point, we're going to take a moment to look at the three biggest positive headlines from the first half and two of the biggest negatives. It's bigger picture stuff and certainly may not hold but, for now, the biggest headlines of the 2017 season are as follows:
Treat One: Rookie Sensations. Deshaun Watson deserves all the praise he's getting, both in terms of real-world play and fantasy production, but he's hardly the only NFL rookie shaking up the world of fantasy football. Running backs Leonard Fournette and Kareem Hunt are well on their way to being first-round redraft draft picks for the next half dozen years. Throw in Evan Engram for the Giants and you've got four players who are almost certainly going to finish top-5 at their respective positions. There's not a bigger positive story to be had through eight weeks. And we didn't even mention the Packers' Aaron Jones or the Saints' Alvin Kamara. We'll see if anyone hits the proverbial "wall" come fantasy playoff time.
Treat Two: Comeback Kids. There were several disappointing performances in 2016 from players drafted early, but none more so than RB Todd Gurley and WR DeAndre Hopkins. Hopkins averaged 54 yards receiving in 2016 and scored only 4 touchdowns the whole season. Through seven games this year, he's averaging 87 receiving yards and has already scored 7 times. Gurley, meanwhile, had 1,212 total yards last year and netted 6 TDs. This season, he's on pace for over 2,100 yards from scrimmage and 19 total scores. What a rebound. Both guys have been sensational.
Treat Three: Rising Quarterbacks and the Tight Ends that Make Them Great. Alex Smith and Carson Wentz are clear No.1 QBs on the fantasy landscape. Sounds logical to us all now, but who would have said that two months ago? Neither is blessed with an elite WR corps by any means, but with the top two tight ends in terms of fantasy points (Zach Ertz, Travis Kelce) on the receiving end of 94 passes and accounting for 11 combined TDs, who needs wideouts? The only thing better than having a top-5 QB or a top-2 TE is to have one of each.
Disclaimer: Injuries happen every season and are thus too easy a target for "negative" headlines. So, we'll stick with what has happened on the field.

Trick One: Bad backfields. Running back by committee is en vogue and has been for several years now, but there are scores of backfields that you would avoid even if one guy was doing most of the lifting. Fourteen teams average less than 100 yards rushing a game. Two of those teams are at that point despite their quarterbacks being the second leading rushers on their teams (Cam Newton, Russell Wilson). Finding a quality RB2 is not something to take for granted in this day and age. If you've got a consistent RB3, you're ahead of the game.
Trick Two: Old Faces in New Places. Whether it's the two primary wide receivers in the August swap (Sammy Watkins, Jordan Matthews) or that guy apologizing to fans in the local newspaper (Terrelle Pryor), players on new teams this season by and large haven't worked out so well. And, the list goes on. Eric Decker in Tennessee, Eddie Lacy in Seattle, Torrey Smith in Philly, and Kenny Britt in Cleveland add to the tally, But, at least there's Brandin Cooks to offset the carnage. Having Tom Brady as a QB tends to lead to better results you might say.

So, there you go. If you're trick-or-treating with little ones tonight, best wishes to you from all of us here at FFToday. Mine have gotten too old for all that, so I'll just be passing out candy and thinking about next week's article. Until then!