It seems like the fantasy football universe is starting to make some sense. The top players are starting to take over games consistently and the players struggling, continue to struggle. There's an exception though, and that's where the Buzz will take flight…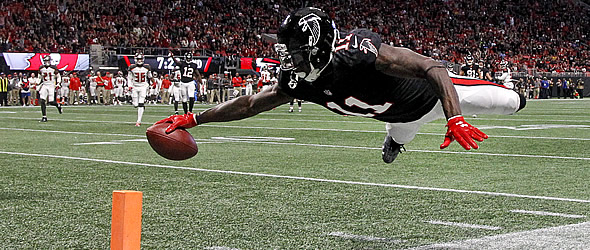 It took a while, but Julio finally had his blow up week. Guess what, he gets the Bucs again in Week 15.
The Wait Is Over…JULIO!!
One of the longest waits in the history of fantasy football is officially in the past. Dez Bryant's struggles this season made some sense. Certainly, no one is waiting around for Demaryius Thomas to emerge based on the quarterback situation in Denver. But, there's been no excuse for Julio Jones not to have that huge break-out game and start turning what had been a 1-TD season prior to Sunday around. It was the perfect storm. A Tampa Bay defense ranked next to last against the pass. A healthy star wide receiver with the reigning MVP at QB throwing him the ball. And, just like that, Julio Jones (268 yards, 2 TDs) is now a top-five WR in terms of fantasy points scored this season. If he remains vibrant the last five weeks, he'll likely move into the top-3 and we'll look back on 2017 as if it were just another brilliant season for Jones. But, the truth is: Julio was on the brink. The brink of becoming the dreaded B-word. Jones owners are still left wishing he could have spread the wealth a little bit better over the past 11 weeks, but beggars shouldn't be choosers. The bottom line is Julio is back to being Julio…at least for today. And, he'll get to play the Buccaneers again in Week 15.
Lather, Rinse, Repeat…
This is a reference to predictability and assurance. And, Week 11 saw some of the recent positive trends in scoring continue or in this case, repeat what took place the week before. For example, Ben Roethlisberger and Antonio Brown's numbers in Week 11 were almost identical to Week 10. Ben threw four touchdowns (again). Brown caught 10 passes for 140+ yards and multiple TDs (again) and Le'Veon Bell was again left out of the goal line game-plan. It's hard to be too upset with Bell's yardage totals (183) or receptions (12), but truth be told, it could have been an even bigger day. As for other repeating events from Sunday, Alvin Kamara's 180+ yards and 2 TDs once again established him as fantasy football's best running back over the last six weeks. The race is now on to see if Kamara will be fantasy's No.1 overall RB by season's end. Remarkable. Finally, quarterbacks Tom Brady, Carson Wentz, and Russell Wilson just kept marching along. There is no doubt who the three best signal callers are heading into the fantasy playoff season.
Turkey Day Quarterback Savants
Speaking of QBs on a roll, how about the Thursday performances of Philip Rivers and Case Keenum? Keenum likely didn't get much starting consideration in fantasy circles against the Lions, but Rivers should have and if you were wise enough to start him, he delivered. Using conventional performance-based scoring calculation, Rivers and Keenum had 33 and 30 points respectively and allowed a few others to have some glorious Thanksgiving Day games as well. Rivers and the Chargers seem to be in a solid rhythm right now and you could do much worse than riding him in your upcoming fantasy playoffs unless you've got the aforementioned "big three" at the position. As for Keenum, he faces three top-7 pass defenses in the next three weeks, but is certainly more reliable right now than, say, Dak Prescott or Alex Smith. In any event, hats off to two QBs who made Thanksgiving games their personal playgrounds.
More Thanksgiving Day Stalwarts
Rivers and Keenum weren't alone in their pursuits of fantasy greatness last Thursday. Keenan Allen (who I could have included in the first lather/rinse/repeat paragraph) was once again brilliant, garnering another 172 yards on 11 catches. It was the second week in a row that Allen had double-digit receptions for 150+ yards and at least one TD. Earlier in the day, Kyle Rudolph put his stamp on Thanksgiving with a pair of touchdowns. It was by far Rudolph's best performance of the season and likely allowed some owners to win some close contests based on his unexpected prowess. Then, there's Marvin Jones who likely sat on plenty of benches for fear of the Vikings defense. Seems the Vikings game planned to shut down Golden Tate and all other skill position players, but neglected Jones (100+ yards receiving, 2 TDs). Last but not least, how about the Washington duo of Jamison Crowder and Samaje Perine. A few weeks ago, neither would have been in starting lineup conversations, but now both look like "must starts" coming down the stretch. Crowder has averaged 108 yards a game over the past four weeks and Perine has run for 100+ yards in two consecutive games. Kudos again to all of these heroes of Turkey Day.
Fournette: An Asset or Liability?
Speaking of Perine, which rookie RB would you want to have most during the last four weeks of the season: Perine or Leonard Fournette? If you sheepishly said Perine, you're not alone. Fournette appears to only be a shell of what he was in September and early October as he averaged 2 yards per carry and failed to break 50 yards from scrimmage or score a TD for the second time in three weeks. With T.J. Yeldon continuing to get more work on third downs (5 receptions Sunday), Fournette is looking fairly TD-dependent heading into the fantasy playoffs. If you can get to Week 16, he's got a dream matchup vs. the 49ers to exploit, but the path to getting there could be filled with some tough lineup decisions. I don't envy the guys who will try to decide whether or not to start him in the weeks to come. Until reports of better health start to surface, he's a low-end RB2 at best.
Lather, Rinse, Repeat (The Flip Side)
The other side of repetitive trends in fantasy football unfortunately highlights teams and players currently in a serious funk. This would include all Chiefs and Cowboys along with deafening silence from tight ends Evan Engram and Cameron Brate. Dallas and Kansas City's woes are truly baffling given how well each was playing offensively through October. At least there is some explanation for the Cowboys' demise (Ezekiel Elliott's absence), but Kareem Hunt owners are pulling their hair out trying to figure out whether to keep starting him after his worst performance of the season on Sunday (26 totals yards). Not even the brightest light in darkness normally (Travis Kelce) could muster up much versus a Bills defense that had been gutted just a week before. As for the TEs noted, Engram will be fine once Sterling Shepard returns to relieve him from constant double teams, but Brate is clearly being phased out with 12 yards receiving or less now in four straight games.
The Calm Before The Storm (Gronk's Return)
Occasionally, we call something exactly right here at the Buzz and if you read the paragraph last week on stars following up quiet weeks with big weeks, you noted that Rob Gronkowski was projected to be the next in line for a resurgence. We'll say it again this week - DO NOT EVER bench a stud after he's had a quiet game the week before. The problem with that theory, though, is that you have to define who a "stud" is. Guys like Gronk, Brady, and Antonio Brown fit that mold as they have been the best at their positions, fantasy-wise for each of the past five seasons. So, who will bounce back big next week? He's not the stud that Brady, Gronk, or Brown are, but look for Jordan Howard to run wild vs. San Francisco. Once again, you heard it here first, but as is noted in this week's final paragraph, sometimes we're dead wrong, too.
Fading Into Irrelevancy, Part One (Running Backs)
OK, so here's the thing. At the Buzz, we wanted to "red flag" a few guys that aren't going to be winning you games during fantasy playoff time based on current trends. In other words, don't expect the following RBs to suddenly find their rhythm in December. Our list of "Don't Bank On" guys goes like this: Jay Ajayi (too little usage), C.J. Anderson (Broncos are a mess), Ameer Abdullah (can't quit fumbling), Bilal Powell (one solid game all year), and Jerick McKinnon (Latavius Murray now getting the bulk of the work). You're better off entering the fantasy playoffs exploring other options.
Fading Into Irrelevancy, Part Two (Wide Receivers)
Before continuing this theme, a sad nod to my three starting wide receivers on Sunday in the league I care about/love the most. The triumphant trio of Demaryius Thomas, T.Y. Hilton, and DeVante Parker netted me a combined grand total of…TWO fantasy points. What do all three have in common? The guys throwing them the ball simply aren't very good. Just another reminder that when evaluating talent at the WR position, keep in mind the quarterback on the other end. In Hilton's defense, his season might have looked a lot better with Andrew Luck tossing him passes this year, but that's water way under the bridge at this point. Others not to rely on in December include Dez Bryant and Jordy Nelson. It's really odd how Davante Adams has continued to thrive with Brett Hundley at QB while Nelson has plummeted. One guy I would not give up on yet is the Chiefs' Tyreek Hill. Andy Reid has to find a way to get him more involved and I would bet he will again as early as next week.
Final Thought: What Do I Know? RSJ is Golden
All right…last and probably least, if we're going to pat ourselves on the back here at the Buzz with respect to Gronk's big day, we need to eat a little humble pie on the amazing follow-up act by Ricky Seals-Jones of Arizona. We scoffed last week at the idea of picking him up off the waiver wire with Jacksonville next in tow. So, what does Ricky do in his second game as a Cardinal? Four catches, 72 yards, and a TD. Sometimes, the Buzz takes a ride on the ship of fools just like everyone else.
Next week will feature our traditional format before we go full-scale into fantasy playoff mode for Week 14.