Targets are often a good indication of how important a pass-catcher is to his offense, but it doesn't tell the whole story, as with many of the free tools the majority of fantasy owners have at their fingertips. Worse yet, it is far from the most predictive stat when it comes to projecting a potential breakout. Snaps tell us how many plays a particular pass-catcher is on the field, but owners are going to be hard-pressed to find a site that splits running-game and passing-game snaps. Because no skill-position player - outside of a quarterback - plays 100 percent of the snaps, there's not an easy way for most owners to discern just how often a pass-catcher is available to be targeted.

Most people would acknowledge that a player can't be targeted unless he is actually running a route, and that is the topic of discussion for this week. Even the most inexperienced fantasy owner has a good idea which players are considered "full-timers," but those are not usually the players typically available on the waiver wire. Several analytics sites track how many routes a player runs. When that knowledge is combined with his targets, it gives owners a better understanding as to how important that player is to the passing game. For example, a tight end that can't block isn't going to be a full-time player, but if he is getting looks 25 percent of the time he is running a pattern, then we may have something to work with moving forward in fantasy.

For the sake of time and space, I'm going to keep the analysis limited to mostly unheralded players and let readers digest the table below as they see fit. Players who are no longer with their team, have played two or fewer games or are averaging fewer than 12 routes per game have been eliminated, except in special cases. Some players, such as the 49ers receiving corps, were included in their entirety to display just how much of a jumbled mess HC Kyle Shanahan has on his hands at the moment.

Cardinals WR Damiere Byrd - Prior to sitting out Week 4 with a hamstring injury, it's at least somewhat notable that Byrd was running more routes than Christian Kirk and Larry Fitzgerald. One of the biggest factors working against him is he is an outside receiver in a slot-heavy offense that doesn't afford the quarterback much time to work from the pocket. Fortunately for him, Kyler Murray has the ability to buy time. As will be the case with most of the players on this list, his is a name to monitor should he be able to return in Week 6 and/or Kirk's ankle injury becomes a nagging issue.

Falcons WR Mohamed Sanu - How many times will owners find a team's leading receiver (in terms of receptions) on the waiver wire four weeks into the season? Sanu has one more catch than Julio Jones (24-23), although it should be acknowledged Sanu is coming off a season high in targets (12) and receptions (nine). Predictably, he hasn't found the end zone, but it's hard to ignore he also leads the Falcons in routes run (169). With this kind of opportunity and Matt Ryan averaging well over 40 passing attempts per game to make up for an ineffective ground game, there is a chance for four Falcons (Jones, Calvin Ridley and Austin Hooper being the other three) to be viable in fantasy.

Bills WR Cole Beasley - The northeast version of Sanu in a much less pass-happy offense, Beasley is likely to start flying off waiver wires after attracting 13 targets against the Patriots. Like Sanu, Beasley isn't going to score touchdowns very often, but it's hard to ignore he's produced at a low-level WR3 range in PPR leagues for three straight weeks and has 23 targets over his last two contests. The headliner here, however, is that 24.6 percent targeted route rate. It's not asking the world for a slot receiver to run roughly 35 routes in a normal game - his current average - so this is one situation in which owners can expect similar production moving forward, even if he doesn't maintain his current 96-catch pace.

Bears WR Javon Wims - Filling in for an injured Taylor Gabriel in Week 4, Wims ran more routes last week than Gabriel did in either of the previous two games. Does it mean anything? Probably not, especially considering HC Matt Nagy did his best to scheme Gabriel open during his three-TD effort against Washington in Week 3. But if it does, Wims becomes an interesting consideration. The former seventh-round pick had a strong preseason and someone who has proven himself capable of coming down with the 50-50 ball. Gabriel brings the offense an element of speed no other full-time receiver on the roster does, but he is also not built to last either.

Bengals TE Tyler Eifert - If owners want to do nothing more than play him this week against Arizona - the defense that has surrendered 111.1 PPR fantasy points through four games, 39 more than current TE1 Evan Engram - I understand. Eifert has also been targeted 19 percent of the time he runs a route, which is on par with Greg Olsen (21.6 percent). What is telling is that C.J. Uzomah has run a total of 37 routes over the last three weeks combined and been targeted twice, while Eifert has 11 targets on his 58 targets over the same time. The Bengals will be throwing the ball a lot this season, so if Andy Dalton's lack of interest in Uzomah continues, it might signal Cincinnati wants to gently bump up Eifert's usage.

Brown TE Ricky Seals-Jones - I'm not sure there was another player available after final cuts more capable of serving as a reasonable facsimile of David Njoku. While Seals-Jones isn't quite the same crazy athlete, he brings the same rocked-up wide receiver build and style of play to the team. Seals-Jones has run only 19 routes in three games with the Browns, but 15 of them came last week. While his three targets were nothing to write home about, he caught all of them and finished with 82 yards and a touchdown. With Njoku unable to return for about two more months, there is an opportunity for someone like RSJ to help fantasy owners navigate through the troubled fantasy tight end waters. We've seen him flash before, and now he has a chance to expand on that for a team that has a good quarterback situation AND solid supporting cast.

Broncos RBs Phillip Lindsay and Royce Freeman - Lindsay and Freeman are being used interchangeably. Some of the proof for that is Lindsay's 18 targets and 26.1 percent targeted route rate versus Freeman's 17 targets and 22.4 percent targeted route rate. For some perspective on their 35 targets, Christian McCaffrey leads all backs with 31. While I am in no way suggesting McCaffrey 2.0 is in this backfield should either Lindsay or Freeman go down, but there is going to be massive opportunity for the healthy one with the duo currently averaging 24 carries and nearly nine targets between them.

Texans WR Kenny Stills - This one is very much fluid, but not because Stills is a poor receiver. Quite the opposite, actually. If ever there was a team that needed someone like Stills, it might be the Texans. Will Fuller and Keke Coutee's injury histories have been well-documented, making a player who can both stretch the field and play the slot capably a bit of a necessity. Interestingly, all four of the top Houston receivers have manned the slot between 38 and 44 times this season. It is still noteworthy Stills has been targeted on 21.5 percent of his routes - significantly more than Fuller's 15 percent - despite his relative unfamiliarity with the offense. Whether it be due to injury to Fuller and/or Coutee or performance, there is evidence to suggest Stills will be Houston's second-most productive fantasy receiver in 2019.

Colts WR Parris Campbell - The retirement of Andrew Luck combined with Campbell's preseason hamstring issues pretty much derailed whatever hype train he could've started in August. Still, it's hard to argue about his efficiency- catching 10 of his 13 targets - and he's been targeted 19.1 percent of the time he runs a route. Much like Stills above, that's not a small number considering how much preseason work he missed. When we further consider how much HC Frank Reich loved his selection on draft day, it's not hard to imagine a breakout is coming soon, even if Hilton returns to action in Week 5 and doesn't get hurt again for the rest of the year. And if Hilton is sidelined for any length of time, look out; Campbell is by far the best candidate to replace what Hilton does for the offense.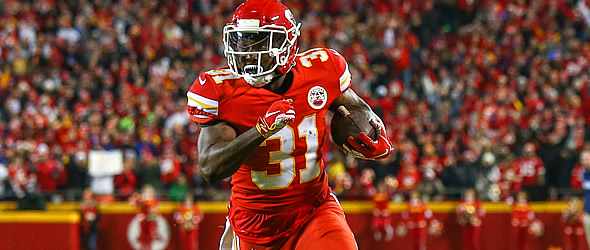 Chiefs RB Darrel Williams - There are multiple turning points during every fantasy football season, and what HC Andy Reid decides to do in Week 5 may be one of them. There is little question Darrel outperformed Damien Williams during each player's two-game audition, nor is there much question Darrel was used in a similar fashion. So what wins out here? The fact Damien got a contract extension in the offseason and his starting status entering the season or the fact Darrel brings a combination of power and explosiveness to this backfield none of his other teammates do? In addition to being targeted on 20 percent of his 45 routes so far (not far off of Damien's 23.9 percent rate), Darrel has closed out each of the last two games ahead of LeSean McCoy. That alone would seem to speak volumes.
Rams RB Todd Gurley - This one is going to run a bit long, only in an effort to eliminate the constant negativity surrounding him. Gurley has run 104 routes this season, placing him fifth in the league among running backs. (He had 111 routes run at the same time last year.) Shockingly, he only ran 34 routes last week. While I'll be the first to acknowledge his 12 touches against the Bucs should be alarming, it doesn't account for the fact HC Sean McVay trusted him to play 74 snaps. Nor does it discount the fact Gurley ranks fourth in the league with 222 snaps. McVay promised the Rams were going to be more judicious with how they use him. That is what they are doing, and one could argue last week's 74 snaps were either an unexpected departure from that plan or a test to see if they could begin unleashing Gurley (something I expect to come after the Week 9 bye).
So you think his play has fallen off? Pro Football Focus charted Gurley with seven avoided tackles and 2.71 yards after contact on 79 carries through four games last year. This year, he has nine avoided tackles and 3.33 yards after contact on 49 carries through four games. In an effort to make sure I wasn't delusional, I went back and watched last year's regular-season opener to see if I could see much (or any) difference in his running style, explosion, etc. What I saw was more of a change in how defenses are playing the Rams (please check out all four of my posts). Most fantasy owners realize the knee could become an issue again at any time, but that is not what I believe is happening here. Regardless of whether we like the way it is unfolding or not so far, the Rams are 3-1 and averaging 29.3 points - not exactly like the ship is sinking or a ton of motivation to change.
Dolphins WR Preston Williams - Investing in any Dolphin is dicey at best. Williams (117) has somehow run 29 fewer routes than team leader DeVante Parker (146), yet has five more catches and six more targets. Because Miami averages just a shade under 55 plays, Williams' 29.3 routes run per game may be where he stays for the bulk of his rookie year. It'll be interesting to see if the return of Albert Wilson means less time for him, so Week 6 (Wilson's expected return) will serve a good indication as to whether Miami can produce a viable receiver in fantasy at any point this season. If the Dolphins embrace three-wide sets with him as a part of those formations, then owners may have a potential bye-week option on their hands. One could argue Williams is already on the cusp of fantasy relevancy now, and the schedule is about to lighten up with matchups against the Redskins, Steelers and Jets in three of the first four games coming off the Week 5 bye.
Jets WR Jamison Crowder - Crowder was targeted on 15 of his 46 routes in Week 1 against the Bills. Life has slowed down for him since then, as Sam Darnold came down with mononucleosis shortly thereafter, leading to the Jets running the fewest plays in football. However, people are likely making a mistake if they believe Crowder isn't going to benefit when Darnold returns. HC Adam Gase has stated he intends to pick up the pace of his offense once he has his field general back. Crowder has somehow managed to remain so heavily targeted on his routes (24.1 percent) in Darnold's absence, strengthening the stance his involvement in the offense is more than Darnold leaning on his slot receivers. It means Gase sees him as an integral part of the offense as well.
Raiders TE Darren Waller - Waller has quickly become an obvious start, but it's worth emphasizing he is being targeted on almost 32 percent of the routes he is running! He is also commanding 29.8 percent of the target share in Oakland. For the sake of comparison, that's 3.5 percent higher than Zach Ertz last year on his way to setting the NFL record for targets and catches by a tight end.
Steelers WR Diontae Johnson - The Steelers are very much trying to find themselves offensively post-Ben Roethlisberger, as evidenced by James Conner being targeted on 29 percent of his routes and Jaylen Samuels being targeted on 20 percent of his. Week 4 probably wasn't an indication of what the Steelers will be about moving forward. With that said, Johnson has been the equal of JuJu Smith-Schuster over the last two games. (Smith-Schuster holds only a 57-50 edge in routes run. What's even more bizarre is that James Washington has run 56 routes and been virtually invisible in the offense.) For better or worse, Johnson appears to be Mason Rudolph's flavor of the week (month?). The rookie's fantasy owners must be overjoyed with what they hoped was a flyer a couple of weeks ago, but the Steelers' current offensive model isn't a long-term answer, nor does it make much sense if it can't find a way to funnel targets to a stud like Smith-Schuster. To his credit, Johnson is making major strides to securing the No. 2 job, but Pittsburgh will eventually find a way to get Smith-Schuster going. And that's an important distinction to make since Rudolph will be hard-pressed to support more than one fantasy-relevant receiver for the foreseeable future.
Titans WR A.J. Brown - Corey Davis (114 routes) is the top receiver in Tennessee, although it would be hard to convince many fantasy owners that is the case. Brown actually ranks third among Tennessee receivers with his 92 routes, but Marcus Mariota has targeted him 20.7 percent of the time on his patterns, whereas Davis (15.8) and Adam Humphries (15.6) are significantly lower. The biggest problem with Brown at the moment is opportunity; he has seen no more than five targets in any game and is running an average of 20.5 routes. Even for a player with his speed, strength and athleticism, it's going to be next to impossible for him to maintain any form of consistency with that kind of usage.

---
Doug Orth has written for FF Today since 2006 and been featured in USA Today's Fantasy Football Preview magazine since 2010. He hosted USA Today's hour-long, pre-kickoff fantasy football internet chat every Sunday in 2012-13 and appears as a guest analyst on a number of national sports radio shows, including Sirius XM's "Fantasy Drive". Doug is also a member of the Fantasy Sports Writers Association.