Pick 1.03




9/1/10



FF Toolbox organized a series of mock drafts this pre-season from which I've written "Drafting from the Middle" (9th pick in June) and "Drafting from the Bottom" (12th pick in July). The August draft is on now.

This draft is going a little slow, as we have just turned the corner into round 13 as I write this. Even though the draft is not complete, for the benefit of my finishing this three-part series of articles in a timely manner, I'll give you the recap so far along with what I plan to do to polish off my team.

The setup is a 12-team league with standard performance plus PPR scoring, 4 points for passing touchdowns and -1 for interceptions. The starting lineup requires 1 QB, 2 RB, 3 WR, 1 TE, 1 Flex RB/WR/TE, 1 K and 1 DEF, and we're drafting 20 roster spots.

The main difference between this and the prior two drafts is that this league will be played out in a best-ball format. That means we do not submit lineups or make any in-season roster moves. Instead, the roster is static all season and the optimal scoring starting lineup is added to our points total each week. Bragging rights are on the line.

Best-ball does change the strategy a little bit, as we may see more emphasis on handcuffing starters and getting good backups at key positions. For the most part, however, the early chunk of the draft is consistent with traditional head-to-head fantasy football leagues.

For this draft we were allowed to submit our preference for draft position, and my preferences in order were #3, #1, #4, and #2. I had the fourth choice, but ended up with my first preference, the #3 pick. Here is to hoping you find this helpful if you have the good fortune of getting one of the top picks in your draft.

1.03 RB Ray Rice, BAL
I truly could flip a coin here, but when my first preference was the #3 position in this draft, the purpose was to acquire Rice, so I'll stick to my guns. I'm not sure Rice will match his reception numbers from a year ago, but I do think his TD numbers have room to improve. Even with the acquisition of Anquan Boldin, this team isn't going to change their run-first philosophy, and I'm not concerned about Willis McGahee vulturing touchdowns. Yes, as a Bills fan I'm still bitter about McGahee's unceremonious exit from Buffalo.

I know the biggest bone of contention will be the selection of Ray Rice ahead of Adrian Peterson, who unexpectedly was available at pick three. I love Rice and see them in the same tier. Mind you, this draft started a day before we knew Sidney Rice was going to miss half the season, which may have swayed me toward AD, but just because I took Rice there doesn't mean you have to. Please no hate mail from Minnesota fans as a result of that decision.

2.10 RB Rashard Mendenhall, PIT
With all the WRs flying off the board, there are some prime-choice RBs left to pick from. I agree with comments from 2V (John Tuvey, the Huddle) that WRs are extremely important in this format. But, I'm going to go in the opposite direction and take my pick of the litter of the remaining RBs. Mendy is a good pass catcher and should be among the league leaders in touches. I feel like I'm taking a walk down memory lane going RB-RB. Is that Bruce Springsteen's Glory Days I hear?


( Image courtesy of the Cheatsheet Compiler & Draft Buddy... )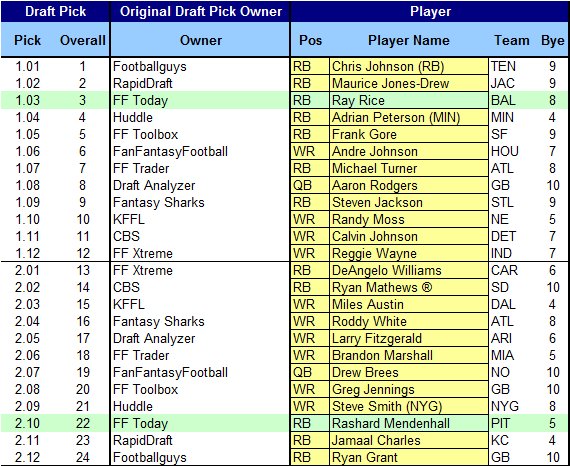 Having started the draft RB-RB—and even though we can start three RB in this league format—there is definitely a strong push toward taking a WR with this pick. It is a PPR league, and with a minimum of three starting WRs (usually four with the flex), I'd rather lock up a WR I'm confident in week-to-week than draft another position at this stage and drop a tier or two before my first WR is on board. I think I got a little lucky being able to nab DeSean Jackson, a player I had ranked ahead of Steve Smith (Carolina) and Wes Welker, who just went within the last few picks. DJax wowed us last year with a remarkable number of long touchdowns (nine from beyond 40 yards, including two punt returns), but make no mistake, the kid has the desire and talent to be a consistent fantasy contributor, not just a hit-or-miss deep threat. He'll be targeted heavily as the Eagles number one receiver, and I think new starting quarterback Kevin Kolb is up to the task of replacing Donovan McNabb.

4.10 TE Jermichael Finley, GB
Jermichael Finley and Hakeem Nicks. How am I going to acquire both players, each with an ADP very similar to one another, with a full four picks between this and my next pick? Had Dallas Clark or Antonio Gates not been taken prior to now, the decision would be elementary. Take Nicks now, as there would have been a higher probability of one of those TEs being taken before Finley. Unfortunately, they were already gone.

Some people might rate Vernon Davis ahead of Finley; but to me, Finley really stands out among the available TEs, while Nicks only sort of stands out among the available WRs. Plus if I take Finley, that could push the guys drafting to the left of me to acquire a top TE. Maybe they'll nab a QB, or rate some other WR higher than Nicks. Okay, rolling the dice... Finley it is with this pick...


( Image courtesy of the Cheatsheet Compiler & Draft Buddy... )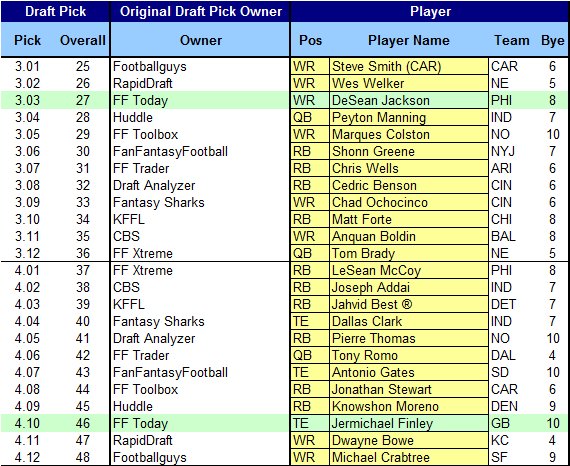 Now that I've composed myself after an expletive-laced tirade against RapidDraft for swiping Hakeem Nicks with the last pick, I'll add Matt Schaub. If an available RB or WR really stood out to me at this point, I would add to those positions, but none do. Schaub stands out as the safest of the remaining QBs. He was stellar last season, and his circumstances haven't changed much—except that maybe Houston has found a half-decent running game. That only helps Schaub stay healthy and keeps defenses honest, which should pave the way for the Texans offense to rank among the best in the league.

6.10 RB Ahmad Bradshaw, NYG
I went value and upside over need with this pick. The explosive Bradshaw is getting some good press this preseason with speculation of his earning the lead back role over incumbent Brandon Jacobs. Whether that speculation is fuelled predominantly by fantasy players or the Giants media (with any hint of reality from either) remains to be seen. I think most know that Bradshaw is a talent who was pretty raw and has needed time to mature. Plus, Jacobs is no Ironman. Bradshaw is ready for a bigger role; let's see what he does with it.

7.03 WR Santana Moss, WAS
Footballguys made a couple of good picks at WR on the end in Johnny Knox and Terrell Owens, and I expected a couple WRs to go on that short turn, but I was hoping Santana Moss would make it back to me. Little Moss isn't hyped up or down in fantasy circles, but with the best quarterback and offensive-minded coach he's had in years (or ever, perhaps?), I expect a reliable, productive performance from him this season.

8.10 WR Bernard Berrian, MIN
A variety of considerations are available for this pick, including WR Bernard Berrian and RB Ricky Williams—the last available RB expected to get a significant workload. Also, there sit TEs Zach Miller and John Carlson, the top two available TEs, and neither Footballguys nor RapidDraft have a player at that position yet. I could really mess up one of those teams by nabbing Miller.

Looking purely at my needs though, I could use another WR. Berrian goes way above his ADP here because his ADP quickly became redundant, thanks to the Vikings losing Sidney Rice for at least half the season and red flags regarding Percy Harvin as he continues to deal with migraines.

The thing is, Berrian is not a bad receiver. This isn't like some unknown suddenly shoved into a starter's spot due to injuries. Berrian has one 70-catch and two 950-yard seasons on his resume. Brett Favre, being Favre, will create a top-producing WR like he's done time and again. Berrian is a good bet to be that guy.

9.03 QB Eli Manning, NYG
The aforementioned Williams, Miller, and Carlson all have gone since my last pick. No, I didn't need a TE during my last pick, but I know I could have forced one of those teams to downgrade at TE. WR is still my biggest need, but I'm not overly excited about those options right now, and I still have the itch to disrupt another team who is short an important starter.

Understand that if this were not a best-ball format, I probably wouldn't take my second QB here. Footballguys and Toolbox still need a starter though, and Eli Manning is all alone near the top of my available QB rankings. Pairing him with Matt Schaub should give me exceptional QB points most every week, as well as better insurance against injury should something happen to one of them.

I also suspect taking my backup QB now may motivate others to follow suit. As it turned out, that is exactly what happened. The selection of Eli set off a flurry of QB picks, nine of the next 22 picks, starting with Eli. Only two teams did not have a starting QB when that stretch started. It is a great feeling to command the direction of the draft instead of just going along for the ride.

10.10 WR Jacoby Jones, HOU
I've definitely been in the camp that has given up on this guy ever being a decent fantasy performer, but after watching the Cowboys–Texans pre-season game the other night, he looked damn impressive. Matt Schaub targeted him frequently, and Kevin Walter was not targeted very much at all. Maybe J.J. finally has his head screwed on straight. He's got the athletic ability. I'll take a chance on his pulling it together in 2010.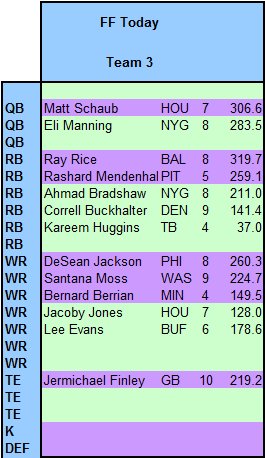 11.03 WR Lee Evans, BUF
Jacoby Jones has an excellent quarterback, offensive system, and supporting cast, but no one is sure what kind of WR he can be. Lee Evans is a very talented WR, with a sub-par QB (that might be generous), questionable offensive system, and weak supporting cast. Oh boy... Well, I might be putting on the rose-colored glasses, but I do think Chan Gailey is going to squeeze better-than-expected offensive production out of this group.
12.10 RB Correll Buckhalter, DEN
I have no love for Buckhalter—or for much of anything going on in Denver—but as it turns out, I've rostered him twice in the last 24 hours (auction draft the prior night). From the available options, Buckhalter is the last man standing who should receive a decent amount of touches in a sharing situation. And if Moreno is pressing to get back early from his hamstring issues, resulting in further injury, Buck could get a boost in value.
13.03 RB Kareem Huggins, TB
Slow drafts like this one can be beneficial when news breaks that quickly alters player value, and your pick comes up at a spot where you can react to it. Or, you can similarly shoot yourself in the foot by over-reacting to that news. I'm going to walk the line with Kareem Huggins, whose value just spiked this week with the news of Derrick Ward being cut from the Bucs.

Who is Kareem Huggins? Well, apparently he's impressed the coaching staff throughout the pre-season. The Bucs signed him as an undrafted free agent out of Hofstra in 2009. He was a known quantity to head coach Raheem Morris (a Hofstra alum) for some time. Huggins has battled to get to the NFL, but so far, each chance he's gotten he's moved closer. The not entirely unexpected release of Ward cemented the deal, with Huggins now a good bet to be primary backup to Cadillac Williams, who is not the most durable RB himself.

The Huggins hype has more of a feel of the Willie Parker story when he broke out with the Steelers, as opposed to, say, the hype surrounding Jacoby Jones last year… and the year before. Uh oh. Anyway, I'll take a shot here on Huggins because RB is still a weakness and I don't think he will make it back to me in the 14th or 15th rounds.
And that is where the draft is at right now. I still have seven roster spots to fill, and I need to acquire two kickers and two defenses at a minimum, given the lack of roster moves in this format. I may try to tag a third defense, which isn't a bad strategy for best-ball play, considering that I don't need to predict when to start my defense and that the scores for them do vary a lot week-to-week.

The other two or three spots need more stockpiling at WR and RB, if decent options come back in the next couple rounds. Perhaps also a third QB, but I have two good starters already. If I go that route, I would be taking a chance at this point on someone like Trent Edwards just for depth and injury insurance.

That concludes my "Drafting from…" series for 2010. Whether you are at the top, middle, or back end of your draft this year, good luck!.