Pick 1.12




8/6/10



Last month I wrote "Drafting from the Middle," a recap of a mock draft organized by FF Toolbox that I participated in against peers in the industry. That was the June edition in the three-part series of mock drafts, with me drafting from the eighth pick.

Now I'm back to discuss the July edition mock draft, which just finished. Based on random selection, I drew the eighth pick in the draft, again. Fortunately I was able to plead my case that no one wanted to read "Drafting from the Middle" again, and RapidDraft's Matt Schauf graciously swapped draft positions with me, dropping me down to the caboose, the end of the draft, the twelfth pick.

The setup is a 12-team league with standard performance plus PPR scoring, 4 points for passing touchdowns and -1 for interceptions. The starting lineup requires 1 QB, 2 RB, 3 WR, 1 TE, 1 Flex RB/WR/TE, 1 K and 1 DEF, and we're drafting 18 roster spots.

Here is a recap of what happened, some thoughts on why I went in a particular direction with the picks, and even an admitted mistake and how I attempted to climb out of it. You may find this helpful if you are drafting at the end of your draft, or close to it.


I sure wasnít planning to end up with the same two picks to start this draft as the last mock draft, although that is exactly what happened. Except this time drafting twelfth instead of eighth means I got a better deal (value) on Mendenhall and a worse deal on Austin.

I almost went with the Jamaal Charles/Roddy White combination, which is a great potential pair in its own right, but it would have been only for the sake of drafting a little differently than last time. I stuck to my guns and again took the highest available RB and WR on my board.

The main concerns from the anti-Mendenhall crowd are (a) Pittsburghís poor offensive line and (b) lack of explosiveness from Mendenhall. My biggest concern is OC Bruce Arians, who ran the ball only 42 percent of the time last year and may have trouble adjusting his propensity to pass, even without Ben Roethlisberger for the first part of the season. I expect HC Mike Tomlin to force the issue, to a degree, of running the ball more, and Mendy has little competition for carries. The sky is not falling in Pittsburgh. This is still going to be a good, competitive team. Mendenhall earned a healthy 4.6 YPC last year, and in a workhorse role this year, heís in line for top-10 RB numbers.



Other (strong) consideration:

Jamaal Charles


Back in the June mock I took Austin as the sixth WR off the board. This time only three were selected before this pick, yet I still took Austin as my best bet at the position, passing on some big names in Larry Fitzgerald and Calvin Johnson. Iím not concerned with the anointed one (anointed by the fantasy community), Dez Bryant, cutting into Austinís numbers this year. Bryant is a rookie, after all. Austin is in a great situation with a solid QB, a respected running game, and good complimentary receivers. All of this will help Austin to keep showing us what he showed us last yearóthat he is one heck of a player.

Note: The Austin pick was made prior to Bryantís injury in training camp, so even at that point I still considered Austin a great play for this season regardless of Bryantís status.



Other consideration:

Roddy White

( Image courtesy of the Cheatsheet Compiler & Draft Buddy... )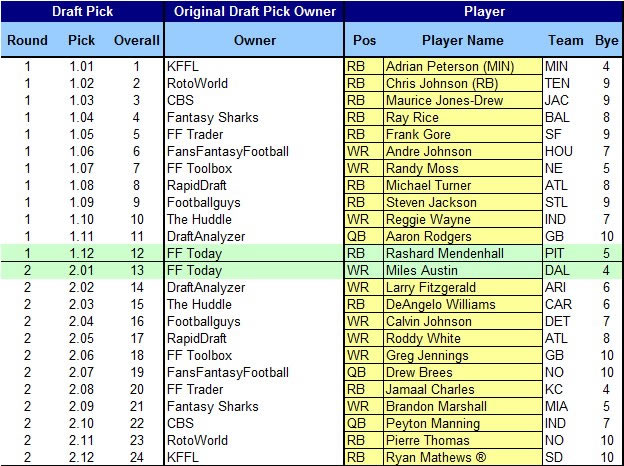 I donít often take a QB this early in the draft, because usually these top guys are getting drafted earlier than I feel their value is worth. Well, not this time. Both the RB and WR positions are getting into the so-so quality range; that is, they might be okay but Iím not that excited about them in the 3rd round, and no TEs are off the board yet. Meanwhile, Tony Romo and Tom Brady are making their way towards me. I could really be a step ahead of the other teams getting one of these top QB starters here. I may be better served diversifying a bit by taking Brady instead of my second Cowboy, but with the drafting of Austin it is clear I think highly of Romo and expect him to have a great 2010 season.



Other consideration:

Tom Brady


People are shy on a repeat performance from Cedric Benson, but Iím not sure why. I mean, I know he has that terrible history with the Bears, but it may be the case that he just didnít fit in with that particular Bears team. Benson had an excellent 2009 campaign from start to finish, and the Bengals are certainly gearing up as if last year were no fluke. Theyíve improved the passing game by adding Terrell Owens as a serious threat opposite Chad Ochocinco, which should help open up running lanes for Benson. Heís had some off-season trouble (again), but he is currently in the clear from that. At this point of the draft Iím happy to take 300+ carries at four yards per.

( Image courtesy of the Cheatsheet Compiler & Draft Buddy... )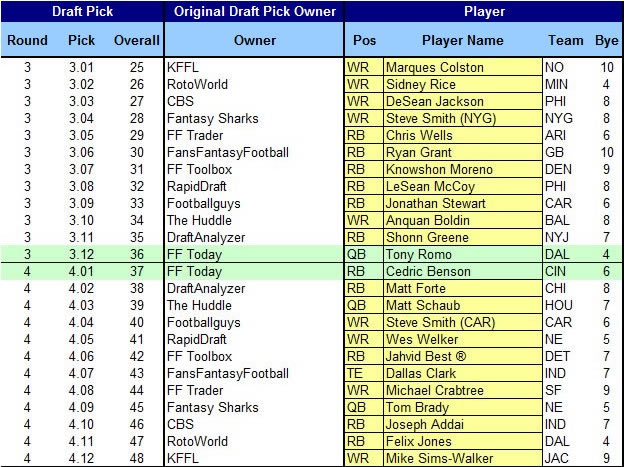 Choo-choo, here comes the hype train. Finley is getting a lot of love from the fantasy community right now. The question is whether it is justified or not. Well, he sure looks the part of a premier pass-catching TE to me. In only 9 starts last year, and 13 games, he hauled in 55 catches for 676 yards and 5 TDs, plus he had a monster 6-for-159 wild-card game against the Cardinals.

When the Packers started to utilize him more in the second half of the season, he became the focal point of the offense. Watching him play, he really passed the eye test as an emerging, dominant force on the field. And considering he fell to the late 5th round, he is worth the potential reward at this price.


Iím going off my board a little bit here, because FF Todayís Mike Krueger doesnít currently have Pierre Garcon projected particularly high. Personally, I think Garcon is in line for a very good season, assuming he wins the starting job opposite Reggie Wayne. It isnít a foregone conclusion, but I wouldnít draft him here unless I thought his odds were really good.

What I saw from Garcon last year was a player Peyton Manning felt more comfortable going to as the season went on. He didnít have a high catch percentage, but that was due to his being on the other end of more long plays downfield. With other options like T.J. Houshmandzadeh and Santana Moss available, Iíll take the guy with more upside catching passes from Manning.


I'm not a huge fan of Floyd, but itís hard to deny the opportunity that is falling into his lap with the continued grim holdout by the (letís not forget) suspended Vincent Jackson. Floyd did have a miniĖcoming out party last year with 45-776-1, and Philip Rivers showed more confidence in Floyd, which led to the mid-season departure of Chris Chambers. With an expected increase in targets and, one would think, more trips to the end zone, Floyd becomes a viable upside WR3 choice here.


If Malcom Floyd is my longball guy with a handful of catches and a gaudy yards per catch, Edelman is my anti-Floyd: many catches and a struggle to get over 10 yards per catch. But those receptions sure add up! Maybe I'm a pessimist, but I don't see Vincent Jackson in the Chargersí future, and I just don't see a positive outlook for Wes Welker at this point, which opens the door for Edelman to continue in the role he admirably filled late last season. I double up at WR with these last two picks, given that RB was more of a strength for me in the early rounds.



Sidebar:

Iíll admit it, I made a mistake in the last pair of picks, and that mistake really has little to do with the news of Welker coming off the PUP since these picks were madeóand since the comment about little positive outlook for Welker was written. It has to do with taking two risky WRs and waiting (and hoping) through another 22 picks for a good RB to come back to me. That was too much to hope for, and I should have taken a solid third RB with one of those picks.

Drafting from an end spot, you may find yourself in a position where you need to reach a bit for a player you need or really want. If you refuse to reach a bit, then the long turn can be damaging, not only taking away the player you wanted, but wiping out a host of similarly talented players, leaving you scrambling to fix the hole in your roster.


Weíve heard this song before. In an aging Patriots backfield, Maroney (twenty-five years old) is the young, talented RB who must be ready to earn more touches over Sammy Morris (thirty-three), Fred Taylor (thirty-four), and Kevin Faulk (thirty-four). Seriously, this is the year, right?ÖRight? Maybe...

Once again the Pats did not draft a running back or acquire a big-name guy as a free agent or via trade. As a team, they do rack up the rushing stats with quiet efficiency. While no one, myself included, is convinced the team will show enough confidence in Maroney to make him overly and consistently fantasy relevant, he has the best opportunity among the available choices to do it. He did have a great run last year from Weeks 6 through 12, when members of the geriatric crew were dinged up, and this time around they are all a year olderÖ


Mason brings some balance to the high-risk WR crew I accumulated through the first eight rounds. While Edelman and Floydóand even Garcon, for that matteróhave some excellent upside, they all have some question marks in terms of camp competition and lack of experience. Mason has boatloads of experience, and I donít think it is a foregone conclusion Joe Flacco will exclusively target newly acquired Anquan Boldin as often as people think, which has caused Boldin to get drafted on average in the third round of fantasy drafts. Flacco knows what he has in Mason, and he knows he can rely on him. With three consecutive seasons of over 1,000 yards, Mason isnít going to completely fall of the cliff, and he should be, at minimum, a reliable early-season starter.



Sidebar:

This is me attempting to correct the earlier mistake in the 7th/8th rounds of taking on too much risk at one position (WR) and passing on a good third RB. Iíve already secured a top QB and top TE early, so at this point of the draft I picked the next best RB available, along with a more conservative, reliable WR. Going forward, Iím going to try to stockpile those positions as best I can to build quality depth.


The starting RB job in Chicago appears to be Matt Forteís to lose, but Chester Taylor is a talented RB in his own right. Taylor is going to put some pressure on Forte in this new (to the Bears) and complicated Mike Martz offense. Both backs are good pass catchers, but perhaps Taylorís experience and good pass blocking will give him an edge picking up the offense and get him on the field if he can better protect Jay Cutler. As we know, every QB under Martz needs an exceptional amount of pass protection. Considering that the Bears shelled out good coin to bring in Taylor as a free agent, one can reason they expect to use him in a larger role than the occasional change-of-pace back. Sure, that is pure speculation, but the same type of speculation comes with nearly every RB at this stage of the draft.


With only minor consideration to pull the first defense off the board or back up Tony Romo, I really want to take two RBs with this pair of picks to bolster my RB depth. I almost pick Willis McGahee right behind Chester Taylor, each back offering exceptional upside if their teamís starter goes down. However, I notice Bernard Scott is still available and feel that, since I have Cedric Benson already, I shouldnít mess around and better insure Benson at this point.

Scott is a young, talented player just waiting in the wings for his opportunity to show what he can do. He is a pure handcuff. Benson did have a lot of carries a year ago, and is sure to take a pounding in the black-and-blue division of the AFC North, so better I grab Scott now instead of giving every other team another chance at him before my next set of picks.


I waited a good long time to take my backup QB. But after my last pair of picks, Matt Cassel, Jason Campbell, and David Garrard were still on the board, and there was a good chance I could get one of these preferred three next time around. Campbell is nothing to write home about in terms of ability to put up big passing numbers, but he is entrenched as the starter and should have a decent opportunity to air it out in quite a few games. Given the prior state of the Raiders QB situation, Campbell is a welcome addition to a team that may just overachieve a little this year as a final parting gift for JaMarcus Russell.


While the likelihood of earning much fantasy success on the back of any Cleveland Browns player is a tough proposition, I canít help but consider new QB Jake Delhommeís past contributions in helping to develop star wide receivers. Steve Smith is the obvious reference point, but letís not forget Muhsin Muhammad circa 2004 when Smith played just one game. Bottom line is, regardless of the interceptions, Delhomme is not afraid to force the ball to his primary receiver. Massaquoi saw 95 targets a year ago. If that number climbs north of 130, with a little better catch ratio in his second year, Massaquoi might pleasantly surprise owners with his year-end numbers.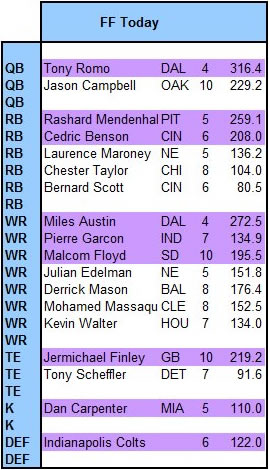 A seventh WR might seem like overkill at this point, but I donít envision rostering two defenses or two kickers, and none of the defenses stand out as being worth drafting right now. The Cowboys would have been the pick had they lasted. So, more depth is the order of the day. Walter is worth a shot this late in the draft, playing in a prolific offense and not far removed from a 60-899-8 season in 2008, before dropping to 53-611-2 last year. I donít put much stock in the idea that Jacoby Jones will earn the starting spot over Walter, considering the team has given Jones plenty of chances he hasnít cashed in on yet.


Scheffler represents a decent flier pick in fantasy drafts this year, particularly considering that many people think (or thought) Brandon Pettigrew was in line to be the main pass-catching TE this season, building off his rookie year cut short by injury. Ah, but recovery is not going as well as hoped for Pettigrew, and the Lions brought in Scheffler, who plays TE but canít block worth a damn. Heís there to catch passes. Scheffler was forgotten by the Broncos a year ago but flashed some talent prior to that. Letís see what the new surroundings, even if it is Detroit, can do for him.


I was targeting the Cincinnati Bengals but they surprisingly got nabbed earlier this round. The Colts defense is an okay but not a great choice for reliable fantasy stats. More than likely Iíd be scanning the waiver wire in this league for a surprise defense or to play matchups against weak, error-prone opponents.


Even in a tough division, the Dolphins are in line for a good season. Carpenter is a young guy, especially for a kicker, but he hasn't missed a beat in his first two seasons. He hit 89 percent of his field goal tries last year. Keep him in mind as an unheralded, late-round kicker after the bigger names are off the board.