Pick 1.08




7/9/10



Once again this year I was invited to participate in a series of mock drafts organized by FF Toolbox. The setup is a 12-team league with standard performance plus PPR scoring, 4 points for passing touchdowns and -1 for interceptions. The starting lineup requires 1 QB, 2 RB, 3 WR, 1 TE, 1 Flex RB/WR/TE, 1 K and 1 DEF, and we're drafting 18 roster spots.

Based on random selection, I drew the eighth pick in the draft for the first in the series, the June mock. We finished up last week and I'm here to share the results.

While I was initially not enthused with the eighth pick, I thought the results were pretty darn good. On a couple of occasions I was able to draft the last or nearly last player in an upper tier at his position before a drop-off in my rankings. Through eight rounds this team is fairly stout with nice balance across the board at the starting QB, RB, WR and TE positions.

Included below are the complete draft results (screenshots courtesy of the Cheatsheet Compiler / Draft Buddy), and commentary about what I was thinking through each of my picks. I'd be happy with this team heading into the 2010 season. Maybe a middle of the pack draft pick isn't so bad? You be the judge.


Rashard Mendenhall, come on down with the 8th overall pick in the draft. Now I am not entirely buying into this "Steelers are going to become a smash-mouth running team" theory which a lot of people are peddling these days, but of the available RB options - and with Andre Johnson off the board - Mendenhall looks the part of a solid, talented plus heavy workload back. Of key importance, he had 25 catches last year. Those had to be the quietest 25 catches by a RB in recent memory, but shows he is an all-around threat. Further, Mike Tomlin loves this guy. He's been transparent about that since early last season. With Willie Parker out of the picture and no real competition for carries, the Steelers will need to lean on Mendy, and he should be in line for a big season.


Austin bust onto the scene last year in a big way. Virtually unused through the first three games, Austin finished with a regular season line of 81-1,320-11 to earn the undisputed #1 WR role in Big-D, and he showed enough so fantasy players can feel confident it wasn't a fluke. While Austin doesn't have the body of work, I'd say he has less red flags - a more reliable QB than Larry Fitzgerald or Calvin Johnson, and much younger legs than Randy Moss or Reggie Wayne. Dez Bryant isn't a threat to Austin's production in the short-term. Austin is set up to have great campaign in 2010.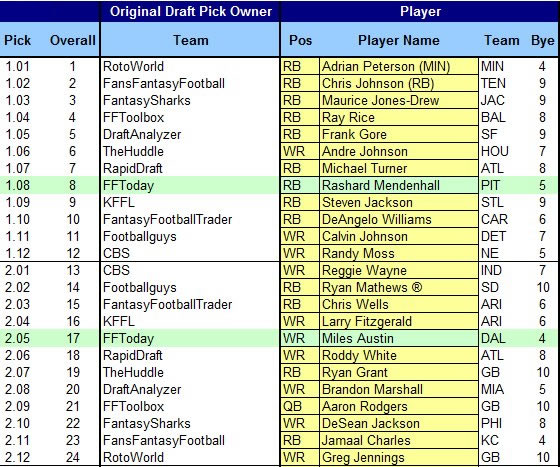 I thought Greene might go in the 1st. I really thought he would go in the 2nd. Apparently everyone is scared off from his lack of pass catching prowess, and it does have to be considered in this scoring format, but to get the feature RB on one of the best rushing and defensive teams in the league looks like he's been slightly discounted here in the mid-3rd. Whether you believe LaDainian Tomlinson is on his last legs or not, Greene is still the feature guy with lots of touches to go around even if it comes without a lot of catches.


Sims-Walker had some clunkers last year, including a late season swoon and the infamous scratch Week 5 for missing curfew while he was playing Sleepless in Seattle. On the flipside when Walker was on he performed great, scoring a TD and/or exceeding 80 yards in 8 games. For a young, first year starter, Walker looked the part of an emerging fantasy WR1. The Jags are sure to continue their conservative offensive approach, but without much competition for catches, Walker will still command the bulk of David Garrard's attention.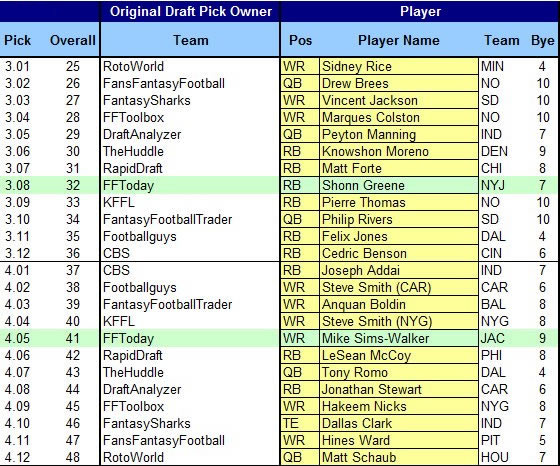 The drop-off is coming at WR, and while I don't see a return to Ochocinco's 90+ catch, 1,400 yard days, a more conservative 80-1,000-8 season is still very achievable and a welcome addition as my WR3. Sure, there have been some questions about his priorities recently directed from his QB, but after the antics and showboating this is one of the harder working players in the league. Oh, and he appears to be on a solid all-around team all of a sudden. Chalk it up as a lower ceiling, but also higher floor pick at a good price in the middle of the 5th round.


Adding to my stable of young players who made a name for themselves last year and I expect the trend to continue, I give you Brent Celek. It was supposed to be Jermichael Finley, who I had queued up and commented on before I decided to test if he might actually last until this pick. Celek is a good consolation prize though, who hauled in almost 1,000 yards and 8 TDs in 2009. Funny enough, Celek's two highest reception games came with Kevin Kolb at QB. Based on my numbers there is a drop-off at TE after the top 7 are off the board. Short of nabbing a top 4 pick in the draft, I'm beginning to like this middle of the pack spot.


When people are jockeying for different WRs from one team, not really knowing which one might breakout, and the RB duo are both good pass catchers, maybe, just maybe the right play is the QB from that team. We know why there are bullish fantasy expectations of the Chicago Bears offense - the addition of OC Mike Martz. And why not? Martz turned Jon Kitna, Shaun Hill and J.T. O'Sullivan into useful plus fantasy players. What can he do with rocket arm Cutler? Plenty of pass attempts, yards, scores and... at least INTs are only minus 1.


Ricky Williams is 33 years old, which is a big red flag for a RB. As fantasy football enthusiasts, we've been through the extreme highs, downright lows to the outright bizarre of Ricky Williams through his career. While the days of 350+ carries are now well in the past, Ricky has carved out a nice role for himself on an improving, competitive, run-oriented Miami Dolphins team. He does what is asked of him, and he does it well. Ricky amassed almost 1,400 yards and 13 TDs last season. Some of that came as a result of Ronnie Brown going on IR in Week 11, but given Brown's inability to avoid getting dinged up, the 'Phins will get Ricky involved in a decent timeshare, which is perfectly fine at age 33.


There were some nice players grabbed in that last turn - Kevin Kolb, Ahmad Bradshaw, Santana Moss, Zach Miller, Fred Jackson, Jerome Harrison, Visanthe Shiancoe in particular in my opinion. It left the cupboard depleted in talent, but still with a lot of players in the "if things break right..." category. Aromashodu is one of those players. In an extremely small sample size at the end of last year, he was incredible. Jay Cutler sung his praises and new OC Mike Martz also singled him out (in a good way) back in May. He looks to be third on the depth chart, which highlights the risk but the potential upside makes him a decent 9th-round gamble.


As a rookie, barely on people's fantasy radar... sure, I'll buy. Last year as a late 1st-to 2nd-round pick... no thanks. This year, back to low expectations - health permitting - in line for a decent chunk of what we expect to be one of the more prolific offenses in the league... okay, I'm in. Slaton red-shirted for OTAs but with this pick I'm hopeful he's back to full contact for training camp. If he's on equal footing he can outplay the other Houston backs for carries, and there is little question Slaton is the best pass-catcher of the trio.


I'd be better off building depth at RB or WR, but there aren't too any "must have" players jumping out at me for this point in the draft. Carlson is a notch above the remaining TE. We'll see if the Seahawks can cobble together enough offense to help him improve from his decent first two years in the league.


At this point I have to decide if I want a 3rd string WR on a good team or a 1st WR on a terrible team. Evans may be a burner, not ideal for PPR scoring, but I'm optimistic Chan Gailey can put him in a better position to succeed than the prior coaching staff. He's probably the only WR that should be drafted on the Bills. It is a gamble to see if Buffalo has improved at all. There is always a chance to surprise.



At this point I have to decide if I want a 3rd string WR on a good team or a 1st WR on a terrible team. Massaquoi may be a sophomore, but he got plenty of playing time as a rookie. He's probably the only WR that should be drafted on the Browns. It is a gamble to see if Cleveland has improved at all. There is always a chance to surprise.

Okay, in all seriousness I was at the Blue Jays-Cardinals game at the time I made this pick, trying to keep the mock draft moving along, and Massaquoi was the only player I remembered was available thanks to Kitsnowís suggestion on the FFToday Board. Kitsnow lobbied for Massaquoi back in the 12th round. Thanks Kitsnow for the assist.


Garrard is a steady-Eddie of quarterbacks. Some fantasy people were promoting Garrard last year as a value pick. No, he wasnít then and he isnít now. Sure, you can get him late so his projected end of season numbers look decent enough relative to this low cost draft pick, but truth be told, Garrard isnít going to win you many fantasy games on his own. Of course, he isnít going to lose you many games either. Like I said, steady-Eddie production. With a wildcard like Jay Cutler as my starter, a nice, consistent, reliable backup (at a low draft cost) is just what I need. Garrard fits the bill.


Like Henderson zipping down field trying to catch a long bomb from Drew Brees, I'll take a shot here. I am impressed with how Henderson transformed himself from someone known for his stone hands when he entered the league into a fairly reliable pass catcher. He may never be overly fantasy relevant, but he deserves props in round 15.


It is possible I should have drafted a starting defense a little sooner, but for a low scoring position, which is very unpredictable, the Dolphins will either do fine for me or will be quickly replaced with a fine option off the waiver wire.


Donít over think the kicker position. Get one who is competent playing on a good overall team, which should result in plenty of opportunities to score.


I considered Lex Hilliard here to backup the Ricky Williams pick, but further research on Hilliard showed the Dolphins are not completely sold on him being able to step in for Ricky or Ronnie Brown if either get injured. Iíll take a final long shot pick on Jennings who backs up pocket Hercules, Maurice Jones-Drew.