Think an article about ďBounce BackĒ players is no big deal? Tell that to the guy who correctly identified Philip Rivers was going to bounce back last season before he went to his draft. That guy (or girl for that matter) was able to load up on RBs and WRs early, knowing he or she could target Rivers later and get a bona fide starter with Ken Whisenhunt onboard to help revive Rivers' career. The Chargers went from having the 31st best offense, yardage-wise, in the NFL to being 5th.

The term "bouncing back" implies at least one of several things when it comes to NFL skill position players and fantasy hopefuls. One: The player was hurt at some point last season and is seeking to regain what he once was when 100 percent healthy. Two: That player didn't perform as well last season as in past seasons due to other factors including, but not limited to: age, eroding skills, lack of focus/dedication, and/or the performance of the players/coaches around him. Three: The player simply found himself in a situation in which he was not the ideal fit for what a team/coach was trying to accomplish offensively. Bouncing back means a player was once relevant in the ongoing conversation that is fantasy football. You can't "bounce back" from obscurity. With that in mind, here are some players I think will return to form this season after a rough 2013 and also a few that will not.

NOTE: You donít come to a fantasy football website to find out if Julio Jones will bounce back from 2013. Jones was the leading receiver in the league last year before getting hurt and is entering the prime years of his career. Heís going to bounce back. Instead, letís look at some players with a greater deal of uncertainty surrounding them.

QUARTERBACKS: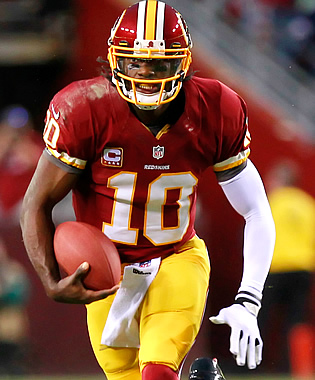 Robert Griffin III: Healthy with a new weapon (DeSean Jackson) in the mix has RGIII's stock moving up.

Springing forward: Robert Griffin III; Eli Manning

Thereís no doubt that Robert Griffin III took a step backward last year after a promising rookie season. This step back was real-world in nature, as well as in sheer fantasy terms. With a full offseason to get his knee right, the addition of Jay Gruden as coach and the addition of DeSean Jackson to the WR corps, you can expect Griffinís numbers to be back on the rise in 2014. Gruden was able to turn Andy Dalton into a reliable fantasy starter; just think what he can accomplish with a weapon like Griffin. Throwing to Pierre Garcon, Jackson and rising star Jordan Reed should make any quarterback fantasy relevant. Add in Griffinís ability to get some work done on the ground, and a ďbounce backĒ into the top five at the position is quite conceivable. As for Eli Manning, weíre not talking about springing forward necessarily to being a top-10 guy at his position, but a return to borderline starter status in 2014 is likely. Manning and OC Kevin Gilbrideís divorce was a long time coming, and with the Giants adding another good, young receiver (Odell Beckham Jr.) to the mix in addition to improvements along the offensive line, Manning should return to the 25-28 TD range for the season with far fewer interceptions. If youíre looking for value picks/steals at the QB position come draft time, look no further than these two.

Falling back: Tom Brady

Yes, I am aware that Tom Brady was much better during the second half of last season than the first half and his numbers were better with Rob Gronkowski in the fold. I also know this: The Jets, Bills and Dolphins all rank in the top 10 in terms of fewest fantasy points surrendered to QBs last season (No. 8-10, respectively), which means six times this year Brady will play against teams that rely on their defense to keep them in the game. That means a low-scoring, non-shootout type of games. Further, the Patriots now boast one of the best secondaries. Teams with well-built defensive backfields run the football, a lot. They typically donít try to out-gun you because they know they donít need to (Seattle, anyone?). And while no one is comparing the Patriots D to the Seahawks D, I think head coach Bill Belichick recognizes if heís going to win another Super Bowl, heís got to follow the current NFC blueprint. Is Brady still a top-tier NFL quarterback? Sure. But, I think his days of being an elite fantasy starter are over. And expecting him to return to that place of former fantasy glory isnít recommended.



RUNNING BACKS:



Springing forward: Arian Foster; Stevan Ridley

After 956 carries from 2010-2012, Arian Foster needed a year off, which is exactly what he got essentially. Now, the 27-year-old running back (Yes, Foster is only 27 until late August) is primed to be the workhorse again in an offense that desperately needs him to move the chains and give the Texans defense a rest from time to time. When the Texans assess what theyíve got going for them this year offensively (not a lot), theyíll quickly discover Foster is their primary asset. Even playing at less than 100 percent, Foster banged out 4.5 yards a carry on the ground last year. This season , thereís no Ben Tate around to spell him, with Andre Brown now serving as Fosterís primary backup. I see little standing in Fosterís way of being a top-seven running back again, barring injury. Donít let him slip too far on draft day (middle of the second round). Youíll be sorry you do. Stevan Ridley, meanwhile, is trying to bounce back from a year in which he fumbled the ball four times after also fumbling four times in 2012. As noted in the commentary on Brady, I believe the Patriots will be one of the league leaders in rushing attempts this season, and Ridley is the only guy theyíve got for early down and goal-line work with LeGarrette Blount now in Pittsburgh. Tiki Barber fixed his fumbling problems and went on be a fantasy force once he did. Ridley lacks the explosiveness of Barber, but the comparison remains a valid one given the height of his opportunities in the New England offense. Ridley will be drafted as if heís a No. 3 RB for fantasy purposes. The projection here is that heíll return to firm No. 2 status and be a reliable week-in, week-out starter as a complement to a three-down fantasy back like Jamaal Charles, LeSean McCoy, Adrian Peterson or Matt Forte.

Falling back: Ray Rice; Steven Jackson

I had Ray Rice on two teams last year, and I watched as many of his games as I could with a vested interest in his production. Hereís what I saw: A slow, plodding runner who couldnít hit the hole to save his life. Reports out of Baltimore suggest Rice will play at a lighter weight this year, thus allowing for that ďburstĒ to return. Sorry, not buying it. He looked done last year to me. Like Shaun Alexander done. Like fall off a cliff done. Itís also likely Rice will begin the year on the bench due to a short-term suspension. That means Bernard Pierce will open as the starter, and Rice will probably be part of a timeshare on a bad running team when he does come back. If youíve got a ďDo Not Draft List,Ē I would suggest thatís where Rice belongs. Same goes for Steven Jackson, who I love as a player. Jackson has spent his entire career running behind inferior offensive lines. No RB Iíve ever seen has had to break more tackles just to get back to the line of scrimmage. I am hoping the 31-year-old warrior proves me wrong in 2014, but I donít think he will. The offensive line remains inferior, and the Falcons are a passing team to boot. Respect Jacksonís past as itís been stellar, but donít make him part of your present.



WIDE RECEIVERS:



Springing forward: Roddy White; Mike Wallace

2013 was a tough year for Roddy White, but his last five games showed heís far from done in terms of being fantasy football relevant. White caught 43 balls for 502 yards and a couple of touchdowns over that stretch of time, which translates to 130-plus catches and 1,600-plus yards over the course of a full season. Now, Iím not suggesting White will hit those marks or even come close to them with Julio Jones lining up on the opposite side of the field. What I am suggesting is White will produce similar numbers in 2014 to what he did prior to last year, making him a borderline top-10 find at the position. Another guy I like to return to prior form is Mike Wallace in Miami. With a year to figure out what Wallace can (go deep) and cannot (be a consistent possession receiver) do, the Dolphins should be able to do what they envisioned doing from the start in terms of allowing Wallace to stretch opposing defenses. If youíre in a PPR league, Wallace will never be all-world, but in a non-PPR league, expect good things. Much like Ridley, Wallace will be drafted as a No. 3 WR but will put up solid No. 2 numbers. Bank on it.

Falling back: Percy Harvin, Dwayne Bowe

Let me just say before anything else that Percy Harvin was amazing in the Super Bowl. Fantastic. Healthy. Let me also say I have little to no confidence in that (healthy) being the case again this year. Heís fragile. Harvin has only played in 10 games the past two seasons combined, and while heís a dynamic weapon, he plays on a team that doesnít need him to come up big week-in and week-out to win. Harvinís value lies in the fact that he can break the big play when itís needed most. That doesnít make him a stud for fantasy purposes, though, even if by good fortune he can stay healthy. Donít get too caught up in Super Bowl Reflection Syndrome when considering Harvin on draft day. Also, donít get caught up in thinking Dwayne Bowe will ever be a fantasy starter again with Alex Smith throwing him the ball. Bowe is like a square peg trying to fit a round hole in the Kansas City offense, with Smith checking down all the time and Bowe unable to gain much separation from defenders. Kudos to him for attending Larry Fitzgeraldís workout camp this summer. However, it wonít be enough to overcome the reality of his situation and his declining skill set.



TIGHT ENDS:



Springing forward: Dennis Pitta

Again, did you watch Baltimore on offense last season? They were a mess without Dennis Pitta running the middle of the field, and they know it. If I could recommend one player as a ďcanít miss bounce-backĒ player, let me advise in Pittaís favor. The Ravens have always wanted to be a team that utilizes the tight end heavily going back to their Shannon Sharpe days. Pittaís their guy. Heíll bounce back all right. I think heíll be even more productive than guys like Jason Witten and Vernon Davis. Grab him if you can.

Falling back: Antonio Gates

Gates has enjoyed a wonderful career, but heís not Tony Gonzalez. Look for Ladarius Green to get the bulk of the downfield throws this season in San Diego, at least ones in which the tight end is targeted. Like Brady, Jackson, and Bowe, Gatesí days of being a fantasy force are just about done from my perspective.