If you're unfamiliar with the work Brett Kollman does on Youtube, I highly recommend checking out his channel, The Film Room. It features the kind of film study you might expect from major networks like ESPN, CBS, etc. if they weren't so busy featuring Matthew Berry doing humor-free comedy sketches or Trey Wingo getting dunked by former NFL quarterbacks.

Kollman's latest video is a collaboration with Christopher Harris that includes a slightly awkward exchange between the two of them about rookie RBs. Kollman says he doesn't mind gambling on risky RBs early in drafts because he can always get productive rookie RBs in the late rounds, which prompts Harris to ask him who he's targeting in the second half of drafts this year.

Kollman struggles to answer the question because his logic, although sound prior to Ezekiel Elliott's 2016 campaign, no longer applies in 2017. Thanks to Elliott's phenomenal success last year (in conjunction with a little phenomenon known as "recency bias"), rookie RBs have been flying off draft boards like mad in 2017.

Jacksonville's Leonard Fournette and Kansas City's Kareem Hunt (especially after the injury to Spencer Ware—who was doomed as soon as I burned my 5th-round draft pick on him in the FFToday Staff League) are both second rounders according to the Fantasy Football Calculator.

Carolina's Christian McCaffrey and Minnesota's Dalvin Cook aren't far behind (with both going in the early third). Cincinnati's Joe Mixon is going at 4.2 in standard leagues, which means there are lots of folks who believe that Marvin Lewis will stop terrorizing fantasy owners by switching between Jeremy Hill and Giovanni Bernard for maximum inefficiency).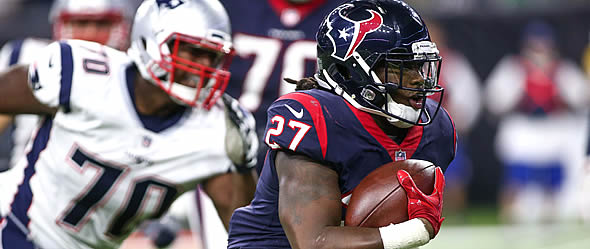 With so many on the market, we're likely overvaluing the the consensus top five rookie running backs.

But Fournette, Hunt, McCaffrey, Cook, and Mixon (promising though they are) may not even finish as the top 5 rookie RBs in 2017. Thanks to injury, unpredictable situations, and the presence of competent veterans (such as Jonathan Stewart, who will presumably deprive McCaffrey of goal line work in Carolina), it's possible that less celebrated rookies will turn out to be more valuable than any of the promising runners covered so far. For example, if All-Day Peterson turns out to be yesterday's news and the Saints' coaching staff continues to hate on Mark Ingram for no reason, Alvin Kamara could become a major cog in a high-powered offense. If Jay Gruden decides to nurture his RBs instead of humiliating them, he might turn Samaje Perine into something special. There are always surprises in the NFL, and it's possible that Indy's Marlon Mack or Houston's D'Onta Foreman will prove to be astonishingly valuable.

The rookie running back riddle becomes even more puzzling in Denver, where Devontae Booker is injured, Jamaal Charles is reported to have lost a step, and C.J. Anderson seems incapable of keeping the starting job locked down. Could the Broncos actually turn to rookie De'Angelo Henderson—or even Jonathan Williams (who was just released by the Bills and signed to Denver's practice squad)? Anything's possible—especially with running backs in Denver . . . going back to the '90s.

Kollman was right about rookie RBs before 2016; there were simply too many unknowns associated with them for fantasy owners to draft 5 rookies RBs out of the first 38 players taken. But the post-Zeke world of fantasy is a different environment, and fantasy owners are being forced to think long and hard about when to snap up untested NFL talent.

So I'm challenging readers to respond to this rookie RB phenomenon (and this column) in one of two ways.

Response option #1: Go on the record with your rookie RB projections for the 2017 season by emailing me or posting your prediction for the top 5 in the comments below. This will be fun information to review at the end of the season. For comparison's sake, the top 5 rookie RBs according to FFToday appear in this order for standard leagues:

1 – Dalvin Cook (11th RB)
2 – Leonard Fournette (12th RB)
3 – Kareem Hunt (15th RB)
4 – Joe Mixon (19th RB)
5 – Christian McCaffrey (25th RB)

My own rankings have these players in a slightly different order (and exclude one):

1 – Kareem Hunt (Give me Andy Reid's starting RB in any season.)

2 – Dalvin Cook (I expect the Viking offense to improve dramatically in Sam Bradford's second season in purple.)

3 – Leonard Fournette (Tom Coughlin made hay with Fred Taylor in Jacksonville as a coach; he can do something similar with Fournette from the front office.)

4 – Christian McCaffrey (Like a lot of my colleagues at FFToday, I worry about Stewart taking too much of McCaffrey's workload.)

5 – D'Onta Foreman (his groin injury made him disappear from a lot of folks' radar screens, but we know that 1) Lamar Miller is better when he shares the load & 2) Alfred Blue is the wrong person to share it with—so I would rather take my chances with Foreman than with Mixon, whose fate as a running back will be mercilessly toyed with by Lewis).

Yeah, it's crazy to rank Foreman ahead of Mixon, but you know that crazy stuff is going to happen in the NFL, so if you want to be right, you need to pick something crazy. What's your crazy pick as far as rookie RBs go?

Response option #2: If you play in a dynasty league as well as a redraft league, the difference in your approach to rookie RBs in those two contexts is probably huge each year. Was the disparity even greater in 2017 than it has been in the past? If so, how? (Again, please respond by posting a comment below or emailing me.)

Survivor Pool Picks - Week 1 (Courtesy of Matthew Schiff)

This Q&A column is lucky enough to have Matthew Schiff back for the 2017 season, so let's get into his insights for Week 1.

Trap Game: Pittsburgh at Cleveland

Welcome back for another season of prognostication and picks. If you are new to this column, you'll be asked to provide feedback and insight as to how you run your league up above. In this section, we'll try and highlight some of the "tasty" matchups available for your fantasy players with a survivor pool spin. My picks make note of my record on the season for that particular pick as well as which teams I have already used, since most survivor pools do not allow you to repeat a pick. Although we have chosen well over the years, it only takes one upset to knock you out of your survivor pool. This week is no exception.

The golden rule is to STEER CLEAR OF DIVISIONAL MATCHUPS, especially early in the season, more especially when they involve LARGE point spreads, and even more especially when they are hosted by the underdog. As such, the Pittsburgh game against Cleveland screams "TRAP." We all know how bad the Browns are, right? Well, they won all four of their pre-season games. Yeah, yeah, the preseason is mostly meaningless, but it did show us something about DeShone Kizer, the rookie from Notre Dame, who will be under center against one of the powerhouse teams in the NFL. Most rookies would flinch, but Kizer may come into the NFL as calm, cool, and collected as Dak Prescott did just last year. Combine the poise of the Browns' QB with home-field advantage and with reasonable concerns about Le'Veon Bell being soft after returning to team activities less than a week ago, and that juicy betting point spread doesn't look so good. With so many things starting to go in the Browns' favor, an upset in Week 1 isn't out of the question.

#3: Bills over NY Jets (Last Season: 12-5)

Few games this weekend will draw less attention than the Bills hosting the Jets. Neither team is sexy. Both have "old" running backs (LeSean McCoy and Matt Forte), retread QBs (Tyrod Taylor and Josh McCown), not much in the way of receivers (an injured Jordan Matthews and an out-of-nowhere-suddenly-elevated-to-#1 wideout in Robby Anderson). But someone has to win this game, and there seems to be "more" talent on the home team. Yes, trick plays can always swing the balance in a divisional game such as this one, but if you insist on saving the Falcons or the Patriots for later in the season, the Bills may be the safest choice available. Just don't flip the channel and expect this to be a fun game to watch—unless it features some of your fantasy starters.

#2: New England over Kansas City (Last Season: 15-2)

There are a few teams that I love to reserve for later in the season, and the Patriots are one of them. Why? Because Bill Bellichick has a tendency to lose early season games (often, it seems, because he doesn't want to tip his hand about how he intends to use players over the course of a season). If this game were away and during the day, it would smell like a trap. But the Pats open the season at home . . . on national TV. Need I say more? New England is the favorite to represent the AFC in the Super Bowl yet again—because they really are THAT good an organization. Their defense is improved with Stephon Gilmore now opposite Malcolm Butler in the secondary, and a healthy Rob Gronkowski is back. The loss of Julian Edelman to a season-ending knee injury may impact Tom Brady at the beginning of the season—but not enough for him to be outgunned as a QB by Alex Smith—especially considering that the Chiefs have lost two of their top RB threats (with Jamaal Charles now in Denver and Spencer Ware injured). Rookie Kareem Hunt is promising, but how well would you do with your blocking assignments out of the backfield against a Bellichick-coached defense in your very first NFL game? For all these reasons, I'm defying a personal tradition and recommending the Pats in Week 1.

#1: Atlanta at Chicago: (Last Season 15-2)

The Falcons were only a few minutes from winning the Super Bowl last year, whereas the Bears were barely better than the Browns. That alone should make this a great Survivor Pick. But wait, there's more! Chicago's quarterback is Mike Glennon, a fifth-year player from NC State who has never started before. Gone are both Alshon Jeffery (now in Philadelphia) and Cameron Meredith (injured), and in their places are Kevin White and Kendall Wright, neither of whom would qualify as a true #1 on any roster (except, perhaps, for the Jets). Put that patchwork offense up against the likes of Matt Ryan, Julio Jones, Devonta Freeman, and Tevin Coleman—and this one should be over by the end of the first quarter. Despite Kyle Shanahan's departure as offensive coordinator in Atlanta, the Falcons should cruise to an opening week road win.


---
Mike Davis has been writing about fantasy football since 1999--and playing video games even longer than that. His latest novel (concerning a gamer who gets trapped inside Nethack after eating too many shrooms) can be found here.