A dynasty league is a much different animal than a redraft league, and the rookie draft is one of those major differences that make it both unique and exciting. Unlike redraft leagues, where all teams are starting from scratch and are looking only short term, dynasty leagues have established teams, and many, if not all the teams, are looking beyond the coming year. The following draft was done May 31 in one of the dynasty leagues I participate in. For reference, this is year three of this particular league, and besides being competitive and active, it is a two-quarterback league where most of the teams are looking to build solid, long-lasting franchises rather than "win now and forget the future" teams.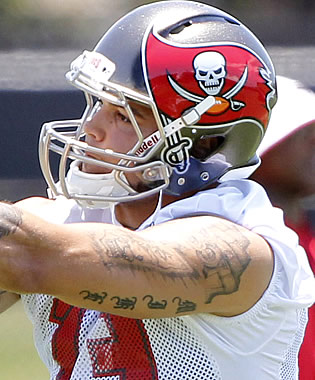 Mike Evans will have an immediate impact as a rookie.

This year's crop of rookies is deep, but there is hardly a consensus on the top players. I have seen the results of at least eight dynasty rookie drafts this year, and all eight have very different results. Here are our results:

Round 1
1. Mike Evans (WR Tampa Bay)
2. Sammy Watkins (WR Buffalo)
3. Brandin Cooks (WR New Orleans)
4. Eric Ebron (TE Detroit)
5. Johnny Manziel (QB Cleveland)
6. Teddy Bridgewater (QB Minnesota)
7. Bishop Sankey (RB Tennessee)
8. Blake Bortles (QB Jacksonville)
9. Carlos Hyde (RB San Francisco)
10. Terrance West (RB Cleveland)
11. Odell Beckham Jr. (WR New York Giants)
12. Kelvin Benjamin (WR Carolina)

Best Pick of Round: Sankey
Worst Pick of Round: Cooks

Although the values of rookies this year are all over the map depending on who you talk to, most results I have seen have Watkins, Evans or Sankey as the top pick. Depending on need and risk level, I could certainly see a handful of players taken No. 1 and, in our particular draft, I thought Evans, who should be an immediate red zone contributor, was a solid pick. This is a deep wide receiver class, but I agree with most people who believe Evans and Watkins have the most upside (fantasy-wise). Both should contribute enough right away to make them solid low-end WR3s, with the potential for more.

The first surprise to me in this round was Cooks being taken at No. 3. While I like his skill set and the quarterback throwing to him, I think he was a bit of a reach, considering the talent the Saints already have and the other players available with this selection. The team taking Cooks, however, had a need at WR and is in rebuilding mode, so it is hard to argue with his long-term potential.

Ebron at No. 4 might be another minor reach, but he is clear and away the top tight end in this draft and lands in an ideal situation in a pass-happy offense that has Calvin Johnson to clear the middle of the field for the tight ends.

The team picking at No. 5 had a man-crush on Manziel, and while I personally would shy away from him, it is hard to argue against his potential upside as a dual-threat quarterback who could eventually put up Michael Vick-type numbers in his prime.

Bridgewater at No. 6 was another small surprise, but the team drafting him was extremely QB-needy and was afraid he might not get a quarterback by the time he picked again in round two. I personally like Bridgewater more than the other quarterbacks this year, at least as far as a solid, safe pick. With some decent weapons around him, I could see Bridgewater being in that 12-15 range of fantasy QBs for multiple seasons, although probably not for another year or two.

Sankey at No. 7 is probably a few picks later than he usually goes and therefore could be the steal of the first round. He easily has the best situation of any rookie running back and can be a fantasy starter right away. While many people probably will take Sankey in the top 3 of their rookie drafts, I personally would not unless you are in "win now" mode and one solid RB away from being a contender. While Sankey's situation is nice, he is nowhere near an elite talent, and there are no guarantees he takes the job and runs with it.

The rest of the first round was more or less predictable, with West being the most heavily debated player. Many in this draft did not have him in their top 20, while others thought it was a solid pick. I do not believe in Ben Tate to stay healthy all year, and with that offense being centered on the run, West could provide a mid-season spark to those who invest in him early. Benjamin at 12 might seem like excellent value to some who looks at Carolina's situation and Benjamin's size, but to me he is a weekly boom-or-bust type player who will be TD-dependent because he does not get off the line very well and is not the best route runner. I see Benjamin as a poor man's Vincent Jackson, and Jackson did not make a significant impact until his fourth year in the league.

Round 2
13. Devonta Freeman (RB Atlanta)
14. Jeremy Hill (RB Cincinnati)
15. Jordan Matthews (WR Philadelphia)
16. Tre Mason (RB St. Louis)
17. Derek Carr (QB Oakland)
18. Logan Thomas (QB Arizona)
19. Andre Williams (RB New York Giants)
20. Marqise Lee (WR Jacksonville)
21. Davante Adams (WR Green Bay)
22. Jarvis Landry (WR Miami)
23. Tom Savage (QB Houston)
24. Jace Amaro (TE New York Jets)

Best Pick of Round: Matthews
Worst Pick of Round: Thomas

While most of the guys taken here may not blossom for a year or two, you could argue there is just as much talent here as there was in the first round. I like the first two picks in the round, with Freeman and Hill both being valuable depth, but for much different reasons. Freeman is more of a handcuff this year but could take over the starting role in Atlanta as soon as next season if Steven Jackson breaks down again and Freeman takes advantage of his opportunities this year. Hill, on the other hand, might never be a full-time starter but could lead all rookies in TD runs this season as the probable short-yardage guy behind Giovani Bernard in Cincinnati.

The pick I like the most in this round is Matthews at No. 15, who I think could be the third-best WR in this class and lands in a nice situation in Philadelphia, where he could easily be the second- most targeted wide receiver right away and possibly more a year from now. Matthews' competition is either mediocre (Riley Cooper) or injury prone (Jeremy Maclin), and being known as a gym rat and extremely smart player should be a huge advantage in Chip Kelly's fast-pace and precise offense.

Mason at No. 16 seems appropriate as a guy who could ride the bench all year behind Zac Stacy and never amount to much or explode on the scene and steal touches from Stacy right away. I tend to lean more toward the former because of his lack of pass protection skills and injury issues, but at No. 16, he's a fairly solid value.

Two QBs were drafted at No. 17 and No. 18, and while it's probably early, especially for Thomas, this is a two-QB league, and the guy drafting Thomas has Carson Palmer as his second QB. The rest of the round, the player that stands out to me most is Adams, who probably will not do much this year but if things fall the right way could be Aaron Rodgers' No. 2 wide receiver next season, making him a potential top-20 WR in 2015. As far as reaches or disappointing picks in this round go (other than Thomas), I think Lee was taken too high (injury, unknown quarterback, Robinson better), and while I like Houston as a destination for QBs, Savage seems like a significant reach here.

Round 3
25. Cody Latimer (WR Denver)
26. Donte Moncrief (WR Indianapolis)
27. Troy Niklas (TE Arizona)
28. Allen Robinson (WR Jacksonville)
29. Austin Seferian-Jenkins (TE Tampa Bay)
30. Lache Seastrunk (RB Washington)
31. Zach Mettenberger (QB Tennessee)
32. Charles Sims (RB Tampa Bay)
33. Storm Johnson (RB Jacksonville)
34. Martavis Bryant (WR Pittsburgh)
35. Jimmy Garoppolo (QB New England)
36. Isaiah Crowell (RB Cleveland)

Best Pick of Round: Crowell or Seferian-Jenkins
Worst Pick of Round: Niklas

Round 3 was full of guys who will probably not make much of an impact this coming year but have long-term potential to be fantasy starters. Latimer is a solid value as the Broncos No. 4 wide receiver who could move up the depth chart if Wes Welker can't stay healthy or Emmanuel Sanders fails to produce.

Moncrief is a personal favorite of mine, and while his situation does not look great right now, being fifth on the depth chart at best, two of the guys in front of him are aging and/or injury prone (Reggie Wayne and Hakeem Nicks), and both guys are playing on one-year contracts. With the physical makeup of a No. 1 WR, Moncrief is oozing with long-term potential, even if he does not produce much this year.

I personally like Robinson over Lee, who went earlier in this draft and who the Jags drafted before Robinson. Robinson has excellent size (6'3, 220) and produced at a high level for multiple seasons in college.

Of the two TEs taken in this round, I much prefer Sefarian-Jenkins, who was taken after Niklas. Niklas is a try-hard guy and probably the better all-around tight end, but Sefarian-Jenkins is a much better athlete and pass-catching threat, not to mention his situation is probably a bit better compared to Niklas, who will be asked to block more in Arizona.

The Seastrunk pick was a bit of a waste to me, as he will probably be seldom used in Washington unless injury strikes both Alfred Morris and Roy Helu.

Mettenberger has serious arm talent but seems like a career third- stringer or bust, but the guy who drafted him owns Jake Locker, so he figured why not double down on the Titans QB situation (as if that is a good thing?).

I like Storm Johnson where he was taken; he is a good fit for the Jags, and while many people are hyping Toby Gerhart, why not take a flyer on his backup who could run away with the job if Gerhart chokes?

Bryant seems like decent value where he was picked but also has the looks of a guy who will take a good amount of time to develop.

Crowell may actually be the best pick of the round, at least value-wise, as perhaps the most physically talented back in the draft. Crowell will enter the season third on the depth chart in Cleveland, but Tate finds it difficult to stay healthy, and West (though I like him), has not exactly proven he can play against superior talent yet. In that Browns offense, Crowell could be a near stud come fantasy playoff time if the chips fall the right way.

Round 4
37. Ka'Deem Carey (RB Chicago)
38. C.J. Fiedorowicz (TE Houston)
39. Jerick McKinnon (RB Minnesota)
40. James White (RB New England)
41. Lorenzo Taliaferro (RB Baltimore)
42. Devin Street (WR Dallas)
43. Paul Richardson (WR Seattle)
44. Shaquelle Evans (WR New York Jets)
45. Colt Lyerla (TE Green Bay)
46. Tajh Boyd (QB New York Jets)
47. Tyler Gaffney (RB Carolina)
48. Jeff Janis (WR Green Bay)

Best Pick of Round: Taliaferro
Worst Pick of Round: Boyd

The final round of our draft started with two guys I really like as quality depth. Carey should immediately be the top backup to Matt Forte and, if Forte goes down, could easily be a solid RB2, thanks to his lack of competition, prowess in the passing game and open running lanes he should see because of Brandon Marshall and Alshon Jeffery on the outside. Fiedorowicz is not easy to say or spell and is part of a muddled tight end situation in Houston but could rise to the top of that depth chart by mid-season. Bill O'Brien will utilize his tight ends in the passing game.

McKinnon and White are both interesting because of their situations, McKinnon as Adrian Peterson's most gifted backup on the Vikings and White on the Patriots, a team that gets three-plus RBs involved nearly every game. Neither guy excites me much right now, but they are decent picks for teams looking for young depth with situational upside.

Taliaferro is a solid pick here, and chances are, if this draft was held today, he'd be picked a little earlier, as his chances of playing time seem to increase daily. With Ray Rice likely suspended a few games and Bernard Pierce coming off a down and injury-plagued year, Taliaferro could actually wind up starting a few games this season.

Of the remaining picks, none really excited me, but Lyerla is an interesting flyer as a physically gifted, but troubled, tight end who could make a real impact as soon as this year if he gets his head on straight. Jeff Janis will not do much of anything this year but is a guy to monitor next year depending on how the Packers WR situation pans out. None of the other last few picks have much of a shot to stick with the fantasy teams that drafted them.

Suggestions, comments? Follow me on Twitter or E-mail me.