Drafting from the Bottom - Pick 1.11




7/8/11



Last month we published the results of my first mock draft of the year, the first in a series of four mock drafts scheduled for the months of May, June, July and August, organized by FF Toolbox and hosted at MyFantasyLeague.com. Now the second in the series, the June mock, is in the books. Here are the results.

Although there has been no player movement and little player news from one mock to the next, my approach and team roster are quite different. In May, I drafted from the fourth overall pick and grabbed RB Chris Johnson first to anchor the team, followed up by the best WR on the board in the second round and a stud QB in the third.

This time I was assigned the eleventh pick in the draft. I started with a pair of WRs, didn't acquire my first RB until the third round, and snagged a stud TE in the fourth. The team has less balance across positions than the other team, but the later draft slot put me on a more aggressive strategy to compensate for missing out on a premier RB in the first half of the first round.

In the end, I think it worked out pretty well. You be the judge though. This 12-team league uses flex lineups, starting 1 QB, 2 RB, 3 WR, 1 TE, 1 RB/WR/TE, 1 K and 1 DEF. The scoring is standard performance plus one point per reception for all positions.

The league is a Draft Masters (best ball) format, meaning there are no trades or free agent acquisitions in-season and no starting lineups submitted. The league will automatically determine the optimal starting lineup for each team each week. Standings are based on total points. Although there are specific draft strategies for best-ball leagues, for the most part I drafted straight up without consideration for the best-ball format. You can assume as much unless otherwise noted in the commentary.

To view the entire draft results, check the draft report and team rosters.


I feel very fortunate to get White here, a player who I considered taking at the fourth pick in the prior mock draft. Yes, he's that good. Not that I want to get into a debate with buddy Matt Schauf of Draft Sharks (he who excels at the verbal jabs), but can't say I agree with him about Hakeem Nicks' potentially higher ceiling being worth the risk over White. White showed us his ceiling when he finished as the No. 1 WR in this scoring a year ago . . . by 30 points! Nicks is only in his third season and may pass White in pure skill at some point. On the flip side, White's quarterback is getting progressively better. I feel confident the safer play is the better play between these two.


I'm going to start off this draft with two WRs and see where it takes me. People will start pulling the top QBs soon, but I still have trouble buying into that concept this early in the draft. Jennings slumped through the first five weeks last year, to the point where owners were wondering what was wrong with the guy. Well, he finished No. 5 among WRs, so I guess there was nothing wrong at all. It just took the Packers a little while to figure out how to keep Aaron Rodgers upright long enough for him to find his best receiver. They corrected it, and all was right with the world. Presumably, it won't take them that long to get it right this year.


I thought about adding a third WR here, but before RB gets too thin, I'd better secure one who is a pretty reliable fantasy contributor, even though he is more suited to a shared role in the backfield than as a workhorse. The Giants did increase Bradshaw's carries last year to 276, and he had 47 catches, helping him finish 10th among RBs. I would expect fewer carries to keep him fresh, but I'm hoping he returns with at least a 4.8 ypc and a better nose for the end zone. He could become an unrestricted free agent given recent news of the labor negotiations. But I hope he sticks with the Giants, as the prospect of him going to a new team throws some extra risk into the equation.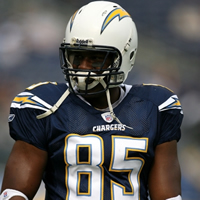 Gates is still worth a premium pick.


I rolled the dice with my last pick, hoping that FF Toolbox would skip Antonio Gates, and sure enough they did. The TE position is deeper than we've seen in a while, but Gates is still worth a big premium as he remains head-and-shoulders above the other TEs. Injury derailed what was turning into a career season last year, but Gates was racking up 3 points per game more than Jason Witten and Dallas Clark, who were 3 points per game better than everyone else. Even though some quality TEs will go later in the draft, I'm happy to add Gates at the cost of an early fourth-round pick.


In back-to-back mock drafts I find myself adding Felix Jones—last time at 5.04 and this time at 5.11. With the RB pool transitioning into more sketchy options by this point, it seemed prudent to add my second RB rather than wait any longer, even at the cost of some decent WR choices. I'm happy with Jones here as the 23rd RB off the board, as a good fit in a PPR format, and playing in a good offense without a lot of competition for carries (assuming no Marion Barber as of now). As mentioned last time, if he can manage to find the end zone more frequently, he could really jump up the RB ranks. He finished 23rd last season while scoring only two TDs.


Having a lot of confidence in the White-Jennings duo—and a bit less in Bradshaw-Jones—is directing me toward take another RB even with a third WR spot (not to mention QB) to fill. I don't expect C.J. Spiller to grab a bigger share of the carries in his second season. Highlighting yet another misguided Bills draft, Spiller looks like Reggie Bush Light, and Fred Jackson is that good of an all-purpose back to continue earning 250+ touches in what has the potential to be a moderately dynamic offense.


For the most part, I've been participating in these mocks trying not to let the best-ball format sway my picks too much, but I'm going to strategize for it with this next pair of picks. I have a choice of filling my third WR spot and having poor QB depth; or I can double up at QB, making that position a relative strength, but at the cost of my receivers. I'm going to go the QB route. Once more than 20 QBs are off the board, there are some pretty dismal choices, and I feel there is going to be a run on backup QB through the next two rounds. I'll start with Jay Cutler, who has a good chance to improve in his second year with Mike Martz. My other consideration is Eli Manning. Cutler's receivers are not on par with Eli's, making Cutler a little more risky. But I'm going with my gut.


Here is my swing-for-the-fences pick at QB. FF Today has Bradford projected 15th among QBs, which is pretty average. The more I think about what this guy accomplished as a rookie—and how he's now working with OC Josh McDaniels—the more I wonder if Bradford isn't ready to wow us. What I really like about him is his ability to produce even with a rag-tag group of receivers, spreading the ball around to get the most out of the offense. Let's see if he can take the next step in year two.


I'm not in love with this pick, but it is past time that I fill my WR3 spot. Meachem doesn't get a lot of catches, but he has proven to be a talented receiver who is slowly getting better as his NFL career progresses. He hasn't burst on the scene yet, and maybe he never will, but I like his chances, along with a decent floor in the Saints high-powered offense.


Wrestling alligators? Seriously? I guess nothing should surprise us at this point. There are a lot of red flags with Ochocinco, and a lot of uncertainty as to whether he'll be a Bengal in 2011. But I still feel pretty good when the rubber hits the road—when he gets back to business on the field—that he'll be committed to the cause and post pretty good fantasy numbers. Best case would probably be if he were not with the Bengals.


I definitely would have tagged Aaron Hernandez had he made it here, and it would have been tough to pass on Mark Sanchez. Those highlight some good picks earlier this round. There are other RBs on the board who are in line for a bigger portion of touches than Jennings, but I feel as though Jennings can do more with less opportunity, and his upside should Maurice Jones-Drew miss some games makes him worth a higher pick than his projected numbers would suggest.


Ward is nearing the tail end of his career, but considering he was just a single reception shy of 70+ receptions for nine straight years prior to last season, he looks like a good value at this point. Last year's 59-755-5 line came on 40 fewer targets than he saw in 2009. On the plus side, he kept a healthy 12.8 yards per catch and showed he can still be a reliable end zone target. He isn't ready to fizzle out just yet.


I considered Earl Bennett last round, and he came back to me. So taking yet another look at him, recent news is positive with comments from OC Mike Martz they intend to get Bennett more involved. We know he and Cutler have a history going back to college, and because of that, Cutler is comfortable relying on Bennett. It isn't like I haven't noticed that my bye weeks are a mess, but I think Bennett can produce a handful of more useful fantasy games than the other RBs and WRs currently sitting on the board.


Bye weeks be damned—again! Moeaki shares a bye with Antonio Gates, but I like what the kid showed as a rookie, and I expect the Chiefs to expand his pass-catching role in the offense. Plus, I need some injury insurance for Gates.


I considered adding the Green Bay Packers defense during my last pair of picks, but that still seemed a tad expensive for a fantasy defense. The Packers and maybe the Pittsburgh Steelers are the only defenses I would pay a premium for, but there are a number of "should be good, could be excellent" second-tier choices. The Eagles are one of those choices with an aggressive style held over from the Jim Johnson era. And they have a top offense that will force opposing teams to open things up and be more mistake-prone.


McCluster is a very interesting prospect: tons of talent, but can his small frame hold up? If he were designated as a WR, I wouldn't be interested. But as a RB with PPR scoring potential in a best-ball league where I don't need to predict when to start him (yep, that's a lot of caveats) . . . this late in the draft, why not take a shot on him?


Add one kicker on a team that has enough offensive weapons to move the ball, but is less than stellar at punching it into the end zone. Check.


Add a second defense, a team maybe not known for their defense but one that is a pre-season favorite to cull double-digit wins, meaning they'll put up some good defensive stats along the way. Check.


This pick represents talent over opportunity because, man, once he got the opportunity last year, look what he did with it! Normally I wouldn't add a third TE, and even with the matching bye weeks between Gates and Moeaki I didn't feel like I had to draft a third TE—a backup on his own team, no less—for the sake of that one week. This pick was all about the talent and the "what if" factor. What if Dallas Clark misses time again? Then it's Tamme Time.


Add a second kicker who has good job security on a competitive team. Check.