For the second week in a row, the Buzz comes to you in full-blown playoff mode. Some of the trains that brought you to your league semi-finals kept right on rolling, while others got derailed leaving you looking for answers. Whatever your status, we've got Week 15 covered…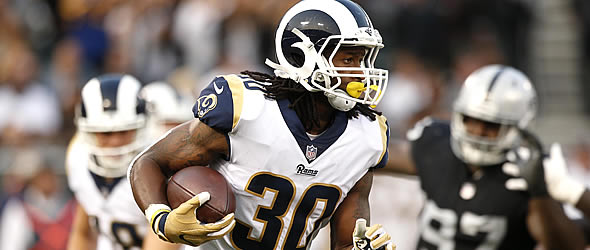 Todd Gurley delivered one of the best fantasy running back performances of the season in Week 15.
Fantasy Playoff Heroes
Back To The Future: Running Backs Win Championships
Until this decade, the longtime mantra in fantasy football was that championships were won and lost on the feet of great running backs. Players like Marshall Faulk, Priest Holmes, and LaDainian Tomlinson won many fantasy owners titles in the RB-dominant decade that was 2000-2009. But since then, the committee phenomenon has taken over most backfields, leaving the path to a fantasy title wide-open. This past weekend however, the "stud" RB reigned supreme. With star receivers nowhere to be found, the lead actors in the RB melodrama did their thing. Tops was Todd Gurley, whose 180 yards and 4 TDs came in a game that owners would have been thrilled to get half that amount. The night before, Kareem Hunt returned to September form with a pair of end zone trips and over 200 total yards from scrimmage. Other RBs that netted 20+ fantasy points in a non-PPR format included Mark Ingram, Le'Veon Bell, Melvin Gordon, Devonta Freeman, and LeSean McCoy. With the exception of Ingram, all were first round picks in August and delivered on the semi-final stage. In a world where retro is always coming back into focus, Week 15 was a blast from the past. Here's hoping one or more of these "studs" were in your stable.
Fantastic 4 TD QBs: The Cam and Nick Show
There were plenty of question marks coming into Sunday about how well Cam Newton and Nick Foles would do in the fantasy realm - Foles in particular. And, while neither QB put up big yardage numbers (at least through the air), both Newton and Foles threw for 4 touchdowns apiece - tops amongst all their peers for the weekend. The Eagles just seem to do things better in the red zone than everyone else as evidenced by their now 37 team touchdowns via the pass. Foles isn't going to produce 4 TDs against better defenses, but if you plugged him into your lineup this week and took a deep breath, you can exhale. It was a great decision. Meanwhile, Newton supplemented his work through the air with 58 additional yards on the ground. That's nothing new for the multi-dimensional fantasy threat, but with Devin Funchess ailing Sunday, not much was expected of Cam. Sometimes, he just rises up and scores big when the match-up or situation doesn't call for it. Look at 2015 for proof of that over and over again. At least Cam had one of his main weapons back…
Short-Term/Long-Term Returns: Gronk and Olsen
…And that weapon was none other than TE Greg Olsen. Olsen's day (9-116-1) was both bitter and sweet. For those owners able to either stash Olsen on IR or actually keep him in leagues that allow for deeper rosters, getting the anticipated production was nice. However, owners whose season ended last week or the week before who never got a return this season on the Olsen investment must be shaking their head. As a selector of Olsen in several summer drafts, I can relate to that outcome the most. As for shorter term returns, Rob Gronkowski bounced back from his one-game suspension with his best game of the season. In his last two games played, Gronk has erupted for 18 receptions and 315 receiving yards. Tom Brady is leaning on him heavily and that is likely to continue with Rex Burkhead (knee) on the shelf. Gronk and Olsen were the tight ends to own in Week 15.
Sterling Shepard: The Ultimate Flex Play
The Flex play of the week had to be Sterling Shepard. His 11-catch, 139-yard, 1 TD day represented the third time this year that he's topped the 130-yard mark in a game. Yes, that makes him a poor man's version of T.Y. Hilton, but it also represents the upside he carries in a role that does not require him to be "the man". As a third WR in your lineup, thus, he likely made all the difference this weekend with so many WRs tanking for one reason or another. As long as Evan Engram stays healthy, look for Shepard to continue to be a factor next week…Eli simply looks his way too much for his floor to be low (16 targets on Sunday).
Fantasy Playoff Head-Scratchers
This category is reserved for guys that would have been "heroes" in Week 15 but very few probably had them in a starting lineup…meaning their great performances didn't make much of an impact. They are as follows:
Eli and Bortles: Dynamic Duo?
In addition to Cam Newton and Nick Foles, the other two most productive quarterbacks in Week 15 were Eli Manning and Blake Bortles. An astute owner might have inserted either into a lineup given that the Texans are simply brutal against the pass and the Eagles are dominant against the run. Still, at playoff time, you normally roll the dice at QB with the guy that got you there. In this case, if that guy was Wilson, Brady, or Cousins for example, you were left wishing for Eli or Bortles instead. Of the two, Bortles has the better match-up next week, but as is the case with all Buzz "Head Scratchers", don't look for lightning to strike twice.
Cole, Mickens, King: Who Are These Guys?
All right…it is conceivable that someone had Keelan Cole in their lineup on Sunday. After all, Cole came in having scored TDs in each of the last two games and garnering 99 yards receiving in one of them. As a WR3 or 4, he was an intriguing option and we're willing to concede that. That being said, if you had King or Mickens in your lineup, I want to hear from you in the comments section…. like right now! The whole Jacksonville situation is worthy of its own paragraph, so we're going to do that momentarily. Just remember next week that December is full of players getting meaningful playing time that no one has heard much about. Picking the right one to produce is tricky, but do keep an eye on Cole. With Marqise Lee likely to miss next week's game, he's worth the gamble if you start three or more WRs.
The Return of C.J. Anderson
Finally, the Broncos seemed to find their identity for the rest of the season, albeit against the lowly Colts. Their offensive scheme has been predictable and QB play amongst the worst in the league, but they finally figured out what they do best last Thursday evening. They should have already known. After all, C.J. Anderson averaged 21 touches for exactly 100 yards a game in the four weeks preceding Denver's Week 5 bye. After Week 5, the Broncos went away from Anderson for reasons unknown to the point that he had drifted to being an afterthought in weekly lineups. 30 carries for 158 yards against the Colts puts him back on track for a possible 1,000 yard rushing season. TDs remain hard to come by in the stagnant Denver offense, but consider Anderson a solid RB2 for fantasy championship game purposes.
Fantasy Playoff Goats
The Kamara Effect: This Week's Victim - Antonio Brown
It was like déjà vu all over again this weekend. An early injury to a fantasy superstar doomed many teams as Antonio Brown left for the day with 13:00 to go in the second quarter after catching 2 balls for 24 yards on 3 targets. There's little doubt Brown would have gone on to have a huge game just like Alvin Kamara would have done the week before. The first two weeks of the playoffs have seen two of fantasy football's most dynamic stars silenced early. At least Kamara made it back to the field this week and was productive. Brown will be sidelined for the next two weeks at least, meaning the path to a title for a Brown owner just got tougher…if you made it out of Week15 alive.
Seattle Slaughter
While losing Brown on Sunday was rough, nothing could compare to what owners of Russell Wilson, Doug Baldwin, and/or Jimmy Graham must have been feeling about supper time on Sunday night. Seattle's 42-7 loss to the Rams included less than 150 passing yards from Wilson, one catch apiece for Baldwin and Graham with very minimal yardage, and a Seattle D/ST that was worth nothing. There's not much to say other than "I'm sorry" if you were caught in this tidal wave of futility. Wilson has still been a huge asset all year and I he'll likely bounce back next week vs. Dallas, but Graham's complete disappearance the past two weeks has stung those counting on him. U-G-L-Y.
The Jacksonville Horror Show: Replacing Fournette and Lee
All right…bear with me here as this was the most ridiculous thing that's happened all season in fantasy football. Bar none. Leonard Fournette was declared out Sunday morning. Owners then scrambled to get Chris Ivory into lineups or possibly T.J. Yeldon as a flex play. Likewise, Dede Westbrook made his way into numerous lineups in anticipation of the Texans giving up the usual endless production in the passing game. And Jacksonville responded to those banking on them with - get this - 3 rushing touchdowns…and 3 receiving touchdowns…and 464 total yards from scrimmage. Hooray for Ivory owners! Hooray for Westbrook owners! Except…the 3 rushing TDs were turned in by Tommy Bohanon (2) and Corey Grant. The receiving TDs went to the aforementioned Cole and Mickens. Ivory only had 42 yards on the ground with no TDs. Westbrook caught 2 balls for 21 yards. And, this with Marqise Lee going down early. There are no words. Only a recap without reason.
Second-Tier Futility
Finally, RB2 was a pasture full of fantasy goats on Sunday as we grant the nod of futility to the likes of Carlos Hyde, Alex Collins, Lamar Miller, DeMarco Murray, and Jamaal Williams. Basically, every guy ranked between No.10 and 20 at RB in weekly cheat sheets fell flat. While the upper tier excelled, this bunch did NOT help you get out of the semi-finals. And, the Bears went away from Jordan Howard again this weekend to the anguish of his owners. When will they learn to feed the Big Bear with more than 10 carries? Maybe next year under a new coaching regime, I guess.
We'll put a bow on the fantasy season next week here at the Buzz. Until then, hope you win some championships on Christmas weekend! Best of luck from us to you and come and see us next Tuesday - same time and place.