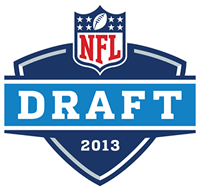 2.02 – Titans: WR Justin Hunter
Goodbye Nate Washington…or Kenny Britt? Hunter was the most productive receiver for the Vols this past season and should further help the Titans get more "chunk" plays. It really could be either one or both, but it cements the Titans' philosophy as a big-play, deep-ball offense now. The amount of receiver talent Tennessee has now is scary, but given the fact that Washington's status with the team was already in question and Britt's status is almost always in question, the roadblocks aren't' what they appear to be at first look. His redraft stock is low at the moment, but could skyrocket at a moment's notice. His dynasty value is much higher.
2.03 – Eagles: TE Zach Ertz
It's becoming clear that Chip Kelly is looking for size mismatches in the passing game with James Casey's signing and this pick. Kelly loved to use his TEs down the seam at Oregon and it is safe to say those seams will get a workout in Philly. Kelly's offense may very well be a two-TE offense in theory, but I'd be shocked if Casey/Ertz aren't working out of the slot 60% of the time. I'm not thrilled about his redraft value with so many TEs on the roster, but the team will likely move on from Brent Celek in the next year or two, making him a very solid dynasty league option in Kelly's warp-speed offense
2.05 – Bengals: RB Giovani Bernard
The Bengals grab Law Firm's complement, not his eventual successor. The Bengals land a prospect that has drawn comparisons to LeSean McCoy and rightfully so. While not at that level, the Bengals are definitely sending a message they want to give Andy Dalton every opportunity to be successful. Whichever RB landed in Cincinnati was going to be a good bet to be the best redraft rookie available and Bernard has that honor (along with Tavon Austin). Bernard has a legit shot at becoming 1A/1B with BJGE in short order, making him a solid dynasty option as well.
2.08 – Jets: QB Geno Smith
This is going to be fun. Goodbye Tebow tomorrow and Sanchez next year? Smith is a smart pick from the perspective that the Jets now have an OC that can develop a quarterback, but his "fit" is questionable in the new offense. The Jets' situation is dire right now with such a poor supporting cast, but there's no doubt anymore that Sanchez MUST produce this season. Smith will have time to transition from the spread to the West Coast offense, but how long will it take the Jets to surround him with enough talent to allow him to succeed? He's going to be among the lowest-ranked redraft QBs (for good reason) and his dynasty upside is also somewhat limited.
2.10 – Bills: WR Robert Woods
Woods should slot in immediately as the Bills' solid, steady option opposite Steve Johnson right away. Woods isn't exactly flashy, but he is very much pro-ready and will help move the chains in Buffalo. He is more than willing to go over the middle and will be a solid producer for years to come. The Bills have talked about moving Johnson into the slot more often and Woods' presence should help them do just that. The USC standout is very likely to be a late-round option at best in redraft leagues given the uncertainty at QB in 2013, but he has a great shot at holding WR4 value at some point this season and should be a reliable WR3 in dynasty leagues (perhaps as soon as 2014).
2.17 – Cowboys: TE Gavin Escobar
One year after letting Martellus Bennett go to New York, the Cowboys take another shot at Jason Witten's successor. Escobar is a soft-handed, athletic TE with great ball skills. In many ways, the Cowboys have drafted a younger version of an older Witten. Escobar is not the blocker that Bennett was before he departed, but is landing in a solid situation where he can learn from one of the best. His redraft value figures to be minimal, but he has second-round upside in dynasty league rookie drafts.
2.18 – Steelers: RB Le'Veon Bell
I want so much to like Bell, who drew some comparisons to Steven Jackson earlier this season. However, I was less than impressed by the consistent power displayed by this power-running RB. This is going to require more tape-watching on my end b/c Eddie Lacy was a superior RB (especially for the Steelers). Bell is a better option than Jonathan Dwyer and Isaac Redman, but I have a bad feeling about it. By virtue of his draft status and likely standing on the depth chart with little competition, Bell lands in a great spot for his redraft value. For the Steelers' sake, I hope I just watched Bell in the wrong games, but any recommendation I give him now would be based more on the situation he finds himself in and less on his overall skill level.
2.25 – 49ers: TE Vance McDonald
Much like former Rice prospect James Casey, this Owl was used all over the formation in college. McDonald has little in-line experience as a blocker, which might suggest that SF will be another two-TE team in theory, but pull the Patriots' TE trick of lining up Vernon Davis up in Rob Gronkowski's role while McDonald works out in space in the same fashion Aaron Hernandez does. There is considerable upside here in all fantasy formats. In redraft, he should be considered a low-end TE2 right now with his arrow pointing up. In dynasty, he is probably the most attractive TE in rookie drafts.
2.28 – Broncos: RB Montee Ball
This pick is likely to be seen as an indictment on Willis McGahee or Knowshon Moreno, both of which are likely correct. McGahee is probably only going to play one more year in Denver. Moreno – despite a strong finish in 2012 – has yet to capture the imagination of the Broncos' brass. As long as Manning is around, every RB on his team has a great shot at value as soon as he learns to block and shows he can catch the ball. Ball has limited experience at both, but certainly has the capacity to do both. At this moment, Ball appears to have the best combination of skill and situation of any drafted RB in redraft leagues. I think he is a league-average talent, so I am less optimistic about his dynasty upside.
2.29 – Patriots: WR Aaron Dobson
Assuming he can build trust with Tom Brady (always an unknown), Dobson gives NE its first big receiver since Randy Moss. He's not Moss in size, speed or skill, but he is an able and trustworthy pass catcher. Dobson probably will not start in front of Donald Jones in year 1, but he's a better overall talent. There is minimal redraft value here, but he has second-round value in dynasty league rookie drafts.
2.31 – Packers: RB Eddie Lacy
It's about time. Lacy slide due to medical concerns, but he finds the best fantasy situation of any RB drafted so far. The Packers have played around with undersized committee back lately, but Lacy could bring that to an end in short order. Lacy is a power back with nimble feet and helps make up for Green Bay opting not to trade for Marshawn Lynch a few years ago. Lacy has low-end fantasy RB2 upside in redraft leagues and should be the top pick in dynasty league rookie drafts.
2.32 – Seahawks: RB Christine Michael
Michael is easily a second-(if not a first) round talent, but character concerns and the fact he landed in coach Kevin Sumlin's doghouse this past college season did him no favors during the draft process. In Seattle, he'll have a difficult time seeing the field anytime soon due to the presence of Marshawn Lynch and Robert Turbin. Second-round picks shouldn't be resigned to third-string status, but the Hawks were simply taking the best player available. Michael can be ignored in redraft, but his talent is such that he warrants a pick in dynasty league rookie drafts because he could overtake Turbin at some point. (With Lynch likely to wear down soon, that's a potential fantasy goldmine.)