As we have done after Weeks 1 and 2, we will dive into the usage information after Week 3 to discover what players you should consider adding or acquiring in your leagues. We will consider how many snaps were played by various players, as well as how often they were used in the game – either by being handed the ball or by being targeted in the passing game. Let's dive in.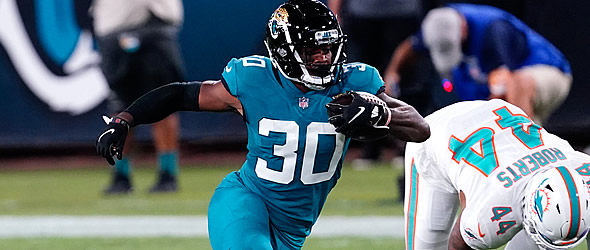 Running Back
Myles Gaskin is the starting running back for the Dolphins Ė thatís settled. He played on 75% of snaps, while Matt Breida was at 18% and Howard was at 7%. Further, Gaskin got 27 touches! While he only went for 3 yards per carry and 6 yards per reception, he is getting the opportunites and must be on your radar if youíre needy at running back.


Meanwhile, James Robinson has cemented his grip on the backfield in Jacksonville. He got 11 carries for 46 yards and 2 TDs, and got all the work inside the 5-yard line. He also received a surprising 6 targets and caught them all for 83 yards. If he continues to get that kind of receiving work (similar to what Fournette got last season), he will offer sustained value this season. In Week 3, he played on 45% of snaps and Chris Thompson also played on 45%, although Thompson looked slow and undynamic (2-3, 5-35). We need to see how the return of Devine Ozigbo impacts Robinsonís snap share.


Todd Gurley got 14 carries and was effective (80 yards with a score). He is still not involved in the passing game (only 1 reception for 2 yards). He is a flex option but nothing more until he starts getting targeted more. Brian Hill played on 34% of snaps and had a long touchdown run. Hill finished with 9-58-1 and also had a 22-yard reception. He should be added in deeper leagues if heís on your wire.


Darrell Henderson and Malcolm Brown split snaps, but Henderson blew up (20-114-1) and Brown did nothing. This backfield is a total conundrum. There is a chance Henderson has seized his opportunity and is now the starter moving forward, and there is also a chance that Akers (ribs) or Brown becomes the starter within a week or two. Most likely none are available on your wire, but if you can acquire Henderson in shallow leagues he is a high priority add.


Derrick Henry played on 75% of snaps and had a nice game (26-119-2). Darrynton Evans got his first action of the season and played only 11% of the snaps, but he did get three carries. If youíre desperate at RB he is worth a look, as I anticipate his snap share will increase over the coming weeks. He may also become the primary back on third downs and the hurry-up offense.


Burkhead scored three times on 13 touches, and he received an astonishing 10 targets in the passing tame (7-49). He will likely not have another game like this, but he will be added in every league. If you bid, make it a small one. You do not know who will have a good game from the Patriots backfield, and most weeks it will be Cam who leads the team in rushing.


Both Jerick McKinnon (62% of snaps) and Jeff Wilson (30% of snaps) had nice days, and both scored. They had 17 and 15 touches, respectively. Until Raheem Mostert returns, both are worth playing in good matchups and even after Mostert returns, McKinnon should retain a role as a passing-down specialist. McKinnon did injure his ribs late in the game, so keep an eye on his status.


David Johnson played on 96% of the snaps. He is an every-down player, even though he isnít doing much (13-23-1, 2-23). This is likely just a rough stretch against two good defenses (Baltimore and Pittsburgh), so better days are likely coming.


James Conner played on 66% of the snaps and had a nice game (18-109-1, 4-40). Benny Snell played on 19% and was not good (7-11). Rookie Anthony McFarland Jr. played on 12% of snaps (10 snaps) and had 6 carries and 2 targets (6-42, 1-7). They are clearly trying to get him involved as a change-of-pace option, and he looked good on Sunday. Keep McFarland in mind and consider a small bid in deep leagues.


Jonathan Taylor played on 40% of the snaps, Nyheim Hines on 33%, and Jordan Wilkins on 28%. Wilkins comes into the game whenever itís in hand, to bleed out the clock. Typically itís going to be a split between Taylor and Hines, and how many snaps each gets will depend on game plan and game flow. Taylor ran well (13-59-1), but didnít get as many opportunities as we hoped. Hines went 7-21 and had 4-40 through the air.


Mike Davis played on 76% of snaps and got a lot of work (13 carries, 9 targets). He produced 13-46 on the ground and 8-45-1 through the air, so it appears he is taking over the vast majority of McCaffreyís workload. He should be an every-week starter for the next few weeks.


What is Matt Patricia doing? With two young, dynamic backs on the team, he is choosing to play Adrian Peterson on 60% of the snaps. He gave Peterson 22 carries (22-75), while only giving Kerryon Johnson 3 and DeíAndre Swift 0. Further, Swift played on only 6 snaps. It is completely baffling. The maddening part is that they won the game, so heíll think it was a good plan. Let this be a reminder for all of us: avoid all backs on teams coached by Belichick or Patricia.


Kenyan Drake continues to struggle, although he again played most of the snaps (68%). He was only able to produce 79 yards of offense on 19 touches, and again did not score. He has played three solid defenses, and I expect his breakout game will come in Week 4 against the Panthers horrid run defense.


Ronald Jones led Tampa Bay backs in touches (15), and produced 73 yards of offense. Leonard Fournette only received 9 touches and produced 22 yards. Jones playing on 51% of snaps to Fournetteís 37% does show that Arians has not pushed Jones down to second on the depth chart permanently. Both will be involved, but it will be hard to trust either.


Alvin Kamara had a huge game due to his ridiculous 14 targets (caught 13 for 139 yards and 2 touchdowns). He only played on 67% of the snaps and only received 6 carries (Latavius Murray had 12), but when he is so involved in the passing game he is going to be a top fantasy scorer every time. Watch to see how his usage in the passing game is affected once Michael Thomas returns.


Clyde Edwards-Helaire played on 69% of the snaps and got 20 carries and 5 receptions. Darrel Williams and Darwin Thompson combined for 6 total touches. This is Edwards-Helaireís backfield, and he has been extremely effective with his opportunities. Unless he gets injured, neither Williams nor Thompson has value.


Interestingly, J.K. Dobbins played the most snaps of any Ravens back on Monday night (24 Ė Mark Ingram played on 18 and Gus Edwards played on 13). Dobbins appears to be their third-down specialist and best pass-catcher, so he likely played more than Ingram because the Ravens were in comeback mode. He only received 1 carry (Ingram had 7 and Edwards had 4), but he did catch all 4 of his targets. If the Ravens ever start giving Dobbins a larger share of the rushing workload, he could become a huge asset.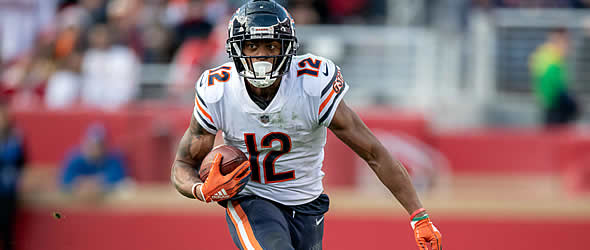 Wide Receiver
Tight Ends
---
Kevin Scott is a fantasy pro who is the co-host for The Lowdown Fantasy Football Podcast. He plays in over 40 leagues annually and has made over $100,000 playing fantasy football. You can follow him @kevinscottff.