Young Guns II

I


6/6/11



Back in 2007, spurned by the success of rookies Vince Young, Matt Leinart, and Jay Cutler—as well as first year starters Philip Rivers and Tony Romo—I re-examined the "conventional wisdom" in the fantasy football community which held that rookie and other first-year starting quarterbacks struggled mightily in year one .

Most fantasy owners at the time wouldn't have dreamed about taking a young quarterback in their redraft leagues. Furthermore, those owners would have also downgraded the receivers from a young quarterback's team when preparing their preseason rankings. Fantasy experts and message board posters would have even gone so far as to warn against drafting a running back from teams expected to start a rookie quarterback, since opposing defenses would stack the box and dare the rookie to beat them.

The 2007 article and last offseason's follow-up showed that the conventional wisdom surrounding rookie quarterbacks may be heading the way of the cassette tape and the typewriter. Said wisdom is starting to look obsolete.

The NFL now expects highly drafted rookie quarterbacks to learn on the fly and resurrect their franchises, especially after Matt Ryan, Joe Flacco, and Mark Sanchez did just that during their very first season, taking their respective teams to the big dance. While fantasy owners shouldn't expect rookie QBs to lead their fantasy teams to the Promised Land, they do need to realize that the landscape is changing.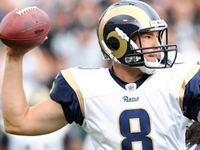 Sam Bradford's rookie season ranks 12th-best all time.
Last season, Sam Bradford crashed the NFL's exclusive quarterback club by having a rookie season for the ages—from an NFL (if not necessarily a fantasy) standpoint at least. In more limited action, both Colt McCoy and Tim Tebow proved their doubters wrong by showing immediate results during their rookie seasons. While it's an extremely small sample size that came against poor pass defenses in meaningless games, Tebow's fantasy points through the last three weeks of the season while starting for the Broncos actually surpassed Dan Marino's formerly top-ranked rookie season by a significant margin. The times they are a changing, indeed.
Below is a chart that will look familiar to those who have read the previous two articles linked above. The seasons of young field generals of recent vintage are compared to some of the best rookie seasons of all time, as well as to the rookie campaigns of quarterbacks who went on to become some of the best of the modern era. This list is based on a scoring format where all TDs are worth six points and interceptions count as negative two points. Note that the list is sorted by fantasy points per game (FPts/G) in order to compare the players who did not play full seasons to those who did. Once again, please understand that I am not implying that these young guns will someday measure up to the all-time greats or that they are destined to become Hall of Famers. I'm simply trying to show how successful first-year quarterbacks have been in recent seasons compared to how others had fared previously. As you can see, with the lone exception of Marino, five of the top six slots are dominated by quarterbacks who started their careers after 2006, while the bottom five slots are filled by players whose busts are sitting in Canton, Ohio.


The Rookie Years
Rk
Player
Year
G
Yds
TDs
INT
R-YDs
R-TDs
FPts
FPts/G
1
Tim Tebow
2010
3
651
4
3
201
3
88.14
29.38
2
Dan Marino
1983
11
2210
20
6
45
2
224.90
20.45
3
Tony Romo
2006
12
2903
19
13
102
0
240.32
20.03
4
Jay Cutler
2006
5
1001
9
5
18
0
95.84
19.17
5
Matthew Stafford
2009
10
2267
13
20
108
2
191.48
19.15
6
Vince Young
2006
14
2199
12
13
552
7
257.16
18.37
7
Carson Palmer
2004
13
2897
18
18
47
1
234.58
18.04
8
Fran Tarkenton
1961
14
1997
18
17
308
5
248.68
17.76
9
Brett Favre
1992
15
3227
18
13
198
1
262.88
17.53
10
Steve Young
1985
5
953
3
8
233
1
85.42
17.08
11
Philip Rivers
2006
16
3388
22
9
49
0
272.42
17.03
12
Sam Bradford
2010
16
3512
18
15
63
1
260.78
16.30
13
Ben Roethislberger
2004
14
2621
17
11
144
1
227.24
16.23
14
Bob Griese
1967
12
2005
15
18
157
1
191.90
15.99
15
Peyton Manning
1998
16
3739
26
28
62
0
255.76
15.99
16
Jim Plunkett
1971
14
2158
19
16
210
0
221.32
15.81
17
Matt Ryan
2008
16
3440
16
11
104
1
250.00
15.63
18
Matt Leinart
2006
12
2547
11
12
49
2
184.78
15.40
19
Drew Bledsoe
1993
13
2494
15
15
82
0
197.96
15.23
20
Josh Freeman
2009
10
1855
10
18
161
0
150.30
15.03
21
Matt Moore
2009
6
1053
8
2
-3
0
89.82
14.97
22
Colt McCoy
2010
8
1576
6
9
136
1
118.64
14.83
23
Joe Flacco
2008
16
2971
14
12
180
2
232.84
14.55
24
Troy Aikman
1989
11
1749
9
18
302
0
154.16
14.01
25
Mark Sanchez
2009
15
2444
12
20
106
3
198.36
13.22
26
Joe Montana
1980
15
1795
15
9
77
2
181.50
12.10
27
John Elway
1983
11
1663
7
14
146
1
129.12
11.74
28
John Unitas
1956
12
1498
9
10
155
1
135.42
11.29
29
Terry Bradshaw
1970
13
1410
6
24
233
1
121.70
9.36
30
Dan Fouts
1973
10
1126
6
13
32
0
84.24
8.42
Passing over ground that was already explored in the past two articles, what we can take from this chart is that the college game may be changing in a way that better prepares young quarterbacks to succeed at the NFL level more quickly than they had in the past.
I'm not advocating going out and drafting a first-time starter as QB1 for your fantasy team, but you may want to think twice about totally avoiding the skill players on any team that will be led by a young quarterback simply because of that young quarterback. Furthermore, keeping your eye on the progress made by a young signal caller could land you a prized waiver wire acquisition who could help your team come playoff time if you had been winning despite shaky QB play. On the flip side, so far we have ignored busts like JaMarcus Russell, Brady Quinn, Jimmy Clausen, and Brodie Croyle, among others—so it's not all wine and roses. However, it is undeniable that things have changed. NFL teams can win right away with a first-year starter under center, and those young players can produce meaningful statistics right away.
It should also be duly noted that this may be a banner year for rookie quarterbacks (based on sheer volume), with six of them having been taken in the first two rounds of the NFL draft and a good number of those expected to be handed the starting reigns right away.
I'd rank their chances for success in 2011 in the following order:

1. Cam Newton – A quick glance at the chart above shows that a QB's ability to gain fantasy points with his legs gives him an advantage over other rookie QBs. The running aspect of the player's game is obviously more instinctive than the mental hurdles that come with leading a passing attack. Cam Newton is the best runner in this draft class and arguably the best rookie runner at quarterback since Mike Vick. Newton isn't all about the run though. He possesses a rocket arm as well, albeit one that is not always the most accurate. What sets Newton apart from the other running quarterbacks at the college level is that he does not take off at the first sign of trouble—most of his runs at Auburn were designed runs, not scrambles—and he can be just as dangerous using his arm. He will at least be able to get the ball deep to the big, strong, and fast second-year duo of Brandon LaFell and David Gettis, allowing them to make plays for the ball. How quickly Newton is able to learn a more complex NFL offense and read pro defenses will go a long way toward his 2011 success, but no rookie this season (even among the non-QBs) possesses as high a ceiling as the Heisman Trophy winner.

2011 Projection: 14 GS, 2,605 passing yards 14 TDs, 17 Ints. / 475 rushing yards 5 TDs
2. Jake Locker – Locker is also an adept runner, but his weakness in the passing game is inconsistent accuracy. Locker reminds me of Donovan McNabb in that he has a powerful arm, great leadership skills, better-than-average mobility, but below-average accuracy. In Locker's defense, he will be surrounded by far greater talent in Tennessee than in college at Washington. The athletic, ball hawking Kenny Britt should be able to track down Locker's deep throws, and Chris Johnson can gain significant yardage off of swing and dump-off passes. Locker may sit for a game or two behind an aging veteran (perhaps Kerry Collins), but after investing a high pick and seeing what Locker can do, expect the Titans' front office to give him the majority of the starts in 2011.

2011 Projection: 13 GS, 2,485 passing yards 12 TDs, 14 Ints. / 315 rushing yards 3 TDs
3. Andy Dalton – Many compare Dalton to Chad Pennington, as if that should have a negative connotation. Those people may want to delve a little deeper into just how impressive Pennington's career was. In every full season Pennington played, his team never failed to make the playoffs and he accumulated more-than-adequate passing statistics. Dalton does remind me of Pennington, too, but I use that as a compliment. While he does not possess a strong arm, he is extremely smart and accurate with his throws. He's also used to performing on the big stage, leading TCU to an undefeated season and a Rose Bowl Victory over Wisconsin. He should be a very good fit for Jay Gruden's West Coast offense and will be able to learn and grow with Cincinnati's young receiver group, which features Jerome Simpson, Andre Caldwell, Jermaine Greshem, Jordan Shipley, and No. 4 overall pick A.J. Green.

2011 Projection: 16 GS, 3,105 passing yards 17 TDs, 10 Ints. / 65 rushing yards
4. Christian Ponder – Perhaps the Vikings "reached" when they chose the former Seminole at No. 12 overall, but only time will tell if they got their franchise quarterback. Ponder is a smart, tough, athletic competitor with a quick release and a good arm, but he tended to fold under late-game pressure at times during his college career. He also proved to be much less of an iron man than the player he'll be replacing in Brett Favre. To his advantage, Ponder will be surrounded by far more talent than any of the other rookie quarterbacks, provided the Vikings re-sign Sidney Rice. There is, however, a very real possibility that the team will sign or trade for a veteran signal caller to start the season in order to compete in 2011. If that is not the case, Ponder should be a decent, late-round fantasy option with upside for those who draft studs like Manning, Brady, or Rodgers

2011 Projection: 12 GS, 2,450 passing yards 10 TDs, 6 Ints. / 85 rushing yards 1 TD
5. Blaine Gabbert and Colin Kaepernick – Putting these two this far down on the list isn't necessarily an indictment of their abilities. Rather, it's an observation that they don't hold much, if any, value in redraft leagues since the respective incumbents in Jacksonville and San Francisco (David Garrard and Alex Smith) are expected to hold onto their starting positions for at least as long as their teams stay in playoff contention. Gabbert has the size, arm strength, and athleticism of a prototypical NFL quarterback, but he lacked any eye-popping results at the college level. The Jacksonville receiving corps isn't exactly over-flowing with playmakers, so don't expect much even if Gabbert wrestles the job away from Garrard later in the year. Kaepernick is a fiery leader and a great athlete but is raw as a passer and will need time under Harbaugh before the results are there. Alex Smith has been a disappointment thus far, but could gain some new life under Harbaugh and keep the 'Niners in the playoff hunt through December. For those in redraft leagues, neither QB should be in your draft-day plans, but keeping an eye on their situations couldn't hurt.