An Examination Of The Young QB Phenomenon

8/13/07



The conventional wisdom in the fantasy football community has long been that rookies and other first-year starters at the quarterback position will struggle and in turn will take their offenses down with them. Most owners wouldn't put much thought into taking a young quarterback on draft day. They also downgrade the QB's supporting cast when preparing for an upcoming draft.

You heard it all last off-season on message boards - "stay away from Tomlinson and Gates", because Drew Brees was no longer in San Diego and young Philip Rivers was a virtual rookie under center. Well, perhaps people didn't exactly advise anyone to "stay away" from Tomlinson, but Rivers was one of the reasons that people ranked LT2 third or fourth behind the likes of Larry Johnson, Shaun Alexander and occasionally even Clinton Portis or Tiki Barber among running backs. Most felt opposing teams would stack the line and limit his production. No one was predicting that San Diego would be the top scoring offense in the NFL.

However, in 2006 conventional wisdom was slapped in its face (if wisdom does indeed have a face). Rookies Vince Young, Matt Leinart and Jay Cutler and first-year starters Philip Rivers and Tony Romo took the fantasy world by storm, achieving unexpected levels of success. Surprisingly, they also did nothing to harm their respective team's other offensive players.

Vince Young, who most prognosticators felt was not nearly NFL-ready, stepped in for an unprepared veteran, Kerry Collins, before Tennessee's week 4 contest and remained at the helm all season - turning the Titan's year around. A look at his stats, and the Titans' record in the games he started, show why he was named NFL Rookie of the Year. Young helped many QB desperate fantasy teams survive during an eight-week stretch where he scored at least one TD (via pass or rush) in every contest and put up solid points through the air and on the ground.

Young's presence also helped unheralded players such as TE Bo Scaife (29-370-3) and WR Brandon Jones (27-384-4) emerge as decent bye week fillers for many fantasy squads. Brandon Jones may have helped a couple of teams bring home the trophy in Week 16 when he grabbed five balls for 101 yards and a touchdown. Both could be draft day steals in 2007 as Young improves as a passer and looks to cope with the losses of Drew Bennett and Bobby Wade from his receiving corps.

Similar stories played out for the two other prominent rookie QBs. Matt Leinart replaced the aging and ineffective Kurt Warner as the Cardinal's starting QB on October 8th and remained in the starting line-up until a late season injury forced him back out. Leinart finished with over 2,500 passing yards and 11 TDs and did not hurt his skill players' production at all. In fact Leinart's presence may have saved Edgerrin James owners their fantasy seasons—the "first round bust" developed into a second half force. In his last four games with Leinart at the helm, James went over 100 yards rushing 3 times and scored 2 TDs. He failed to break the 100 yard mark in any other contest and scored in only four other games in 2006.

Jay Cutler replaced inconsistent starter Jake Plummer in Denver late in the NFL season and looked like a solid pro QB right off the bat. Like Young, Cutler also helped jump-start the fantasy careers of two virtual unknowns, WR Brandon Marshall who flourished under his former practice mate's leadership (17-254-1 in Cutler's 5 starts) and fellow rookie TE Tony Sheffler who looked a lot like Tony Gonzalez in the red-zone after Cutler went under center (4 TDs in Cutler's 5 starts). Many predict Leinart and Cutler to build on their rookie years and be viable fantasy starters in 2007. My advice, however, would be to instead target them as high upside backups, since I don't think either will be asked to carry their teams under offensive systems that will look to control the ball with the running game. I would slightly downgrade WRs Anqaun Boldin and Larry Fitzgerald as well, not only do they vulture each other's stats, but the Cardinals' offense will not be as wide open as it was under "Mad-Martz-lite" Dennis Green.

Like the rookies, first-year starters Tony Romo and Phillip Rivers, also had immediate success and did nothing to hurt the skill players surrounding them. Their respective offenses failed to skip a beat from when veterans Drew Bledsoe and Drew Brees were under center. Rivers and Romo head into 2007 projected as dependable fantasy starters, while Terrell Owens is a consensus top 5 WR, Vincent Jackson is everyone's favorite sleeper and you'd be hard pressed to find anyone who did not have Tomlinson at the top of their RB rankings.

In order to help put last season in perspective, let's compare these young guns' 2006 numbers to those put up by the QB's considered to be among the best of the modern era during their first years as full-time starting signal callers.

Their Rookie Years
e
Player
G
Yds
TDs
INT
R-YDs
R-TDs
FPts
FPts/G
1
Dan Marino
11
2210
20
6
45
2
224.9
20.4
2
Tony Romo
12
2903
19
13
102
0
240.3
20.0
3
Jay Cutler
5
1001
9
5
18
0
95.8
19.2
4
Vince Young
14
2199
12
13
552
7
257.2
18.4
5
Brett Favre
15
3227
18
13
198
1
262.9
17.5
6
Philip Rivers
16
3388
22
9
49
0
272.4
17.0
7
Peyton Manning
16
3739
26
28
62
0
255.8
16.0
8
Matt Leinart
12
2547
11
12
49
2
184.8
15.4
9
Troy Aikman
11
1749
9
18
302
0
154.2
14.0
10
Joe Montana
15
1795
15
9
77
2
181.5
12.1
11
John Elway
11
1663
7
14
146
1
129.1
11.7
This list is based on a standard scoring format where all TDs are scored as six points and interceptions count as negative two points. Note, the list is sorted by fantasy points per game ("FPts/G") in order to be able compare the players who did not play full seasons to those who did.
Please understand that I am not implying that these young guns will someday measure up to the all time greats or that they are destined to become Hall of Famers. I'm simply trying to show how successful 2006 was for first year quarterbacks. As you can see, with the exception of Dan Marino and Brett Favre, the top half of the list is dominated by this year's crop of QBs while the bottom of the list is made up of players whose busts are sitting in Canton, Ohio.
To further illustrate the success rate of these young signal callers, let's look at how they stacked up in 2006 compared to the more established QBs. Under the same scoring format as stated above the top three quarterbacks based on FPts/G were: Donovan McNabb (26.8); Peyton Manning (26.0) and Drew Brees (22.4). Tony Romo (#7), Jay Cutler (#8), Vince Young (#10) and Philip Rivers (#11) all finished among the Top 12 scoring QBs based on FPts/G finishing ahead of fantasy stalwarts like Matt Hasselbeck, Brett Favre, Jake Delhomme and Daunte Culpepper. So all the first year starters that we have been discussing with the exception of Matt Leinart, were viable fantasy starters—once again showing how conventional wisdom failed fantasy owners in 2006.
What we can take from this is that the college game may be changing in a way that will better prepare young QBs to immediately succeed at the NFL level. The big-time nature and vast television exposure of NCAA football today likely helps prepare young QBs to handle the pressure and fame that used to belong exclusively to the next level. More importantly as college passing offenses become more complex and pro style systems out-number the old school run orientated systems, the traditional way of thinking about the performance of first year starters and the effect they will have on their skill players may be starting to go the way of the wishbone offense.

I'm not advocating going out and drafting a first time starter at QB to be the starter for your fantasy team, but you may want to think twice about totally avoiding the skill players on any team that will be lead by a young QB simply because of that young QB. Further, keeping your eye on the progress made by a young QB can also help land a prized waiver wire acquisition that could help your team come playoff time if you have been winning despite shaky QB play.
Will any of 2007's first year starters take the league by storm? JaMarcus Russell, Brady Quinn, John Beck and Brodie Croyle are the legitimate candidates to see their first snaps as NFL starters in 2007. Honestly, I can't say I'd expect much from this group, but after 2006 it's hard to just dismiss their chances for success if and when they get their opportunities. Perhaps a couple of them will find their way onto fantasy rosters as late season waiver wire acquisitions for those teams in need of a QB upgrade; much like Cutler, Leinart, Romo, Rivers and Young did in 2006. I'd rank their chances for success in 2007 in the following order: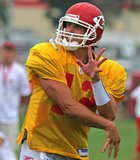 Brodie Croyle, KC: I give Mr. Croyle the best shot of seeing time on a fantasy roster in 2007 for two reasons: one he goes into training camp with a legitimate shot to start for Kansas City right away and two he has a year of NFL preseason and practice experience under his belt while the other three are true rookies. Croyle is a tough competitor, has a strong arm and will be supported by a very good set of skill players - if Larry Johnson does not hold out. Tony Gonzalez is a big target and one of the premier TEs in the NFL. Eddie Kennison is an underrated veteran who can get downfield and rookie WR Dwayne Bowe has good skills after the catch and could be the playmaker in the passing game that KC has been lacking for a long time. What could work against Croyle is his lack of mobility as he will be setting up behind a deteriorating offensive line, which has seen its two best members retire during the last two off-seasons. If he stays healthy, I do see Croyle putting up decent fantasy backup QB numbers, somewhere around 3,100 yards and 16-18 TDs. He should be on your late round radar, especially if you draft an every week starter like Peyton Manning, Tom Brady or Drew Brees in the early rounds.
John Beck, MIA: Beck has the skills and maturity to be successful right away. He has a strong arm, can throw on the run, and is a heady player that makes good decisions with the football. Trent Green is 37 and looked pretty poor after coming back from a devastating head injury in 2006. If he gets knocked out with injury again this season, is ineffective or if the Dolphins fall out of contention (a very distinct possibility), Beck has a good chance to see the field in 2007. With an innovative play-caller in Cam Cameron and some good skill players surrounding him, including Ronnie Brown and Chris Chambers, Beck may be worth keeping an eye on if your top QB goes down with injury or is ineffective.
JaMarcus Russell, OAK: Russell may or may not enter the season as the starting QB in Oakland, but should see the field eventually if not during Week 1. He's probably not worth drafting on shallow rosters even if he is named starter in camp, as he'll be inexperienced and playing behind one of the worst offensive lines in the NFL. However, Russell is a very similar QB to expected starter Daunte Culpepper in that both are big strong QBs with rocket arms and can move when the pocket collapses in order to gain time or yardage with their feet. In that respect the offense shouldn't miss a beat when and if the change is made at quarterback so I wouldn't automatically discount the Oakland skill players should Russell take the reins. Nevertheless, you may want to see how Russell adapts to the pro game before wasting a roster spot in redraft leagues as it's very hard to complete passes when guys are in your face almost simultaneously with the snap. Just ask Aaron Brooks and Andrew Walters about that.
Brady Quinn, CLE: I think Quinn will eventually be a good field general along the lines of a Phil Simms or Joe Theisman, in other words a professional QB that gets the job done without the flashy stats. That time will not be in '07 in my opinion. The biggest knock on Quinn entering the NFL draft was how bad he looked in big games when Notre Dame faced the better teams. The Cleveland line should be improved and with Braylon Edwards and Kellen Winslow in the mix Quinn would be in position to make plays but I'm not sure if he's ready for the heat. Quinn will be going against the staunch Pittsburgh and Baltimore defenses twice a year and would also be asked to go up against an offensive juggernaut like Cincinnati where the pressure will be on him to put up big points. This has me thinking Quinn will struggle as badly as Troy Aikman did during his rookie campaign if he's asked to start right away. So think twice before hitching your wagon to Quinn in redraft leagues, even if he's handed the job in training camp.