Young Guns II




6/5/10



Back in 2007, I explored the "conventional wisdom" in the fantasy football community which held that rookie and/or other first year starting quarterbacks struggled mightily in year one. Those in re-draft leagues preparing for their drafts at the time wouldn't put much thought into selecting a young quarterback and would also seriously downgrade the other skill position players from any NFL team starting a rookie at quarterback. Even RBs on that team were knocked down the rankings as opponents were "sure to stack the box and let the rookie try and beat them".

The article was spurned by the successful 2006 debuts of rookies Vince Young, Matt Leinart and Jay Cutler and first year starters Philip Rivers and Tony Romo. These young guns turned the fantasy world upside down as they achieved unexpected levels of success right off the bat.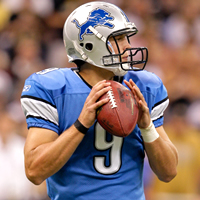 Stafford took a beating but posted solid numbers for a rookie QB.
Since that time other young guns like Matt Ryan, Joe Flacco and Mark Sanchez have made even greater strides by leading their NFL teams to the playoffs, and in the case of Flacco and Sanchez have even won playoff games.
Last season had some mixed results from a fantasy perspective but still helped create chinks in the armor to the thought process that rookie QBs and their supporting cast were destined to struggle.
Sanchez struggled at times during the regular season and wasnít a big fantasy contributor, due in large part to the run first mentality of head coach Rex Ryan, but he didnít exactly hurt RB Thomas Jones as the Jets led the NFL in rushing yards. Matthew Stafford took a beating behind a subpar Detroit offensive line, but was more than an effective fantasy QB when he was behind center. Despite having only one legit target in the passing game, Stafford averaged more than a TD and 225+ yards per game. Not too shabby. Matt Moore took over for a very ineffective Jake Delhomme and led the disappointing Carolina Panthers to a 4-1 finish while also salvaging Steve Smithís fantasy value for his disappointed owners. And finally, while Josh Freeman didnít set the world on fire, he didnít exactly embarrass himself or make his receivers (particularly TE Kellen Winslow) useless either.
Below is a chart, which puts all the recent early success of these signal callers into a little perspective. The aforementioned young field generals are compared to some of the best rookie QB seasons of all time as well as the rookie campaigns from a random selection of QBs considered to have gone on to become the best of the modern era. This list is based on a scoring format where all TDs are scored as six points and interceptions count as negative two points. Note, the list is sorted by fantasy points per game (ďFPts/GĒ) in order to be able to compare the players who did not play full seasons to those who did. Please understand that I am not implying that these young guns will someday measure up to the all time greats or that they are destined to become Hall of Famers. Iím simply trying to show how successful first year quarterbacks have been in recent seasons as compared with how they fared in the past. As you can see, with the lone exception being Dan Marino, five of the top six slots are dominated by QBs who started their careers after 2004 while the bottom five slots are filled with players whose busts are sitting in Canton, Ohio.

The Rookie Years
Rk
Player
Year
G
Yds
TDs
INT
R-YDs
R-TDs
FPts
FPts/G
1
Dan Marino
1983
11
2210
20
6
45
2
224.9
20.4
2
Tony Romo
2006
12
2903
19
13
102
0
240.3
20.0
3
Jay Cutler
2006
5
1001
9
5
18
0
95.8
19.2
4
Matthew Stafford
2009
10
2267
13
20
108
2
191.5
19.1
5
Vince Young
2006
14
2199
12
13
552
7
257.2
18.4
6
Carson Palmer
2004
13
2897
18
18
47
1
234.6
18.0
7
Fran Tarkenton
1961
14
1997
18
17
308
5
248.7
17.8
8
Brett Favre
1992
15
3227
18
13
198
1
262.9
17.5
9
Steve Young
1985
5
953
3
8
233
1
85.4
17.1
10
Philip Rivers
2006
16
3388
22
9
49
0
272.4
17.0
11
Ben Roethlisberger
2004
14
2621
17
11
144
1
227.2
16.2
12
Bob Griese
1967
12
2005
15
18
157
1
191.9
16.0
13
Peyton Manning
1998
16
3739
26
28
62
0
255.8
16.0
14
Jim Plunkett
1971
14
2158
19
16
210
0
221.3
15.8
15
Matt Ryan
2008
16
3440
16
11
104
1
250.0
15.6
16
Matt Leinart
2006
12
2547
11
12
49
2
184.8
15.4
17
Drew Bledsoe
1993
13
2494
15
15
82
0
198.0
15.2
18
Josh Freeman
2009
10
1855
10
18
161
0
150.3
15.0
19
Matt Moore
2009
6
1053
8
2
-3
0
89.8
15.0
20
Joe Flacco
2008
16
2971
14
12
180
2
232.8
14.6
21
Troy Aikman
1989
11
1749
9
18
302
0
154.2
14.0
22
Mark Sanchez
2009
15
2444
12
20
106
3
198.4
13.2
23
Joe Montana
1980
15
1795
15
9
77
2
181.5
12.1
24
John Elway
1983
11
1663
7
14
146
1
129.1
11.7
25
John Unitas
1956
12
1498
9
10
155
1
135.4
11.3
26
Terry Bradshaw
1970
13
1410
6
24
233
1
121.7
9.4
27
Dan Fouts
1973
10
1126
6
13
32
0
84.2
8.4
What we can take from this, is that the college game may be changing in a way that will better prepare young QBs to succeed at the NFL level quicker than they did in the past. The big time nature and vast television exposure of NCAA football today likely helps prepare young QBs to better handle the pressure and fame that used to belong exclusively to players at the next level. More importantly, as college passing offenses become more complex and pro style systems outnumber the old school run orientated systems, the traditional way of thinking about the performance of first year starters and the effect they will have on their supporting skill players may be starting to go the way of the wishbone offense.

Iím not advocating going out and drafting a first time starter at QB to be the starter for your fantasy team, but you may want to think twice about totally avoiding the skill players on any team that will be lead by a young QB simply because of that young QB. Further, keeping your eye on the progress made by a young QB can also help land a prized waiver wire acquisition that could help your team come playoff time if you have been winning despite shaky QB play. On the flip side, so far we have ignored busts like JaMarcus Russell, Brady Quinn and Brodie Croyle among others Ė so itís not all wine and roses when it comes to rookie QBs in the NFL. However, it is undeniable that times have changed and NFL teams can win right away with a first year starter under center.
Will any of 2010ís first year starters take the league by storm? Quite frankly, I donít see many of this yearís rookies getting significant playing time, which obviously is one of the prerequisites for fantasy success. The obvious candidate for fantasy production among first year starters is Kevin Kolb who threw for over 300 yards in both of his starts last season while subbing for the injured Donovan McNabb. I didnít include him in the chart above because two games is much too small of a sample size, but he would have helped further prove the point, as he would have been ranked even above Marino on a points per game basis based on the numbers he put up in those two starts. Sam Bradford, Jimmy Clausen and Tim Tebow are the only other legitimate candidates to see their first snaps as NFL starters in 2010 Ė and Claussen and Tebow are real long shots to see much playing time behind Matt Moore and Kyle Orton, respectively. With that said thereís really only need to discuss Kolb and Bradford, but perhaps a couple of other young QBs will find their way onto fantasy rosters as late season waiver wire acquisitions.

Kevin Kolb: Kolb was handed the reigns to the high-powered Philly offense after McNabb was shipped to Washington earlier this offseason and will be a hot commodity come draft day. Kolb threw for 718 yards and 4 TDs (with 3 INTs) in his two starts last season and will head into 2010 with some great young weapons at his disposal in Desean Jackson, Jeremy Maclin and Brent Celek. As a result, itís not tough to see why most drafters will be high on his prospects. A few words of caution are necessary though. Kolb threw for a lot of his yards in a game against New Orleans where the Saints jumped out to an early lead and the Eagles played catch up the rest of the game. In his second contest he faced a very poor Kansas City pass defense that was scorched all season. Teams will be better prepared to face him this year, now that some real game tape exists. I still see a highly productive year from the youngster, but I caution you to not necessarily pass up more established veterans on draft day while salivating about Kolbís ďupsideĒ.
Sam Bradford: In addition to an overall No. 1 draft pedigree, Bradford has some things working in his favor for early success. He posses quick strike capabilities that will work well in the Ramsí aggressive passing offense, outstanding long range accuracy, an indoor home setting, a weak division, and a young improving offensive line to protect him. On the negative side, he lacks experience, weapons in the passing game and carries some risk as potentially being fragile based on serious shoulder injuries sustained at Oklahoma. Bradford is very likely to open the season as the Rams starting QB, but if the team decides to go with A.J. Feely to start the year, it shouldnít be long until Bradford sees the field. Heís capable of doing what Stafford did last season, so spending a late round pick on him instead of a declining veteran like Jake Delhomme or Matt Hasselbeck may not be the worst thing in the world for your backup QB.