A couple of weeks back, I attempted to identify the QBs, RBs, and WRs most at risk of falling from the Top 10 ranks this coming season. This week, I'll be focusing on those players who I think have the potential to fill the expected vacancies. Let's get right to it…

Note: All rankings are based on FFToday's default standard scoring.

A quick reminder of the Top 10 fantasy WRs from last season…





Wide Receivers Most Likely to Rise in 2013: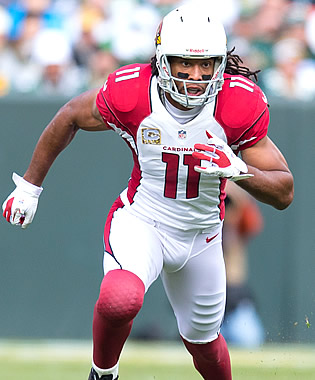 With a new QB and head coach, Fitzgerald is a candidate for fantasy comeback player of the year.

Larry Fitzgerald, ARI: There wasnít a bigger waste of talent running around on Sundays last season at the receiver position than Larry Fitzgerald, andóunlike when Randy Moss was pretending to care about the game circa three years agoóit had literally nothing to do with the Arizona superstarís work ethic. Pairing the leagueís second-best receiver with the assortment of so-called quarterbacks the Cardinals trotted out in 2012 was just patently unfair. Predictably, the former Pitt Panther nabbed just 45 percent of his targets, an obscenely low success rate for such a gifted ball-shagger. Worse yet, only four of those receptions counted for six points. When his season mercifully concluded, Fitzgerald was ranked way down there at 42 in the receiver rankings, behind such studs as Justin Blackmon, Denarius Moore, andÖoh, yeah, his teammate Andre Roberts. Are you kidding me?

The cavalry is on the way for 2013 in the form of Carson Palmer, late of the Oakland Raiders, and new head man Bruce Arians, last yearís AP Head Coach of the Year (as interim replacement for Chuck Pagano in Indy). The former is probably nearing the end of his up-and-down career, but still throws a great deep ball and has loads of starting experience, something none of last yearís signal callers could claim. The latter has built some very successful pass-heavy offenses in Pittsburgh and then Indianapolis and likes to feature precisely those shots down the field at which Palmer excels. A match made in heaven it may not be, but itís a heckuva lot better than what Fitz had to work with last year, making this the easiest called shot of the 2013 season: Larry Fitzgerald will easily return to the Top 10 and has an outside chance, provided Palmer stays upright, of being a Top 5 guy again.

James Jones, GB: So, Fitzgerald back in the Top 10 this year is a layup. Letís back up behind the arc then, up the degree of difficulty about 100 percent, and call a truly risky shot by tabbing Green Bayís third most popular receiver as next yearís surprise Top 10 crasher, shall we? Why the heck not? You wonít remember anyway, and itís not my job to remind you.

In all seriousness, Jones isnít the complete left-field candidate he may appear to be at first glance. In fact, heís quietly been posting some pretty amazing numbers these past few years, especially when you consider heís been no better than Green Bayís fourth and sometimes fifth option in the passing game. Just four receivers have scored more than 20 times in the past two seasons: Calvin Johnson (duh), Dez Bryant (not surprising), Eric Decker (OK, kinda surprising), and James Jones (wait, what?). Whatís even more amazing about that stat is that Jones doesnít see nearly the amount of targets these other three men do. Johnson, for instance, has garnered an eye-popping 362 looks the past two years. Jones? Just 153. That means he scores a touchdown for every eight times Aaron Rodgers merely looks his way!

Everyone will be hitching up to the Randall Cobb and Jordy Nelson bandwagons now that Greg Jennings is in the Twin Cities, and Iím certainly not going to discourage that. Theyíre both terrific receivers and will probably have great seasons. The most productive fantasy option when Jennings succumbed to an abdominal tear last season was neither of those two gents, however. It was Jones. Why does that change in 2013 now that Jennings has completely moved on? Itís worth asking yourself. Thatís all Iím saying.

Tavon Austin, STL: OK, now Iím just being goofy, right? A rookie receiver cracking the Top 10? A rookie receiver who plays for St. Louis? Austin replaces the man who replaced the man who basically defined the slot receiver position these past several years. All Iím expecting him to do (no pressure, kid) is pick up where Percy Harvin temporarily leaves off and redefine it again. Whereas guys like Wes Welker and Danny Amendola use elite lateral quicks to keep drives alive, guys like Harvin and now Austin add the dimension of blazing speed to the formula. And if thereís one truism Iíve gleaned in my many years of watching way too much football, itís this: Speed kills.

Austin actually tied for the second-fastest 40-yard time (4.34 seconds) at last Februaryís combine, but it isnít even his straight-line speed that marks him as elite. Rather, he has an uncanny ability to ďregulateĒ that speed as circumstances dictate (to set up a defender, say) and then explode into open space with uncommon acceleration. Heís going to be a matchup nightmare for just about anyone who lines up opposite him. I guess the only real question is whether Sam Bradford can consistently get him the ball, a concern that may be alleviated if the Rams elect to line him up in the backfield. It wouldnít be a new wrinkle for the former Mountaineer. All he did in a game last November against Oklahoma was rush for (get this) 344 yards on 21 carries. 344! This just in: Austin is a receiver!!!

The only thing you're really worried about with these slot types, as we've discovered with both Harvin and Amendola, is injury. Slighter frames plus explosive hits = trouble. I'm banking Austin's elite athleticism will help him avoid most, if not all, of those devastating direct hits.