A couple of weeks back, I attempted to identify the QBs, RBs, and WRs most at risk of falling from the Top 10 ranks this coming season. This week, I'll be focusing on those players who I think have the potential to fill the expected vacancies. Let's get right to it…

Note: All rankings are based on FFToday's default standard scoring.



A quick reminder of the Top 10 fantasy QBs from last season…





Quarterbacks Most Likely to Rise in 2013: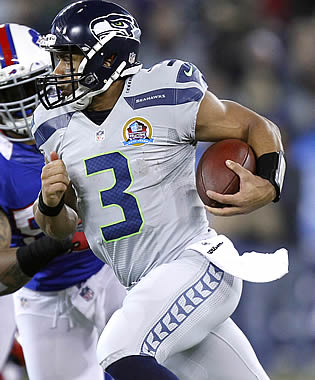 The effecient Wilson can crack the top ten in 2013.

Russell Wilson, SEA: Wilson's 2012 debut was a two-act performance that had us yawning at intermission and shouting "bravo!" from the balconies by the time the curtain fell. Through the season's first eight weeks, the Seahawks' rook averaged a pedestrian 15.8 points per game and topped the 20-point mark only twice. In the second half of the campaign, he went completely bonkers, notching a nifty 25.9 points per contest and failing to top the 20-point mark only once. Put another way, he was on his way to being Ryan Tannehill (15.3 PPG on the year) and instead ended up doing his best Aaron Rodgers impersonation (25.6 PPG).

OK, so the former Badger isn't threatening to replace Sconny's other favorite adopted son atop the quarterback heap just yet. He is, however, in the elite QB discussion after just 16 professional games—pretty heady stuff for a former draft-day afterthought. Wilson combines the precision of Tom Brady with the rushing ability of Steve Young and the pocket pluck of Fran Tarkenton, all in a package about the size of Drew Brees. Naturally, it's that last characteristic, his smallish stature, which kept the lid on Wilson's draft stock last April and prevented NFL scouts from seeing him for what he truly is: a playmaker, a consummate field general, and a winner.

Strangely, winning is the only thing that might prevent last year's 11th-ranked QB from cracking this year's Top 10. The Hawks won by 20 or more points an impressive five times in 2012, and in those games Wilson averaged only 19.2 pass attempts. Though he still tallied his fantasy points thanks to insane efficiency and plenty of six-pointers (both rushing and passing), the limited opportunities are at least mildly concerning, especially if you think Seattle will be even better in 2013.

Andy Dalton, CIN: Standing immediately behind Wilson on the Top 10 doorstep last season was Cincinnati's young Dalton, a hugely underrated option at the position who's very quietly put together one of the best starts to a quarterbacking career in…well, in NFL history. You want proof? Fair enough. Here's an exhaustive list of quarterbacks who have thrown for at least 20 touchdown passes in their first two seasons: Dan Marino, Peyton Manning, and Dalton. Yup, that's the list.

Touchdown tosses aren't the only measure of greatness, of course, and Dalton's ceiling probably isn't Canton, Ohio. Nevertheless, he's proven capable of doing two things quite consistently thus far: moving an offense and winning football games. Sound familiar? The TCU alum certainly lacks Wilson's overall improvisational skills and also turns the ball over too often (29 picks and 6 lost fumbles so far). He's very accurate, however, throws the ball a lot more often than Seattle's young star, and isn't exactly roadkill when he's forced to tuck it away and escape the pocket (four rushing TDs in 2012). Plus, did I mention he's a winner? In Cincinnati? Anyone who can lead the Bengals to two straight playoff appearances deserves our attention.

The next step for Dalton will be actually carrying that regular season success into the postseason (he's stunk in both Wildcard games). To that end, management delivered more help this past April, drafting dynamic running back Giovanni Bernard and field-stretching tight end Tyler Eifert. The former should be a dangerous check-down outlet from day one while the latter will pose instant matchup problems for smaller defenders, especially in the red zone. Add those two targets to the existing superstar on hand, A.J. Green, and Dalton et al. may be able to transform "playoff appearances" into "playoff victories" this coming year.

Jay Cutler, CHI: A funny thing happened on the way to fantasy superstardom. Five years ago, Cutler announced himself as an elite option at the position, ranking third overall after a 4,500-yard, 25-touchdown season with the Broncos. Almost immediately thereafter, he clashed with incoming coach Josh McDaniels, demanded and received a trade to the Bears, and has suffered declining numbers in every single season since, bottoming out in 2012 at 16.7 points per game, his lowest career output.

My regular readers already know how I feel about Cutler the human being (poisonous personality), but I guess I've always been willing to give Cutler the quarterback the benefit of the doubt. Very few quarterbacks possess his unique physical gifts, after all, a cannon-like right arm and above-average mobility. In the right scheme and with good protection—things he had in Denver—he can clearly be one of the most accomplished triggermen in the business. Unfortunately, he's been consistently miscast in Lovie Smith's punchless Chicago offenses and has spent the better part of four years running for his life behind shabby offensive lines (2.64 sacks per start since 2009, trailing only Aaron Rodgers and Ben Roethlisberger).

The Bears' brain trust addressed both problems this past offseason, giving Cutler every chance to succeed in perhaps his final season at the helm (he's in the final year of his contract). First, they cut ties with Smith and hired Marc Trestman, a quarterback-friendly shot caller who's been exiled in the CFL for half a decade. Second, with their first-round pick they went out and drafted Oregon's Kyle Long (Go Ducks!), a gigantic and athletic guard prospect who should shore up a balky offensive front. If both of those moves pay off, His Surliness could reverse a downward trajectory and leap into the Top 10 once again.