A couple of weeks back, I attempted to identify the QBs, RBs, and WRs most at risk of falling from the Top 10 ranks this coming season. This week, I'll be focusing on those players who I think have the potential to fill the expected vacancies. Let's get right to it…

Note: All rankings are based on FFToday's default standard scoring.

A quick reminder of the Top 10 fantasy RBs from last season…





Running Backs Most Likely to Rise in 2013:



Steven Jackson, ATL: How's that old saw go? Success = Preparedness + Opportunity? It's a much simpler equation for NFL running backs, actually: Success = Opportunity. Period. In the last three seasons, Top 10 rock-toters have averaged a shade over 30 more carries per season (275.6) than the next 10 backs (244.0). That's more than a game's worth of carries at the professional level and it mostly explains what separates elite backs from the meat-and-potatoes guys several notches lower.

Jackson has probably been the most consistently busy running back in the league since he took over the full-time job in St. Louis way back in 2005. Since then, he's never once fallen out of the Top 20 in rushing attempts for a season and has notched four Top 10 finishes (and three of them in the Top 3 ) in that category. This despite the fact that he missed four games apiece in 2007 and 2008. It's not like he's a quantity-over-quality guy, either. He sports a tidy 4.2 yards-per-carry for his career and has never fallen below the 1000-yard mark since becoming the Rams' primary backfield option. Did I mention he's also consistently good for about 45–50 receptions and another 300–350 receiving yards each year? They simply don't come much more reliable than this, folks.

After nearly a decade in St. Louie, Jackson has moved on to Atlanta, where he'll plug into one of the most explosive young offenses around. His versatility will be most welcome for a team that had become somewhat predictable with Michael Turner in the backfield. Turner was similarly dependable and quite productive as a runner, sure, but was a complete liability in the passing game. Expect Jackson to shine as a dual-threat dynamo in the ATL as he enters the twilight of his career.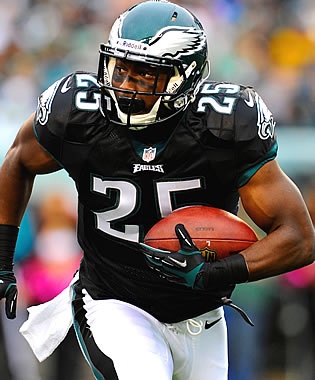 McCoy will be the biggest factor in the blur offense.

LeSean McCoy, PHI: Chip Kelly's comically prolific "blur" offense may have helped revolutionize college football, but in some senses, there wasn't a lot that was truly revolutionary about it. It was essentially a run-heavy, zone-read attack that aimed to spread defenses out and put speed (and lots of it) into space. What made Kelly's scheme so unique and so uniquely devastating was the vertigo-inducing tempo at which it was run. More than anything else, the Ducks simply wore people out these last five years, running an average of 2.83 plays per minute since 2008 (2nd in the nation).

It's anybody's guess how well this attack will translate at the next level, but if it's ultimately successful, Shady McCoy will be a major reason why—not to mention the primary beneficiary from a fantasy perspective. He's literally a perfect fit for the offense, possessing great speed, unparalleled shiftiness, and a great set of hands. That last part will be very important since the Eagles are unlikely to have the same run-pass imbalance the Ducks did (you can't get away with that in the NFL) and are currently very short on viable receiving options thanks to Jeremy Maclin's season-ending ACL tear and Riley Cooper's…never mind.

McCoy is coming off an injury-marred campaign himself, of course, which opened the door for Bryce Brown to become a short-term fantasy superstar (he led all RBs in scoring for Weeks 12 and 13). Should we worry about Brown taking too big a bite out of McCoy's workload in 2013? I say no. The Eagles will likely run more plays than any team in the league this season (see above), and a bigger pie equals more pieces, right? Also, Brown had serious ball security issues in 2012, something no coach, not even a maverick like Kelly, will tolerate. McCoy's your guy.

Le'Veon Bell, PIT: If we've learned anything about young backs in the professional ranks, it's this: Unless they're immediately productive and stay moderately healthy, their shelf life is bound to be brutally short. Here's a list of running back draftees since 2009 considered by many to be the answer for their respective teams at the time they were selected: Beanie Wells, Knowshon Moreno, Donald Brown, Shonn Greene, Ryan Mathews, Jahvid Best, Montario Hardesty, James Starks, Mark Ingram, Mikel Leshoure, Ryan Williams, Daniel Thomas, Kendall Hunter.... Need me to go on? The league is littered with relatively high draft picks who briefly looked like meal tickets but have since been superseded by other, newer players or, in some cases, completely unheralded ones. These guys haven't even been in the league for five years and most of them are already afterthoughts!

That was kind of a weird setup for endorsing a rookie ground-gainer, I realize, but I'm just trying to make the "I told you so" next preseason that much sweeter. After all, it was in this same space last year that I predicted a Top 10 finish for 2012's most heralded running back prospect, Trent Richardson. He barely cracked that select group—minor injuries and playing for the Cleveland Browns almost prevented it—but he was every bit as special as advertised and ultimately ranked ninth overall despite one DNP and two games with single-digit carries.

Bell isn't as talented as Richardson but is lucky enough to be joining a much better offense and his only real competition (Rashard Mendenhall) bolted for the desert this past summer. He's built to carry a heavy load, did so in college already, and will do so again as a Steeler. Recall what I said earlier about heavy loads and then bump Bell up your pre-draft rankings.