High Risk, High Reward Players in your Draft




8/6/12



By the very nature of the game, football is a risky sport. As fantasy football team managers, we also have to deal with risk in many different ways, perhaps most importantly in the drafting process. No pick or player is completely risk-free, but there are several players that stand out this year as guys to look a little deeper at before selecting them. In this piece I will examine a number of players and breakdown their risk and reward level, compare it to their ADP, and give you my thoughts on whether or not the risk outweighs the potential reward.

Note: ADP based on 12-team, standard scoring leagues.

QB Peyton Manning, Denver


(ADP: 5.12)





Risk:

No fantasy-relevant QB this year comes close to having the kind of question marks that Peyton Manning has. After missing all of last year with a neck injury, Manning must not only prove that he is totally healthy and physically back to his old form, but that he can put up big numbers on a totally new team. While most reports say Manning is coming along very well physically, it remains to be seen how he will actually perform on game day—and how he will respond after taking some inevitable big hits. Even if Manning starts all 16 games, will he ever really be completely healthy again? And will the rust, the change of scenery, and the new personnel be too much for him to overcome? Even for a legend like Manning, the odds may be stacked against him this year.



Reward:

Before missing last year, Manning had thrown for 4,000 yards and 25 or more touchdowns in 11 of his 13 seasons with the Colts. He was also one of the NFL's ironmen, never missing a start in his career. As a fantasy QB, Peyton was a consistent top 5 option at the position for most of his career. While he may be changing his zip code, there is perhaps no player in the history of the league that prepares himself physically and especially mentally for each and every game he plays. If he can be even 90 percent of what he once was physically, the chances are in his favor to put up some monster numbers in his new home. Not only will the offense be catered to, and built around him, but the pure talent he will be working with (Decker, Thomas, etc.) should at the very least equal that which he had in his best years in Indy.



Buy or Sell:

I would certainly not take Manning before the top tier of QBs is gone in your draft, but as generally the eighth QB taken in 12-team leagues, I am definitely buying Peyton this year. At his current ADP, he presents great value as a guy who could finish much higher (think top 4) but with less investment than some of the "safer" QB options. Unless Peyton physically breaks down completely, which is unlikely considering the Bronco's probably did their homework before throwing that much money at him, you should be getting a near elite QB for the price of a mid-range QB2.

RB Chris Johnson, Tennessee
(ADP: 1.07)

Risk: 2011 was a disaster for Johnson, who many pegged as an easy top 3 pick in fantasy drafts last summer. Even though he played all 16 games, Johnson's rushing attempts, yards, yards per carry, long runs, touchdowns, and first downs all dropped below the stats of his 2010 campaign and far below his breakout 2009 season. The Titans' once-strong offensive line looked below average, and Johnson, dealing with contract issues and the lockout, was by his own admission not in the best shape he could have been. While Johnson is not a real injury risk or a risk to lose many touches, his ADP is very high for a guy coming off an awful year. So the main risk here is in taking him before many other players who are safer bets to outperform CJ2K.

Reward: Johnson still possesses elite quickness and speed and should be on the field just about as much as any other running back in the league. He has the history to prove he can put up top 3 RB numbers and has the durability to play all 16 games without much concern. The Titans have had a full offseason to address the offensive line issues, and, perhaps best of all, Johnson has fully participated in all offseason workouts with the team and seems re-dedicated to getting back to his old form. The weapons around CJ2K (Britt, Cook, Washington, Wright) are good enough to take the defensive pressure off him, and his third-down-back responsibilities make him an option in the passing game. You would be hard pressed to find another RB in the league who has the kind of history, upside, and situation that Johnson has, and that could pay off in a big way.

Buy or Sell: While it is hard to forget the pain that Johnson caused many owners last year, I am still a big buyer on him here as the fourth or fifth RB off the board. After Foster, McCoy, and Rice, there are big question marks with most of the rest of the RBs available, so why not go with the guy who not only has already shown he can be elite, but probably has the best chance to get back to that level this year. I would feel very comfortable taking CJ2K in the middle of the first round and would be very surprised if he does not live up to that investment.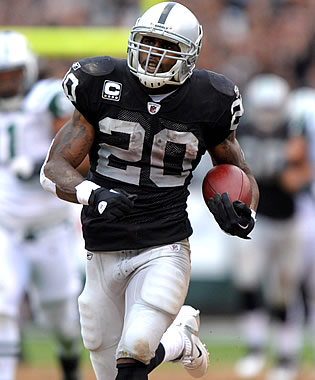 McFadden: the ultimate risk/reward fantasy prospect.

RB Darren McFadden, Oakland


(ADP: 1.10)





Risk:

If you look up "injury-prone running back" in the dictionary, McFadden's picture will most likely be there. Throughout his four-year career, McFadden has lost time to foot, knee, hamstring, and toe injuries. Last year's nine games missed brings his grand total to 19 games missed in four years, or roughly 30 percent of his possible games played. Possessing rare talent doesn't matter much if a player can't stay on the field long enough to put up stats. Add this to the fact that you will have to count on him as your first pick and primary back, and you really have to have nerves of steel to gamble on McFadden.



Reward:

Before getting hurt last year McFadden was tearing it up to the tune of 761 total yards and five touchdowns through six games. With his elite quickness and acceleration, along with a soft pair of hands, he has just about all the tools you would want in a No. 1 fantasy back. Last year his backup, Michael Bush, vultured three touchdowns through the first six games of the season but is now in Chicago; so a healthy McFadden should get most of the goal-line work now. With reports out of camp stating that McFadden is completely healthy and looking as sharp as ever, taking McFadden at the end of the first round may actually prove to be a bargain, as he has all the tools to be a top 3 fantasy RB.



Buy or Sell:

Even with his talent, his situation, and his statistics, I am selling McFadden as a first-round pick, and I would shy away from having him on my team at all. The problem with him is that even his minor injuries tend to linger, and he always seems to be the dreaded "game-time decision." With a likely increase in workload this year, the probability that he plays a full season is pretty low. At his current ADP, I would certainly pass him up for other RB's like Forte, MJD, and even Trent Richardson, just to name a few.

RB Jamaal Charles, Kansas City


(ADP: 2.06)





Risk:

There are two main risks with Charles this year: injury and competition. The history of running backs coming back to full strength after an ACL tear is not extremely promising, especially in the first year back. Although Charles suffered the injury early in the year last season, his game is based on acceleration, explosion, and cutting—skills that rely heavily on healthy and strong lower bodies. The Chiefs will more than likely start him off slow, and by the time the rust wears off (assuming it does), the season may be more than halfway over. As for competition, the Chiefs brought in Peyton Hillis, who just two years ago lit up the fantasy world as a feature back in Cleveland. Not only should Hillis be the main force at the goal line all year long, but he is no slouch in the passing game either (61 catches in 2010), so there may be long stretches of certain games where Charles may not even be on the field. Overall, you will have to use one of your first two picks on getting Charles, and that may be too high a price to pay for a guy with some major hurdles to overcome.



Reward:

There are few backs in the league with the kind of elite burst, acceleration, and open field "wiggle" that Charles possesses. At age 25, and with far less carries than most other top backs, Charles is entering the prime of his career on a team that should run the ball more than most teams in the NFL. We know that he will share some carries with Hillis, but Charles has shown in the past that he can put up huge numbers with limited carries. While splitting time with Larry Johnson and Thomas Jones over a two-year span, Charles still averaged 6.1 ypc, 1,293 yards, 42 receptions, and 8 touchdowns...pretty remarkable for a split-duty running back. Coming off of an injury of course is a concern, but unlike Adrian Peterson, Charles will have had almost a full year to rehab, and splitting carries may actually help to keep him fresh all year long. On top of that, in his other three years in the league, Charles only missed one game due to injury. So for now we can mark down last year as a fluke.



Buy or Sell:

Coming off a major injury is a scary thing, but at his current ADP, I don't see many other players who have the potential that Charles has, so I'm buying. In an ideal scenario I would perhaps recommend drafting a stud RB in the first round and then Charles in the second, but even if you decide to go QB or WR in the first and then Charles in the second, you set yourself up with a high-upside player (think possible top 5 RB) for your No. 1 RB at a mid- to late-second -round value. With an above-average defense, a solid offensive line, and a run-first game plan, a healthy Charles could easily eclipse his previous career highs in most major stats, meaning a top 10 fantasy RB finish should clearly be in his reach.

RB Trent Richardson, Cleveland


ADP: 2.02





Risk:

Except for perhaps Adrian Peterson's 2007 rookie year, few rookie RBs have put up the kind of numbers to justify a top 15 fantasy draft pick. Rookie's tend to take awhile to adjust to the speed and physicality of the pro game and, thus, usually struggle to put up big numbers their first year. Add this to the fact that Richardson will be on a team led by a rookie quarterback with very average pass catchers and a below-average offensive line, and you have the makings of an offensive disaster in Cleveland. Defenses will probably stack the box early and often against the Browns, and all opposing defensive coordinators will most likely put Richardson at the top of their "must-stop" list. As a later round pick, Richardson may have the upside to take a chance on; but as an early second-round selection, you would really be betting on everything going just right to make it worth your while.



Reward:

Many so-called experts have rated Richardson as the best rookie RB to come out since Peterson, so Richardson's coming close to AP's fantastic rookie numbers may not be too far a stretch. In fact, one could argue that Richardson is a superior pass catcher compared to Peterson, so his topping AP's 19 catches his rookie year is almost a guarantee. With little to no real competition in the backfield, Richardson could see work on every down, in every situation (including at the goal line), in every game, all year long. Even if defenses do stack the box, the pure volume of touches that Richardson should see means a consistent amount of points every week. With just a little luck, a couple of long runs, a consistent effort from his quarterback (or perhaps a breakout receiver emerges), Richardson has the talent to actually slip into the top 5 RBs his first year. There are so few running backs today that are projected to carry a full load, and Richardson's pure talent equals or surpasses just about all of them. This alone should justify making him a top 15 pick.



Buy or Sell:

This one takes a little leap of faith, but I am buying Richardson as an early second-round pick. It just seems that this year the quantity of full-time running backs with the skill set and talent that Richardson has is extremely low—perhaps only five or six deep. Yes, his situation is not ideal in Cleveland, but he is guaranteed to get a lot of touches (think 20+) every week, and the offense should be catered to, and built around, him. While he may not have the upside of a Ray Rice or Arian Foster, Richardson should be one of the safer bets to put up consistent, and occasionally outstanding, numbers at RB. If Richardson is still around in the early to mid second round, do not hesitate to take him, as his numbers may actually exceed several RBs taken before him.

WR Hakeem Nicks, New York Giants


ADP: 3.12





Risk:

While he only really missed one full game in 2011, Nicks battled shoulder, knee, and hamstring issues throughout the year and then broke his foot this offseason and is still weeks away from being 100 percent. While Nicks has only missed six games over three years, you just kind of get the feeling that he is inching his way toward the "injury prone" label that strikes fear in the heart of fantasy owners. Another negative to look at with Nicks is that while he is missing most of this offseason with his injury, his quarterback is developing more chemistry with the Giants' other pass catchers, including last year's breakout star Victor Cruz, newly acquired tight end Martellus Bennett, and highly touted rookie Rueben Randle. By the time Nicks shakes the rust off, which could take a while, he will still need to stay healthy and possibly fight for targets with some talented players to justify his current ADP. For a guy being generally drafted as a fantasy team's No. 1 WR, that may be too much to ask.



Reward:

By all accounts, Nicks is just coming into his prime at a time when his quarterback is on the verge of being an elite NFL player. While Nicks may not have off-the-charts measurables like a Calvin Johnson, he is solidly built with adequate speed, elite ball skills, and tremendous run-after-catch ability. With Victor Cruz demanding lots of attention over the middle, Nicks should be targeted deep often in a passing offense that ranked in the top 5 last season. Perhaps even better, Nicks should see just about as many red-zone looks as any wideout in the league, especially since the G-men lack a true goal-line running back. While he may not be a PPR monster, Nicks has the talent, the history, the quarterback, and the skills to be a top 5 WR without your having to pay that high of a price.



Buy or Sell:

While the injury risk does scare me off a bit, I have to buy Nicks at the price of the 11th or 12th WR off the board. At his current ADP, I just don't see another WR—with perhaps the exception of Mike Wallace—who you can draft in the late third round but who has the realistic possibility of outperforming other wide receivers taken a full round or more ahead of him. All indications point to Nicks being ready Week 1, and even if it takes him a week or two to get warmed up, he still has the upside to finish as a top 5 WR at the price of a low-end WR1 or high-end WR2.

WR Dez Bryant, Dallas


(ADP: 4.06)





Risk:

A big part of being successful in fantasy football is finding players who will break out and getting them on your team before their cost is too high. Dez Bryant is one of those guys that many people in the fantasy world expect to break out big this season. But is he really worth one of your first four or five picks? Let's start with the obvious: Bryant recently made headlines for allegedly hitting his mother, and in recent years he has developed a reputation for finding trouble. While as of now the league has not suspended him, he is certainly on a short leash and you get the feeling that he isn't going to suddenly turn into a perfect angel. Also, while Bryant certainly looks the part of a stud receiver, he has yet to catch more than 63 balls or hit the 1000-yard mark in either of his first two seasons. For a big receiver, Bryant only managed 13 red-zone targets and was not among the league's top 30 in average yards per catch. Add all this to the fact that Tony Romo still seems to prefer throwing to Miles Austin (now healthy) and Jason Witten, and Bryant may just have another mediocre season instead of the breakout stud performance many are predicting.



Reward:

As far as physically gifted receivers go, Bryant is in most experts' top 5 list. He's big (6'2", 220), strong, has very good speed and open field moves, and he has the propensity for making the big catch. The leap he made from his first to his second year was very respectable, and now one of the Cowboys' main receivers from last year, Laurent Robinson, is not around to take away touchdowns from Dez. The early word from Cowboys camp is promising as well, with teammates and reporters alike raving about Bryant's work ethic and re-dedication to improving all parts of his game. With a decent run game and some other talented players around him, Bryant should find himself in a lot of single coverage this year, and it is hard to name many defensive backs in the league that could cover him one-on-one. While he may never be a PPR monster, Bryant should certainly hit the 1000-yard mark this year, and 12 touchdowns could be a conservative guess. He is generally being taken as the 12th-14th WR off the board, and considering his pure talent, he may just be one of the best values at the position this year.



Buy or Sell:

While Bryant may appear to be a good value where he is being taken, I am still selling him at this point—mostly because I see five or more receivers that are being taken after him that I like more, and I really think the hype about Bryant is greater than his actual worth. While he is being drafted as a low-end WR1 or high end WR2, I would feel much better if he were my WR3, which is unlikely to happen given his ADP. For an example of the receivers being drafted after him who I think are safer, and in most cases more upside, I like Harvin, Austin, Maclin, Brown, Decker, and even Lloyd all better than Bryant. While physically more talented than all of these guys, I'd really like to see that Bryant "gets it" and Romo trusts him before I make him the top WR on my fantasy team.

TE Rob Gronkowski, New England


(ADP: 2.08)





Risk:

Gronk is a beast, no doubt about it, but there are a number of risks in drafting him. First, you are going to have to grab him with one of the first 20 picks in the draft, and for a tight end, that is a high price to pay when there will most likely be near-elite players at more prominent positions still available. Second, the season he had last year was historic, and not only will defenses learn from that, but it is not reasonable to expect anyone to repeat, or come close to repeating, numbers like Gronk put up last season. Third, with the addition of a legit receiver on the outside (Lloyd), a healthy Hernandez back in the mix, and the ever present target-hog Welker, there may not be enough balls to go around to make Gronkowski a consistent threat like he was last season. Finally, although he should be good to go in training camp, he did have offseason ankle surgery—something to monitor closely for any setbacks. All in all, spending one of the top picks in the draft on a tight end, based on one ridiculous season, may be a gamble to avoid.



Reward:

Not only did Gronk outscore every other tight end in the league in fantasy points last year, he outscored many other studs, regardless of position, including Chris Johnson, Larry Fitzgerald, Ryan Matthews, Matt Forte, and Adrian Peterson, just to name a few. By setting records for touchdowns and receiving yards for a tight end, Gronk was a member of many fantasy championships last season. The scary part is, he is only 23 years old, and with Tom Brady still throwing the ball, Gronk might even become a better player in years to come. Even if he loses a couple of catches per game and a few touchdowns compared to last year, he should easily finish as a top 2 TE and present one of the best low-risk/high-reward picks of the first two rounds in the draft.



Buy or Sell:

I love Gronk as a player, but at his current ADP I am selling him at this point. There is almost no way he comes close to putting up the numbers he did last year, especially with defenses more focused on him and with Lloyd being the most legit outside receiver the Pats have had since Randy Moss. I just do not think the number of targets will be there for him to justify such a high draft spot. I do still think he is a safe bet for a great season, but considering that you will miss out on either a stud RB, QB, or WR by selecting Gronk, I think it's a better strategy to wait for another tight end and instead grab the elite guys at the more coveted positions earlier.


Suggestions, comments? E-mail me.