Fantasy Football Bargains




8/13/11



Each year around this time, pundits, so-called experts, and fantasy football participants alike all search for that diamond-in-the-rough who they feel is poised to help lead their teams to the big game. Oftentimes, there's no rhyme or reason why some once-obscure players (Arian Foster, Peyton Hillis) carve out successful seasons and others (Ryan Mathews, Michael Crabtree) stink up the joint, even though both may have similar circumstances and chances for success. The following players are in situations that provide ample opportunity for them to make a name for themselves in fantasy football despite, in some cases, not receiving the lion's share of attention.

WR A.J. Green, CIN
ADP: 8.01

On the surface, the environment in Cincinnati doesn't lend itself to A.J. Green's breaking out in 2011: a rookie quarterback, a franchise in disarray (shocker, right?), no viable No. 2 wide receiver option, oh…and he's a rookie himself. We can count on one hand the number of rookie receivers in the last decade that have come in and immediately blown up. But Green could be added to that short list. He has been really good for a really long time; he was a top-five recruit coming out of high school (along with Julio Jones and Terrelle Pryor), and he carved up defenses in the ultra-competitive SEC conference for three years. The Bengals will most certainly attempt to protect their rookie quarterback, Andy Dalton, with a running game featuring Cedric Benson, but when it's time to throw the football, Green will be in the cross-hairs of Dalton on most occasions. Green could end the season as a dependable WR3 with 65 catches and six TDs.

WR Lance Moore, NO
ADP: 12.01

Marques Colston is the No. 1 option in New Orleans, but I can't help but feel little apprehensive about using a fourth- or fifth-round pick on him. He had knee and wrist surgery this offseason, and with the fact that Drew Brees spreads the rock around the way he does, my money is on Lance Moore being a better return-on-investment option than Colston. In a 12-team league, Colston's ADP is 4.08; Moore's is 12.01. Will the difference in production be worth eight rounds? I doubt it. Some people are looking at Robert Meachem as the sleeper receiver to have in New Orleans, but it seems we're always waiting for him to emerge as a reliable fantasy starter. At least with Moore we can point to his 2008 season (79, 928, 10) as evidence that he can in fact produce in this league on a consistent basis when called upon. The jury's still out on Meachem in that regard. Expect Moore to put up some solid games as a 12th-rounder, while those who select Colston seethe in anger as their fourth-round pick disappears for stretches throughout the season.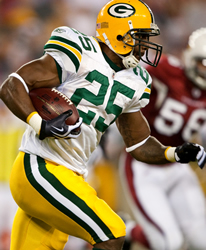 Ryan Grant: Bringing balance back to the Packers offense.
RB Ryan Grant, GB
ADP: 5.02

There's always a gamble when selecting players coming off a leg injury, and Ryan Grant is no exception. But Green Bay's championship last year notwithstanding, they had a monster of a time trying to run the football. I don't think head coach Mike McCarthy plans to rely so heavily on the passing game this year, despite the team's success last season. That was done more out of necessity because of the lack of a quality backup to Grant than anything else. Aaron Rodgers got knocked silly a few times, leaving early in one game and missing another one altogether. Grant's absence turned Green Bay's backfield into a musical chairs routine with no clear idea—from a fantasy perspective—of what their philosophy was. Grant, returning from an ankle injury, should bring stability back to the running game and balance back to the offense as a whole. Plus, his injury happened so long ago (the 2010 season opener) that some fantasy owners may not recall just how good he was in 2009. The one small concern would be if John Kuhn's role as goal-line back continues into 2011. If it doesn't, Grant should reward owners with a solid season as a solid RB2.
WR Kenny Britt, TEN
ADP: 6.12

Kenny Britt's off-the-field, knucklehead tendencies aside, he is a quality receiver with good hands, athleticism, and jumping ability. Not only will new quarterback Matt Hasselbeck increase Britt's stock from 2010, but the fact that they could routinely see eight-man fronts in an attempt to stuff running back Chris Johnson could help Britt exploit one-on-one matchups downfield. Plus, there's really no one else reliable enough for Hasselbeck to throw to, as it looks like for now the No. 2 in Tennessee is Nate Washington. So by default, Britt should be productive. Want evidence of his potential to blow up? Take a look at Weeks 3 thru 7 from last season, when he scored in all five games, including that monster seven-catch, 225-yard, three-TD gem against Philly. Britt is currently battling a hamstring injury that's not considered serious, but that may lower his 6.12 ADP slightly, making him an even bigger sleeper heading into fantasy draft season.
TE Visanthe Shiancoe, MIN
ADP: 12.10

Visanthe Shiancoe fell off the fantasy map last season after a stellar campaign in 2009. Much of that had to do with the lackluster quarterback play in Minnesota for much of the season. That's not to say that Donovan McNabb is necessarily the second coming; it does say, however, that Shiancoe should be the beneficiary of a West Coast offense and a quarterback that uses the tight end position with regularity. And with the departure of wide receiver Sidney Rice, Shiancoe should become McNabb's second receiving option behind wideout Percy Harvin. Shiancoe does have a slight hamstring injury right now, and he will have to keep rookie tight end Kyle Rudolph at bay, but I think his presence and productivity are too valuable for him not to be playing a major role in the passing game.
RB Beanie Wells, ARI
ADP: 6.12

Coach Ken Whisenhunt came out recently and claimed that running back Beanie Wells was the unquestioned starter. Those words are music to fantasy owners' ears. An improvement at quarterback, the departure of Tim Hightower, and the apparent backing of his head coach sets up Wells for a breakout season. Whisenhunt's endorsement, though, will certainly improve Wells' current 6.12 ADP. Even so, Wells has all the components in place to produce a nice season as a low-end RB2. Of course, the one caveat is rookie Ryan Williams, who many feel will still be a factor in spite of Whisenhunt's backing of Wells. But grab Wells and hope that he's fixed his fumbling problems and remains healthy.