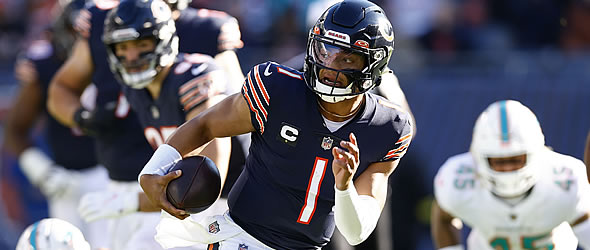 It's amazing how every NFL season there are a small group of players who end up producing well above their normal statistics. When it happens, we say they are having a "career year." While most will return to their "old" level, a few who stepped up in production, will continue for the foreseeable future. That's important. The trick for fantasy owners, is to figure out which guy is for real and which guys are the "mirage."

Below are about a dozen players who produced well above the previous season and well above any previous year's totals. (By definition this leaves out any rookies).

Let's evaluate each's chance to repeat what they did in 2022.
QBs
Player
2023
2022
% Increase
Pa Yds
Pa TDs
INTs
Ru Yds
Ru TDs
Justin Fields
22.8
14.6
56.2%
2242
17
9
1143
8
Geno Smith
22.2
16.3
36.2%
4282
30
11
366
1
Trevor Lawrence
21.5
16.2
32.7%
4113
25
8
291
5
Justin Fields - The Bears' Justin Fields took the greatest leap forward of any quarterback in 2022, going from an unplayable 14.6 FPts/G to rank sixth last season at 22.8 FPts/G. However, it was all due to his legs. He threw for a subpar 2,242 yards and 17 touchdowns, but balanced that with a stunning 1,143 rushing and eight touchdowns. Management understood the deficiencies in the passing game and added D.J. Moore to go along with Darnell Mooney, Chase Claypool and tight end Cole Kmet. The team also spent a No.1 draft pick to improve the weak offensive line in front of him (RT Darnell Wright at No.10 overall). As long as Fields stays healthy, he should certainly be able to produce at last year's level and perhaps even improve the passing game to where he might be a 24 FPts/G talent.
Geno Smith – In the span of one season, Smith when from a seldom used backup, who failed as a starter in New York for the Jets, to a QB1. His 22.2 FPts/G ranked eighth last season. The previous year he had played in four games and was mostly a "game manager" while the team waited for Russell Wilson to return from injury. In the offseason, however, the team traded Wilson for a huge haul of picks and handed Smith the job and he ran with it. It didn't hurt that he was throwing to a top-five pair of receivers in DK Metcalf and Tyler Lockett. This past April, the team added talented Jaxon Smith-Njigba from Ohio State. Everything should be looking up. right? Be careful here. The team also added Zach Charbonnet (UCLA) to a running back room which already included Kenneth Walker. Under head coach Pete Carroll, this team has mostly been a run-first offense and will continue to be balanced. Smith can likely repeat last season's totals, but don't expect much more than the bottom of the top-10.
Trevor Lawrence – Thank goodness for better coaching. In 2022 Trevor Lawrence threw fewer times than he did in 2021, yet produced 32.7% better results. Some of this was just being in the league a second season, but much of it can be credited to the difference between Urban Meyer's inept offense and Doug Pederson's game plan. And it only gets better from here. The Jaguars added formerly suspended Calvin Ridley in 2022, who didn't play a single down, but is eligible to return for 2023. Adding Ridley (90-1374-9 in 2020) to Christian Kirk, Zay Jones and tight end Evan Engram makes a formidable passing game. With Travis Etienne and rookie Tank Bigsby at running back this offense could be special. Lawrence will be a middle-of-the top-10 fantasy quarterback in 2023 after finishing 11th last season.
Rhamondre Stevenson – Stevenson went from a lightly-used backup to a three-down back in the blink of an eye when starter Damien Harris struggled to stay healthy. He thrived in the role and produced 52.6% more fantasy points than the previous season. Everything looks "rosy" … except that this is New England and Head Coach Bill Belichick has a habit of screwing fantasy owners when it comes to running backs. Though they didn't draft anyone in April, the team did sign James Robinson. Fantasy owners remember Robinson from his rookie season when he helped many of them win a title as an undrafted free agent rushing for over 1,000 yards and producing 17.9 FPts/G (seventh-best that season). They also like Pierre Strong Jr. and Kevin Harris. Beware of the Belichick "curse of the fantasy running back."
Tony Pollard – Pollard had a breakout season in 2022, but fractured his fibula in the NFC Divisional Round against San Francisco. No worries, he'll be fine for training camp and Opening Day, this isn't like a knee injury. With Ezekiel Elliott gone, Pollard will be the unquestioned No.1 running back in Dallas. That's great. But he's never been "the guy." Not in college at Memphis. Not in the pros. Before last season he had never had more than 130 rushing attempts in any season. "Zeke" took the hard carries. Into the middle of the line. The goal line stuff. There was never any pressure on Pollard as the "understudy" to Elliott. Now, it's all on his shoulders with only Ronald Jones and rookie Deuce Vaughn behind him. If he stays healthy he should be a bottom-of-the top-10 guy, but this workload will be the most he's ever taken on. Be sure to have the handcuff after you figure out who that will be.
Jamaal Williams – Even with a stunning 17 touchdowns and 1,066 rushing yards, Jamaal Williams still didn't crack the top-15 in PPR fantasy leagues. Because he wasn't part of the passing game (12 receptions). It's not that he can't catch the ball. Detroit just didn't use him there as much as his first club, the Packers, did. Now, he's in New Orleans on a three-year deal and could be in for a large workload if starter Alvin Kamara is suspended for an incident in Las Vegas last year. From the uncertainty of the Kamara situation to the drafting of Kendre Miller (1,399 rushing yards, 17 TDs at TCU) in the third round, there are too many question marks for anyone to be high on Williams at this point. It's very possible he will return to mediocrity.
Josh Jacobs – Jacobs' breakout season was a championship winner for many who picked him up cheaply after a lackluster 2021 season. But the 2023 season in Las Vegas will be loaded with question marks. First, he has not signed his franchise tag. Jacobs' said he wouldn't sign the tag unless the team added talent. They lost their star tight end, Darren Waller. Does Jakobi Meyers count as adding talent? Second, the team is no longer Derek Carr's, it's Jimmy Garoppolo's, who just had foot surgery. Will the offense be as good as last season? They were top-12 in points and yards last season and ninth in yards per play. Too many questions here. I believe Jacobs' takes a step backward and returns to his previous production level.
Zay Jones – This one is pretty simple… the return of Calvin Ridley from suspension will reduce Jones' role to that of the third receiver behind Ridley and Kirk.
Josh Palmer – Here is another simple answer. Palmer was useful with injuries to Mike Williams, Keenan Allen and Jalen Guyton, but they return and the team spent big draft capital on Quentin Johnston (60-1,069-6 at TCU). Fewer opportunities means less production.
Jerry Jeudy – Despite the horrible season from "new" quarterback Russell Wilson, Jeudy produced 60% better than he did in 2021. With "new" Head Coach Sean Payton, Wilson is likely to return to his level of play and that means things should look up for Jeudy, Courtland Sutton and Tim Patrick (ACL). Jeudy produced 13.6 FPts/G despite seeing just 100 targets and I expect that number should rise by at least 20% because Wilson will throw more than the 483 passes in 2022. Jeudy has a chance to be a top-15 receiver at that workload.
Gabriel Davis – If nothing changes in regards to the wide receiver room, then Davis is likely to produce at the same level as last season. However, the latest rumors have Buffalo in the mix for DeAndre Hopkins. Obviously, that would change the dynamics of the Buffalo offense, making Davis the third receiver. Until Hopkins has a home, we can't really give an evaluation on Davis.
DeVonta Smith – Smith and quarterback Jalen Hurts came into their own last season after the team added A.J. Brown on a Draft Day blockbuster deal. With Brown drawing attention and frequently double coverage, Smith took advantage (95-1,196-7) and produced nearly 40% better than in 2021. Nothing has changed in the offseason and there is no reason Smith can't continue at this pace.
Amon-Ra St. Brown – St. Brown continued what he started over the final six weeks of the 2021 season through 2022 and finished seventh among all receivers in fantasy points (267.6) and 11th in FPts/G (16.7). However, two players may make it harder for him to repeat this performance. First, the return of 2022 No.1 pick Jameson Williams. Williams missed almost all of 2022 due to an ACL injury suffered in the National Championship game. He'll have a delayed start to his 2023 season after violating the NFL gambling code of conduct and miss the first six games of the season. Eventually, the passing game will include this very talented receiver and St. Brown may have to give up some of his team-leading 146 targets. The second player, rookie running back Jahmyr Gibbs, is a talented pass-catcher out of the backfield as well as great runner. This, again, may cost St. Brown some targets. The Lions' offense will be better in 2023, but their No.1 receiver may lose a little in a more balanced offense.