People go into fantasy drafts with all different kinds of strategies, especially for the early rounds. Some owners and writers will swear by the RB/RB theory in the first two rounds until they're blue in the face. For me personally, I like to go in with more of an open mind.

I prefer to be flexible and let the draft come to me in the earlier rounds because you never know which players will slip and which players will go earlier than expected based on your rankings. I look at a fantasy draft like the real NFL Draft. Some teams are good at drafting, while others struggle. The best drafting teams will select a player who slips to them if they have that player highly ranked on their draft board, regardless of position. The same thing should hold true in fantasy drafts.

Thatís why itís hard for me to say Iím going to go RB/RB with my first two picks in every draft. Well, where am I drafting? In the third hole or ninth hole? If Iím in the third and take Jamaal Charles, what if Julio Jones is still on the board in Round 2 but all of my top-rated backs are gone? Should I reach for one just so I can say I went RB/RB, or should I draft my No. 3 receiver and then come back with Frank Gore in Round 3? Early in the draft I never want to be pigeonholed into a theory that may prevent me from building the best team possible, especially the best team specific to my scoring system.

As we get deeper into the draft (Round 10 and beyond) I always have two words in the back of my mind: value and upside. The players I try to get later on are guys that have value and slipped for some reason or players that offer upside and can have a breakout season.

I feel once we get to Round 10, thatís when itís time to be a genius. Fantasy owners get into trouble when they try to be a genius in Round 3. As the draft goes on and I have my starting team pretty much assembled, thatís when I like to grab some bench players that could pay off big down the road. I much prefer high-upside players later in the draft over low-end starters that will never be big-time fantasy producers.

Take Brandon LaFell for instance. He can start for the next 10 years in Carolina but I have no use for him on my fantasy team. If he ever breaks out I can still sleep at night knowing I missed on him in favor of a younger receiver with more talent or a running back that is one injury away from being a stud.

As Iíve gone through my mocks and real drafts so far, Iíve settled on a few players who offer value or upsideóor bothóto fantasy owners. Iíve been targeting the five players below in the later rounds of all my drafts this season. Iíve listed the five players, the round theyíre being selected in on average and whether Iím drafting them based on value, upside or both. Hopefully this list, along with my reasoning, will help some of you when youíre on the clock late in your drafts.

Eli Manning, QB New York Giants (Round 10) - Value

Manning is going in the Round 9 and 10 area, depending on which ADP information you use. Regardless, heís good value at the QB position. He didnít have a bad year in 2012óthrowing for 3,948 yards, 26 touchdowns and 15 interceptionsóbut he was inconsistent. He failed to reach 250 yards passing nine times last season. Expect Eli to bounce back this season, along with the entire Giants offense.

New York didnít really suffer a Super Bowl hangover but they got caught in a funk after a 6-2 start. Eli was up and down all year, Hakeem Nicks suffered through injuries and the running game never really got going. Looking ahead, the Giants have three talented receivers in Nicks, Victor Cruz and the emerging Rueben Randle to go along with tight end Brandon Myers. Also, the running back duo of David Wilson and Andre Brown should reignite the ground game behind an improved offensive line. Add it all up and ďsettlingĒ for Manning in Round 10 doesnít sound too bad.

The best thing about Manning is that fantasy owners can go one of two ways with him. They can wait to select a QB until late in the draft, while stocking up at other positions, and then grab Eli to be their starter. The other option is to take a guy like Drew Brees earlier and then select Manning as one heck of a QB2 if heís still around in Round 10 or 11. Talk about value! Manning gives those who draft him as a QB2 valuable trade leverage to dangle in front of QB-needy owners later in the year.

Either way, getting a QB that has a good chance to throw for 4,000 yards and 30 scores in Round 10 gives fantasy owners a lot of options. Two years ago Eli threw for just under 5,000 yards. I see 2013 resembling that production rather than the uneven numbers he put up last season. If youíre the type of owner that likes to wait on drafting a starting QB, loading up at other positions and landing Eli isnít a bad blueprint for fantasy success this year.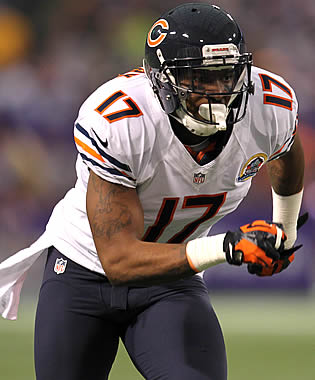 Jeffery will gave owners bang for their fantasy buck.

Alshon Jeffery, WR Chicago Bears (Round 12) - Upside

Jeffery is the one player who will give fantasy owners the most bang for their buck this season. I currently have him ranked just outside my top 25 receivers and see 60-70 receptions and 8-9 scores as a realistic possibility for Jeffery this season in Marc Trestmanís offense. I mentioned drafting players with upside later in the draft. Jeffery has all kinds of upside.

A lot of people believe because Brandon Marshall and Matt Forte will see so many targets that it will be difficult for Jeffery to break out this season. However, Marc Trestmanís offensive philosophy involves trying to exploit a defense when his receivers have single coverage. Well, Jeffery plays opposite one of the most productive receivers in the NFL. Do you think heíll see any single coverage this year while teams try to slow down Marshall?

The bottom line: Jeffery is a beast. He got lazy in his final season at South Carolina, and while he started righting the ship last year, he still fought injuries and Mike Ticeís lack of imagination. In Ticeís offense Jeffery was basically the cousin I used to just send on fly routes all the time in our old backyard games. Hopefully weíve all seen the last of Tice calling plays in the NFL. The good news is that Tice recently won over $100,000 betting horses, so he should be all set for a while.

Jeffery is currently in excellent shape, he has a season in the NFL under his belt, and he gets to play in a receiver-friendly offense thatís going to throw the ball a lot. Marshall and Forte may be the first two options but Jeffery will get plenty of looks as well.

Jeffery is getting drafted in Round 12 because a majority of people are waiting until 2014 for him to break out. Hey, maybe he doesnít have his coming-out party until then, but this guy is oozing with talent and he plays in the right offense to produce right now. To get a player like that in the twelfth round sounds like a bargain to me.

Roy Helu, RB Washington Redskins (Round 13) - Value/Upside

Letís not get sidetracked by all the ďMike Shanahan likes to change running backsĒ talk. Alfred Morris is the clear-cut starter in Washington right now. Thereís no doubt about that after his performance last season. Not even Shanahan is going to mess with that situation.

Even though Morris has established himself as the workhorse of the Redskinsí backfield, it doesnít mean Helu isnít an intriguing later-round pick. He may not be a starter, but Helu is a talented back that plays in powerful rushing offense.

It appears that after missing a season due to injuries in 2012, Helu is the clear favorite to win the No. 2 job in Washington and be Morrisís primary handcuff. That alone gives him fantasy value. Helu has always been more talented than the slow-footed Evan Royster and is much further along in the offense than rookie Chris Thompson.

Things can change quickly with Shanahan, but Helu looks locked in to start the year as the Redskinsí third-down back and the first in line for carries should something happen to Morris. Considering how productive Helu would be for fantasy owners as the starter in the Redskinsí read-option attack, thereís your value and upside in Round 13.

If you play in a PPR format, Helu could even begin the year as a valuable bench player. Since heís going to be on the field a lot in passing situations, Helu is a guy fantasy owners can use as a flex play in a pinch and hope he catches a few balls. Remember, two years ago Helu caught 49 passes on 59 targets, so heís already shown he can be an excellent receiver. Even if Morris plays 16 games, Helu will contribute for the Redskins this season as a receiver out of the backfield.

There was a time when Helu was a hot fantasy commodity, but after missing most of 2012, heís kind of fallen off the map. However, he is still a talented, versatile running back that could produce strong fantasy numbers if a couple of things fall his way. Rolling the dice in Round 13 on a guy who is one injury away from lining up behind Robert Griffin III in Washingtonís backfield is a smart bet for fantasy owners.

DeAndre Hopkins, WR Houston Texans (Round 11) - Upside

I had Hopkins rated as the No. 1 receiver in this yearís draft class, and after watching some Clemson games again, I don't think it was a mistake. Now, Iím not an NFL scout. Iíve worked for an NFL team, and the information and video that scouts see compared to what we have available is night and day. When you hear non-scouts say theyíre watching ďtape,Ē itís a bunch of nonsense. Trust me, Iíve seen real scouting tapes and itís nothing like what these people are watching.

However, I do my best with what I have to break down college players. I also use the advice told to me by scouts themselves. When it comes to receivers, one of the first things I look for is how a player catches the ball when heís covered. In college these guys are so talented, theyíre wide open a great deal of the time.

In the NFL, the quality of defensive backs is much greater than in college, so receivers need to make plays when theyíre covered, not just when theyíre open by 10 yards. Itís one of the toughest adjustments a young receiver has to make when going from college to the NFL.

Hopkins reminded me a little of A.J. Green in college, catching the ball with guys draped all over him. Hopkins has long arms and huge hands. He has an uncanny knack for using his body to shield defenders, extending his arms and snatching the ball out of the air. Itís a skill that will help Hopkins a lot in the NFL, especially early on in his career as a red zone target.

Houston should apologize to Andre Johnson for pretending Kevin Walter was some kind of No. 2 NFL receiver for what seems like the last 10 years. In NFL terms, the addition of Hopkins to the Texans offense canít be understated. His presence is going to open up all kinds of opportunities for Johnson, who has never played with another receiver thatís had anywhere near Hopkinsí ability.

Itís hard to trust rookie receivers. I donít make a habit of it personally because youíll get burned more than rewarded. However, Hopkins will be one of the exceptions. He has the talent and opportunity to produce right away for the Texans. Other than Johnson and the 17 tight ends Houston trots out every week, who does Matt Schaub have to throw to? Lestar Jean? I donít think so. Hopkins will see plenty of passes come his way as a rookie.

Taking a chance on Hopkins in Round 11 or 12 should pay off big for fantasy owners this season. I expect him to make a serious run at NFL Rookie of the Year honors and be at the very least a solid WR3 most weeks.

Brandon Pettigrew, TE Detroit Lions (Round 13) - Value

Pettigrew has always battled inconsistency. Lions fans know he leaves at least three scores a year on the field. Iím talking about the seam pass Matthew Stafford fires in there perfectly when Detroit is inside the 20, only to have Pettigrew drop it in the end zone. There has to be at least three of those a season.

Sure, Pettigrewís drops are frustrating, both to the Lions and fantasy owners. However, weíre talking about a tight end that prior to last year caught a combined 154 passes even with those drops. In 2012 Pettigrew battled some injuries and he was limited to 13 games. He also saw his production decline across the board, which is now hurting his fantasy value heading into this season. Still, Pettigrew has averaged 71 catches and 113 targets over the last three seasons, and he can be had in Round 13. That sounds like value to me.

Fantasy owners are always looking for the next big thing; myself included. We want to make sure we donít miss a breakout candidate like Jordan Cameron or Coby Fleener at TE rather than a boring, 70-catch guy like Pettigrew. While I like both Cameron and Fleener, a lot has to go right for either of them to catch 70 balls.

Megatron is Megatron and Ryan Broyles can be a PPR stud if he ever stays healthy, but the Lions have very little else at receiver. Reggie Bush will catch a ton of balls, but Detroit running backs always see a lot of targets in that offense. In 2010, when Pettigrew had 71 receptions and 111 targets, Jahvid Best caught 58 balls on 80 targets. Like it or not, Pettigrew is still going to be a top option in a pass-heavy offense.

Pettigrew may never become an elite tight end, and he doesnít rack up a lot of yards after the catch. However, fantasy owners can do a lot worse than a guy who hauls in 70Ė80 balls and scores 5Ė6 times at a position that only offers a couple of sure-fire players, especially in Round 13.

Based on all the drafts Iíve done, when you look at where a player is being selected combined with his projected production, Pettigrew probably offers the best value at any position heading into the season. He may not be the sexy pick, but 70 receptions are still 70 receptions. Not many TEs will give you that kind of production.