The vice president is just a heartbeat away from assuming the duties of the President at all times. In fantasy, the equivalent is having a plan if one of your players can't perform for any reason. In today's piece, we are going to discuss the likelihood that you may need a backup quarterback who is more than just a warm body on your roster.

That likelihood is based on three factors; 1) whether they show up ready to play in Week 1; 2) their ability to stay on the field and healthy enough to play at a fantasy-worthy level; 3) the risk that subpar play could get them replaced.
Showing up
Aaron Rodgers, Green Bay – We've all been watching the Packers' off-season soap opera starring "ARod" and GM Brian Gutekunst. Gutekunst doesn't want to trade Rodgers, the 2020 NFL MVP, despite having drafted Jordan Love with a No.1 draft choice a year ago. Rodgers sees other quarterbacks having input in draft/free agent decisions and as a 16-year veteran, three-time MVP and Super Bowl winner feels slighted by not having management at least listen to him. I do believe Rodgers will end up as the Packers starter in Week 1.
Deshaun Watson, Houston – Watson's legal issues are most likely going to end up with him on the Commissioner's Exempt List, which is why I have Tyrod Taylor listed as the starter for the Texans. Even if Watson somehow is allowed to play this year, he's demanded a trade out of Houston. This situation isn't going to end anytime soon and fantasy owners shouldn't waste anything but a late-round selection unless his numerous problems magically come to a conclusion.
Health risk
The most important ability is availability. You can't score fantasy points watching from the owner's box in street clothes. The health risk chart below is a little bit deceiving. A number of players played every game in most seasons, but had one year in which they were severely injured and it ruined their start percentage. Dak Prescott is a prime example. He played 53 consecutive games beginning in 2017 until his compound ankle fracture in game No. 5 last year. Matthew Stafford is another.
But, you can also see a few quarterbacks who consistently miss a few games every season and those are the guys for which you need an emergency plan. Examples of this are; Jimmy Garoppolo, Sam Darnold, Carson Wentz, Andy Dalton and Daniel Jones. Additionally, two of those guys (Garoppolo and Dalton) will be found again in the third portion of this piece.
Performance risk
The head coach has repeatedly stated that Dalton is the Chicago Bears starter. I think he believes it … at least for now. Once they are on the practice fields (no pun intended), it very possible that Fields will outshine the journeyman. It reminds me of when rookie Russell Wilson arrived in Seattle after the Seahawks had just signed former Packers backup Matt Flynn to a giant three-year deal. The rookie beat him out in training camp and Flynn never saw the field. If it's not game No.1, the pressure will be on Dalton to perform and win or face being replaced. With the Rams and Browns among their first three opponents, the Bears could be 1-2 after three games and look to make a quarterback change. Insert Fields here, for game No.4 versus Detroit.
Ryan Fitzpatrick, Taylor Heinicke
The bearded wonder was signed to be an improvement over the 2019 trio of Alex Smith, Dwayne Haskins and Kyle Allen, who threw a total of 16 touchdowns in 16 games and equaled that number in interceptions. Fitzpatrick threw 13 touchdowns in seven starts (nine games) last season in Miami before the team made the decision to start No.1 draft choice Tua Tagovailoa. And while "Fitzmagic" has a flair to his game, he too has flaws in a losing career record of 59-86-1 as a starter. So if he struggles, or becomes too conservative, the WFT could try Heinicke. The little-used Heinicke threw for 306 yards and a touchdown and rushed for 46 yards and a score in a hard-fought playoff loss to eventual SB Champion Tampa Bay 31-23 when forced into action due to injuries. I don't expect that to happen, but Fitzpatrick isn't the long-term answer to a Washington team that seemingly has a defense ready to win led by Chase Young, so a mid-season trade for a quarterback is also a possibility.
Garoppolo got the 49ers to a Super Bowl in 2019 where they lost to Patrick Mahomes and the Chiefs 31-20. The game also dramatically exposed Jimmy G's flaws and when added to his inability to stay on the field due to injuries forced San Francisco to spend big-time draft capital to move up in 2021 and select Lance. Could Garoppolo suddenly become a 35 TD guy throwing for 4500 yards to receivers like Brandon Aiyuk, George Kittle and Deebo Samuel? Unlikely. First, this is a run-first Kyle Shanahan offense. Second, I don't think Shanahan has enough faith in Garoppolo to call those plays. The 49ers could be 2-3 as they head to their Week 6 bye and it would be a perfect time for Shanahan to change his signal-caller. Lance had a monster year at North Dakota State (2019 – 2786 yards, 28 TD passes, 0 INTs, 1100 yards rushing, 14 TDs), but the "small school" tag means fantasy owners can't be sure what he might do in his first season under center. Barring a Jimmy G miracle, however, Lance should get a chance in 2021. Most likely when Garoppolo gets hurt (just a 56.6% availability rating in four seasons).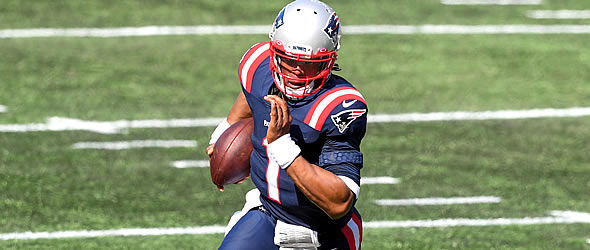 Newton was put in a horrible situation in 2020 that no man could survive. He was replacing a living, still-playing legend with no preseason games, little live practice and mostly "Zoom meetings." That's no way to restart a career. He should be better this season, but Newton isn't the "Superman" who led his 2015 team to an appearance in the Super Bowl (3837 passing yards, 35 TDs, 10 INTs, 636 rushing yards, 10 TDs). His body has taken a beating over the years and his arm isn't anywhere close to what it once was. If Bill Belichick can't "unlock" the old Newton, he's not scared to pull the plug and start his first-round draft choice out of Alabama. Jones had stunning statistics in his final year at Bama (4500 passing yards, 41 TDs, 4 INTs). Take those numbers with a grain of salt as his receiving corps outclassed every defense they faced (led by first-rounders Devonta Smith, Jalen Waddle and sophomore John Metchie). But he avoided mistakes and that's huge in Belichicks list of "must haves" from his quarterback. It's also a Newton weakness. Newton should get the first shot, but Jones will be the starter at some point this season.
The Broncos tried as hard as possible to find a replacement for Lock. They still have hopes for an Aaron Rodgers or Deshaun Watson trade … at least their fans do. John Elway ended up with a "backup" plan in Teddy Bridgewater. Bridgewater is a solid "game manager" and you can have a winning record if your defense is good enough. But to truly compete in a division with Kansas City, Los Angeles Chargers and Las Vegas you will need more. Lock came in with so much promise, leading Denver to a 4-1 record down the stretch in 2019, but he failed to capitalize on his chance to lead them in 2020. Despite a solid receiving corps in Jerry Jeudy, Noah Font, Tim Patrick and KJ Hamler, Lock struggled to a 4-9 record with 16 TD passes and 15 INTs. Neither quarterback appears to be the long-term answer in this true 50-50 split of training camp and preseason workload, so again if a star quarterback enters the open market this team should, and will be, interested.
Tua Tagovailoa, Jacoby Brissett
Tagovailoa was dealing with a lot of issues last season. Like every other rookie, he had "Zoom meetings" instead of OTAs, training camps and preseason games. He was also dealing with a severe hip injury that many thought would keep him sidelined for all of 2020. So it was no surprise that Fitzpatrick started the Dolphins 2020 season at quarterback. And also no surprise that Tua was rusty when he got in there. I don't think he has to worry about not getting a full chance in 2021, but we also saw that Brian Flores has no problem replacing a struggling quarterback. Still, Tua should be the long-term answer in Miami and Brissett should be the quality backup. I like the additional receiving weapons brought in by management (free agent Will Fuller and first-round choice Waddle), but was a little disappointed they didn't bring in a bigger running back threat. Tua probably still isn't an everyday fantasy starter, but he should be a solid bye week and injured-starter option.
I'm sorry but Hill is not an NFL starter. Yes, he was 3-1 but he lost to Philadelphia, and played horrible in Denver only getting the "W" because Covid-19 in the QB room forced them to start a wide receiver at quarterback. And when he was in there, the team's No.1 threat, Alvin Kamara, was underused. Winston is the better thrower. If Sean Payton can keep his turnovers in check, he's the better option for the Saints. Perhaps he really couldn't see downfield due to poor eyesight. I don't know for sure. While Payton will give both guys a fair chance in training camp and preseason I think Winston wins the opening day job. Then the only thing which could keep him from locking it in for 16 games is bad decision-making. Oh, Winston isn't a perfect fit. He loves to throw the long ball and his best receiver, Michael Thomas, likes the quick-slant pattern. But Winston had a year to watch Drew Brees and Payton at work and I believe he learned how it's done. He won't the mad bomber he was in Tampa. He's not going to throw for 5000 yards. Winston can be a backup fantasy option and Hill should continue in his part-time "weapon" role.