The next two weekends will test your ability to manage the roster. Six teams are on bye in Week 8 (Arizona, Green Bay, Jacksonville, Los Angeles Rams, New York Giants and Tennessee) and six more in Week 9 (Chicago, Cleveland, Los Angeles Chargers, Minnesota, New England and Pittsburgh).

Weather could also be a factor with rain expected in New York and windy conditions (15 mph or more) in New York, Tampa Bay and Philadelphia. Wind is frequently more damaging to offensive production than rain or snow.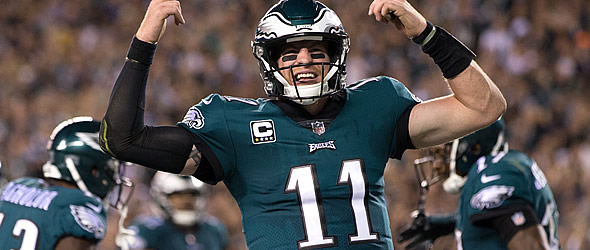 Carson Wentz already has more rushing yards (196) and passing TDs (17) than he had in all of 2016.

Truths

"Truth is universal. Perception of truth is not" – Anonymous

1) MVP candidate Carson Wentz will continue to be elite for as long as his body holds together.

True. Wentz is third in FPts/G (25.7) among quarterbacks, but he's also absorbing a lot of hits. According to the NFL's totals, Wentz has taken 45 hits (seventh most) plus he's rushed the ball 40 times (second most). Sure, he's 6-foot-5 and 240 lbs., but there are a lot of bigger guys on the field trying to do him harm. Not to mention the times he invites big hits by intentionally taking them on instead of sliding. If you own Wentz, you should have a backup plan in place.

2) Those of you who laughed when I suggested to sell Kareem Hunt in Week 6 should note he's averaged a pedestrian 11.4 FPts/G the past three games.

True. You can't get Antonio Brown or another elite star for him anymore. Hunt hasn't scored in four games and he ranks 14th among RBs over the past three games. He's also looking at another mediocre game Monday night against the No. 1 defense vs. running backs – Denver. Take heart, the schedule will get easier during the fantasy playoffs.

3) The trade of Adrian Peterson didn't just help the future Hall of Fame running back become fantasy-worthy.

True. In case you haven't noticed, Mark Ingram has averaged 22 FPts/G over the past two games, good for third among backs behind only Ezekiel Elliott and Leonard Fournette. Alvin Kamara has seen 15 touches-per-game over the past two games and averaged 9.7 FPts/G over that span good enough to be an RB2.

4) Josh McCown is a fantasy-worthy starter.

Absolutely. Over the past three games he's averaged 24.6 FPts/G which ranks eighth among all quarterbacks. The Jets won't play a top-10 team over the next three games, so he's a viable option during these bye weeks and possibly longer if he can stay healthy.
5) Packers' wideouts Jordy Nelson and Davante Adams have very little fantasy value.

Unfortunately true. I made an offer on Monday involving Nelson and was laughed at. Unless Brett Hundley shows some promise, neither receiver will get you anything on the trade market. Fantasy owners will have to sit on these guys and pray Hundley improves with two weeks of practice (Green Bay has a bye this weekend). The bad news - with Detroit (14th against opposing QBs), Chicago (6th), Baltimore (4th) and Pittsburgh (2nd) next up on the schedule, it won't be easy for Hundley and the Packers passing game.
Lies

"The truth is messy. It's raw and uncomfortable. You can't blame people for preferring lies." – Holly Black

1) You could do a lot worse than C.J. Beathard as your one-week, plug-in quarterback in Week 8.

False. Actually very few "start-worth" quarterbacks are on bye this weekend. With Carson Palmer and Aaron Rodgers out indefinitely, there are 14 quarterbacks playing this weekend with a higher per-game scoring average (Beathard - 19.2 FPts/G). And that doesn't include slumping Matt Ryan or Derek Carr. In Week 9, when Tom Brady, Philip Rivers and Ben Roethlisberger are sidelined, it may be a tougher decision.

2) Darren Fells has suddenly become a fantasy-worthy tight end averaging 11.5 fantasy points the past two games.

Sorry, no. Sure, his fantasy average the past two games places him third behind Zach Ertz and Rob Gronkowski, but he's seen just six targets in those two game. He caught all six for 50 yards and three scores. He's too touchdown dependent and all his touchdown production has done is make Eric Ebron un-startable. Plus his next two opponents (Pittsburgh and Green Bay) are top-six in defending tight ends.

3) Playing the Saints is always good for your offense.

Not as good as it used to be. Remember when the New Orleans defense was annually the worst in the league? Remember Rob Ryan? The team has improved to the middle-of-the-pack as shown below. However, don't be fooled by the Saints fantasy defense ranking fourth, (7.5 FPts/G), it's inflated by a 28-point output in Week 6 versus Detroit (three defensive TDs).
| | | |
| --- | --- | --- |
|  2017 | Season | Gms 6-7 |
| QB FPts rank | 21 | 17 |
| RB FPts rank | 18 | 14 |
| WR FPts rank | 21 | 17 |
| TE FPts rank | 11 | 7 |
4) A bigger role for Cincinnati running back Joe Mixon has made him fantasy worthy.

Hardly. In the three games in which he saw 15 or more rushing attempts he averaged 2.84 ypc and 8.7 FPts/G. Of course, the other options; Jeremy Hill and Giovani Bernard aren't very good either, so the team will keep forcing the ball to Mixon, but that doesn't mean you have to "ride" with him. He'll have a decent matchup in Week 8 (Indianapolis), then it gets tougher with Jacksonville, Tennessee and Denver.

5) The Miami offense can't be trusted with backup Matt Moore under center.

I actually like Moore in this situation. When he came in for an injured Ryan Tannehill in 2016, he posted 27.8 fantasy points in his first start, then a respectable 19.6 and 18.3 points the following two weekends. Last Sunday, Moore came in off the bench after Jay Cutler left with a chest injury early in the third quarter and led the Dolphins to 17 fourth-quarter points and the victory. He also scored more fantasy points in less than a half (17.4) than Jay Cutler did in any game this season. Moore may not overwhelm you against his next two opponents (Baltimore and Carolina), but if DeVante Parker returns from injury to join Jarvis Landry and Kenny Stills he'll have solid weapons to work with and should produce at least 20 fantasy points in each game.

---
Steve Schwarz served as the fantasy sports editor of The Sports Network and is the 2014 FSWA Football Writer of the Year.