Recently, I profiled several players in danger of plummeting from the top 10 ranks at their respective positions this coming season. It was a fun little exercise, for sure, especially for a confirmed disparager such as myself. Nevertheless, no sooner had the ink dried on that column, than readers were clamoring for a companion piece. If those guys are dropping out, they wondered, who's taking their place?

It's a fair enough question, I suppose—and I can certainly wax optimistic when challenged—so let's flip the script and turn our attention toward those men poised to emerge as the 2011 crop of favored fantasy studs. We already know there's likely to be more than the nine examined below, but I only have so much time (we're less than two weeks away) and a finite number of interesting things to say (or so I've been told). Without further ado, allow me to introduce the next wave of elite fantasy prospects likely to rise into the top ten.

Note: All rankings are based on FFToday's default standard scoring.

A quick reminder of the Top 10 fantasy QBs from last season...



I already predicted a return to the top 10 for Romo in my Top Ten Dropouts piece so it would be a tad sloppy, not to mention hypocritical, to suggest otherwise at this point. Here's why he does it, though: he's never been anything but a top 10 quarterback since he assumed the full-time, full-season gig as the Dallas triggerman. Romo ranked 2nd, 10th, and 5th in total fantasy points from 2007 to 2009 and only dropped out last year because he sat the final 10 games. Even including last year (and a slightly shortened 2008), he's ranked 2nd, 5th, 6th, and 8th in fantasy points per game at the position, a more accurate predictor of future success. Seems like a pretty safe bet to reclaim top 10 status this year, yes?

Nod your heads while also considering Romo still possesses an embarrassment of weapons to throw the football around with. Miles Austin, a former top 10 receiver, seems likely to reclaim that status this season (more on him later). Dez Bryant, a freakishly talented youngster, is already one of the best second fiddles in football. Jason Witten, Romo's security blanket, is fresh off (yet) another 1,000-yard season. Finally, Felix Jones and DeMarco Murray, two above-average receivers, are set to man the tailback position. In short, if Romo can't find someone to hook up with in 2011, it'll most likely be due to the fact he's laying on his back.

No discussion of Romo's prospects would be complete without a mention of the suddenly abominable Dallas D. This unit, a top five group as recently as 2009, couldn't stop anybody last year, one reason Romo and his successor, Jon Kitna, achieved at such a high level. After all, had Dallas not needed to score 30+ points to stay in ballgames—and even that wasn't always enough—it's unlikely they'd have been asked to throw the pigskin around so often. If Jon Kitna can rack up 18.5 fantasy points per game (look it up), I'm quite confident the franchise's meal ticket can do even better. By the way, that defense returns most of the same bodies and is also being tasked with learning a new system under new coordinator, Rob Ryan.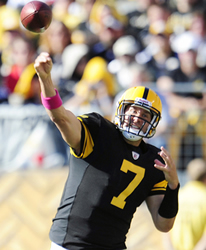 A top ten fantasy finish is on the horizon for Roethlisberger.

Roethlisberger has been almost as consistent as Romo the past four years, notching top 10 numbers in points/game three of those seasons (he dropped to 19th in 2008). His 2010 was obviously marred by an early suspension but once he and the Steelers got rolling, they didn't stop until they'd reached Super Bowl XLV in Big D, something few had predicted before the season began.

Big Ben has really blossomed under the tutelage of offensive coordinator, Bruce Arians, who's been on board since 2007. During that time, the Steelers' offense has also transformed from a conservative, ground-based attack to one built around a dynamic and sophisticated passing game. In fact, I'd argue Pittsburgh, the very picture of smash-mouth football for decades, serves as exhibit 1A for a more general, league-wide transformation from run-first to pass-first offenses we've witnessed this decade. Consider that from 2001 through 2005, there was an average of three 4,000-yard passers per season. That average has jumped to over six since 2006—peaking in 2009 with ten—and there was even another 5,000-yard passer (Drew Brees in 2008) for the first time since 1984. Clearly, the pendulum has swung once again and, with it, the prospects of the league's best signal-callers.

And make no mistake about it: Roethlisberger is certainly one of those. Yeah, he'll throw the occasional bad pick but he still sports a stellar 92.5 quarterback rating in seven seasons. That's good for eighth all-time and probably explains why his career winning percentage is also north of .700. I think he easily cracks the top 10 in fantasy points this coming season.

Say what you want about Josh McDaniels (and plenty has already) but the fact of the matter remains his QBs have, on average, consistently ranked in the top 10 as fantasy performers. Sure, he had the luxury of one Tom Brady in New England, but even when Tom Terrific went down almost immediately in 2008, McDaniels turned Matt Cassel into an elite fantasy performer. This would be the same Matt Cassel who hadn't started a game since high school! Upon moving to Denver, McDaniels continued working his magic with Kyle Orton who, if not always an elite QB, was at least a damned serviceable one. Indeed, Orton ranked ninth in points/game last year, right behind…the two guys we just talked about.

Mr. Fantasy-Friendly has resurfaced as the new offensive coordinator in St. Louis for 2011, where he inherits one of the best young quarterback prospects in the game, Sam Bradford. The pride of Cherokee Nation (neat!) was predictably up and down in his first full year under center but still managed to throw for over 3,500 yards despite playing for a crummy team with one of the worst groups of receivers in the league. His rookie numbers, apples to apples, actually compared quite favorably with those of another youngster (and 2010 top 10 achiever), Matt Ryan.

Almost from day one, Bradford has looked poised in the pocket and has demonstrated an ability to make all the throws. During a six-game, midseason stretch last year, he even managed to avoid the momentum-killing turnovers rookies are historically prone to. Yes, he'll be asked to learn a new offense this season but, as we've already discussed, it's an offense clearly worth learning. If he gets a little help from his muddled and mediocre receiving corps, you're probably looking at this year's version of Josh Freeman.