Players To Target Midway Through Your Fantasy Draft




8/5/10



There's an ongoing joke in my league that says a trained monkey can draft the right players in the first couple rounds. Certainly, it is much easier to select players in the early rounds as opposed to later in the draft. While bona fide studs are a dime a dozen in the first couple rounds, things get a bit cloudier as the draft progresses.

Mid-draft draftees are what solidify fantasy rosters. These aren't necessarily hidden gems, but players on the verge of breaking out who can be had at bargain prices.

QB Donovan McNabb, WAS
Current ADP: 9.06

I find it interesting—almost laughable—that some fantasy publications and web sites have players such as Eli Manning, Kevin Kolb and Matt Ryan rated higher than Donovan McNabb. I can't seem to figure that out. McNabb's a winner, hasn't thrown more than 12 INTs in a season since 2000, and now has a head coach who believes in offensive balance. Those traits have to count for something, to say nothing of the extra motivation he's sure to have after the Eagles decided to trade him within the ever-competitive NFC East division.

Washington doesn't have much in the way of game-changing receivers, but that was the case during McNabb's entire stay in Philly, save the T.O. years. Despite coming off an injury-plagued '09 campaign, TE Chris Cooley remains one of the best at his position, and McNabb is sure to utilize him to the fullest. WRs Santana Moss, Devin Thomas, Malcolm Kelly and Joey Galloway are another story, but if McNabb does his normal routine, one of those players will have a stellar year. McNabb's questioned durability aside, he's a fantasy QB that can take your team places. He's not a spectacular fantasy option, but he won't kill your team with head-scratching screw-ups. If you're someone who chooses a QB later in the draft, you can't do much better than McNabb.
Flacco: A bonafide top-7 fantasy QB for the foreseeable future.
QB Joe Flacco, BAL
Current ADP: 7.10


Don't look now, but it seems the Baltimore Ravens offense is now the strength of this team. An already thin defensive secondary lost CB Domonique Foxworth for the year before players even worked up a sweat during the first practice of training camp. The emerging Joe Flacco and the entire offense will now be the focal point of a team that for a decade relied on its history-making defense. Flacco got off to a hot start last year, throwing 12 TDs in the first seven games but finished throwing only 9 TDs in the season's last nine games.
I'm personally not smart enough to pinpoint the reasons for his 180-degree turn. But I am smart enough to know that the addition of WR Anquan Boldin gives Flacco the one commodity this team has been lacking since…well…since forever. Boldin's gritty and physical style of play complements this team well and, along with a star-in-the-making RB Ray Rice, Flacco is, I believe, surrounded by some of the best talent in the conference. He's poised to become a bona fide top-7 fantasy QB for the foreseeable future. Get him while the price is reasonable.
TE Zach Miller, OAK
Current ADP: 10.10

It's easy to look at an offensively-challenged team and overlook its stars. We're all guilty of it to some degree I'm sure. Such could be the case when examining the Oakland Raider roster. Names such as Chaz Schilens, Darrius Heyward-Bey and Louis Murphy immediately jump out at you when peering at the list of receivers. Those are probably names that won't keep defensive coordinators up at night. But a name that could is Zach Miller. Not only has Miller led the team in receptions the last two seasons, but each year he almost doubled the number of catches of the next closest teammate - all of this while playing with one of the worst QB situations in the NFL during the past several seasons.
Miller hasn't been a TD-scoring machine so far in his career—catching only seven in his three years. But with a dramatically improved passing game, a team that looks like it's finally "getting it," and an aerial assault that could very well be centered on his skill set, Miller could really surprise this year. There's a chance that Miller can match his career total in TD receptions in 2010 alone - expect big things.
RB Michael Bush, OAK
Current ADP: 8.04

The fanfare that accompanied fellow RB Darren McFadden when he arrived in Oakland has yet to match the production so far in his career. A career that's been full of empty promises may now lead to Michael Bush getting more opportunity to show his stuff. The Oakland backfield is also less crowded now that Justin Fargas departed during the offseason.
Bush is now three years removed from a nasty broken leg sustained while in college. He's one of those big bruisers with the speed and acceleration rarely seen in runners his size. The million-dollar question is whether or not Oakland's coaching staff will look beyond McFadden's draft status and paycheck. They only need to perform a simple eyeball test. When Bush is on the field, he makes things happen. Oakland quietly has a solid offensive line, and the arrival of QB Jason Campbell will no doubt bring credibility to a dreadful passing game. Plus, McFadden hasn't had a 100+ yard game since week two last season, while Bush has had three such games in the same timeframe. This has the makings of a RBBC, certainly, but I believe Bush will get the lion's share of the money carries and reward his fantasy owners with a solid season as a mid-draft selection.
WR Devin Aromashodu, CHI
Current ADP: 8.03

It's no secret that the Chicago Bears will throw the ball a ton. QB Jay Cutler, even with his propensity to turn the football over in a Mike Martz-orchestrated offense, will toss the rock all over the place. Somebody has to catch those passes, right? The Bears are razor-thin at WR, with the likes of Devin Hester, Johnny Knox and Earl Bennett populating the position. Only Aromashodu appeared last year to have any worth long term. He battled a quad injury and missed roughly two-thirds of the season. However, he made up for his missed time late with a stellar game against Green Bay in week 13—one of the toughest pass defenses in the league—and a seven catch, 150 yard, one-TD gem against the Vikings in week 15.
Most fantasy experts have Cutler as a top-10 QB, but those same experts have the highest-ranked Bear receiver (in most cases, it's Aromashodu) 38th or lower. I don't quite understand that logic. But here's the bottom line: Aromashodu is the best pure receiver on Chicago's roster. Martz will find a way to use him in his pass-first offense. Plus, it's said that Cutler has been speaking highly about Aromashodu since last season. Either way, he should end the year as the most productive receiver on the roster.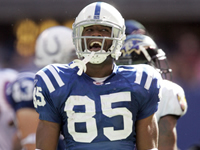 2010: The year Pierre will expand his fantasy relevance.
WR Pierre Garcon, IND
Current ADP: 6.02

Sure, Pierre Garcon is nothing more than Indy's third receiving option. Sure, he's only entering his third season. And sure, Anthony Gonzalez returns this season after practically missing the entire '09 campaign. But Garcon has one of the most consistently prolific quarterbacks to ever grace a fantasy roster. Keep in mind, too, that Garcon's 21 receptions led the Colts during the '09 postseason. That's great news for his prospects in 2010. And even though he has two teammates in Dallas Clark and Reggie Wayne that both had 100 catches last year, there will still be enough to go around for Garcon to be a productive member of your fantasy team.
It should also be noted that Indy's run game has really been nothing to smile about since Edgerrin James left the team. Consequently, Peyton Manning is expected to shoulder the offensive load in each game. Only Jay Cutler had more pass attempts last season. With all of those passes each game, Wayne and Clark will only account for so many receptions. It's a good chance that they won't again both catch 100 passes, leaving Garcon a golden opportunity to expand his fantasy relevance. Garcon should be a solid #3 fantasy WR once again in 2010.
WR Mike Wallace, PIT
Current ADP: 7.05

It probably went unnoticed last season that Mike Wallace finished the year with the third-highest yards-per-reception average with 19.4. That seems like a huge anomaly, especially for an organization that prides itself on running the rock. But Ben Roethlislberger had the most passing attempts in a season for Pittsburgh since Tommy Maddox threw it 519 times in 2003. The Steelers aren't likley to pass the ball more than 500 times in 2010, what with Ben's troubles and all. Its dedication to the ground attack, though, certainly won't be to the exclusion of getting the ball downfield via the pass either.
With Santonio Holmes' departure, Wallace is now the team's only legit deep threat. During the four-to-six games Ben will miss, I'm sure the short passing game will be the order of the day. Fellow WR Hines Ward and TE Heath Miller are masters at those routes, and that should open up the deep throwing lanes for QBs Byron Leftwich or Dennis Dixon. Expect to see plenty of play-action pass attempts deep to Wallace. He didn't have more than three receptions in any of the Steelers' last seven games, but I feel that the opportunity is there for him to build on his rookie campaign and become a contributor to your fantasy squad.
WR Dez Bryant, DAL
Current ADP: 6.12

It's been a rather long-held belief that rookie receivers struggle to make the transition to the NFL. But recent performances by Anquan Boldin, DeSean Jackson, Percy Harvin and Marques Colston have just about squashed that theory. Dez Bryant enters into a ready-made situation with one of the best teams in the league. It's obvious that Dallas realizes the errors of its ways in the form of WR Roy Williams. They needed a #2 to complement Miles Austin and plucked Bryant in the first round, much to the chagrin, I'm sure, of Williams.
Dez Bryant injured his ankle during training camp and probably won't be back until the first of September. That could potentially drop him a round or two in your draft. That's okay. There's even a chance his missed time during training camp could hinder his production this year, but from all accounts, the guy is a beast whose talent jumps out at you. He will be a starter by mid-season and give QB Tony Romo the second receiving option he's longed for since his ascension to the starting QB position.