Young Targets




7/1/10



The past two off-seasons we have examined the conventional wisdom in the fantasy football community which warned owners to stay away from rookie wide receivers in redraft leagues. While generally you are still better off spending high draft picks on the "sure thing studs" and mid-round picks on those crafty veterans that still produce, there's some value to adding a rookie wide receiver to your squad in the later rounds of your draft. The data we examined showed that in recent seasons (over the last 10-12 years), at least one rookie wide receiver has emerged as a legitimate fantasy starter, and in most years, two or more rookie wideouts have been worthy of entering Sunday lineups.

Last season was no exception. In fact, at least five rookie WRs likely found their way into starting lineups in leagues which required at least 3 starting WRs. Hakeem Nicks, Percy Harvin, Mike Wallace and Jeremy Maclin were all above 700 yards receiving - the mark I have used to reflect the yardage minimum one would expect from a fantasy football starter at the position - and Austin Collie just missed the 700-yard threshold but led all rookies with 7 TD receptions. All but Maclin scored 6 or more TDs – a more than acceptable total for a WR2 or WR3 on your fantasy squad. All in all it was a banner year for rookie receivers. While none approached Randy Moss or Anquan Boldin rookie season territory, the fact that five rookie wideouts were extremely relevant in redraft leagues tells us, as Bob Dylan once proclaimed, "the times they are a changing."



It seems that rookie wide receivers are now more equipped to transition from the college ranks to the NFL without the extended learning curve that was the norm in the past. Why has this happened? The reasons aren't necessarily relevant - but some theories are included in my past articles - all we really need to know is that it has been happening for over a decade now.

Without rehashing my entire work from the past two years – the most important characteristics to look for while attempting to find a successful candidate from the pool of rookie wideouts are fairly obvious: opportunity and draft position.

Obviously a young wide receiver sitting behind a veteran will not help your fantasy squad. The player's superior talent or an injury to an incumbent must get the rookie on the field in order for him to produce. It's no surprise to anyone; without opportunity, there can be no production.

The second criteria, draft position, while slightly less obvious, is still a pretty easy correlation to make. The data showed that all but a small percentage of fantasy relevant rookie receivers were drafted in Rounds 1 and 2 of the NFL Draft. The draft position of the player generally reflects their talent level (The Oakland Raiders notwithstanding) – while also helping to create the opportunity. A highly drafted player is more likely to see the field as a rookie for obvious reasons. The 2009 class was hardly an exception to this rule. Harvin, Nicks and Maclin were all chosen in the first round of the draft. Wallace and Collie were the "exceptions", but didn't fall that much farther having been drafted in Round 3 and 4, respectively.

Further delving into the data, we also saw that size does indeed matter. The results of the study conducted in the 2008 preseason showed that a "big" WR was much more likely to come out of the gates running. Most of the successful rookies were at least six feet tall and most were at least 200 pounds. However, the "size" criteria was turned on its head at the conclusion of the 2008 season. Both WRs that emerged in 2008 were only 5'10" with Eddie Royal weighing only 182 pounds and DeSean Jackson a mere 175 pounds. The 2009 class, however, turned the tide back towards the "size matters" theory, although it wasn't exactly crystal clear since only Nicks exceeded the 6' and 200 pound threshold. Collie, Maclin and Wallace were all listed right at the cutoff of 6', 200 lbs., so perhaps we should call them "tweeners" instead of "big". Percy Harvin was the only "small" target, however as a former college running back he certainly wasn't slight of build and was a beast with the ball in his hands – and let's face it at 5'11" and 195 pounds he could have been lumped into the "tweener" category as well.

Summarizing the past data and knowing it could be as little as one or two rookie wide receivers worth acquiring for your redraft squad, you should generally only look at wide receivers that were drafted within the first two rounds, are of at least average size (but bigger is better) and of course will more than likely be given an opportunity to receive playing time. There are exceptions of course, but if you are going to take a risk, it may as well be an educated one.

Below are the top five rookie wide receivers that are most likely to breakout in my opinion during the 2010 season. If you want to really impress your league mates, and get closer to your league's trophy while taking on a little risk for a potentially high reward, grab one of these guys as your WR4 or WR5 instead of a an uninspiring veteran like Michael Jenkins, Justin Gage or Tory Holt in the later rounds of your draft.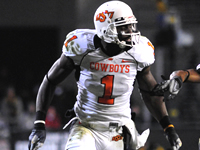 Bryant: Obvious rookie impact.
Dez Bryant, DAL: Bryant is by far the most obvious and most likely breakout rookie of this class. The 6'2", 225-lbs. receiver from Oklahoma State, was drafted in Round 1 by the Dallas Cowboys and has drawn comparisons to some of the better receivers that have played in the NFL including Larry Fitzgerald and Michael Irvin. Bryant has more than adequate speed to get deep and can make big plays out of short catches. He attacks the ball in the air and uses his size to keep cornerbacks at bay. He should be an immediate starter (does anyone really think Roy Williams will hold him off?) on one of the best offenses in the NFL. Potentially holding him back are all the mouths Tony Romo has to feed, but with defenses having to fear Miles Austin and concern themselves with Jason Witten, Bryant should have room to make plays. He is the only rookie worth a mid-round pick in redraft leagues.
Arrelious Benn, TB: Benn often draws comparisons to Anquan Boldin due to his size (6'1", 219) and run-after-the-catch abilities. The problem is he occasionally shows a lack concentration and drops a few catchable balls – but at the same time has shown the ability to take a big hit and still hold onto the football. The Buccaneers traded up three spots in the second round to select the Illinois receiver, and with the lack of serious competition in Tampa Bay, Benn could see himself lining up opposite fellow rookie Mike Williams in the starting lineup on opening day. At the very least Benn should find himself splitting reps with Williams and second-year WR Sammie Stroughter in a 3-wide-receiver rotation. Benn may be inconsistent given his and QB Josh Freeman's inexperience – but just take one look at what Anquan Boldin did as a rookie and you just may be tempted to grab Benn a round earlier than his current ADP of 14.06.
Mike Williams, TB: As stated above, the Buccaneers just may be lining up two rookies at WR during the 2010 season. That may not bode well for the Tampa Bay offense, but it does give two good opportunities for rookie production. Williams was arguably a first round talent that slipped to Round 4 due to his decision to bail on the Syracuse football team during the 2009 season. He is capable of making big plays and has really impressed the coaching staff and beat writers in Tampa during his OTA workouts. Williams is 6'1" and 221 pounds so he has the size to create mismatches in the secondary. Between Williams, Benn and TE Kellen Winslow there may be a few sore cornerbacks in the locker room after facing Tampa Bay this upcoming season.
Demaryius Thomas, DEN: Thomas was curiously the first wide receiver taken in the draft, when Denver passed up Dez Bryant. Thomas is a bit raw coming out of Georgia Tech, but due to his size (6'3", 224) and speed combo and where he played college ball he has drawn comparisons to Calvin Johnson. He's not as fast as Johnson, and if it wasn't for the Georgia Tech connection the comparisons probably would have never been uttered, but he does have skills. Someone will need to replace Brandon Marshall's production and Thomas will at the very least be used to stretch the field so that veterans Jabar Gaffney and third year receiver Eddie Royal can work underneath. Thomas' height, speed and strength should allow him to win some deep balls down the sideline allowing him to break a big play which in turn allows him to put up nice fantasy points even in games where he only manages a few catches.
Golden Tate, SEA: Ok so he's only 5'10" 199 pounds, but there's no denying that he'll have an opportunity and with a second-round pedigree he fits all the criteria otherwise. Tate is an interesting prospect in that he has the skills to advance the ball after the catch due to his superb vision and agility and the speed to get deep – so he can be effective underneath or downfield. At Notre Dame he showed the ability to win the ball in the air, but will his height translate to the next level? By all accounts, disappointing free agent acquisition T.J Houshmandzadeh will be handed one starting spot, but the opportunity to line up across from him will be wide open. Tate will need to beat out career underachievers Deion Branch and Big Mike Williams, with the stiffest competition likely coming from second year wideout Deon Butler. Butler and Tate have similar styles so it will likely come down to the wire in training camp, but Pete Carroll could just be inclined to award a close call to the guy he drafted over the incumbent.

Waiver wire sleepers, but not worth a draft pick except for deep leagues:

Emmanuel Sanders, PIT: He should take over the slot role that allowed Mike Wallace to appear on the list above. He has really nice speed and adjusts to the football well on deep routes, so he could catch a few long passes this season. Sanders could be a decent bye week filler when the Steelers face a poor pass defense.

Eric Decker, DEN: Decker is a possession type WR that could be a solid weekly contributor immediately in point per reception leagues if he gains Kyle Orton's trust. While his ceiling is likely limited, a good possession WR is an often-overlooked asset in fantasy football.

Mardy Gilyard, STL: Gilyard should compete for time in the slot in St. Louis this season. And if Donnie Avery fails to further progress or if Laurent Robinson fails to stay healthy once again, he could be in for a bigger role. Bradford is a strong deep passer and Gilyard can fly.