Everyone knows to start Peyton Manning every week, regardless of the match-up. But not all decisions are as easy at that one. So to help you decide who you should start and who you should bench I have identified the players at the QB, RB and WR positions that should excel this week and should be started, as well as the players who will struggle this week and should be benched.

Let's start with the QB position. You shouldn't have to be told, but just in case... always, always start the following players: Peyton Manning, Tom Brady, Drew Brees, Aaron Rodgers, Matt Schaub, Tony Romo, Philip Rivers, and after last week's performance against the Ravens, Kyle Orton has made me a believer. Now onto the question marks…

Quarterbacks
Bye Weeks: Arizona, Buffalo, Carolina and Cincinnati, so that means Max Hall, Ryan Fitzpatrick, Jimmy Clausen / Matt Moore, and Carson Palmer are all benched. Anyone gonna miss Hall, Fitzpatrick or Clausen? Didn't think so...

Start 'Em:
Quarterbacks Who Will Outperform Relative To Their Draft Position And Recent Hype

Matt Cassel @ HOU
Only two teams in the league give up over 300 yards per game passing and the Texans are one of them. In fact, they are the worst passing defense in the NFL and the 31st ranked defense overall in yards allowed and 26th ranked overall in points allowed. Only the Jaguars have given up more big plays or TDs, and only the Patriots allow a higher completion percentage. Matt Cassel is horrible, averaging just 163 yards per game to go with his 4 TDs and 3 INTs, but this matchup is the perfect medicine for a struggling QB.

Eli Manning vs. DET
Eli takes on the 24th ranked pass defense of the Lions. Detroit is giving up 235 yards and nearly 2 TDs per game passing. They are coming off a solid game against rookie Sam Bradford (gave up just 215 yards and 0 TDs in a blowout win) but Manning has been on fire the last couple of weeks, especially to his new favorite target Hakeem Nicks (sorry Steve Smith). Manning is 7th in the league in both passing yards and passing TDs and should easily meet or exceed his 260 yards per game average this weekend.

Ben Roethlisberger vs. CLE
Big Ben is back and gets to face the lowly Cleveland Browns in his tune-up game. Cleveland's average pass defense allows 223 yards per game, has given up 8 TDs with just 3 INTs, and allows opposing QBs a 96.7 rating. Obviously there are no 2010 stats to consider for Roethlisberger so I'm going off reputation and past performance but considering Ben is at home, this seems like a no-brainer.

Jay Cutler vs. SEA
Right now Cutler is expected to start this weekend's game against the Seahawks so I'm assuming he will play.. If so, he's a good option against the 31st ranked passing defense – the only other team besides Houston to give up over 300 yards per game (302). Cutler should be over his beating at the hands of the NYG, and ready to get back into the Mike Martz pass-happy saddle. Cutler was playing well until that Giants game and I look for him to get back on track against the weak passing defense of Seattle.

Bench 'Em:
Quarterbacks Who Will Under Perform Relative To Their Draft Position And Recent Hype

Colt McCoy @ PIT
Colt McCoy, welcome to the NFL. The rookie QB will make his first ever NFL start – on the road – against the Pittsburgh Steelers defense – coming off a bye week. The Steelers do give up 226 yards per game through the air but only 2 TDs through four games. In addition, they have 6 INTs, 11 sacks, and allow a QB rating of just 71.6. With Seneca Wallace and Jake Delhomme both hurting (ankle injuries), the Browns have no other option but to throw McCoy to the wolves. And just in case Delhomme or Wallace recovers enough to start the game, leave them on your bench also.

Sam Bradford vs. SD
Last week the rookie QB was held to 215 yards passing and 0 TDs. This week he faces a much tougher pass defense than the Lions, and will be without his top WR Mark Clayton (for the rest of the year). The Chargers are the 3rd best pass defense in the league, giving up just 160 yards per game and 4 TDs. They have 7 INTs, 18 sacks (4th best in the league), and a league best 63.6 QB rating. Bradford's 6 TDs versus 8 INTs and his 66.5 QB rating do not bode well for him this week against San Diego so leave this rookie on the bench as well.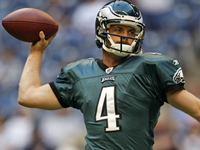 Pull the plug early on Kolb.

Kevin Kolb vs. ATL
As of this writing, Kolb was listed as the probable starter, replacing the injured Michael Vick for the second week in a row. The Falcons are giving up a worse than average 223 yards per game but their real strength is in turnovers and passer rating. They lead the league with 10 INTs, have one of the better QB ratings allowed (72.5) and are one of the stingiest defenses in giving up big plays. Overall the Falcons only allow 14 points per game and average just 1 TD allowed per game through the air. Kolb is looking over his shoulder as he waits for Vick to be healthy again… I would jump the gun and bench Kolb now.

Shaun Hill @ NYG
With Matthew Stafford still not practicing or expected to play this weekend the surprising Shaun Hill keeps his role as Lions starting QB for another week. Hill is 12th in passing yards with 1,229 and tied for 7th in TDs with 8. However, the possibility of not having Calvin Johnson – and certainly not having a healthy Calvin Johnson, in the lineup this week, Hill faces the league's top ranked pass defense – the NY Giants. The G-men are 3rd in the league in sacks, allow the second fewest big plays, allow the second lowest passer completion percentage (54.7), and give up just 146 yards per game. This could be a long day for Hill so it's best to sit him this week.

Running Backs