Everyone knows to start Peyton Manning every week, regardless of the match-up. But not all decisions are as easy at that one. So to help you decide who you should start and who you should bench I have identified the players at the QB, RB and WR positions that should excel this week and should be started, as well as the players who will struggle this week and should be benched.

Let's start with the QB position. You shouldn't have to be told, but just in case... always, always start the following players: Peyton Manning, Tom Brady, Drew Brees, Aaron Rodgers, Matt Schaub, Tony Romo and Philip Rivers. Now onto the question marks…

Quarterbacks
Bye Weeks: Dallas, Kansas City, Minnesota, Tampa Bay, so that means Tony Romo, Matt Cassel, Brett Favre and Josh Freeman are all benched.

Start 'Em:
Quarterbacks Who Will Outperform Relative To Their Draft Position And Recent Hype

Matt Ryan vs. SF
The 49ers only give up 217 yards per game, but they are horrible in most other passing categories. They've allowed a league high 7 TDs, the fifth worst yards per attempt average (7.7), the second worst completion percentage (71%), the second worst QB rating allowed (109.8), and they have only 3 sacks in 3 games – in addition to allowing a league high 87 points (tied with Buffalo). Ryan is averaging 235 yards per game and has a 5-to-1 TD / INT ratio. He should pick apart the 'Niners and pad his stats.

Mark Sanchez @ BUF
Sanchez shut me up last week with his second consecutive solid outing. Is it possible that Mr. Inconsistent is becoming Mr. Reliable? He should easily continue his success this week against Buffalo. The Bills are allowing 221 yards per game, give up 7.7 yards per completion, have given up 5 TDs without a getting a single INT, have just 4 sacks, and are tied for the league lead in points allowed (87),. Sanchez only averages 183 yards per game but has 6 TDs, 0 INTs and a QB rating of 104.9 – the sixth best in the league. Look for him to have his third straight impressive outing.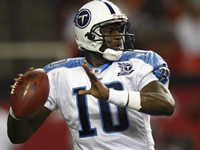 Take the FPts and don't ask questions.

Vince Young vs. DEN
Vince Young takes on a Denver defense currently giving up 7.4 yards per completion, 240 yards per game, a league high 7 TDs, the fourth highest number of big plays (20+ yards), a 96.7 QB rating and just 2 sacks. Young, meanwhile, is averaging just 112 yards per game, has 3 TDs and 2 INTs, but has a 96.9 QB rating and is completing nearly 70% of his passes. He hasn't done much on the ground (except fumble) so I'm predicting a big rushing game for him in addition to his passing stats. Clearly this is a vote against Denver's pass defense more than a vote for Young's quarterback skills, but hey, you take it anyway you can get it.

Alex Smith @ ATL
Now that offensive coordinator Jimmy Raye has been fired how long will it be before a QB switch is made to David Carr? Smith is averaging a decent 244 yards per game, although mostly because they've been getting their butts kicked and need to throw. He has just 2 TDs to go along with his 5 INTs, and his QB rating is second lowest in the league for starting QBs – right behind Brett Favre (Matt Moore's is worse but he's no longer the starter – for now). Atlanta gives up the fourth most yards per completion (7.9) and 238 yards per game, and while their other pass defense stats are good, I'm anticipating a 49ers coming out party this weekend led by Mr. Smith.

Eli Manning vs. CHI
For as good as the Bears run defense is, their pass defense is can be exploited. Chicago is 28th in the league, giving up 279 yards a game. The Bears give up the third most pass attempts per game at 43. They don't give up big plays or many TDs (just 2), but they also don't get to the passer (just 2 sacks) – a trend Eli would love to see continue. Manning is averaging 270 yards a game., has 5 TDs and 6 INTs, but at least half of those INTs were no fault of his own. Let's excuse his stupidity (last week's goal line "flick" that was intercepted) and look for Eli to have another big day through the air, at least with yardage if not TDs.


Bench 'Em:
Quarterbacks Who Will Under Perform Relative To Their Draft Position And Recent Hype

Bruce Gradkowski vs. HOU
The Houston Texans pass defense; you all remember them, right? The team giving up a league high 369 yards per game, and the only team to allow 1,000+ yards passing. The team giving up the second highest yards per completion (9.1), and one of only three teams with 0 INTs. The team giving up the second most big plays (20+ yards) in the league and the worst QB rating allowed at 116.8. And yes, the team allowing the highest completion percentage in the league at 73%. However… Gradkowski is still settling in, has completed just 50% of his passes to date, and is only averaging 208 yards per game. It's true, you can't run on the Texans so Gradkowski will get his opportunity but my hunch is we may see Jason Campbell before it's all said and done.

Jimmy Clausen @ NO
Is he better than Matt Moore? Yes! I could've told you that as soon as the Panthers drafted him. Getting rid of Delhomme was the right thing to do, but counting on Matt Moore was not. Clausen made his debut last week and had basically the same average stats that Moore had in his first 1½ games. New Orleans' pass defense is nothing special – pretty average across the board but after an OT loss against a division rival (Atlanta) last week the Saints will be head hunting. I would not want to be this rookie QB this week.

Charlie Batch vs. BAL
Headline: Third string QB takes on league's best pass defense. Baltimore gives up 117 yards per game – best in the league, has allowed 1 TD – best in the league, and only 4 big plays (20+ yards) – the best in the league. They have 0 INTs and only 5 sacks, but opposing QBs only complete 55% of their passes (4th best in the league). There's no way Batch has a big game against the Ravens. Now Rashard Mendenhall, that's another story…

Ryan Fitzpatrick vs. NYJ
Big deal, Trent Edwards was cut and is now in Jacksonville. All that means is fans will start screaming for Brian Brohm in a week or two. It's not Fitzpatrick (or Edwards') faults – the Bills coaching choices have been as perplexing as the Raiders over the years. The Jets pass defense is as surprisingly bad as the Ravens run defense this year. The Jets are allowing 275 yards per game – 27th in the league! Guess they should've had things worked out with Revis sooner. Revis is unlikely to play this week with his bad hammy but even without Revis and the poor start the Jets have gotten off to I don't see Fitzy lighting up the scoreboard.

Running Backs