Everyone knows to start Peyton Manning every week, regardless of the match-up. But not all decisions are as easy at that one. So to help you decide who you should start and who you should bench I have identified the players at the QB, RB and WR positions that should excel this week and should be started, as well as the players who will struggle this week and should be benched.

Let's start with the QB position. You shouldn't have to be told, but just in case... always, always start the following players: Peyton Manning, Tom Brady, Drew Brees, Aaron Rodgers, Matt Schaub, Tony Romo and Philip Rivers. Now onto the question marks…


Quarterbacks
Start 'Em:
Quarterbacks Who Will Outperform Relative To Their Draft Position And Recent Hype

Brett Favre vs. DET
I'll admit, I'm a huge Brett Favre hater. I don't like how he manipulates teammates and franchises, or how he teases fans with his selfish need to be adored and "wooed" back to play again. And I don't like his special treatment. But I feel this is the week that Favre and the Vikings offense, specifically their passing game, gets going. Detroit is one of just four teams giving up 300+ passing yards per game; they're tied for the lead league for the most 40+ yard pass plays; they give up the second most yards per pass play at almost 10 a pop, and they allow the third worst QB rating to opposing QBs. The Vikings are desperate at 0-2 and are playing at home, all of which adds up to a big game from the attention craving Favre.

Donovan McNabb @ STL
I'm hesitant to go with McNabb because of his huge week last week and the fact that the Redskins are coming off a painful loss. But the Rams give up 250 passing yards per game and allow the third most plays of 20+ passing yards a game. The Redskins offense will definitely be better balanced between the run and the pass but McNabb should still have a big game for you.

Joe Flacco vs. CLE
Joe Flacco? You might be wondering how this guy is even playing this week after last week's performance, but I still see Flacco having a big year statistically. The Bengals game is one of those you write off and forget it ever happened – yes that includes the 4 INTs. What makes this pick even more risky is that the Browns are only giving up 171 passing yards per game; give up a QB rating of just 67.4; and have more INTs than they've allowed TDs. It's a division game with a rivalry involved (the "old" Browns vs. the "new" Browns) and I just don't see Flacco having another game like last week all season long. Put last week behind you and start Flacco.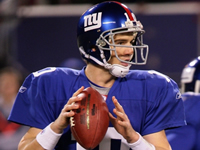 Manning owners are hoping for rebound performance against Tennessee.

Eli Manning vs. TEN
OK, now I'm just losing it – I'm suggesting you start Eli Manning who was just obliterated by the Colts and he faces the league's best pass defense - the only pass defense in the league giving up under 100 yards per game. The pass defense that has allowed the least first downs (9), the lowest yards per play (4.1), the seventh lowest passer rating (65.6), the tenth lowest passer completion percentage (57), the fourth lowest number of completions (31), and the only team to give up just 1 pass play of more than 20 yards this year. Amazingly, I haven't talked myself out of this recommendation. These stats were all generated against the Raiders and Steelers so I'm still sticking with the "Manning Light" brother to have a big game at home against the league's best pass defense; I mean really, how long can the Titans continue to hold NFL teams under 100 yards per game?


Bench 'Em:
Quarterbacks Who Will Under Perform Relative To Their Draft Position And Recent Hype

Josh Freeman vs. PIT
Freeman takes on the pass defense with the sixth lowest QB rating (63.6), the eighth lowest yards per play average (5.9), the most INTs and the fourth most sacks in the league. The Steelers are winning with defense and there's no reason why that trend won't continue. If you've bought into any kind of hype about Freeman I urge you to wake up. No good can come from Freeman taking on the Steelers' defense.

Sam Bradford vs. WAS
Yet another "backwards" pick for me this week. The Redskins pass defense is the absolute worst in the league except for the Texans. They've given up the most attempts (100), the most completions (69), the second most yards (745), the most first downs (38), the third most TDs, the most 20+ yard pass plays (12), the fifth worst passing yards per play average (7.8) and the seventh worst QB rating (101). So aside from how the heck are the Texans worse than this, my main question is do you really think the Rams, led by rookie QB Sam Bradford are going to follow this trend? No way. The Texans destroyed the Redskins through the air and Mike Shanahan will not allow that to happen again this week.

Shaun Hill @ MIN
The Vikings are a top-10 pass defense right now and they'll need to carry the mail to help keep the team from dropping to 0-3. They're in luck as they get to play the Lions at home – a Lions team not led by the promising youngster Matthew Stafford, but by journeyman QB Shaun Hill. I expect this game to be very long, painful and ugly for Hill so stay away.

Kyle Orton vs. IND
Kyle Orton leads his clueless Denver Broncos into Indy to face the same wrath that Eli Manning just endured. While I doubt his day will be as forgettable as Eli's was, I still expect the leagues #4 pass defense to make you wish you hadn't played Orton all day long. The Colts have given up the fewest completions and allowed the least attempts in the league – mainly because of their Week 1 beating on the ground by the Texans, but still, we're talking about a defense giving up just 118 passing yards per game.

Running Backs