Since it's 2020, perhaps it is only fitting that fantasy managers face the most daunting challenge ever. We have seen a ridiculous amount of injuries to high-profile players. We have seen games postponed on short notice causing one bye to pop up out of the blue, due to Covid-19. We have seen shocking results, such as the Falcons and Texans starting 0-4 and the Cowboys starting 1-3.

All of the upheaval, and the challenges coming in from various angles has left many fantasy managers grasping at straws to try to save their season. Here is an important fact to keep in mind: the way you get out of a hole is not by winning a bunch of games, but rather by winning one game at a time. And the way to win one game at a time is to make smart moves, add quality players, and start the right guys. In this article I cannot help with all of that, but I hope to give you some data to help you choose the right players. Below I'll look at the usage (snaps and level of involvement) of some running backs, wide receivers, and tight ends to help you see who might be primed for future production.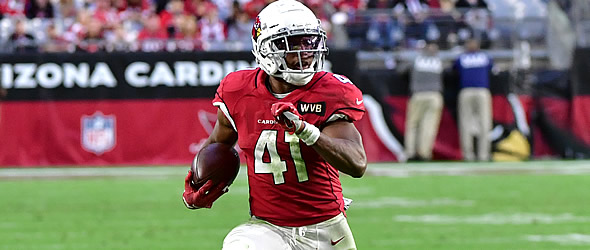 Running Back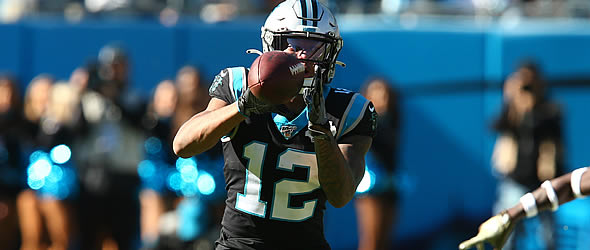 Wide Receiver
Avoid all Jets, but an unowned player to keep in very far corner of the back of your mind is Jeff Smith. He played on 95% of the snaps and went 7-81 on 9 targets. It looks like he will get the most action at receiver other than Crowder, at least until Breshad Perriman returns. But I repeat: avoid all Jets.


Christian Kirk (3-19-1) played on 65% of the snaps and Andy Isabella played on only 42%, while Larry Fitzgerald played on 93%. Getting Isabella (2 catches for 3 yards) on the field more is a must for the Cardinals coaching staff, even if that comes at the expense of a Hall of Famer (Fitzgerald had 2 catches for 4 yards).


D.J. Moore led all skill players in snaps (77%), but did virtually nothing with them (4-49 on 6 targets). He has been one of the most disappointing players in the NFL through 4 weeks, and you should consider benching him until he shows something.


Meanwhile, Robby Anderson continues to ball out, catching 8 balls for 99 yards on 11 targets. He is a must-play and is currently the No.1 WR on the Panthers. He did this Sunday on only 57% of the snaps.


D.J. Chark returned and played 85% of snaps, and produced like a stud (8-95-2 on 9 targets). He will likely struggle against good defenses, since Minshew is limited, but in good matchups he is a must-play.


Laviska Shenault played on only 54% of snaps but was the second option in the passing game, getting 6 targets (5-86). He is shaping up to be a nice flex play in good matchups.


A.J. Green's days as a relevant fantasy player appear to be done. He played 77% of the snaps and received 5 targets, but only caught 1 for 3 yards. Meanwhile, Tee Higgins produced 4-77 on 7 targets on 57% of snaps, and Tyler Boyd produced 7-90 on 8 targets. I would not be surprised if Green is phased out of the offense.


Odell Beckham Jr. played on 77% of the snaps and finally produced like a top WR (5-81-2 on 8 targets). He also had 2 rushes for 73 yards, including a 50-yard touchdown run. This will likely be his best game of the season, considering that even on such a huge day Mayfield only passed for 165 yards. He will have a few big games, but his standard game on this offense will likely be underwhelming.


Again Michael Gallup played the most snaps among Dallas WRs (82%) but produced very little (2-29 on 5 targets). He should be benched until he can show up in a bigger way. Meanwhile Amari Cooper finished with a whopping 16 targets and went 12-134-1, and Ceedee Lamb received 7 targets and went 5-79-2. Both have become weekly auto-starts in this crazy passing offense.


With Michael Thomas sitting again, Emmanuel Sanders received more than twice as many targets as the most-targeted player on the Saints (9). He went 6-93. It looks like the Saints offense will be much tougher to stop once Sanders and Thomas are both healthy.


Marvin Jones and Kenny Golladay played on 89% and 82% of the snaps, respectively. Golladay received 8 targets (4-62-1) while Jones only received 2 targets (1-9). Hopefully this was just a strange game and he'll go back to being more heavily targeted in future weeks.


Brandin Cooks played on 93% of the snaps and received 3 targets, but finished the day with 0 receptions. He should not be started until he shows he can click with Deshaun Watson and be productive in this offense.


Will Fuller had a nice game in Week 4, producing 6-108-1 on 7 targets, on only 77% of the snaps. He is always going to be a boom-bust option, but should be started against every poor or average defensive secondary.


DeVante Parker played on 80% of the snaps and received 12 targets! He continues to be heavily relied on by Fitzpatrick, and it will be interesting to see how the target distribution changes once Tua Tagovailoa comes in. For now, Parker is a great weekly play due to volume.


Isaiah Ford did had 10 targets, but only produced 4-48. He is a decent player but is not special as a talent, and at some point you would expect Preston Williams to start getting more involved.


Jalen Guyton played on 85% of the snaps for the Chargers, but was targeted only once. Fortunately for him, it was a 72-yard touchdown reception. I have no idea why he wasn't targeted more often, but Herbert seems to only have eyes for Keenan Allen.


Speaking of Allen, he received 12 targets on 25 passing attempts, an insane target share. He turned those 12 targets into only 8-62, but since he's the focus of the passing game and Herbert has been decent so far, his stock remains sky-high.


With Godwin out, Justin Watson played on 74% of the snaps. However, he only received 6 targets (4-40). Mike Evans played on 71% and received 8 targets (7-122-1). Scotty Miller played on 53% and received 7 targets (5-83-1). Likely Miller and Evans will continue in their roles but receive fewer targets when Godwin is in the lineup.


Marquise Brown played on 75% of the snaps and received 8 targets, but only went 4-86. The Ravens just did not have to throw the ball much to beat Washington, but his usage was encouraging nonetheless.


Terry McLaurin had a ridiculous 14 targets, catching 10-118. Even dealing with an injury and against a great defense, he was fantastic. Haskins was not great but was not terrible, so he is likely going to remain in the lineup for now, and that is both a positive and negative for McLaurin. He could really explode with a better QB under center, but Haskins targets him a ton. Either way, McLaurin needs to be started every week.


Zach Pascal and T.Y. Hilton both played 75% of the snaps. Pascal received 8 targets to Hilton's 5, and both caught 3 balls (3-58 for Pascal, 3-29 for Hilton). The truth is that you want to avoid all pass-catchers in this slow-paced, antiquated offense, but Hilton has not been a good play once in the first four weeks. He should sit on your bench, and is a cut in shallow leagues. Meanwhile, Pascal makes for an interesting flex play if his usage continues.


Bills WR snaps: Diggs 92%, John Brown 85%, Gabriel Davis 59%, and Cole Beasley 30%. McKenzie and Roberts also played 34% and 10% of snaps. It is clear that the coaches want Diggs and Brown on the field for basically every snap, and the rest are fighting for roles. Davis was only targeted once, but scored on a 26-yard touchdown. Beasley, meanwhile, got 4 targets on half as many snaps, and went 3-32-1. Diggs and Brown are the only receivers on the Bills I am comfortable starting, unless desperate.


Deebo Samuel returned but only played on 34% of snaps. He seemed to share snaps with Kendrick Bourne. Brandon Aiyuk led the WRs in snaps, at 88%. Likely they were just easing Samuel back in, and he and Aiyuk should play virtually every snap together moving forward. Both are dynamic and make for nice weekly options, especially once Garoppolo returns.


Damiere Byrd played on 97% of snaps and received 10 targets (5-80) for the Patriots. This has been the case all season, as he has locked down his role as their top outside receiver. He is not very dynamic, but he should be rostered simply because of his involvement. Harry and Edelman received 6 targets, but each only caught 3 of them. They played 76% and 61% of snaps, respectively.


Olamide Zaccheaus played the most snaps among Falcons' receivers (76%). Calvin Ridley played 64% and Julio Jones left early and played only 21%. While Ridley caught zero of his five targets, Zaccheaus caught 8 of his 9 targets, for 86 yards. Since it appears the Falcons will be trailing weekly, and Jones might be out for a while, Zaccheaus is a nice pick up if you need a receiver.

Tight Ends
---
Kevin Scott is a fantasy pro who is the co-host for The Lowdown Fantasy Football Podcast. He plays in over 40 leagues annually and has made over $100,000 playing fantasy football. You can follow him @kevinscottff.