In this era of pass-happy offenses, four-wide and five-wide receiver sets, the "workhorse" running back is a rarity. You can count the really good ones on one hand. (For reference, my definition of workhorse is a three-down back who can block or catch the ball out of the backfield in third-and-long situations as well as elite running on early downs.)

With this workhorse scarcity, the math doesn't easily work for a league full of fantasy owners.

A 12-team league, in this era of byes, injuries and Covid-19 quarantines, must have at least three viable fantasy-worthy running backs available and probably four. But that would require 36-48 decent running backs options in a league with only 32 starting running backs.

So the question for every fantasy owner is simple. Where can I find viable fantasy running backs other than the obvious?

The answer is the hard part.

My search for No. 3 and No. 4 running backs in PPR leagues takes me to the land of targets.

Running backs catch a higher percentage of targets than either tight ends or wide receivers. In 2020, 164 backs caught 75.97% of all passes thrown their way. In comparison, 127 tight ends caught 67.4% and 224 wideouts 65.49%. That's been pretty consistent over the years.

Therefore, targets turn into fantasy points pretty easily for running backs. Just four targets a game will reliably equal three points plus yardage and touchdowns. In fact, last season 3297 pass attempts to backs earned 4970.4 points or 1.51 points-per-target and 1.98 points-per-catch. So those four targets are worth on average almost six points before a running back counts his rushing yards.

Two of the top-three targeted running backs last season were backups – J.D. McKissic and Nyheim Hines. Neither would be fantasy-worthy in non-PPR leagues. McKissic produced 12.1 FPts/G and Hines 12 FPts/G in full PPR leagues versus 8.0 and 7.1, respectively in standard leagues. In last season's top-48 fantasy running backs, 14 of them were non-starters who were greatly assisted by catching passes. Besides McKissic and Hines, Chase Edmonds, Giovani Bernard, Kareem Hunt and both Rex Burkhead and James White in New England among others, all benefited from having good hands.

For fantasy owners in 2021, the goal, therefore, is to identify the non-starting pass-catchers in every backfield.

Let's begin our search.

Arizona – Chase Edmonds has moved from backup to Kenyan Drake to starter with James Conner the backup. Conner has caught 124 balls over the past three seasons in Pittsburgh, but he doesn't figure to be a third-down back type with Edmonds' catching ability. We will keep on searching.

Atlanta – Mike Davis caught 59 balls in Carolina as a starter for injured Christian McCaffrey and unless/until the Falcons sign another running back he'll be the pass-catcher out of this backfield as well as the starter.

Baltimore – The Ravens and Lamar Jackson don't throw enough to running backs to produce a viable pass-catching option. In 2020 they threw just 63 targets to five different backs.

Buffalo – The Bills, under a much improved Josh Allen, became a pass-first offense last season which could make Devin Singletary (38 receptions) an option even while Zach Moss figures to be the No. 1 rusher in Buffalo.

Carolina – If McCaffrey stays healthy there are no backups of value as he's a premier three-down back. Expected handcuff, Chuba Hubbard (4th-round pick from Oklahoma State), caught just 53 balls in 33 games for the Cowboys. If CMC were to go down to injury again, this would probably end up being an RBBC with Reggie Bonnafon.

Chicago – David Montgomery both ran and caught the ball last season becoming a solid fantasy option, but beware Tarik Cohen (still on PUP list) should return sometime this season and newcomer Damien Williams (from KC) will likely take many of his 2020 68 targets and 54 receptions. If Cohen (ACL) is his old self (14.7 FPts/G in 2018 and 10.2 FPts/G in 2019) he could be a viable option, but that remains to be seen if he still has the speed and agility from the past.

Cincinnati – With Bernard in Tampa Bay, it's no wonder Joe Mixon's ADP has shot through the roof as there is no one on the roster to fill those receiving shoes except the starter.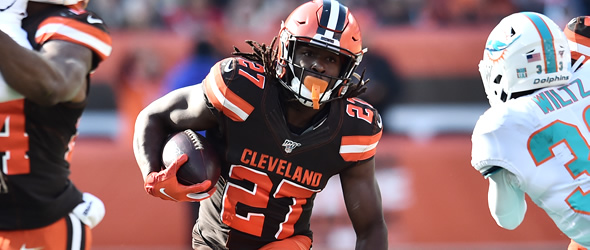 Cleveland – Nick Chubb is an elite runner, but Kareem Hunt is almost as good and a great receiver. He's the No.1 non-starting fantasy option and worthy of his high 52.7 ADP.
Dallas – Ezekiel Elliott led the Cowboys running back room in both rushing and receiving last season and will continue to lead them in both this season. Tony Pollard can also run and catch, but he won't replace Zeke as a third-down receiver. Pollard is a handcuff only.
Denver – Even when Melvin Gordon was in LA with Austin Ekeler, he received his fair share of targets catching 41-or-more balls during his last four season in Southern California. While his rushing work may be in danger from rookie Javonte Williams, Gordon should stay low-end fantasy-worthy even if he loses the starting role. Williams shared the receiving work at UNC with Jets rookie Michael Carter. In 34 college games he caught just 50 balls.
Detroit – Starter D'Andre Swift was also the pass-receiver out of the backfield in 2020, but new backup Jamaal Williams was a very good pass-receiver behind Aaron Jones in Green Bay and likely will take a good bite out of Swift's workload in this area to help the second-year back stay healthier. The Lions' best offensive talent is in this backfield and both should end up being viable fantasy options.
Green Bay – Jones will dominate this backfield, particularly in passing situations with AJ Dillon replacing Williams as his backup. Dillon caught very few balls at Boston College (21 in 35 games) and two balls in nine games for the Packers last season. Third-stringer Kylin Hill (Mississippi State rookie) could someday develop into a third-down back, but it's unlikely to happen this season.
Houston – Starter David Johnson is a solid receiver, but new backup Phillip Lindsay is a very good receiver too catching 70 balls over two seasons in Denver. My preference is to stay away from this offense given all the question marks, but Lindsay could be a low-cost selection with a decent ceiling if things fall his way. Beware of Rex Burkhead mucking things up like he used to do in New England.
Indianapolis – Jonathan Taylor is getting plenty of hype after a very good rookie season, but Hines should continue to be a viable fantasy option. Despite Taylor likely seeing 300 touches, Hines is good enough to carve out a useful role. Marlon Mack could be a fly-in-the-ointment for both Taylor and Hines, but he could also be traded to a running back needy team (Atlanta) if he shows he's healthy.
Jacksonville – James Robinson was in danger of losing a lot of work to 2021 first-round selection Travis Etienne, but with news of the rookie's Lisfranc injury during the Week 2 preseason game and an expected 2022 return, Robinson's value should skyrocket. Third-stringer Carlos Hyde is more runner than receiver leaving Robinson to scoop up almost all the receiving work.
Kansas City – Starter Clyde Edwards-Helaire is also the team's best receiving back. Backup Darrel Williams probably won't catch more than 30 passes (barring injury to CEH) and therefore is only a handcuff, not a viable fantasy option.
Las Vegas – The Raiders' backup to Josh Jacobs is talented Drake (or are they 1A and 1B). Drake caught 50+ balls in back-to-back seasons before being the starter in Arizona last season and yielding third-down work to Edmonds. Drake should reprise his receiving role and get enough rushing work to be a viable fantasy option.
Los Angeles Chargers – Ekeler is back as the No. 1 guy and he'll get almost all the receiving work while surrendering some first and second down work to backups Justin Jackson and Joshua Kelley, neither of whom has great hands. Nothing to see here other than Ekeler.
Los Angeles Rams – The Rams were set to feature Cam Akers running the ball and Darrell Henderson as the receiver until Akers ruptured his Achilles. Then Henderson was going to be the starter but on Wednesday the team traded for Sony Michel. Michel is a first and second-down guy which might leave Henderson in the same role as last year, but without Malcolm Brown in the mix he'd have low-end fantasy value.
Miami – Myles Gaskin is proving hard to push aside and continues to look like the starter in Miami. He caught 41 balls last year and the Dolphins really didn't have another good receiving option. They added Malcolm Brown who could become that guy and take some of the workload off Gaskin who isn't big enough to be a workhorse. This team also may be looking at free agent backs.
Minnesota – Dalvin Cook is one of those elite workhorse backs that runs well and catches the ball well. Barring injury no backup on the Vikings is fantasy worthy.
New England – Ah, the Patriots backfield - the migraine headache of every fantasy owner. It's called Bill Belichick's "running back roulette." Damien Harris should be the first and second down guy, but James White is locked into the receiving role and does it as good as anyone. Both are fantasy-worthy. Michel, more runner than receiver, was the odd-man out and traded to the Rams on Wednesday leaving a space for impressive fourth-round rookie Rhamondre Stevenson. But it's Belichick so no one knows for sure except the master himself.
New Orleans – Alvin Kamara is another elite back and maybe a better receiver than runner. Backup Latavius Murray is more runner than receiver so they make a perfect team. Neither Ty Montgomery nor Devonta Freeman have any value barring multiple injuries.
New York Giants – Is Saquon Barkley healthy? That's a huge question for fantasy owners. When he is he's got great receiving skills to go along with his running work. If the team is looking to lighten the load on their superstar, then Devontae Booker, who has caught more than 30 balls a year for the last three seasons in Denver could end up with consistent third-and-long work. He should be on your radar screen late in the draft.
New York Jets – Tevin Coleman gets the early season starter role as the veteran, but Michael Carter is the future for the Jets. Carter hasn't been running with the first team, yet his 73.9 ADP to Coleman's 142.6 shows you he's been overhyped. Carter is overpriced to start the year, but could pay off late in the season if you can afford to stash him. Both Coleman and Carter are about equal quality receivers.
Philadelphia – Miles Sanders is the starter, but over the last year has struggled mightily with his receiving. Some of it was bad passing by Carson Wentz who couldn't make the swing pass, but Sanders didn't help much. Boston Scott will be the receiving back early, but I think rookie Kenneth Gainwell ends up being the third-down back. He caught 51 balls his last year at Memphis.
Pittsburgh – Najee Harris is the Steelers' workhorse. He'll be the full-time running back and he's also the best receiver among the running back room. The only thing that might slow Harris down is management wanting to limit his exposure (and a completely remade OL). Neither Benny Snell nor Anthony McFarland Jr., will steal targets for Harris and neither is fantasy-worthy.
San Francisco – The 49ers backfield had a little of "Belichick" in them last season. Between Tevin Coleman, Jerick McKinnon, Raheem Mostert, JaMycal Hasty, Jeff Wilson and fullback Kyle Juszczyk one never knew who was going to show off each week. It should be a little simpler in 2021 but not easy. Mostert, if healthy, should start, but highly-touted rookie Trey Sermon (Oklahoma/Ohio State) should be a threat to beat him out should he falter or as in past years … get hurt. Juszczyk will get the occasion splash but return to being the best blocking fullback in the NFL. Wilson (knee) and newcomer Wayne Gallman should only be a factor after multiple injuries.
Seattle – As long as he's healthy, Chris Carson is the back on the early downs and as a receiver. Backup Rashaad Penny hasn't shown anything as a receiver and that's OK because Russell Wilson doesn't use his backs much. Penny is a handcuff, but not a fantasy-worthy option.
Tampa Bay – Starter Ronald Jones and backup Leonard Fournette both lost targets and catches the minute the Bucs' signed Giovani Bernard to a contract. But Bernard will likely see so little of the rushing workload that his presence will only hurt Jones and Fournette and not make him fantasy worthy.
Tennessee – Derrick Henry is a tiger running the ball, but a kitten in the receiving game. And while second-year back Darrynton Evans figures to be his backup, I think Brian Hill could become a viable late-round pick. He's a better receiver than Evans, catching 25 ball last season in Atlanta, and if he proves to be a better runner then he might have some upside as Henry's backup and third-down back.
Washington – Antonio Gibson exploded onto the scene last season despite McKissic's receiving expertise. McKissic saw 110 targets, catching 80 of them, and became a fantasy-worthy starter. Be careful however of pulling the trigger too early on McKissic as Gibson, a receiver in college, can catch too and could eat into the backup's workload. Still, McKissic will be someone's No. 3 or No.4 running back and be successful in a limited role. Just don't force him to be your 17-week starter.