BAL | BUF | CIN | CLE | DEN | HOU | IND | JAX | KC | LAC | MIA | NE | NYJ | OAK | PIT | TEN

Offseason reports can often be the equivalent of having a candy bar or bag of chips 30 minutes before a meal. We know they aren't good for us, but we can't help ourselves. Beat writers can sometimes get too close to the team and feed us optimism about the team when what we need is honesty and realism. However, when they do their jobs well, they are often the only "inside" source we have as fantasy owners who can unearth a valuable nugget or spot a trend during the spring that proves to be prophetic. Given the wealth of information at our disposal nowadays, we have to sift through a lot of the former in order to get to the latter.

Each year, I attempt to canvas the NFL landscape once offseason workouts have concluded, in hopes I can make an observation or two of my own that nudges readers in the right direction. As I have done since I started beginning "Early Observations" in 2009, I'm going to try to provide a respectable opinion on how the offseason buzz from all 32 teams translates to fantasy owners over the next two weeks. This week, we'll take a look at what is buzzworthy in the AFC:

Note: All ADPs are for 12-team leagues courtesy of Fantasy Football Calculator as of June 25

Baltimore

Perhaps no team needed to address one position group more than the Ravens needed to overhaul their pass-catching corps. And address it they did. Baltimore selected two of the draft's top-five tight end prospects in Hayden Hurst and Mark Andrews, likely hoping it could find a young duo capable of emulating the contributions Ben Watson and Dennis Pitta once made, albeit never at the same time. For the purposes of next season, however, owners may be able to begin and end their search for fantasy contributors from the Ravens' passing game to one player: Michael Crabtree. There's little question Baltimore should get better receiver play this year than it did in 2017 with John Brown and Willie Snead also joining the fray, but Joe Flacco made it pretty clear who he believes will be his go-to guy this season. "(Crabtree's) the guy, because he's got a little different way that he runs the routes. He's really crafty with it, and he knows when to break away from guys and how to get open," Flacco told reporters in late May.

Late-June Fantasy Reaction: No team seems to love recycling veteran receivers more than the Ravens, who have enjoyed a fair amount of success doing so recently with Steve Smith and Mike Wallace. Jeremy Maclin did not fare so well in 2017, although we'll probably never know how much injuries were to blame for that. It can easily be argued Crabtree was the lead receiver in Oakland last season despite the presence of Amari Cooper, so it's not a stretch to imagine him improving on his 58 catches and 618 receiving yards from last year. The Texas Tech product also scored at least eight times in each of his three years as a Raider, so there's little reason to think he can't push for that many again in an offense in which he will clearly be the featured receiver. The fact Flacco seems to be meshing with Crabtree so early is obviously a good sign, and it's important to remember the 30-year-old has a game that ages well (built on route-running and physicality and less on speed and quickness). One of the primary concerns with Crabtree are his drops, but this is another case in which Baltimore will almost certainly keep feeding him since there really aren't any other challengers to his lead-dog throne. Crabtree should be enough of a target hog to be a solid WR3, although a challenging schedule could make weekly consistency a bit of an issue. His current 6.06 ADP puts him in low-end WR2/high-end WR3 range, which sounds about right.

Buffalo

You'd never know it based on popular opinion and by looking at their current depth chart, but the Bills were in the playoffs last year. (Cue the Music City Miracle for the previous last time that happened.) Making matters worse, LeSean McCoy will turn 30 next month and be running behind a vastly different offensive line, Kelvin Benjamin is coming off a knee injury, Zay Jones underwent knee surgery in May and Charles Clay is almost always battling some kind of knee ailment. Let's not forget the quarterback situation either; AJ McCarron is a career backup, Nathan Peterman is the second-year guy people love to hate because he threw five interceptions in his NFL debut and Josh Allen was perhaps the draft's most polarizing quarterback prospect. And it is that position where I will focus my energy with the Bills. With all the quarterbacks starting essentially from the same point under new OC Ryan Daboll, Peterman has reportedly outperformed McCarron and is "a serious contender" for the starting job.

Late-June Fantasy Reaction: I'm not going to sugarcoat it; the chances a member of Buffalo's offense is a key reason fantasy teams wins league championships this year are slim. Clay would seem to be the most likely of the bunch (outside of maybe McCoy, who I will rank lower than most) to do so, and to his credit, he is making some changes in order to be available more often. It's going to be extremely difficult for any of the signal-callers to enjoy much fantasy success if a field-stretching wideout doesn't emerge. At the moment, Andre Holmes may be the closest thing they have to that. (Malachi Dupre is a wild-card to keep an eye on, however.) Benjamin and Jones are both short-to-intermediate options, while Clay has typically done most of his work within 10 yards of the line of scrimmage. Although Allen did draw some loose Cam Newton draft comps and his athleticism would seem to make him the smart choice to make this offense more dynamic, it would be a mistake to hand the keys over to the No. 7 overall pick until late in 2018 - if at all this season. First of all, he's not the same kind of game-breaking runner Newton is. More importantly, rushing a youngster into a lineup with below-average weapons and what figures to be a questionable offensive line is a recipe for disaster. If/when Allen gets the nod, he may find himself on the low-end fantasy QB2 radar.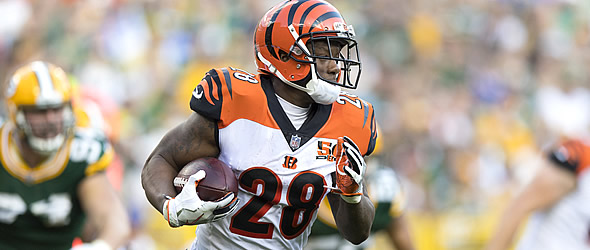 Joe Mixon: When terms like "bell-cow" get thrown around, fantasy owners take notice.
Somehow, Brandon LaFell can still call himself a NFL starting receiver. How much longer that will be the case with the Bengals should be in some serious doubt, especially considering Cincinnati spent the No. 9 overall pick on John Ross in 2017. As most NFL observers know, pre-draft shoulder surgery kept Ross from getting on the field until early August while a knee as well as another shoulder injury after that pretty much ended whatever small chance he had of making up for his lone offensive touch last year - a fumble on a Week 2 rushing attempt. Ross is healthy this time around, which has allowed him to resume his regular lifting regimen. He is also determined to make up for last year, enlisting the help of former Bengal T.J. Houshmandzadeh to help him with the finer aspects of being a receiver as well as provide him a much-needed confidence boost. Andy Dalton has been impressed by what he has seen from Ross so far: "He looks good. Completely different than he did last year. It looks like he's getting back to where he was. He looks smooth. Everyone knew he was fast, but he's not just a straight-line guy. He can stop and go. He's got some shiftiness to him. Last year, he was trying to learn and rehab his shoulder at the same time. But seeing it on paper and actually going out and doing it are two completely different things. … He's catching the ball really well. He's going up and getting it the little we've done so far."
Fantasy owners waited all of last season for Joe Mixon to be handed the feature-back role. Some waited patiently for 10 weeks, only to watch him lose some carries to Jeremy Hill for the first half of the season and run behind one of the worst offensive lines in the league. His shot at full-time duty came in Week 11 and owners were giddy in Week 12 when he torched Cleveland, but a Week 13 concussion and Week 16 ankle injury pretty much served as the closing act on what was a disappointing season. Cincinnati has taken strides to improve the front five, while Mixon appears to be dropping the NFL freshman 15. However, the biggest fantasy news regarding the second-year pro was a nugget from director of player personnel Duke Tobin, who told Bengals.com writer Geoff Hobson that Mixon will be the bell-cow this season with Giovani Bernard mixing in.
Late-June Fantasy Reaction: Until the Bengals find a way to inject adamantium into his skeleton, the question is going to remain whether or not a 190-pound receiver like Ross can be durable enough to be a consistent playmaker in fantasy. Durability has rarely ever been one of his strong suits anyway. The attraction to Ross is that he is in many ways a young DeSean Jackson, albeit a receiver who is a better route-runner now than Jackson was in his early days with the Eagles. The University of Washington product is going undrafted for reasons that are easy to understand, but would it surprise anyone if he is able to rival Tyler Lockett's production from his early years in Seattle? If he can stay on the field in 2018, I would be willing to bet good money he's going to be useful in fantasy. Assuming I hear what I want to hear during training camp, I will not hesitate to make him one of my final draft picks in the majority of my leagues.
Cincinnati hoped it could replace former LT Andrew Whitworth and LG Kevin Zeitler in-house. It thought wrong. The Bengals sought to fix those problem spots by trading for oft-injured (as of the last two seasons anyway) Bills LT Cordy Glenn and using a first-round pick on C Billy Price. Both players should be huge upgrades over the 2017 starters at those positions and should help Mixon get closer to his ceiling. Whether or not the same coaching staff that frustratingly fed Hill a handful of unproductive touches for the first half of last season at Mixon's expense will now turn everything over to the second-year back is worth debating, but it is worth noting he is the only back on the roster who possesses the prototypical size (6-1, 225-ish) to be a three-down back. Mixon's 2.12 ADP in PPR leagues does a decent job of factoring in his upside versus the unpredictability of whatever new hijinks the Bengals' coaching staff might have in mind, but I'm not sure how crazy I am about Mixon coming off the board before the likes of Alex Collins (4.01) and Kenyan Drake (4.07). He's a RB2 with obvious RB1 upside, but a player I will wait to cast final judgment on until next month when I've had a chance to review his situation in more detail prior to my first Big Board release.
Early reports suggest No. 1 overall pick Baker Mayfield "did not look ready to compete with" and has a "long way to go to unseat" Tyrod Taylor. Then again, much of the intrigue with the Browns from a fantasy perspective in 2018 doesn't center on the identity of the starting quarterback nearly as much as it does on how the winner of that "competition" affects the players around him. So, since quarterback appears to be a non-story at this point and Josh Gordon has stayed out of the news this offseason, we'll focus our energy on new teammate Jarvis Landry, who was handed a five-year contract with $47 million guaranteed about a month after he was acquired from Miami. Considered primarily a slot receiver with the Dolphins, it appears as though new OC Todd Haley is either willing or interested in allowing Landry to show off his ability to work outside as well. Corey Coleman, last year's presumptive top receiver, is in a much different boat, hoping he is still seeing some regular playing time when Week 1 rolls around. Antonio Callaway is expected to push him for the No. 3 job, although the rookie fourth-rounder's campaign to do so was stalled due to a groin/thigh issue that forced him to miss most of spring workouts.
The running back position in Cleveland has the potential to be a serious source of fantasy production, but news on where Carlos Hyde, Duke Johnson and rookie Nick Chubb stand has been limited at best. RB coach Freddie Kitchens did offer an ominous quote for fantasy owners recently though, telling The Cleveland Plain-Dealer, "If they're (one of the backs) having success (during a game), why would you change? It may be somebody different week-to-week." However, since the Browns are flush with potential studs this season, let's wrap up the Browns by talking about David Njoku, who is expected to be the full-time starter at tight end this season. Why should owners believe 2018 will be much different than 2017 for the 22-year-old? 1) It sure sounds like he will play more than 48 percent of the snaps he did last year this season. 2) Second-year tight ends usually make a fairly sizeable jump from their first year. 3) Haley has long wanted a field-stretching tight end and was presumably a big part of the push to get the Ladarius Green to Pittsburgh a few years ago. Last but not least, HC Hue Jackson expects "a big jump" from Njoku as well.
Late-June Fantasy Reaction: Depending on where certain fan and fantasy owner allegiances lie, Landry could either be considered either the most dependable/consistent option Cleveland has or the third-most dangerous pass-catcher (from a talent perspective) on the roster (behind Gordon and Njoku). If Gordon really has his life straightened out after all, the passing game figures to revolve around him. If not, Landry could push for 100 catches again. What does seem pretty clear are the long odds he faces in regards to scoring eight times again in 2018. Something else that appears to be pretty clear? Coleman isn't moving past No. 3 on the depth chart, unless Gordon has a setback. If that happens and Coleman stays healthy, look out. And that's part of the agony (for fantasy owners) and ecstasy (for the Browns and their fans) of this reconstructed receiving corps. Gordon's 3.06 ADP at the moment in PPR formats is just too high for a player that hasn't consistently flashed his 2013 form since … well … 2013. I can't figure out yet if Landry's 5.10 ADP is a reflection of his production in Miami or a nice value based on the potential for another off-field issue from Gordon. Coleman is unsurprisingly going undrafted, even in 14-team leagues.
Njoku (13.06 ADP) is going after Tyler Eifert (12.12) on a daily basis. I'd argue he has at least as much upside as George Kittle (10.05), so I guess the implication I'm making is Njoku is being undervalued by at least three rounds. The argument can be made that no Taylor-led offense is probably going to support three regular fantasy starters from the passing game (four if we include Duke Johnson) and I would agree, especially when we consider the fact Taylor has never had a pass-catcher exceed 60 receptions. However, I would argue the public is probably way too high on Gordon and probably a bit too high on Landry on what figures to be a pretty balanced offense. And if Taylor cedes the job to Mayfield in November or December, are we really going to trust a rookie's ability to make four pass-catchers viable in fantasy? I didn't think so.
Ask just about any serious fantasy player who the Broncos' running back is right now and they'll say rookie Royce Freeman. Ask two of the primary sources covering the team on a regular basis (The Denver Post and 9News), and the answer is Devontae Booker. Mike Klis of 9News reported in mid-May that Booker "figures to be the lead back through the offseason and into training camp with Freeman getting a chance to eventually become a 1B back." Kyle Fredrickson of The Denver Post took it one step further, suggesting the Broncos will aim for even better production this fall with likely a tailback-by-committee approach" in a backfield that should feature "a heavy dose of Devontae Booker and a yet-to-be-determined second option." HC Vance Joseph provided some fuel for the Freeman hype train, however, telling ESPN's Jeff Legwold his rookie could "absolutely" put himself in the conversation to be the team's lead back.
The Broncos likely knew from the moment they drafted Jake Butt in the fifth round of the 2017 NFL Draft that he was headed for a redshirt season after suffering a torn ACL a few months earlier in Michigan's bowl game. He reportedly feels great now and has the coaching staff believing Denver may have a decent option at tight end for the first time since Owen Daniels in 2015. Joseph went so far as to say Butt will "be a great addition to our offense."
Late-June Fantasy Reaction: The depth chart at running back can change several times throughout the course of the season, especially if one back is running "hot." So the fact Klis and Fredrickson both seem to be on the same page about Booker going into camp does not mean Freeman or someone else can't unseat him. But can we really justify a five-round gap in PPR drafts between Freeman (5.08) - expected by most to be the early-down banger in what figures to be a middling offense - and Booker (10.10) - expected by most to be the third-down and change-of-pace back - in what may be a committee for an offense Musgrave told 9News earlier this month will be a whole new offensive system? Is Freeman's role anymore guaranteed than Chris Thompson's (at his 7.02 ADP)? How about Marshawn Lynch (7.08)? These are the types of questions owners need to ask themselves over the summer. I won't deny Freeman is a common-sense selection to be the best fantasy back in Denver, but the last time he was worthy of being considered a featured back was in 2015 - the year before his season-ending knee injury that seemed to rob him of his pre-injury explosiveness even during the 2017 campaign.
Unlike some of the recent prospects to enter the league, Butt is not going to overwhelm defenders with his athleticism or make too many highlight-worthy catches for the fans to drool over. What he can do is get open and move the chains. Technically, he is entering his first season as a pro, but I'm not sure he should be lumped in with the "rookie tight ends don't/can't produce" crowd. His one season with the team has to be a good thing for him hitting the ground running, right? That's not to say he's going to be a regular fantasy starter in 2018, but I sure wouldn't hesitate pulling the trigger on him in leagues where I could use (and can afford to stash) a TE2 with decent upside. Jeff Heuerman and Austin Traylor may appear on the depth chart before him now, but that's far from an impossible hill to climb. While Butt probably will go undrafted in most leagues, any scoring system that gives tight ends 1.5 points for every catch should consider him late. A 50-catch season may be too much to ask, but I think that is the kind of upside we are talking about here.
Since Deshaun Watson has been limited (although his recovery from an ACL tear seems to be ahead of schedule) and D'Onta Foreman is questionable for the start of the season (and therefore hasn't been able to practice yet) coming off his Achilles' injury, all that is really left to talk about with the Texans is at receiver. Will Fuller underwent arthroscopic knee surgery in January and has made a full recovery, and despite some talk to the contrary, he's expected to play a huge part in Houston's offense this season. Meanwhile, the Texans have made multiple investments in trying to finding a capable slot receiver in recent years, among the more notable spending a 2016 third-round pick on Braxton Miller as well as signing Bruce Ellington last summer. Early reports seem to suggest Houston may have found its man when it drafted Keke Coutee in the fourth round this spring. Coutee reportedly ran sharp routes and caught the football easily in minicamp, impressing DeAndre Hopkins along the way. "He's only getting better. He's always hanging around, seeing what I'm doing in between periods, asking me questions. The guy can play football. That's going to take care of itself," Hopkins told The Houston Chronicle.
Late-June Fantasy Reaction: Few, if any, people question that Hopkins is the top option in this offense and a top-five receiver in the league. Fuller took the NFL world by storm over a four-game period after returning from an early August collarbone injury that cost him Weeks 1-3. In those four games he played with Watson, Fuller played like a fantasy WR1. In the six games he didn't, he wasn't worthy of starting. (Here's the proof.) One would have to assume Watson is going to play more than seven games and make more than six starts this year, but Fuller hasn't proved to be very durable at the NFL level yet and still isn't really built to handle the grind (6-0, 185) even though he is entering his third season. Early drafters don't seem to be factoring in his injury history, the likelihood of him getting hurt again or his ridiculous TD rate (one score every 1.86 catches) with Watson into their rankings, as his ADP currently stands at 6.10 - ahead of the likes of Sammy Watkins (7.04), Emmanuel Sanders (7.12) and Robert Woods (8.02). That's just too high, folks.
We have yet to see the Texans be able to make more than two receivers viable in fantasy at the same time, so Coutee may have to wait for a bit to make an impact on this offense. When Houston made the pick to get the Texas Tech receiver, I initially thought it was as much about giving the team some protection against another Fuller injury as it was about adding competition in the slot. I still believe that to be the case somewhat, and I think whatever consistent fantasy value Coutee has in 2018 will come if/when Fuller gets hurt.
The NFL world was abuzz with excitement on June 12 when video was released showing Andrew Luck throwing the ball. (It turns out it was a high school or college ball, although Luck later told the media he had thrown a NFL ball - the "Duke" - for about two weeks prior to participating on a limited basis during mandatory minicamp.) Naturally, team owner Jim Irsay chimed in and said Luck "will not have any limitations when training camp opens," which sounds remarkably similar to his optimistic quotes last year. But whereas Luck was pretty much silent last year, he seems pretty upbeat this time around. "The pain is gone, and it's going to stay that way. My body doesn't revolt, in a sense, to new things I ask," Luck told reporters at minicamp. The former No. 1 overall pick's frame is also considerably bigger, suggesting he has been pain-free for a while and able to put in a substantial amount of time in the weight room.
If it's the summer, it must be time for another season in which owners hope Eric Ebron can fulfill his potential. Days after the team locked the free-agent tight end up to a two-year contract in March, new HC Frank Reich hinted Ebron was "an elite tight end" and likened putting him on the backside against man coverage to clearing out one side of the court for LeBron James. The praise was still flowing into mid-June, when The Indianapolis Star called him "among the most impressive Colts this offseason" and Reich praised his intelligence. To that end, Indianapolis lined him up about everywhere except tailback during offseason work.
Nyheim Hines created his own buzz during the spring as well. Reich complimented the rookie's intelligence as well and called his pass-catching skills "very impressive" on the first day of rookie minicamp. He served as the team's primary kick returner in OTAs and wrapped up the offseason trifecta, as he was among the most active players during the spring and summer. So active, in fact, new OC Nick Sirianni said that Hines reminded him "a bit" of Dexter McCluster, who he worked with in Kansas City. (Perhaps I could have left that last part out; I know a few of you have been permanently scarred by McCluster.)
Late-June Fantasy Reaction: Just like last year, Luck's presence will determine whether this is a team picking in the top 10 in the draft again or if it has a legit chance to crack .500. He is currently the 14th quarterback coming off the board on average, which seems about right given the injury questions and the relative lack of exciting proven playmakers surrounding him. With that said, I'm not sure Luck (10.09 ADP) should be going after Matt Ryan (9.11) or Jared Goff (9.12).
The fantasy public has apparently tired of Ebron (or they don't believe Reich) because they aren't even drafting him in PPR leagues. It's understandable for people to feel that way, but we're looking at a tight end - for all of his faults - who hasn't finished lower than TE14 in the last three seasons. Is he going to be the next Zach Ertz (the last athletic tight end Reich worked with)? Probably not. But it wouldn't surprise me if the Colts use him the same way. Indianapolis (and Luck in particular) loves Jack Doyle, so it would be a mild upset if Ebron outscores him in fantasy. But a top-20 finish among tight ends is more than doable for a team that will utilize a lot of two-tight sets and has made clear it intends on using him to get advantageous matchups.
Let's be clear about something: Hines should be a better Pro than McCluster ever was. The Colts seem to understand what he is - a part-time complementary weapon capable of creating confusion and exploiting a matchup if the defense doesn't show him enough respect to assign a safety or fourth cornerback to him. He should have a nice 10-touch role in the offense as a rookie, but it seems hard to believe he will be consistent enough to use on a weekly basis. What his presence figures to do, however, is rob Marlon Mack of any potential he had to be a PPR stud.
Jacksonville
There was a time not too long ago where the thought of including Austin Seferian-Jenkins in a "buzz" piece would have elicited an eye-roll and usually been followed by some kind of bad news. As we approach the 2018 season, however, it appears ASJ has established a quick connection with Blake Bortles and figures to be a regular target on downfield throws - a sight that wasn't typically seen during his only season with the New York Jets last year. The Jaguars' website suggested a major theme of minicamp was Seferian-Jenkins's potential impact on offense. Bortles seems to agree: "Throughout this whole OTA process, (Seferian-Jenkins was) good. … He asks a ton of questions, and it's pretty easy that when you come and watch a practice, you can see how big of an impact he's (made) and how much he's going to help us out."
Late-June Fantasy Reaction: Outside of one or two times a season, Marcedes Lewis had pretty much become a forgotten man in the Jaguars' passing game. (He didn't see more than last year's 48 targets in any of his final five seasons in Jacksonville.) Even with what's become a crowded receiving corps in Duval County, Seferian-Jenkins could (and should) push for 70-80. He's currently the 17th tight end off the board per ADP (14.04), but I'd argue he needs to go about five spots and probably at least two rounds higher. ASJ is a three-down tight end who was miscast as a chain-moving red zone tight end for whatever reason in New York, but he has always been an above-average athlete for the position, so getting (and being successful) downfield shouldn't be a problem for him.
Perhaps never in the history of the NFL has a game in which a quarterback went 22-of-35 for 284 yards and no touchdowns impressed any coach more than Pat Mahomes impressed Andy Reid in Week 17 last season. (Yes, there's little bit of sarcasm in that statement.) The fact of the matter is the 2017 rookie understood his role last year and consistently wowed teammates and coaches alike with his incredible talent and ability to master the 40-second process during practice. Perhaps it should come as no surprise then that Reid was impressed again by his new quarterback's ability to react and even beat the blitz during spring and summer practices.
Receivers playing for their third team in three years usually don't land three-year contracts worth $48 million. Most of those receivers aren't Sammy Watkins. For the first time since his rookie season, the No. 4 overall pick in the 2014 draft only missed one game in 2017 (a meaningless Week 17), which was news in itself. The Rams wanted to keep him and he was reportedly the top receiver on the free-agent wish list of the Bears and Broncos, but he ultimately decided on the Chiefs to grow together with a young quarterback. Kansas City appears ready to make him earn his money, allowing him to work at each of the different receiver spots - including the slot. At least in the early going, it appears as if Watkins' foresight is paying off, as Chiefs.com beat reporter B.J. Kissel suggests the connection between Mahomes and Watkins is real.
Late-June Fantasy Reaction: It's always a bit risky to put much faith into a prospect with one regular-season game under his belt no matter how talented he is, but it gets easier to do once we consider how quarterback-friendly Reid's offenses have been over the years and talented of a supporting cast Mahomes has. Few teams have two cornerbacks capable of sticking with Tyreek Hill and Watkins, and the few that do probably aren't going to have an answer for Travis Kelce. Currently viewed as the QB16 in early drafts with an ADP of 11.05, Mahomes feels like a ridiculous bargain. I would not bat an eye if he goes earlier than Jimmy Garoppolo (8.12), which he probably should, or Matt Ryan (9.11), who feels like he has settled in as more of a mid-range QB2.
Early drafters seem to love themselves some Hill (3.07 ADP), as he is getting drafted as the 13th receiver on average. Is he even Mahomes' top option? Or even his favorite receiver? The fact is we can't know for sure, which makes Watkins' 7.04 ADP (32nd receiver off the board) another huge value pick. The near four-round difference between the two receivers only makes sense if Mahomes essentially ignores a $16 million/year receiver who he seems to be bonding with and leans on Hill and Kelce - just like Alex Smith did (obviously before Watkins' arrival). While Hill may be the best deep threat in the league, Watkins isn't very far behind. The most likely outcome is Watkins' presence drags down Hill and Kelce's production a bit, but it is entirely conceivable Watkins overtakes Hill as the top receiver in Kansas City. I would put heavy odds on Watkins' living up to his fantasy draft status over Hill doing the same.
Hunter Henry was poised to become an upper-tier if not elite tight end in 2018. Assuming Antonio Gates does not return, the 23-year-old's season-ending ACL injury means there are 121 targets from last season that need to be replaced just from the tight end position. Virgil Green was added in free agency before Henry's injury to be a backup, but we've seen that movie before and it does not end with him breaking out. The two primary beneficiaries figure to be Melvin Gordon and Mike Williams, based on early reports. Why Gordon? OC Ken Whisenhunt said so himself. "We can do some different things because Melvin has become such a good receiver out of the backfield. And that's not something that you saw from him in college. Not that he couldn't do it; they just didn't throw him the ball." Hall of Famer LaDainian Tomlinson spelled it out even more clearly: "Truly, that's the first thing I thought about when Hunter went down, is Melvin is going to have to become a weapon in the passing game. Hunter makes easy throws for Philip (Rivers) … Now somebody has to pick up that role, and that can be Melvin."
While Gordon could get a modest bump up from his 79 targets last season, the natural move for the Chargers is to utilize more three-wide sets in order to get 2017 first-round pick Williams on the field more often. ESPN's Eric D. Williams suggested as much (at least the part about more three-receiver sets), adding that Keenan Allen would likely see an increase of action out of the slot. Few teams have the ability or depth to plug their top receiver in the slot to make room for two very athletic 6-4 receivers on the perimeter (Tyrell Williams being the other), either of which can high-point the ball or beat his man deep.
Late-June Fantasy Reaction: It's hard to imagine Gordon seeing less action in the passing game this year as a result of Henry's absence. It also seems unlikely he's going to substantially exceed the 79 targets or 57 receptions he had last season. He should, however, be able to top 4.0 YPC for the first time in his career with less men in the box and an offensive line that should be the best he's played with since he was drafted in 2015. Even so, Gordon doesn't feel like a league-winner. Nevertheless, he's the kind of rock-solid RB1 who isn't often going to punish owners for playing him. I have no qualms about his current 1.10 ADP.
It'd be nice to be able to make a stronger case for Mike Williams, but he's still in a tough spot when it comes to getting a decent target share. Assuming Tyrell Williams is named the starter opposite Allen, Mike Williams will have need to be highly efficient when the Chargers go three-wide. Allen will probably command at least a 25 percent target share, while Gordon and Austin Ekeler will combine for another 20 or so. Tyrell Williams should manage 15, while Travis Benjamin should be good for at least 10. If we give 10 to Green as well, that leaves 20 for Mike Williams and every other eligible pass-catcher on the roster. As most football fans know, more than seven players usually catch passes during the course of a season. In short, Mike Williams's current 11.06 ADP may be a bit high barring an injury to a receiver in front of him.
When Frank Gore signed in late March, most people dismissed it as a 35-year-old back going back home for one more year before retiring. When Miami selected Kalen Ballage in the fourth round of April's draft, most people pointed to the fact he couldn't hold down the full-time gig at Arizona State. There's no question Kenyan Drake was fantastic down the stretch last season, but front offices don't usually double up (free agency and the draft) at a position unless they have some concern about the starter. Drake struggled to stay healthy in college, and last year's 165 offensive touches were easily the most he has amassed in any single season since high school. Running backs coach Eric Studesville suggested earlier this month he's not ready to name a starting running back and Miami Herald beat writer Armando Salguero described the team's backfield situation heading into training camp as a "competition (and) not a coronation."
No one wants to hear about DeVante Parker or how he looks in practice anymore, and that's OK. While the Dolphins are talking him up again this year (this time for his work ethic), they have committed to a one-day-at-a-time approach with him in 2018 after new coach Ben Johnson admitted the team was making "giant claims" about him last summer. Instead, the focus on the receiver group has turned to free-agent additions of Danny Amendola and Albert Wilson. Salguero confidently suggested in late May (Ryan) Tannehill to Amendola is "gonna be a thing in 2018 assuming they stay healthy." The former Patriot is also making an impression with his leadership, per Andy Cohen from the team's website. Meanwhile, Wilson has reportedly made such a good impression that the team has decided he can line up not only in the slot, but also on the boundary and in the backfield.
Late-June Fantasy Reaction: Drake may very well come out the winner in the backfield competition, but it would be a mistake to assume he's going to pile up 250 carries while Gore and Ballage stand on the sideline. Maybe Gore was brought in for a swan song and to mentor the other backs regarding the hard work and approach that is necessary to have staying power in the league, but when has Gore ever not exceeded expectations? At the very least, Gore seems almost certain to steal about 30 percent of the offensive touches, so whether Drake lives up to his fourth-round ADP figures to come down to whether or not Ballage is a significant contributor in the passing game. RB22 seems a little low for a player of Drake's talent, but it does a good job of capturing just how much risk he carries into this season with quality talent nipping at his heels.
One of the more intriguing questions that owners want an answer to before draft season really takes off is how Miami intends to use its newfound depth at wide receiver. The most common-sense approach would be to utilize more four-wide sets than just about every team in the league to clear out the box for Drake & Co., mask the team's deficiencies on the offensive line and allow Amendola and Wilson to exploit matchups in the slot, replacing the 161 targets left behind by Jarvis Landry. The problem with that is Mike Gesicki presents more matchup problems than either of them and should also see ample time in the slot, so either Amendola or Wilson could struggle for playing time unless the other one gets hurt early. The problem is Amendola is getting $6 million per year and Wilson signed for average of $8 million per season - the same as Kenny Stills - AND the team has already picked up Parker's fifth-year option for the 2019 season worth $9.4 million. The best guess I have now is that Parker and Stills remain locked into starting jobs with Amendola being a fixture in the slot, while Wilson plays a bit of jack-of-all-trades role and fills in at any of the three receiver spots anytime one of the "starters" needs a blow. Veteran owners know Amendola is an injury risk, so Wilson may not have to wait long. Still, the former Patriot has a chance to be a huge value in fantasy and is a potential steal, even at his current 12.07 ADP.
If the Patriots' backfield wasn't always such a bountiful source of production, then owners wouldn't spend so much time trying to figure out what the latest reincarnation of the backfield means for fantasy purposes. For the first time since Laurence Maroney in 2006, New England used a first-round pick on a running back, immediately causing some folks to question the sanity of the Patriots and others to proclaim New England had found a back to be the plus-version of Dion Lewis while suggesting HC Bill Belichick kept an eye on what old fried Sean Payton was doing down in New Orleans with Alvin Kamara. Like most rookies (especially in New England), Sony Michel has some climbing to do.
With Julian Edelman likely suspended for the first four games and Danny Amendola in Miami, the door is wide open for another receiver to take over in the slot in September. While there has been plenty of chatter about Braxton Berrios following in the footsteps of Wes Welker, Edelman and Amendola, the most likely candidate to fill the void during Edelman's absence is Jordan Matthews, who has done most of his damage in the league inside. To that end, Matthews seems to understand the opportunity he has in front of him.
Late-June Fantasy Reaction: As much as current and prospective fantasy owners want Michel to become the next Kamara (or even Lewis with more consistent volume), there's very little evidence outside of draft capital to support such a notion. For as good of a season as Lewis had in 2017, look no further than here to recall how much his production was inflated by two games without Rex Burkhead or James White playing. There are actually 13 instances in which a running back has exceeded 200 touches since Belichick took over in 2000, although only three of those have come since 2010. The key to remember with Belichick is that he has long seen running backs and receivers as luxuries, which partially explains how often the team uses the early draft picks to address both lines and the secondary. While the use of a first-round pick on Michel is certainly worth noting, it's hard to believe the rookie will simply steal most of White's role or rob Burkhead of the 10 touches per game he enjoyed last season. Is Michel the most complete back with the most upside? Yes. Did that matter for Lewis? It didn't seem that way. One has to think Michel isn't going to ascend to Lewis' role in the offense this season until he earns it. Even for running backs, New England's offense is among the most nuanced and difficult to learn. He may live up to his 4.10 ADP before the end of the season, but he might not be doing it for the fantasy team that drafted him in a lot of cases.
Matthews came cheap this offseason (one-year contract worth $1 million with $170,000 guaranteed), but unless New England decides to feature Chris Hogan in the slot and gets some unexpected outside receivers such as Kenny Britt and/or Philip Dorsett to make a huge impression in camp, Matthews seems like he should be considered the favorite to replace Edelman. As most veteran owners know, the slot position in the Patriots' offense is an important one, so even if he does nothing else but provide 80 percent of the production Edelman typically does, he's worth drafting late and using for the first month of the season. The good thing about such a situation is that if he thrives, New England will find a way to keep him on the field in a secondary role. Until we know more about how the Patriots' depth chart is going to shake out, Matthews should be owned in the majority of leagues.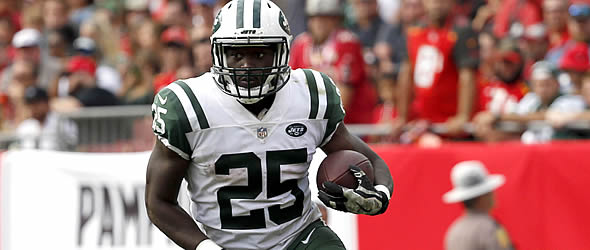 Flattering words from the Jets RB coach: "Elijah McGuire has the skill set to be a LaDainian Tomlinson."
The Jets' hype machine is running pretty hot this season, and it's not because fans think they are going to be a 10-win team this season. New York cannot stop singing the praises of first-round pick Sam Darnold and seems convinced he is going to be a star. However, he is going to be hard-pressed to be relevant in fantasy this season, so we'll make the ever-so-subtle transition to another player guaranteed to make noise this season. Robby Anderson? No. Isaiah Crowell? Try again. Elijah McGuire? Ding-ding-ding! Receiving praise that would make Dolphins' coaches from last season blush when they were asked about DeVante Parker, McGuire "looks fantastic" and "has the skill set to be a LaDainian Tomlinson if he was given that opportunity," according to running backs coach Stump Mitchell. "That's not what presents itself to him at this particular point in time," Mitchell continued. "But skill set, (McGuire) can do it all. He can catch. He can run. He can run routes as a receiver. He just happens to be here … and I'm glad we got him." Per Manish Mehta of The New York Daily News, McGuire is expected to be the Jets' third-down back this season.
Late-June Fantasy Reaction: It's one thing for a coach to be supportive of a player and happy his team may have itself a steal. It's all another thing to compare a third-string player to a Hall of Famer and one of the best players to ever play at his position. First of all, it raises the bar way too high for the fan base and sets the player up for failure. It also makes a head coach/assistant look/sound ridiculous, because if a reasonable facsimile of LT is on the roster, he would not have played behind an aging Matt Forte and Bilal Powell last season, and he sure wouldn't be only a third-down back behind Crowell this year. The last point I'll make (but certainly not the last one I could make) is what exactly is McGuire doing this offseason that Powell hasn't done in multiple games in previous years? Rant aside, the Jets were reportedly willing to part ways with Powell if they had outbid the 49ers for Jerick McKinnon, so perhaps New York is doing what it can to grease the skids for a possible Powell release this summer. If McGuire is in fact going to be the third-down back for the Jets this season, then he becomes a potential waiver-wire gem for early drafters even if fails to become the next Tomlinson. McGuire is currently going undrafted - even in 14-team leagues - something that does not figure to change much unless/until he shines in preseason action.
Doug Martin was the best running back Tampa Bay had ever employed based on most of the offseason reports last season. He appeared capable of living up to his press clippings after completing the final three games of this suspension and showing well in Week 5 against New England last season, but the Bucs had clearly grown tired of his act and released him two years into a five-year, $35.75 million contract. Lo and behold, Martin is looking good in yet another offseason and has some people believing he will seriously push Marshawn Lynch for the starting job in training camp.
If there is any player fantasy owners are tired of hearing about more than Martin, it might be Jared Cook. The 31-year-old tight end played in 16 games for the fourth time in five years last year and set a career high with 54 catches, yet he wasn't much of a factor in fantasy outside of about four weeks. While Cook has never lacked for talent and lately hasn't lacked a good quarterback throwing him the ball, he simply has never emerged into the kind of factor in the red zone most might expect from a highly athletic 6-5 tight end. At any rate, his background isn't stopping new HC Jon Gruden from praising the veteran for his work during the spring. "Jared Cook has had a great camp. I did not know Jared Cook moved like that. I knew he had really good pass-receiving skills, but we can line him up at a lot of different places now. He's been really sharp. We've asked him to do a lot."
Late-June Fantasy Reaction: Before owners write off Martin completely, it's important to note he will be running behind one of the best offensive lines in the league after operating behind one of the worst a season ago. That alone gives him a chance to redeem himself. Expectations need to be kept in check, however, as there is virtually no scenario in which Martin will be a featured back as long as Lynch is still on the roster. Of course, that assumes Martin can beat out Lynch for the starting job, which seems unlikely anyway. Making matters more difficult for owners, the Raiders already have two above-average options on passing downs in DeAndre Washington and Jalen Richard, so it's not as if the loser in the Lynch-Martin battle can simply operate as the breather/change-of-pace/third-down back. If Martin manages to steal any real part of the early-down workload from Lynch, then Lynch's current 7.08 ADP is way too high. With that said, I'm not sure I can get behind Martin's current 11.03 ADP either, as he seems to be a longshot at best to overtake Lynch.
Unlike his running back brethren, Cook is really the only show in town at tight end for Oakland. While Derek Carrier has long been a player that could take off if he was ever given a real chance to succeed, he's working on his fourth team in five years and is no threat to overtake Cook. Lee Smith is merely a blocking tight end. If Gruden decides he really likes Cook, he is a strong enough play-designer to get his tight end 60 catches. The problem with Cook reaching that mark is he has always been more of a downfield threat and less of a move-the-chains option. What that means is when everyone in Oakland is healthy/eligible, Cook will be fighting Amari Cooper and Martavis Bryant for big plays. Cook should be considered a capable TE2 for fantasy purposes, but his lack of touchdown upside and competition for vertical targets figures to give him a relatively low ceiling.
As the Steelers enter Year 2 of the Le'Veon Bell saga, the only question in their backfield outside of the day he will report is whether James Conner will do enough this summer to prove he is the clear No. 2 back and/or whether the 2017 third-round draft pick will show enough as a sophomore to make management's decision easy to hold the line on Bell's contract demands. Conner is fully healthy following a late-season MCL tear, and another year to digest the pro game along with the playbook seems to be agreeing with him. "He's a little bit more confident in the playbook, handling protections - he's just in better shape. He's running fast, running every ball to the end zone. He looks good," tight end Jesse James told ESPN's Jeremy Fowler. Ben Roethlisberger was equally impressed with Conner's spring performance. "I think he's looking really well right now. I like what he's doing. He took those rookie hiccups last year and has really gotten a lot better. … I'm excited to get to camp with him."
Pittsburgh has long wanted a field-stretching tight end. It struck out on Ladarius Green when he was unable to get or stay healthy. The team traded for Vance McDonald shortly before the start of last season and predictably struggled to get much playing time or build much chemistry with Roethlisberger until the end of the year. McDonald teased owners with a bit of production during the fantasy playoffs but really gave them something to think about for the 2018 campaign when he caught 10 passes for 112 yards (on 16 targets!) in the Divisional Round loss to the Jaguars. He's the favorite to start over James and will reportedly be featured in the offense in 2018 as the team hopes to utilize his short-area speed.
Late-June Fantasy Reaction: There will be plenty of owners who will choose to draft another lottery ticket at running back instead of using Conner as a handcuff to Bell. I will be part of the small minority who chooses to take Conner late independent of whether or not I draft Bell (which I likely will not unless he becomes a screaming value). I've already documented in previous articles how unlikely Bell will last the 2018 season. Even if he does, the odds are long he'll amass anything close to 400 touches in what will likely be his last season in Pittsburgh. While Jaylen Samuels may be the Steelers' third-down back if Bell misses time, I've seen enough of Conner (and I think Pittsburgh has too) to believe the Steelers feel comfortable using him as a true bell-cow if Bell can't play. Although he obviously does not possess Bell's talent, such a scenario would put Conner firmly on the low-end RB1 bubble given the team's history of riding one back. Conner needs to be drafted and stashed in all leagues with reasonably sized benches.
There are the "Big Three" (Rob Gronkowski, Travis Kelce and Zach Ertz) at tight end. After that, there is a list of about 12-15 players owners can argue over in terms of who belongs in the next nine spots. McDonald belongs in that conversation, although I think he'll fall just short of making it. Durability has been a major obstacle for him, and critics will certainly point to inconsistent hands as another. On the plus side, Pittsburgh tight ends have amassed at least 95 targets every year since 2010, and there is little reason to believe that will change with the first player at the position the team has talked up in a few years. With Antonio Brown, JuJu Smith-Schuster and Bell around to give defensive coordinators headaches, there should be at least 50 catches available for McDonald, assuming he can stay on the field.
For all the expectations regarding Corey Davis making a huge leap in Year 2, there hasn't been a ton of press about him. Thus, we'll wrap up this week's article talking about the one fantasy position that carries the most intrigue on this team in 2018: running back. The Derrick Henry hype train was ready to leave the station when the Titans decided to release DeMarco Murray on March 8, but it got derailed less than a week later when the team snagged Dion Lewis with a four-year contract worth $19.8 million. The size of the deal pretty much confirmed Tennessee intends to have its two backs share the load - something new OC Matt LaFleur suggested would be the case heading into training camp when he said he looked at his two backs as "1A and 1B." Lewis is apparently under the same impression. "I think they're going to use both of us. Derrick's a great back and I'm happy to be a part of the backfield with him, so I think we can form a pretty good one-two punch."
Late-June Fantasy Reaction: "Exotic smash-mouth" may be a thing of the past, but the Titans under new HC Mike Vrabel and LaFleur figure to maintain a strong identity in the run game like their predecessors. The big difference with the new regime figures to be adding more creativity to the offense, in part by allowing Marcus Mariota to use his athleticism more often than former HC Mike Mularkey and ex-OC Terry Robiskie did. Most expect Henry to receiver most of the goal line and short yardage work, while Lewis handles most of the touches in the passing game. However, Tennessee committed too much money to Lewis to have him serve as a true backup to Henry, so it could take a month or so before owners can get a good handle when one back may be better to use in fantasy than the other. Henry and Lewis could both finish among the top 20 running backs if the Titans truly utilize their backs in 1A and 1B fashion, but it will be difficult to trust either player on a weekly basis unless the other one is forced to miss time. In such a scenario, the man left standing should be a top-10 fantasy back. If that doesn't happen, Lewis and Henry may top out as low-end RB2s.

---
Doug Orth has written for FF Today since 2006 and been featured in USA Today's Fantasy Football Preview magazine since 2010. He hosted USA Today's hour-long, pre-kickoff fantasy football internet chat every Sunday in 2012-13 and appears as a guest analyst on a number of national sports radio shows, including Sirius XM's "Fantasy Drive". Doug is also a member of the Fantasy Sports Writers Association.