ARI | ATL | CAR | CHI | DAL | DET | GB | LAR | MIN | NO | NYG | PHI | SF | SEA | TB | WAS

Most of the information we receive from beat reporters is at least partially useful, but contrary to popular belief, just because it is on the internet doesn't mean it is good information. Poorly researched or poorly conceived insight will surface on a regular basis, so it helps to have a very sharp and sensitive "B.S. detector" during the spring and summer. In other words, it is up to us to make sure what we hear and read checks out with what we already know about the team and/or player.

As a result, I'm going to try to provide a respectable opinion on how the offseason buzz from all 16 NFC teams translates to fantasy owners after doing the same thing last week with the AFC:

Note: All ADPs are for 12-team leagues courtesy of Fantasy Football Calculator as of July 2

Arizona

The Cardinals are unsettled at two skill offensive positions at the very least, three if the "fight" for the backup running back job is included. Or is the battle for the latter job already over? Upon drafting Chase Edmonds in the fourth round, Arizona GM Steve Keim told the media, "I don't want to tell you who we compared him to, because it's a little lofty." (Rumor has it the comp was Brian Westbrook.) At any rate, Edmonds was running with the first team in the spring while David Johnson started to posture for a new contract by skipping minicamp.

Sam Bradford and rookie Josh Rosen appeared destined to battle for the starting quarterback job. While Rosen will almost certainly make multiple starts given Bradford's injury history, Darren Urban of the team's website made it clear it will be "hard not to see Bradford as the starter." On the plus side for the 10th overall pick, Urban noted Rosen "looked as smart as coach Steve Wilks and teammates said he did, showing accuracy, impressive arm strength, somewhat surprising mobility and, by all accounts, the intelligence needed to be that guy everyone said was the most NFL-ready of the rookie QBs."

Brice Butler was signed in free agency to compete for the starting receiver job opposite Larry Fitzgerald, but his chances of securing that spot fell dramatically once the Cardinals used the No. 47 overall pick on Christian Kirk. Butler apparently didn't help himself much during OTAs and minicamp. As a result, Kirk and Chad Williams appear to be the leading candidates for a position that is as unsettled as it has been in Arizona in nearly 10 years. Urban believes Williams, who spent some time in the offseason working out with former Cincinnati Bengal Chad Johnson, is in the lead at the moment.

Early-July Fantasy Reaction: Edmonds isn't going to have much value in fantasy as soon as Johnson reports to camp, but his name is one to file way for owners who like to handcuff their stud backs. The Cardinals are obviously thrilled to have him, and it wouldn't come as a huge surprise if use him to spell Johnson more often than former HC Bruce Arians did with players such as Andre Ellington and Chris Johnson.

Bradford has long gotten a bad rap for his ability to be a serviceable quarterback because he simply hasn't been able to stay healthy, but he gives Arizona its best chance to win right off the bat. It seems unlikely a team in rebuilding mode with one very good receiver and a bunch of question marks after him like Arizona will have a quarterback do well enough statistically to be a regular fantasy starter. As such, Bradford and Rosen both need to be viewed as low-end QB2s at best.

Gone are the days of "no risk it, no biscuit." In other words, it seems quite likely the Cardinals won't drive the ball down the field or enjoy enough volume in the passing game to make any receiver outside of Fitzgerald a weekly fantasy starter. Kirk may get there by season's end, but his best position (the slot) may be blocked until Fitzgerald retires. Williams was considered the possible heir apparent to Fitzgerald last year, but Kirk is the new regime's pet and may force Williams into more of a Jaron Brown-type role once he is ready to start. Owners are probably making the right choice by taking Kirk (14.12 ADP) over Williams and Butler, as the rookie is going at the tail end of PPR drafts while the other two are going undrafted.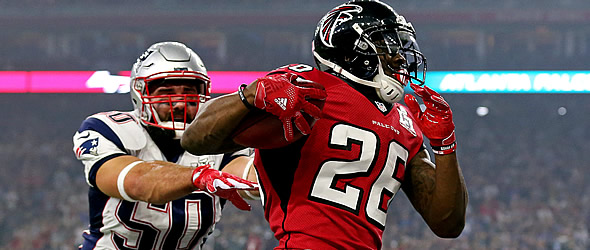 Tevin Coleman's touches have inceased the past 3 seasons but has his workload hit a ceiling?
Atlanta

Julio Jones' contract might be receiving most of the press at the moment, but there is plenty of under-the-radar excitement about his potential replacement down the road. First-rounder Calvin Ridley didn't take long to prove why he was considered by some to be the best receiver in the 2018 draft class. FS Ricardo Allen even caught himself dreaming of the future when talking about him. "I'm already excited to see is him in Year 4 and Year 5. I know that's kind of jumping ahead early, but because he's such a disciplined route-runner and because he already kind of moves like a veteran, I just want to see when he becomes a veteran how much better a player he's going to be. He's the real deal." Helping his cause is the fact his alma mater (Alabama) used some of the same pro-style concepts and terminology Atlanta does. Not surprisingly, Ridley's speed and precise route-running were apparent in OTAs and minicamp.
Devonta Freeman was able to recover from late-season MCL and PCL injuries without undergoing surgery and ready by the time OTAs rolled around. According to his backfield mate, however, he may not see as many touches in 2018. Tevin Coleman's workload has increased each season as a pro. He had 89 touches as a rookie, followed by 149 and 183 in 2016 in 2017, respectively. "They want to use me more. Line me up out wide and stuff like that. It's going to be pretty cool," Coleman told The Atlanta Journal-Constitution.
Early-July Fantasy Reaction: Depending on the source, Ridley is either the second coming of Marvin Harrison or some undersized chump who may be limited to being a slot receiver. HC Dan Quinn told reporters he has been using the rookie more on the outside than on the inside to this point, although the story could always change if Ridley's frame (190 pounds) and hand-fighting techniques don't allow him to defeat physical coverage once the pads come on. Still, the odds of someone who already has a veteran's understanding of route-running and pro-level quickness being able to survive on the outside are high, so he has a great shot of overtaking Mohamed Sanu at some point in 2018. Ridley's rookie-year ceiling may be capped, however, as Jones, Freeman and Coleman will all been somewhat heavily targeted even if he does beat out Sanu, who isn't simply going to disappear even if he gets bypassed on the depth chart. Ridley's 10.03 ADP has him coming off the board as the 45th receiver at the moment, making him a solid WR4 investment for fantasy purposes. Barring a rash of injuries, it's hard to see him moving up much from that spot.
Coleman was the RB18 in 2016 (thanks in large part to his 11 touchdowns on 149 touches) and the RB22 in 2017 (due in large part to a two-plus game stretch in which Freeman was sidelined with a concussion). His final numbers and ranking in both years suggest he is a worthy RB2 in fantasy, which isn't entirely true. I'm not sure Coleman's ceiling for touches can go much higher than last season's 183. If it doesn't, he's either going to need his ridiculous TD rate from 2016, another injury to Freeman or an improvement in line play to live up to his 6.05 ADP. While the thought of using both backs at the same time sounds good now, the Falcons already have three good receivers and a capable tight end in Austin Hooper. In order to get Coleman the bump in playing time he is seeking in the passing game this year, one of those other four players will probably need to stand on the sideline. In the end, Coleman may be a top-25 running back again this year in fantasy, but owners may be screaming for more consistency than he is probably going to provide.
Carolina

So you think Christian McCaffrey is a small dude, do you? He has spent some time in the weight room season ended, hoping to improve on his core strength in order to break more tackles on the second level and turn more of his shorter runs into longer ones. Whether he has been listening to the noise he isn't a physical runner or not, Football Outsiders found the second-year back broke 27 tackles on receptions in 2017 (tied for fourth in the league) but forced only 20 broken tackles on his runs (tied for 36th). Perhaps the weight gain can be attributed to the likelihood that HC Ron Rivera may have hinted he will carry the ball more often in 2018. To that end, Rivera told ESPN's David Newton he sees no reason why McCaffrey can't reach 200 carries one year after posting 117.
D.J. Moore was a bit of a late riser among some NFL draftniks, but that doesn't mean he didn't deserve to be the first receiver selected in April's draft. The University of Maryland standout has already made a favorable impression, as Max Henson of the team's website and SI.com's Albert Breer both noted. "Moore looks more than ready to contribute. Smooth. Can really run. And we haven't even seen what he does best - making guys miss who are actually trying to tackle him," Henson said. To that end, Moore was perhaps the draft's best run-through-contact prospect.
Early-July Fantasy Reaction: Coaches (head coaches and their coordinators specifically) can be unpredictable more often than we care for them to be. It should have been fairly clear early on last season that Jonathan Stewart was on his last legs, so it had to be hard for the Carolina faithful to see Stewart finish with 71 more carries and nine more touches than the No. 8 overall pick in the draft. This offseason, the Panthers added a younger (and presumably a more capable) runner in C.J. Anderson, and the message is to feed McCaffrey more? New OC Norv Turner has made it clear his offense will feature more short passes, so whatever decline was in store for McCaffrey in terms of the 80 receptions he had last year (due to improved personnel) should be minimal. IF McCaffrey comes close to 200 carries and IF the line blocks better than it did in 2017, he should be able to perform up to his 2.06 ADP.
Although Devin Funchess is commonly recognized as the team's primary receiver after breaking out with 840 yards receiving and eight touchdowns last season, the clock is ticking on him to keep that title. Moore was one of the few receivers in this draft capable of eventually becoming a No. 1 receiver in the NFL. His potential in this offense is really only limited by what has suddenly become a very capable and crowded receiving corps (when Greg Olsen and McCaffrey are included), but there's little question his physical nature is going to play well with his new teammates. The number of options available to Cam Newton will probably put a bit of a ceiling on Moore's rookie-year production, but I like his chances of at least living up to his 9.11 ADP and finishing higher than WR44 (where he is going on average at the moment).
Chicago

The receiving assignments already seem to be pretty much determined for the Bears, who reportedly intend on making Allen Robinson the featured "X" receiver, letting Taylor Gabriel handle the "Z" responsibilities and plugging rookie Anthony Miller into the slot. Trey Burton will be featured as much as possible at tight end, leaving most of the intrigue in Chicago at the running back position. Jordan Howard is still going to do the heavy lifting, so no change is expected there either. The biggest difference may end up being how the new coaching staff - led by HC Matt Nagy - intends to use Tarik Cohen. Nagy can't seem to stop talking about him and the different ways he envisions Cohen making an impact. "He's actually the one kid on this team that I knew had a lot of talent, but he comes out here and runs every route the right way, catches most balls and he doesn't make a lot of mistakes. He's a player you get giddy about," Nagy told reporters in mid-May. "You can't just put him in the backfield and say to the middle linebacker, 'Cover him.' So we'll try to do some things there. He's an athletic kid who does a lot of things well. We'll have some fun with him," Nagy told the Chicago Sun-Times in early June. RBs coach Charles London feels similarly. "He's a very versatile player, and we're gonna put him in as many spots as we can. We're going to really give him as much as he can handle. And he's proven he can handle a lot. … You see a versatile, dynamic player who's a threat to score any time he touches the ball. Some of the things he does out there (are) just out of pure instinct and ability. It's pretty impressive."
However, Nagy knows a strict early-down banger/late-down scatback is not an ideal situation for his backfield. To that end, the Bears' coaches are backing up their talk about making sure Howard is more of a factor in the passing game. "We're working on hand placement … just his focus and concentration, hand-eye coordination and things like that. How he needs to position himself. How he needs to have his hands to catch the ball. And I think he's getting a better understanding of that. I've seen progress" London said. This is notable because Howard underwent eye surgery to fix some vision problems last offseason, and the previous offensive staff made similar comments regarding their intention to work with Howard, only to see his involvement in the passing game drop in 2017. Howard told Adam Jahns of The Chicago Sun-Times that Nagy has already assured him he will be "the main guy," but the coach offered some ominous words for his perspective owners later in the same article. "He's proven (he can be a traditional bell-cow running back), so that's for sure. In this offense, it's more game-specific, as to whether or not you need that."
Early-July Fantasy Reaction: Early this spring, Cohen made a comment that he has long compared himself to Tyreek Hill. While Nagy acknowledged there were obvious differences, he mostly agreed with the assertion. Cohen somehow amassed 140 offensive touches as a rookie despite seeing highly inconsistent action after Week 3, but he's a solid bet to be a regular part of Nagy's offense, even if his role (rusher versus receiver versus decoy) changes on a weekly basis. Cohen's floor is probably 160 touches (10 per game), and it would be all that surprising if he gets closer to 180. Regardless of the actual number of touches, Nagy has made it fairly clear defenses will not go very long without having to account for the 181-pound second-year back. It seems like a near certainty he'll outperform his current 6.05 ADP.
Howard may end up being the hardest players for owners to peg this season. Reading in between the lines regarding Nagy's comments, it's not impossible for Howard to be "the guy" and still lose a substantial number of touches to Cohen. It seems extremely likely one season after finishing with 299 touches, Howard will probably settle into the 240-250 range. The good news is Chicago should be so much better on offense that Howard could conceivably score enough touchdowns to minimize the damage for his fantasy owners. A 250-touch back with double-digit TD upside remains a hard thing to find, making his 3.03 ADP feel like a bargain even when presented with the likelihood he may be even more volatile than usual.
Dallas

In the month or so following the draft, perhaps no veteran got more press clippings than Tavon Austin. First, executive vice president Stephen Jones introduced the term "web-back" to the world, which HC Jason Garrett defined as "a dynamic mismatch running back out of the backfield." Jones later suggested the Cowboys want to get him the ball "a dozen … to two dozen a game … and then you throw the return game on top of it." It wasn't long before OC Scott Linehan threw some water on that fire, telling The Dallas Morning News' Brandon George that "we'll use him for a lot of things, but he's a receiver first." Dak Prescott seemed to second that notion later in May, telling The Dallas Morning News' Jon Machota "coaches have a great plan, whether it's getting him out of the backfield, lining him up at Z, putting him in the slot." For all the quotes one could ever want about Austin, check this out.
With Dez Bryant and Jason Witten no longer in the picture, there are a ton of targets available in the Dallas passing game (219 just between the two departed Cowboys last year alone). The team does not seem nearly very excited to speed up the development of Rico Gathers, casting doubt on its ability to produce the fantasy-worthy tight end in 2018, unless Blake Jarwin lives up to some of the hype. Thus, the bulk of the passing attack's production figures to fall on the receivers. Bleacher Report's Marcus Mosher thinks the leader of the group at the position at the moment is Allen Hurns. However, according to Bryan Broaddus and David Helman of the team's website in mid-June, it was Jarwin and rookie third-round pick Michael Gallup (along with Lance Lenoir) who were showing the most chemistry with Prescott.
Early-July Fantasy Reaction: Virtually no one believes Austin will see the ball nearly as often as Ezekiel Elliott. The most common refrain from team insiders and the coaching staff seems to be Austin will be used like Lance Dunbar, who was on pace for nearly 100 touches during his most active season in 2015 before one of his many injuries stopped him in his tracks after four games. Even with so many questions at receiver and tight end, somewhere in the neighborhood of 100 touches is probably a good - albeit lofty - goal for Austin in 2018 given his own injury history, although he has proven to be more durable than Dunbar. The No. 8 overall pick in 2013 is going undrafted in 12-team leagues and in the 14th round of 14-team league, which sounds about right for a player almost guaranteed to be no higher than third on the team in carries and no higher than third on the team in receptions.
In today's NFL, virtually any receiver who leads his team in catches or receiving yards is going to be worth a roster spot in fantasy, especially one with a 1,000-yard, 10-TD season in his recent past. Hurns is a very capable receiver when healthy, but if he is going to be the team's true No. 1 option in the passing game this season, he'll need to prove he is capable of being the lead man after being the sidekick to Allen Robinson during his breakout 2015 campaign. And if he is beset by injuries again, the team will have very little choice but to lean heavily on Gallup. A bit of a Michael Crabtree clone, the rookie has the ability to handle No. 1 duties one day, but it will be a tall order for him to do it in 2018. Hurns is the "safe" pick to emerge from this receiving group this season, but I'd be leery of taking him at 9.06, ahead of players such as Nelson Agholor, D.J. Moore, Sterling Shepard and even Danny Amendola. Gallup is a legitimate threat to overtake Hurns at any time but still a late-round flier at best in what may be a spread-the-wealth passing attack. He is a WR5 candidate who could pay off late, making his 13.10 ADP a slight value.
Detroit

Perhaps the only certainty regarding the running back position with the Lions is that Kerryon Johnson and LeGarrette Blount will hog the playing time on running downs, while Theo Riddick maintains his usual role in the passing game. Why? Because it seems as though most former New England assistants do as the master (Bill Belichick) does: say little to the media and frustrate fantasy owners when it comes to the usage of running backs. Detroit's depth chart at tight end features more blockers than anything else, leaving only the receiver group as the only place to find some buzz. Since he started appearing on highlight reels last summer, there has been no shortage of people talking about Kenny Golladay. After sending Lions' fans into a frenzy when he scored two touchdowns in his NFL debut last season, the 2017 third-rounder fell back to earth over the next two games before missing the next six weeks with a hamstring injury. His final numbers (28 catches for 477 yards and three touchdowns) speak to his big-play ability (17 yards per reception), but they made him appear to be a normal rookie who struggled with consistency when it was more of a matter of him losing the No. 3 job for a bit due to his slow recovery.
Fast-forward to this spring and Golladay appears poised to right the wrongs of 2017. According to Kyle Meinke of MLive.com, the second-year pro is "an excellent candidate" to become the offense's breakout player of the year. According to Meinke, Golladay "consistently chewed up the first-team defense, and especially in the red zone, where he so deftly uses that rangy frame to go up and get passes even the likes of Darius Slay can't get to." The real kicker was a quote from contract-year WR Golden Tate, saying the words all fantasy owners want to hear. "Kenny's still a young guy trying to figure it out, but he's moving at a great pace. If he can just keep the mentality he has coming in, he studies and just tries to get better every day, I'm telling you, this guy can be dominant. He's a WR1 kind of guy." Former Lions receiver and current NFL Network analyst Nate Burleson seems to agree.

Early-July Fantasy Reaction: Despite being no better than third in line for targets, Golladay is about as obvious of a breakout candidate as there is late in most drafts, assuming he can stay healthy this time around. The departure of Eric Ebron frees up 86 targets and only about 50-60 percent of those opportunities figure to go to same position this season. Detroit wants to run the ball more effectively, which could erase more potential targets from the equation, but the fact of the matter is Matthew Stafford will probably still throw around 600 times. If we assume Tate and Marvin Jones take 250 of those (they combined for 227 in 2017) and the tight ends grab 70 more, that still leaves around 280 to be spread around among Golladay, Riddick, Johnson and maybe T.J. Jones. Anything less than 70 targets given the current construction of the roster and the loose projections above should be considered a disappointment for Golladay, who isn't going to draw near the amount of attention someone of his size (6-4, 218) and athleticism should as long as Tate and Marvin Jones are hanging around. His current 13.05 ADP feels like a ridiculous steal at the moment.
Green Bay

Last year at this time, Ty Montgomery was the clear No. 1 running back for the Packers. His featured-back status lasted all of three games before suffering broken ribs in Week 4. Aaron Jones emerged shortly thereafter before a sprained MCL in Week 10 short-circuited his season. Jamaal Williams took the baton the rest of the way to the finish line, seemingly staking his claim to be the man to begin 2018. Not so fast. In what has seemingly become a familiar theme for Green Bay in recent years, HC Mike McCarthy announced in mid-June "we're going to go running-back-by-committee. But if one of them would emerge as that full-time guy then you have to have that ability to ... adjust to that. As far as planning and going into the season, that's why we're going about it that way." McCarthy describes Montgomery as "multi-positional" and someone the Packers "have to take advantage of" in regards to utilizing his unique set of skills. Jones was "so impactful when he's been in there," while Williams "has probably been the most available of the three." Jones bulked up this offseason, while Williams' goal was to add explosiveness after only five of his 153 carries went for more than 12 yards.
The third receiver spot in Green Bay has long served as a bit of an incubator for future studs. At various times over the last 10 years, the likes of Randall Cobb, James Jones, Davante Adams and even Jordy Nelson have all served some time in that role. (The fact of the matter is the line goes much longer than 10 years.) At the moment, Geronimo Allison is the "de facto" No. 3 receiver in Green Bay. How long that remains the case obviously depends on his ability to show he can consistently do what he has already done the few times he has been pressed into duty. However, the Packers likely would not have drafted three receivers in April if they thought they were settled at the position. Of that group, J'Mon Moore was the first one selected. By most accounts, he flashed enough during OTAs and minicamp to make observers believe he's got a chance to make an immediate impact during his rookie season.
Early-July Fantasy Reaction: NFL coaches often do a great job of saying a lot without saying much at all. McCarthy promises RBBC unless one of them essentially forces his hand, so it's not so much RBBC as it is "please, somebody step up and take the job." In my opinion, Jones should be considered the favorite if only because he brings big-play ability the other two don't. However, it is quite clear from McCarthy's comments that Montgomery will be utilized in a bit of hybrid/joker role at the very least. Williams seems like he is going to be more of a safety net unless he proves he can be a bit more explosive. Early ADP seems to be in agreement, as Jones (8.03) is often going at least a full round ahead of Montgomery (9.06) and at least two full rounds ahead of Williams (9.10). Obviously, not all three backs are going to contribute consistently enough over a full season to be worth three of the top 44 picks at the position, so each of those ADPs is more of a shot-in-the-dark type pick than anything else. The eighth round is about the right time to take a shot at a running back with huge upside like Jones. The Green Bay backfield is a great target for owners who target receivers early in drafts; it seems reasonable at least one of the three Packers will emerge at some point and be a solid RB2. Investing three picks in the seventh to ninth round area to get one RB2 doesn't seem like a bad strategy, especially if owners are pleased with the rest of the team they assembled prior to that.
The addition of Jimmy Graham theoretically makes the No. 3 receiver job in Green Bay a bit less exciting, as Allison, Moore or any of the other Packer receivers who are in camp will be lining up behind Adams, Cobb and Graham for targets. The problem with that thinking is that Cobb is not the most durable player and Graham started to show his age a bit last season. If everything doesn't go according to plan (such as Cobb getting hurt or Graham losing another step), then Allison or Moore (or the rest of the bunch) immediately becomes a potential WR3 in most leagues. Allison may be able to hold off Moore for the bulk of this season - if not all of it - so I like him at his 12.07 ADP. However, I'm not kidding when I say I see a bit of Chad Johnson in the rookie's footwork. It would not surprise me if Moore has a starting job wrapped up by December and becomes Adams' long-term sidekick.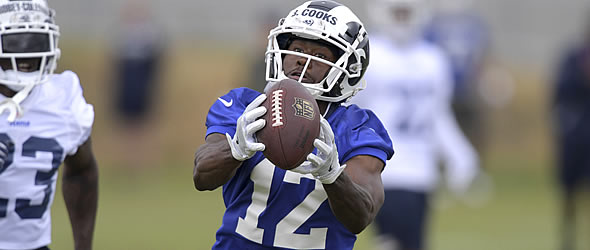 Unlike Sammy Watkins, Brandin Cooks will have a full off-season to build chemistry with Jared Goff.
Los Angeles Rams

Whereas last season was all about improving the league's worst offense, the 2018 offseason was seemingly all about getting the defense on par with the NFL's highest-scoring offense. Thus, the Rams haven't exactly been the source of a lot of fantasy buzz this spring and summer because Brandin Cooks replacing Sammy Watkins is the only notable change the offense has made. While Watkins was forced into a tough situation in which he had less than a month to learn a new playbook, Cooks will have a full offseason to build chemistry with a quarterback (Jared Goff) he was already familiar with, as the worked out together before the offseason program began. Cooks has not disappointed, impressing the team with his attention to detail, practice habits and work ethic. (And let's not forget about his speed. Check the link out at about 1:20.)
Early-July Fantasy Reaction: Although the Rams obviously performed very well last season, Watkins was very much placed in a position to fail for two reasons: 1) how close to the start of the regular season he was acquired and 2) the ridiculous slate of high-end cornerbacks he was forced to face. Assuming Cooks is treated as the No. 1 receiver by defensive coordinators, he won't catch many breaks from the schedule either. Robert Woods emerged as the primary receiver last season and there's been no indication that is about to change. Facing top-flight corners isn't going to keep Cooks from producing, as he has been his team's top receiver in three of his four pro seasons. His 5.06 ADP is perfectly understandable and legitimate for a receiver with three straight 1,000-yard seasons with at least seven touchdowns. But the real surprise is the lack of respect Woods is getting in early drafts. Good luck in August finding a receiver who was the WR7 in terms of fantasy points per game from Weeks 5-16 at 8.07, which is where he is currently going on average now. That makes him a ridiculous value pick at the moment.
Minnesota

The Vikings made arguably the largest free-agent splash this spring, landing Kirk Cousins on a fully guaranteed three-year, $84 million contract. While his arrival should help Minnesota come out of the conservative offensive shell it felt it needed with Case Keenum, the return of Dalvin Cook may end up being what allows this team to take the next step. The Vikings clearly identified Cook as a three-down feature back early on last season, giving him 79.2 percent of the carries and 54.2 percent of the targets from the running back position. Although Latavius Murray was still working his way back at that point of the season, Cook's large share in the passing game is notable since Jerick McKinnon had already proven himself to be a very good option in that regard over his career. Cook's Week 4 ACL tear changed all that, but the injury happened early enough that he was always likely to be cleared to participate in training camp. Spring workouts were less certain, but he was able to get some work in OTAs and minicamp by knocking rehab "out of the park," according to athletic trainer Eric Sugarman. Better yet, Cook graduated to work in team drills by the time minicamp rolled around. Perhaps most surprisingly, he doesn't intend to wear a brace during games in 2018.
Early-July Fantasy Reaction: Even with modern medicine being what it is, it's still a bit risky to invest a high fantasy draft pick into a player coming off an ACL injury because, no matter what any athlete will admit, the trust in his/her injured knee doesn't usually return until the second full year. Cook is unlikely to be immune to from such concern, but the combination of his talent, the addition of Cousins and a likely firm grasp on a high-volume role should make re-injury the only concern for owners. While his 2.01 ADP may seem a bit too much for someone with his injury history (ACL along with multiple shoulder surgeries), he's really not too much different from a fantasy perspective the Melvin Gordon and comes with the added bonus of being more explosive. Cook is one of the 10 running backs owners should feel pretty comfortable with before or right around the 1-2 turn in drafts. Here's some food for thought: if we take his first three full pre-injury games and project them over the course of a full season, Cook would have finished with 325 carries, 1,536 rushing yards, 53 catches and 437 receiving yards. He should have more touchdown upside this year (his pace stats last year would have given him between five and six), so if owners can get past the knee like it seems he has, he's should have no issue living up to his ADP.
New Orleans

Cameron Meredith (6-3, 207) may have the size of a perimeter receiver, but it appears the Saints targeted him with the intention of letting him play the Marques Colston slot role. HC Sean Payton reportedly identified receiver as a position the team absolutely needed to improve in 2018, and it's likely because New Orleans took some time to crunch the numbers from Meredith's 2016 campaign. During that season, Meredith played much more slot late in the year than he did early. Needless to say, he was quite successful - well above the league average. And while the Saints' 37.6 percent conversion rate on third downs in 2017 isn't horrible (it ranked 19th in the league), it was easily the lowest mark of the Payton era. Last season was also the first time since Payton's first season in 2006 that the team fell short of generating at least 1,000 yards from the slot. There is obvious concern with him regarding the seriousness of his ACL injury (this link explains Chicago was too), but Payton has noted Meredith is "way ahead of schedule" (likely another case in which he was lucky to suffer the injury in the preseason as opposed to late in the regular season). Payton also admitted he has a "clear vision" on how he wants to use his new offensive toy.
Early-July Fantasy Reaction: Meredith's injury was one of the worst-looking of the 2017 season. While it's OK for owners to be cynical that he is "way ahead of schedule," try to at least keep an open mind. IF he is back to his pre-injury form, then a good starting point for projecting his potential statistical impact would be pre-2017 Willie Snead. As most owners remember, Snead was often worth drafting in the sixth-to-eighth round range as recently as last summer. When we consider 43.1 percent (421 of 977 yards) of the Saints' production from the slot came from Alvin Kamara, it's even more reason to believe the 2017 Rookie of the Year is a prime regression candidate. Getting back to Meredith, the other notable point to touch on from above is the "clear vision" Payton has for him. Payton said essentially the same thing last year about Kamara. I'll be interested to see where I rank Meredith when I finally get around to the Big Boards, but there's no question he'll be significantly higher than his current 11.11 ADP. Just based on a quick glance of the ADPs of all the receivers around him, my guess is he is being undervalued by almost three rounds. He is a better bet than not to finish as a fantasy WR3, not as a WR5.
New York Giants

Plenty has changed in the last few months for the Giants, but the uncertainty surrounding long-term extension talks with Odell Beckham Jr. seems to have dominated the headlines. Given his current predicament, trying to draw too many conclusions about how any of the pass-catchers are being used during spring workouts would be pointless. It's almost a given new HC Pat Shurmur's offense will be an improvement over Ben McAdoo's, but folks hoping for some information on that need only look at what he did for the Minnesota offense last year or the impact he had during the Chip Kelly regime in Philadelphia. So the only player that is left to discuss is Saquon Barkley. There are going to be people in the coming weeks and months who will say unkind things about him, but there's a reason running back coaches didn't bother to go see him on Penn State's pro day before the draft: his work ethic is already the stuff of legend and he comes with zero off-field concerns. Working hard and being nice isn't enough to get a player drafted No. 2 overall though. Being a matchup nightmare does. "He's a special player. Special player. Guy that, any single down, is going to create a lot of matchup nightmares for coordinators in this league and players in this league," Giants defensive coordinator James Bettcher told the team's website. "The guy can play, man. … The guy's explosive, you can see how they will use him in the offense, which will be to our benefit," defensive tackle Damon Harrison told the website.
Early-July Fantasy Reaction: It almost seems unnecessary to talk about buzz when it comes to someone like Barkley because he has already been so hyped up to this point that he'll need to run for close to 2,000 yards and add about another 500 in receiving in order to justify it. What he needs to do is provide the same kind of impact for New York that Dalvin Cook did for Shurmur in Minnesota last year - only over a full season. The Giants did a good job this offseason of adding quality offensive linemen to make sure Barkley isn't dodging tacklers in the backfield nearly as often as it seemed like he did at Penn State. However, his true value may come as a receiver or, perhaps more importantly, the threat he brings out of the backfield. Good luck finding a linebacker who can stay with him on a wheel route or change direction on an angle/arrow route across the middle. Good luck asking a third safety to try to square up a 230-pound back who can leave him grasping at air on a juke or run him over. Expecting a running back to become the best at his position in fantasy as a rookie is a tall order and not something I'm willing to do, but it's probably only a matter of time before he is. I think he may disappoint a bit in the touchdown department, but fantasy owners probably aren't going to have much to complain about with him. He's worth considering as early as 1.02 and should be considered an absolute steal if he makes it to 1.10. Barkley is the real deal.
Philadelphia

Remember last year when the Eagles were trying to sell people on a LeGarrette Blount-Darren Sproles-Wendell Smallwood backfield? (Good times.) One is already gone, one is coming back from an ACL tear and the other one could be on his way out. In case it wasn't obvious, Sproles was the middle guy in that group, but the fact a 35-year-old is coming off such a serious injury did not deter Eliot Shorr-Parks of NJ Advance Media from saying "it would not be surprising at all to see Sproles near the top - if not at the top - of snaps on the field for the running backs next season" in mid-May. Corey Clement passed Smallwood on the depth chart early in the season but became a bit of a forgotten man once Jay Ajayi was acquired. The former undrafted free agent then shifted gears from taking on Smallwood's work and essentially embraced Sproles' role in the offense during the Eagles' Super Bowl run. Clement spent most of the offseason trying to strengthen his legs and has a right to feel as though his playoff contributions should account for something, and he has already made his plea to be more of a key contributor in 2018. Ajayi was acquired around midseason and served as the lead back, although it didn't always seem like that was the case. With a full offseason to settle into Philadelphia's offense, it seemed fairly certain he would be asked to take on a similar role at the very least, albeit while losing most of the work in the passing game to Clement and Sproles and perhaps 40 percent or more of the carries to the same duo. Maybe not. In what qualifies as the strongest preseason statement the Eagles are probably going to issue about their backfield, assistant HC/RBs coach Duce Staley suggested he and HC Doug Pederson are "excited" about Ajayi being able to go out there and … be "that guy."
Early-July Fantasy Reaction: This backfield may not be as confusing as most thought initially, although it's hard not to feel a bit uneasy about it. No matter what Staley says about Ajayi perhaps being the bell-cow back, he's not going to see a lot of work in the passing game as long as Sproles and Clement are healthy. As bad as that sounds for Ajayi, if we do nothing else but assume Ajayi absorbs all of Blount's touches to his own from last year (beginning in Week 9 for both - Ajayi's first game with Philadelphia) and project them out over a full season, the ex-Dolphin would finish with 286 carries for 1,414 yards to go along with 28 catches for 232 yards and four total touchdowns. While it goes without saying that kind of analysis is simplistic, it does suggest there is something approaching a bell-cow role for Ajayi without freezing out Sproles and Clement. While I initially doubted I would be willing to own many shares of Ajayi, his current 4.06 ADP sounds pretty reasonable for a player who shouldn't have any "big-back" challengers and runs behind one of the best lines in the league. As the 21st running back off the board on average, he's often the last one that enters the season with a legitimate shot at 250 carries.

San Francisco

Somehow, the 49ers went from being one of the worst teams in football with no hope at quarterback to a team that some believe is a playoff contender with one of the best young quarterback prospects in football. Unsurprisingly, there has been plenty of chatter in the bay area. We'll start with Mr. Buzz himself, Jerick McKinnon. His hype started about the time San Francisco made him the fourth-highest paid player at his position (based on annual average value) even though he has never recorded 160 carries in a season. There were still plenty of doubters until HC Kyle Shanahan admitted getting "lost" in McKinnon's game tape. "There (are) so many things I liked about him, just visualizing how I would use him and the stuff that we would do. Even though there wasn't a ton of it, you've still got to see him do some stuff that we do a lot. And whenever he did, he excelled a ton and looked very good at it." Shanahan continued praising his guy in late March and could have been mistaken as the second coming of the LaDainian Tomlinson two months later.
Lost in the explosive finish to Marquise Goodwin's season was the emergence of another receiver, Kendrick Bourne. The undrafted free agent out of Eastern Washington took advantage of injuries to Pierre Garcon and Trent Taylor to pile up nine catches for 154 yards over the final four weeks of the season. Although stands no better than fifth among the team's receivers at the moment, Bourne seemed to generate more buzz than any other San Francisco receiver this offseason. Shanahan seems to like him in part because he is one of the team's taller receivers (6-1) and may be the most physically gifted receiver on the 49ers roster. ESPN's Nick Wagoner called him "one of the most consistent pass-catchers" during the offseason program.
Early-July Fantasy Reaction: Despite logging 299 touches last season, Carlos Hyde always seemed to be a bit of a lame duck (in regards of playing out the final year of his contract with no hint of extension talks) keeping the seat warm for the next guy. Hyde finished as the overall RB8, which is pretty good for a guy that "didn't fit." It seems pretty obvious Shanahan thinks McKinnon will be a better fit, and fantasy owners should know by now Shanahan does a better job at finding running backs "fits" than the general public, which tends to point to his "inability" to do anything of note in Minnesota or a lack of yards after contact. There's reason to believe McKinnon will run behind a better line than Hyde, and Shanahan's history suggests he will make every effort to build his running game around McKinnon's athleticism, likely featuring plenty of outside zone runs and maybe even some toss plays. That's not to say McKinnon can't run inside, but his explosiveness and elusiveness will obviously play better in space. It seems as though owners have fallen in love with the former Viking just as his new head coach as, as his current 2.09 ADP is reaching a bit of an uncomfortable level. As is the case with Christian McCaffrey (assuming he proves most everyone else right about his ability to run inside), however, McKinnon will almost certainly provide a safe floor because he is a strong bet to accumulate 60-plus receptions. When we factor in the likelihood of him handling at least 220 or so carries, it's not hard to justify his current draft slot in the middle of the second round.
Bourne will almost certainly go undrafted in 99 percent of leagues and that's OK. Garcon and Marquise Goodwin appear to be locked in as starters, so the best he can realistically expect is to beat out Taylor and Dante Pettis for the No. 3 job. There's no guarantee Jimmy Garoppolo can make two - much less three - receivers viable in fantasy at the same time. However, the value of mentioning him here isn't so much to make sure owners snatch him during the draft but rather introduce him now so his name is familiar should someone like Goodwin not be able to play all 16 games (which he did for the first time last season).
Seattle

More than two months after the completion of the draft and the first-round pick that still boggles the mind is Rashaad Penny. Upon his selection, it seemed pretty much a fait accompli that he would be thrust into the starting job and a virtual lock for 250 touches. Problem is someone forgot to tell Chris Carson. It's not that Penny hasn't endeared himself to the coaching staff (he has), it just seems like Carson has done more. The first obligatory step of any breakout season for a running back is to give folks a reason to believe the previous year if possible. Check. Add five to 10 pounds of "good muscle" in the offseason. Check. Look like the most dominant player at your position. Check. For what it is worth, The Seattle Times' Bob Condotta seems pretty convinced Carson will enter training camp as the starter and may hold the title for the foreseeable future.
If anyone was riding shotgun on the Seattle hype train Carson was powering this spring, it might have been Tyler Lockett. According to HC Pete Carroll, it was obvious his speedy receiver wasn't quite 100 percent last year as he was still recovering from the scary leg injury he suffered on Christmas Eve in 2016. Lockett estimates he played the bulk of last season at about "75, 80 percent." It doesn't look the leg is an issue now. Even with his limitations, Pro Football Focus ranked him as the fifth-best receiver against press coverage in 2017 (min. 10 targets), generating a passer rating of 128.8 on balls thrown in his direction versus press. Lockett claims he is "healthier than I've ever been" as he enters a contract year.
Early-July Fantasy Reaction: On more than one occasion, Carroll has shown the willingness to push draft capital aside and play the best player, so prospective Penny investors may want to either reduce their willingness to buy the rookie at his 4.03 or protect themselves and take Carson a little earlier than his current 11.06 ADP. Seattle's offensive line should be better than it was if it merely stays healthy - eight offensive linemen played at least 100 snaps last year. For what it's worth, I don't buy into Carroll's faith in Penny as a pass-blocker because he was arguably the worst at it among players at his position in the 2018 draft class. Carson proved to be more than capable behind a poor blocking unit last year and has put himself in position to split carries at the very least. While I am still not a fan of Seattle's selection of Penny, the Seahawks will likely believe the investment was worth it if they either Carson and/or the rookie are able to play every week, thereby eliminating the need to use six different running backs and/or count on Russell Wilson to lead the team in rushing again this season.
Lockett's best season remains his 2015 rookie campaign, when he finished with career highs in receptions (51), receiving yards (664) and receiving touchdowns (six). Technically, he's only missed one game in his career, but injuries have held him back from maximizing his talent. The departure of Paul Richardson via free agency should make him the unquestioned top vertical receiver on the team, and there is certainly some value in that when Wilson is the one throwing the ball. Lockett seems like a nice bargain at his current 13.01 ADP, although I don't get the same good vibe from him that I do Kenny Stills (11.06) or Cameron Meredith (11.11) a round earlier. Lockett should be able to match or set career highs across the board in 2018 if Seattle has truly fixed its running game, but there is a definite ceiling with him as well, probably in the 60-65 catch neighborhood.
Tampa Bay

From the moment Ronald Jones was taken No. 38 overall in April, the main question being Buccaneers' circles has been whether he or Peyton Barber will be the running back of choice in Week 1. Over the long term, few seem to question Jones will eventually run away with the job. Barber did his part to prepare for the starting role in 2018, however, improving his diet and trimming down in the offseason. While Barber believes he has improved his speed and explosiveness, Jones already has both. Much of the concern with the latter is the fact he plays around 205 pounds, his lack of production in the passing game in college and the belief running backs with his kind of game don't run inside and/or can't stay healthy. Yet, Jones has drawn more than his fair share of comparisons to Jamaal Charles and Tevin Coleman - two backs who have done OK for themselves in the NFL. What most critics seem to ignore or don't realize is how quickly he forced his way onto the playing field at USC, how he served as his team's bell-cow back in 2017 and how often he gained more than what was blocked last year. While competing city newspapers/websites will often disagree on what player is winning a position battle, Barber vs. Jones has caused some disagreement from beat writers on the same staff. Less than a week after Greg Auman of The Tampa Bay Times stated Jones will share the early download with Barber while Charles Sims would be considered the favorite to handle the third-down role, The Times' Rick Stroud seemed to suggest Jones would have the biggest impact of any player from Tampa Bay's draft class "since he should get 15 to 20 touches per game."
Early-July Fantasy Reaction: It would be a major upset if Jones doesn't assume the lead back role at some point in 2018, so investing in the rookie makes sense. While I feel good about him being able to live up to his current 5.03 ADP over the second half of the season, I'm not sure I can defend a selection that high for owners wanting an early return. Owners should still be concentrating on acquiring potential every-week starters in the early fifth round, and there's certainly no guarantee he'll be that at any point before October. There's also the small matter of Tampa Bay's extremely difficult early schedule (@ Saints, vs. Eagles, vs. Steelers, @Bears, @Falcons). Jones' big-play ability even in a part-time role should make a serviceable start in one or two of those contests … but which ones? Will his fantasy owners have enough patience to ride it out? The most logical early setup would be Jones getting 15 touches per week while Barber handles the rest of the rushing attempts in addition to doing the dirty work in short yardage and at the goal line. Sims (or undrafted free-agent Shaun Wilson, who reportedly could put Sims' status into question) would then receive the bulk of the work on traditional passing downs. Whether HC Dirk Koetter sees it the same way is something we may not have the answer to for another two months. At the moment, there is a nine-round gap between Jones and Barber (14.03), which is an insane difference considering the likelihood both players end 2018 with a similar number of touches. At the moment, I would have to pass on Jones at his current ADP and buy all day on Barber.
Washington

With apologies to seventh-rounder Trey Quinn, who may have generated the most buzz among all Redskins so far this season but probably won't see significant playing time on offense unless Jamison Crowder gets hurt, the other player of note to discuss is Derrius Guice. Less than two weeks after drafting him, Washington HC Jay Gruden stated the second-round pick's role was "quite easy to see. It's first, second down." Gruden acknowledged Guice was probably a better receiver than he was given credit for during the draft process in the same article, but he still seemed to be surprised by the rookie's hands near the end of OTAs in early June, telling NBC Sports Washington it has been "very exciting" watching Guice catch passes. By the time late June rolled around, ESPN's John Keim said, "It would be surprising if someone other than Guice opened the season as the starter. He runs with violence and can create extra yards because of his style, something the Redskins have wanted."
Early-July Fantasy Reaction: Guice isn't going to be given anything, but it has been widely assumed - and rightfully so - that he would probably be the primary early-down back almost from the day he was drafted. Questions exist about his ability to contribute in the passing game mostly because LSU doesn't throw the ball much to its running backs - remember Leonard Fournette entered the league with the same concerns last year - but if observers want to question one part of Guice's work in the passing game, it should be how quickly he picks up his blocking assignments against the blitz. Owners obviously remember the impact Chris Thompson made in 10 games last year and while no one should expect him to merely go away, folks also need to remember Rob Kelley was essentially featured for the second half of the 2016 season despite Thompson being healthy. As long as Thompson is healthy, he will be the third-down back of choice, but if Guice continues to make an impression in all facets of the passing game, it seems highly likely he'll carry the ball well over 200 times and add at least 20-25 catches with the upside for a lot more considering Thompson's injury history. Guice's 3.09 ADP is a bit high for my liking at the moment given his likely role to begin the season, but he also has all the makings of a potential league-winning type of player should Thompson fail to hold up yet again, so he makes sense at or around his current ADP.
Suggestions, comments, about the article or fantasy football in general? E-mail me or follow me on Twitter.
---
Doug Orth has written for FF Today since 2006 and been featured in USA Today's Fantasy Football Preview magazine since 2010. He hosted USA Today's hour-long, pre-kickoff fantasy football internet chat every Sunday in 2012-13 and appears as a guest analyst on a number of national sports radio shows, including Sirius XM's "Fantasy Drive". Doug is also a member of the Fantasy Sports Writers Association.