8/22/12



While a large percentage of the rankings do not fluctuate much between standard scoring leagues and point per reception (PPR) leagues, there are a number of players whose value improve significantly when receptions are added to the scoring equation. I believe the following running backs and wide receivers stand to gain the most value when going from a standard scoring league to a PPR league. This is not to say that these players are the most valuable players in PPR leagues, but they are the ones whose value increase the most when receptions are counted as a point.

Running Backs

1. Darren Sproles
Standard League ADP - 3.06
PPR League ADP - 2.09

Perhaps no other player in fantasy football will see such an extreme change in value when going from standard scoring to PPR than Sproles. With 111 targets and 86 receptions last year, Sproles not only caught more balls than any other running back, he finished seventh overall in the league in that category. There is no doubt the Saints will be one of the league's most pass-heavy teams once again this year, and Sproles should find himself a big part of that game plan. While he may carry the ball a few less times this year if Mark Ingram returns to full health, his catches should not dip much, making him a consistent threat in PPR leagues. In standard leagues, Sproles is being drafted in the mid third round, but I would not hesitate to take him in the early second round in a PPR league.

2. Reggie Bush
Standard League ADP - 4.12
PPR League ADP - 4.05

What an up-and-down career Bush has had since being hyped as the next big thing before his rookie year even started. While he has not lived up to the hype placed upon him, he is far from washed up and, in fact, may still have his best fantasy year ahead of him. While playing 60 regular-season games with the Saints, Bush averaged nearly five catches per game, even though he was never really their full-time running back. Obviously the Saints are a much more pass-heavy team, but it's also obvious to everyone that Bush has the skills to put up big numbers in the receiving game wherever he plays. Even in a more conservative offense last year, and while splitting running back duties, Bush managed 43 catches for nearly 300 yards. While Daniel Thomas may be given another chance to become the workhorse back, he is not much of a threat in the passing game, so Bush's receiving numbers from last year should be seen as the floor to what might be a very valuable campaign in PPR leagues. In standard leagues Bush is being taken in the late fourth round (too early in my opinion), but I could certainly justify taking him up to a full round earlier in PPR leagues, where he should be a safe mid-range RB2.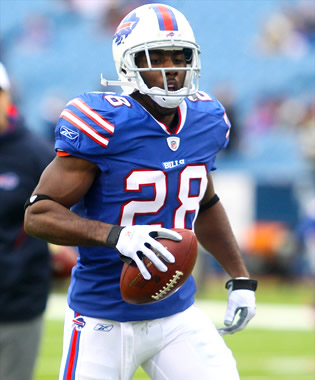 Spiller is able to line up as a WR in the Bills offense.

3. C.J. Spiller
Standard League ADP - 8.02
PPR League ADP - 7.04

Playing behind one of the better backs in the league, Spiller isn't likely to be a fantasy star unless Fred Jackson goes down with an injury. The good thing for Spiller owners, however, especially in PPR leagues, is that even with limited opportunities and with a healthy Jackson leading the way, Spiller has the skills to be very fantasy-relevant. After Jackson went down with an injury last year, Spiller finally got to show coaches what he could do. While his numbers were not record breaking, he did put up nice touchdown numbers (5 total), a nice reception total (24), and a very healthy yards per carry (5.2) over the final six games. The Bill's offense isn't exactly overflowing with big playmakers, so chances are, the coaching staff will find ways to get Spiller the ball, even if he has to line up as a receiver on certain downs. While a lot of Spiller's opportunities will hinge on Jackson's health and productivity, I still see a very conservative projection of 45 catches for 400 yards and three touchdowns for Spiller, in addition to his rushing totals. If Jackson were to go down (he is coming off of an injury and is 31 years old) Spiller has shown he is a capable replacement and could actually be a PPR stud. In standard leagues he is being taken outside of the top 30 backs, but in a PPR league I believe he is more in that 20-23 range of RBs. By acquiring Spiller in a PPR league, you already have an every-week flex player, with the added value of his possibly being a high-end RB2 should he become the starter at any point during the year.

4. Roy Helu
Standard League ADP - 8.10
PPR League ADP - 8.03

I know, I know, you don't want to mess with any RB whose playing time and touches are determined by Mike Shanahan. While I agree it is a bit of a gamble to fully trust any of the Redskins runners this year, I believe Roy Helu has the best chance to make a big impact in PPR leagues. While the running back shuffle in Washington may be Helu's biggest hurdle, there are reasons to believe in him as a PPR star this year. First, Helu has the most natural talent of the Redskins backs, especially in the passing game. Second, Helu proved last year that he can put up very respectable numbers on the ground (640 yards) and through catching passes (49 receptions), even though he started only five games. You want upside? Helu caught 14 passes for 105 yards versus the league's best defense (San Francisco) and also had back-to-back-to-back 100-yard rushing games in Weeks 12 through 14 last year. While Coach Shanahan has stated that Hightower will be the starter if healthy, Helu should at the very least be in on most third-down situations and get a handful of touches on other downs each game. If Hightower can't get healthy or doesn't produce, Helu could see a huge jump in touches and contend for top 12 RB status in PPR leagues. While Helu is being drafted outside of the top 32 RBs, I believe his PPR value is more in the early 20s or even late teens for RBs. Much like with C.J. Spiller, drafting Helu in a PPR league gives you a floor of a decent flex player every week, with the potential ceiling of a high-end RB2 if the cards fall the right way.

5. Ronnie Hillman
Standard League ADP - 13.04
PPR League ADP - 12.02

This may be going out on a limb a bit, but for a guy that is being drafted after a handful of DEFENSES in standard leagues, I believe his PPR potential value could be a steal. The scouting report on Hillman is that he is not a real power runner or potential workhorse, but he has the hands, feet, and quickness to contribute right away as a change-of-pace, third-down type running back. While he is not a legitimate threat to be a starter from day one, Hillman's skills are unlike that of the Bronco's current starter, Willis McGahee, who is more of a plodding, power back with limited pass-catching ability. With the shift from a run-based offensive attack to a more pass-heavy plan under Peyton Manning, Hillman's number may be called much more often than people think. If he can show some pass-blocking ability and get past a training camp hamstring issue, I could easily see him catching 35 or more balls while adding four to five carries per game. In standard leagues, Hillman is being drafted in the mid eleventh round as a handcuff/sleeper RB, but in PPR leagues I would certainly consider taking him a full round earlier as a potential poor man's Darren Sproles. He could emerge as a high end RB3 in that scoring system.



Honorable Mention:

Doug Martin: Even if he loses a bunch of carries to Blount, Martin should get almost all the Bucs' catches out of the backfield. Jamaal Charles: While splitting time his first three seasons, Charles totaled more than 100 catches, and Cassel should love the check-down pass. Pierre Thomas: In standard leagues he is nothing more than a low-end RB4, but Thomas has averaged well over 30 receptions a year the last four seasons, including 50 last year, making him a possible RB3 in PPR leagues.



Wide Receivers



1. Antonio Brown
Standard League ADP - 5.05
PPR League ADP - 5.02

In Pittsburgh, Mike Wallace gets most of the fantasy love, but it was Brown who led the team in targets and was a very close second in receptions and yardage. With a banged-up and struggling run game, the Steelers may actually throw the ball more often this year (they were just 19th in attempts last year), and Big Ben seems to look Brown's way more than anybody else's. While Brown's lack of touchdowns (just two in 2011) is keeping his appeal relatively low in standard leagues, PPR league owners should be drooling over his potential to catch at least 85 balls this year now that he is a full-time starter with the trust of the coaching staff and his quarterback. In standard leagues Brown is generally the 19th to 21st WR off the board, but I believe taking him as one of the top 12 to 15 WRs in a PPR league would still represent great value. With another couple of touchdowns this year, Brown may actually be the better Pittsburgh WR to own, regardless of league scoring rules.

2. Eric Decker
Standard League ADP - 5.11
PPR League ADP - 6.03

For a guy who had only 44 catches last year, Eric Decker is really generating a healthy amount of preseason hype. Obviously the change in quarterbacks is the main reason for this, but Decker is more than just a product of circumstance. A good-sized target (6'3, 220lbs), Decker also runs very good routes and is deceptively athletic. He and Manning have reportedly developed a great chemistry this offseason, and all signs point to Decker being the favorite to receive the most targets in an offense that should at least slightly favor the pass. While the other Broncos starting receiver (Demaryius Thomas) is generally being drafted ahead of Decker in standard leagues because of his big-play ability and red-zone potential, I would certainly favor Decker in PPR leagues by a pretty safe margin (one half to a full round earlier). In standard leagues Decker is generally being drafted as the 19th to 22nd WR off the board, but I would boost him up into the 15-18 range in PPR leagues.

3. Steve Johnson
Standard League ADP - 6.02
PPR League ADP - 6.07

Of all the WRs in this list, Steve Johnson certainly has the least talented quarterback throwing him the ball, yet he has been remarkably consistent the past two years as a WR2 in fantasy leagues. After breaking out in 2010 with 82 catches, 1,073 yards and 10 TDs, Johnson only slightly declined last year in spite of a groin injury (although he still played all 16 games) and very inconsistent quarterback play from Ryan Fitzpatrick. While his lack of elite skills, a somewhat conservative offense, and a mediocre quarterback keeps him from being an "exciting" option in standard leagues, Johnson is a bargain in PPR leagues, as he should safely catch 80 balls this year now that he and his quarterback are healthier and have had a full offseason to build on their chemistry. Johnson is generally being drafted just outside of the top 25 WRs in standard leagues (a bargain to me) but should be bumped up at least four or five slots in PPR leagues as a very safe high-end WR2.

4. Brandon Marshall
Standard League ADP - 3.03
PPR League ADP - 3.03

Anyone who follows fantasy football at all knows of the preseason hype around Marshall and the Bears—back with Cutler, back with his old offensive coordinator, and supposedly back with a winning attitude. While a lot of that hype never pans out, count me in as a big buyer in Brandon Marshall this season, especially in PPR leagues. In each of the past five seasons, Marshall has finished as a top 12 WR in PPR leagues even though he does not seem to generate a lot of excitement come draft day. This may be a product of his poor touchdown totals (he averages less than six per year), or it may be because fantasy owners fear his flying off the handle any given week (Google "Brandon Marshall issues"); but the truth is, Brandon Marshall is about as reliable a WR as any other in the NFL. Through six seasons he has missed only five games and averages more than 1,000 yards and 80 catches per season, including a three-year stretch in Denver where he caught 307 balls. Look, I get that Marshall may not have Calvin Johnson upside and that some of the "Cutler to Marshall" hype may be overblown, but there are very few safer PPR WRs out there, and I believe taking him in the mid second round in a PPR draft is a no-brainer.

5. Wes Welker
Standard League ADP - 3.05
PPR League ADP - 3.01

Plain and simple, Welker is a PPR monster. Even with the emergence of Rob Gronkowski, at age 30 Welker once again led the league in receptions last year by a large margin (22 catches more than the second-place receiver). Thanks to respectable yardage numbers, Welker maintains a low-end WR1/high-end WR2 status in standard leagues, but an argument could be made that he should be considered absolutely elite in PPR leagues. Even with the addition of Brandon Lloyd on the outside, there will be plenty of balls being thrown Welker's way, as the Patriots attempted the third most passes in the league last year, a trend that should continue. While yardage and touchdowns are always difficult to predict, in his five years with the Patriots, Welker has averaged over 100 catches per year and that is very unlikely to drastically drop all of a sudden. As the slot man in one of the most pass-heavy offenses, led by one of the league's best quarterbacks, Welker will get his catches...book it! In standard leagues Welker is being drafted in the mid third round, but if you want any shot at all of having him on your PPR team, you'd better be willing to pull the trigger in the early part of the second.



Honorable Mention:

Roddy White: Already a stud in standard leagues, White gets a boost in PPR leagues, thanks to his consistently high number of targets and catches. Percy Harvin: An emerging fantasy star regardless of the scoring system, Harvin's 87 receptions last year in somewhat limited snaps makes him a viable WR1 in PPR leagues. Danny Amendola: A bye-week fill-in in most standard leagues, Amendola should see a ton of catches (75+) as Bradford's safety valve, making him a borderline every-week flex play in PPR leagues. Davone Bess: Barely on the radar in standard leagues, the sure-handed Bess should average four or five catches per game this year, even if his yardage and touchdown numbers don't blow anyone away.


Suggestions, comments? E-mail me.