Everyone knows to start Peyton Manning every week, regardless of the match-up. But not all decisions are as easy at that one. So to help you decide who you should start and who you should bench I have identified the players at the QB, RB and WR positions that should excel this week and should be started, as well as the players who will struggle this week and should be benched. Don't forget the Thursday night game—get those lineups in on time. And no need to worry about your star player being off; the bye weeks are over and everybody plays!

Let's start with the QB position. You shouldn't have to be told, but just in case... always, always start the following players: Peyton Manning, Tom Brady, Drew Brees, Aaron Rodgers, Eli Manning, Philip Rivers, and Kyle Orton. Now on to the question marks...


Quarterbacks
Start 'Em:
Quarterbacks Who Will Outperform Relative To Their Draft Position And Recent Hype

Colt McCoy @ JAX
Well, the rookie passed a pretty big test last week against the Jets 17th-ranked pass defense and almost pulled out a win; looks like he could be the real thing. This week he faces the 29th-ranked pass defense in Jacksonville. The Jags give up an average of 272 yards and over 2 TDs per game. Their 19 TDs are third-most in the league, and their 8.8 yards per completion average is worst in the league. They are tied with Arizona for last in the league in giving up big plays, and only the Texans have given up more 40-plus yard pass plays than Jacksonville has. They don't get sacks or INTs, are next to last in QB rating with 105.7, and allow QBs to complete 68 percent of their passes—third-highest in the league. If you take out the New Orleans debacle where McCoy threw for just 74 yards, he's averaging 220 yards passing and 1 TD per game. He had 205 yards and a TD against the Jets last week, so he should be in line for a big game this week in Jacksonville.

Vince Young vs. WAS
It's hard to believe after the Monday night performance that the Redskins are not the worst pass defense in the league—Houston still owns that claim, but Washington is 31st. Nobody gets thrown against more than the 'Skins (42 times a game), and they give up 287 yards and 2 TDs per game because of it. Now, clearly Vince Young is no Michael Vick, but he is a mobile quarterback who could give the Redskins similar problems. And with Kerry Collins out, there's no chance of Young getting benched for rookie Rusty Smith. Young's been doing the quarterback shuffle with Collins all year, but now he's a got a couple of weeks to do something, and although he only averages 136 yards passing, he's fifth in QB rating with 97.6 and has 10 TDs against just 3 INTs—plus he now has Randy Moss to throw to (or to at least keep safeties honest). Young does fumble a lot, so that's a legitimate concern. But this is shaping up to be one of the best opportunities he'll have to prove himself all year, so if you're gonna roll the dice on him, this is the week to do it.

Mark Sanchez vs. HOU
Sanchez is still struggling with consistency but is definitely getting better. He's only completing 55 percent of his passes, which is third-lowest in the league for qualifying quarterbacks and worst among current starters. He is 23rd in yards with 221 a game, has 12 TDs to 6 INTs, has a decent QB rating (80.5), and is fifth in the league in 40-plus yard pass plays. He's thrown for 300 or more yards with a passing TD and a rushing TD in each of the last two games (okay, 299 yards last week, but work with me here). He does have 4 INTs and 3 fumbles (none lost) in the last three games though, so be advised. Still, against the league's worst pass/overall defense, Sanchez looks like a great play this week. Houston is last in QB rating with 110.2, last in TDs allowed (22), and last in yards per game with 301—the only NFL team giving up 300-plus passing yards per game. They are also next to last in completion percentage (69 percent), points allowed (29), INTs (5), and yards per completion (8.5). They give up the third-most big plays and have had only 14 sacks all year. All signs point to a big day for Sanchez and the Jets.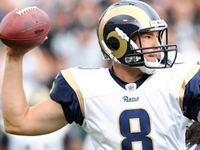 Bardford will pad his stats against Atlanta this week.

Sam Bradford vs. ATL
Bradford, the probable rookie of the year, faces perhaps the best team in the NFC this week. But Atlanta's pass defense is just 23rd in the league, and they allow 245 yards and 2 TDs per game. Plus they allow opposing quarterbacks to complete 67 percent of their passes, which is one of the worst percentages in the league. Bradford averages 214 yards and 1 TD per game while completing 60 percent of his passes, and at home this week he has a good chance to pad those stats a little. Atlanta better not take the Rams and their rookie quarterback too lightly, or Bradford may just have a huge game this week.


Bench 'Em:
Quarterbacks Who Will Under Perform Relative To Their Draft Position And Recent Hype

Matt Hasselbeck @ NO
Let's see, Hasselbeck struggled against Oakland—the second-best pass defense in the league—in Week 8, was out for Week 9, and then this past week against the Cardinals and their 27th-ranked pass defense, he went off. Keeping with this pattern, it's very likely that Hasselbeck will struggle against the NFL's top-ranked pass defense and play more like he did in the Oakland game (163 yards, 1 INT, 8 sacks) than he did in Arizona (333 yards, 1 TD, 1 sack). The Saints allow just 166 yards a game and have given up only 6 TDs all year—tied with Chicago for best in the league. They've also given up the fewest big plays, and they allow only 17 points per game, which is fifth-best in the league. Hasselbeck will likely struggle to reach his average 218 yards per game this week, and his 7 TDs and 7 INTs on the season pretty much say it all. So even after his impressive game last week, I'd keep him on the bench this Sunday.

Troy Smith vs. TB
This week the surprising—no, very surprising—Tampa Bay Buccaneers put their eighth-ranked pass defense on the line against the 49ers' spark plug quarterback, Troy Smith. The Bucs allow just 210 yards a game and have almost as many INTs (14) as TDs allowed (15). They don't give up a lot of big plays, and are one of the best teams in the league in pass completion percentage and QB rating. Since replacing the "other Smith" (Alex), Troy has gone 2-0 as the 'Niners starter, averaging 276 yards and 1 TD per game—and he has yet to throw an INT, although he does have 2 fumbles and was sacked five times last week That shouldn't be an issue this week, as Tampa Bay has the fewest sacks in the league (just 8). Smith's average QB rating is 115.7, but that's against Denver and St. Louis, both of which are average pass defenses. You know it's just a matter of time before Smith comes back down to earth, and this could be the week that happens.

Tony Pike vs. BAL
The once mighty Ravens defense is giving up 217 yards and a TD per game this year. They are uncharacteristically average in pass defense, with less than 1 INT per game and less than 2 sacks per game. But not only are the lowly Carolina Panthers up next for B'more, the Ravens might not even have to face their starting rookie quarterback, Jimmy Clausen, due to a concussion. Instead, they will likely face the Panthers' backup rookie quarterback from Cincinnati, Tony Pike. This would be Pike's first start but not his first action—he's already thrown a whopping 12 passes this year. Whether it's Pike, Clausen, or even recently activated Brian St. Pierre, there's no way you should be playing a Carolina QB against anybody.

Tyler Thigpen vs. CHI
The Dolphins lost both Chad's this past weekend as both Pennington, who got the start, and Henne were knocked out of the game, which Tyler Thigpen finished. Thigpen is expected to start this week's Thursday night game against the Bears, which would be his first since starting 11 games for the Chiefs in 2008. Now, not only does Thigpen get to take on the Bears and their 15th-ranked defense—which gives up 219 yards per game, has allowed a league-low 6 TDs, and has the second-most INTs (14) in the NFL—but he might be doing it without left tackle Jake Long, who is having an MRI on his shoulder. Thigpen will get the start, but the wildcat offense may resurface this week (as it did last Sunday) to take the ball out of his hands. There are just too many negatives to consider Thigpen a good flex starter this week.

Running Backs