It is that time of year again. Time to get down to business. Time to prepare for the single most important day of the fantasy football year. A day that will help determine if your fantasy season will be a glorious success or an abysmal failure.

Notice I said "help determine" success or failure.

Needing a great draft to win your fantasy league is like saying you need to win the state lottery to be happy in life. You don't need it, but it helps. So, let's do our absolute best to have a great draft, and that is exactly what the FF Today Draft Plan is designed to do. It will help you plan, prep and execute a great draft.

We have already begun and will continue to publish pre-season content that will form the entire FF Today Draft Plan. Published items will fall under one of our main Draft Plan steps or concepts. This document will server as the foundation, explaining what we are trying to accomplish. Each of our content pieces that form the Plan will link from this main Draft Plan page.

We understand that some of these steps may seem obvious to you, but we have a great range of rookie to seasoned veteran fantasy players in our virtual midst. Feel free to pick and choose the areas of the plan you want to focus more attention on. It also never hurts to have a refresher; to read what seems obvious and make sure you are maximizing the benefit of each step.

Onward and upward, here is the 7 step FF Today Draft Plan:



1. Know Your League

This is the step that probably seems the most obvious of the entire Plan, but how many fantasy players actually take enough time to know the intricacies of their particular league? Your league's rules, lineup and roster requirements, scoring system, free agency, etc. - All of these things have an impact on how to best build a winning team in your particular league. The more you know the rules, and understand the sometimes subtle influence they have, the better advantage you will have. This is where customization of stats, rankings, projections, news, players, etc. comes into play. You can create multiple league profiles with the My FFToday feature allowing you to customize this information to your league rules and requirements. An important first step to winning your league title.



My FF Today

Change With A Passion - Tierney


Being The Commish 101 - Shutters


MFL Power
2. Team & Player Evaluation

The biggest and most important step in the entire plan. People can talk draft strategy until they are blue in the face, but when it comes down to it, all the strategy in the world is not going to help you if the players are not evaluated correctly. With news and training camp reports, player evaluation is a constant process of analysis, decision making, re-assessing and adjusting.


3. Project Performance

Projecting performance is the process of turning the player evaluation into something we can use; player projections, rankings and draft cheatsheets. This is where the nitty-gritty work, the stat projections are developed, and the Cheatsheet Compiler shines. Whether you are a number cruncher or not, you still need to have a hand in this step to make sure the final rankings jive with what your own player evaluation is telling you. There will a constant back and forth between steps 2 and 3 of the FFT Draft Plan with updates throughout the pre-season.


5. Practice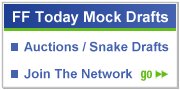 Ok, you've done steps 1 through 4, so you think you're ready to draft, right? Not quite. Practice does make perfect, right? Why not try some different draft strategies before your big day or get a feel for how others evaluate the players you covet. No matter the specific reason, practice, practice and more practice can be a tremendous benefit to fantasy players. Mock drafting, studying average draft position ("ADP") data or even running through a few trials of our Draft Buddy software before it counts is worth the time invested.



Draft Buddy - includes ADP Data


June Mock - 12 teams, 15 rounds, typical performance scoring


Value Of A Mock Draft - Dies

7. Crunch Time - The Draft!

This is what we've been eagerly waiting for! However, the draft is yet one battle in a season long war. There are some post-draft steps to undertake, like identifying the strengths and weaknesses of the teams in your league, scoping out the best available free agents to get a jump on the competition. Many of us are in multiple leagues, so review the results of one draft draft to prepare for another.

That is our blueprint to success; a guide with the sole purpose to help you win your league. We've had success following this plan, beating other top "experts" in our business winning the 2002 FF Champs Challenge the 2003 Fantasy Shootout, the 2004 Fantasy Shootout, and the 2006 Fantasy Shootout just to name a few. By following the FF Today Draft Plan, we believe you will be successful too!