The Weekly Gut Check - Vol. 104
Distance Scoring League Analysis
8/30/07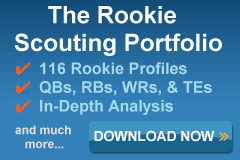 The "Gut Feeling" is often synonymous with a sense of desperation resulting from a lack of preparation. The Gut Check is a huge proponent of studying the numbers, but there's a point where one can place too much emphasis on the wrong information. This can result in the undervaluing or overlooking a player's potential. Therefore, The Weekly Gut Check is devoted to examining the frame of reference behind certain number-driven guidelines that fantasy football owners use to make decisions.

Although The Weekly Gut Check doesn't claim to be psychic, he does believe that he can dispel certain numbers biases and help you make the best choices for your team. We'll keep a running tally of The Weekly Gut Check's insights. This way you can gauge his views as something to seriously consider, or at least seriously consider running the opposite way as fast as you can!

---
This is my first year in a showcase league sponsored by Fantasy Quants. The scoring is standard performance with bonus points per reception, per rush attempt, and per pass completion. In addition, bonus points are awarded according to the length of the touchdown. Overall, this system rewards players who have a high number of touches and big plays and team defenses score big based on sacks, turnovers, and points and yardage allowed. This is one of the more complex scoring systems I've ever experience in a fantasy football league.

The first thing I did to prepare for the draft was to examine the scoring leaders by position from the previous year. The top 30 players overall broke out like this:
8 were backs and 6 of them were top 12 players in the league.

20 were quarterbacks and 6 of them were top 12 players in the league.

1 receiver (Marvin Harrison), ranked 27th overall.

1 defense (Baltimore Ravens), ranked 16th overall.
Honestly, I didn't see much different in the scoring totals overall or by position in this league that led me to severely alter my typical re-draft plan with the exception of bumping up when to acquire my first quarterback and my only defense.
My valuation of backs changed slightly with the point per reception format and the fact bonus points are awarded for distances of scores. While this system gave an edge to players with a demonstrated tendency to score on long runs, passes, or receptions, it only did so if everything else were relatively equal between him and another player. The points for attempts, completions, and receptions counteract the big-play bonuses because the players with the heavy workloads will do as well, if not consistently better than the occasional, big-play artist.
The key appears to be finding the players with a high workload and big-play capability. Frank Gore was my first pick at 1.03, because he had a all the components I want from a stud back in this league:
He had a high rate of touches in 2006, but did not surpass the oft-discussed, 370-f/carry threshold.

Gore has demonstrated the ability to catch the ball out of the backfield.

He had the most big-play rushes of any back in the NFL in 2006

He's only in his 3rd year and 2nd season as a starter.

His offense should improve this year at both skill positions and offensive line
Seriously, what's not to like about him other than a hand injury? I love how people say the hand injury reminds everyone about Gores injury history. Hello? The hand bone is not connected to the knee ligaments! Jamal Lewis had knee surgery twice before his 2000-yard season. Hines Ward plays football without an ACL in one knee. Willis McGahee has proven he can be productive after tearing his ligaments at Miami. Edgerrin James has been one of the more consistently high-producers in football despite tearing his ACL during his 3rd season. Gore is 4 years removed from his last ligament tear. Again, he broke his hand and missed the preseason—Ladainian Tomlinson doesn't play in the preseason. Gore had more big-play rushes than LT last year. Although he was the 4th back overall in this league last year, I don't believe LJ or Alexander will headline this list in 2007—enough said.
Maurice Jones-Drew was my next back. He may share touches with Taylor but he was also one of the more frequent big-play runners both close and far from the stripe. He's an excellent receiver and the Jags will need to maximize that skill from the 2nd-year back even with Taylor on the field at the same time. He was the 10th-most productive back in 2006 despite scoring a combined 5 points during the first two weeks of the season. I know people fear Jones-Drew won't score as many touchdowns, but I believe he'll come close to double-digits and improve his yardage total in year two.
At this point it was time to get a receiver—four elite receivers came off the board, but no one took the 2006 leading point-getter in this league at the position: Marvin Harrison. Reggie Wayne is the hip choice right now. Mike MacGregor would have a Fathead of Wayne if his family would allow it, but that doesn't mean he's surpassed Harrison as Peyton's favorite end zone target. Last I checked Harrison had 12 scores to Wayne's 9 and 95 receptions to Wayne's 86. In fact, he had nine more targets! Harrison also had 9 scores from the redzone—one more than Wayne. There's nothing to take away from Wayne, but Harrison is still not only option one on the Colts, but was also the best receiver in this league last year. It is reasonable to expect that Harrison will slow down sometime, but I'll stick with him for one more year.
Some of the elite names at quarterback were flying off the board by my pick in round four, but Jon Kitna was still in the pool. Since six quarterbacks had already gone, I decided it was time to pull the trigger. Interestingly, one of the squads listed my team as the weakest drated because I did not get a quality starter at the quarterback position. I'm not sure what he observed on Sundays, but Jon Kitna was the 4th-ranked quarterback in this league in 2006 while in his first year in a Martz-based offense, an inconsistent running game, and so-so offensive line. With another year in the system and the addition of Calvin Johnson, Kitna should perform as well, if not better than his 2006 stats. Since this owner has Peyton Manning on his roster, he didn't think much of someone like Kitna, but the stats paired with this scoring system tell a different story. With another deep threat in Johnson to stretch the field, Kitna should cut his interceptions and possibly up his touchdown total in '07.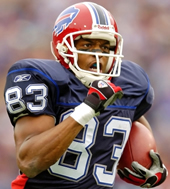 Speaking of field-stretchers, I picked Lee Evans as my #2 receiver in the fifth round. Five of his eight scores were from at least 40 yards away. It is likely the Bills will need to throw with the same regularity they did in 2006. Evans is beginning to look like a young Jimmy Smith in this offense. I'll gladly take this #1 receiver at the price of a #2.
Now that Warrick Dunn has returned, I'm feeling the pangs of hindsight with my sixth round selection of Jerious Norwood. The second-year Falcon should see plenty of opportunities on the field, but not as the full-time starter I anticipated when Dunn had back surgery. It might have made more sense to take Ahman Green or Chester Taylor here. It may still pan out to have Norwood, a super-talented back with excellent breakaway capabilities.
I drafted the Patriots defense next—about 3-5 rounds earlier than I generally take any team unit—because the rest of the elite units were gone and wanted my team to have a solid, if not spectacular unit at this position. New England should be a more prolific offense this year, which will allow the defense to play with bigger leads and be more aggressive. This can only help me as a fantasy owner.
Jeremy Shockey has lost a bit of his luster as an elite tight end, but he's still a huge part of the Giants offense. Like the Pats, he's a solid option who will perform at elite moments during the season.
Then there's Chris Chambers. He's still the Dolphins primary receiver. On paper it would seem Trent Green would be an upgrade to Joey Harrington at the quarterback position, but I'm not sold that the former Chief was able to take the rest of his game off the turf when he was carted away last season. Regardless, Chambers and Lee Evans are very similar players in size and skill set. Chambers just needs more consistency. Most people are shying away from him because they were burned in 2006 after a career year in 2005. I think Chambers is a low risk option as a #3 fantasy receiver and believe he'll out perform his draft status. If not, I have at least two other options whom I thought were steals.
With 9 rounds in the books, here's my roster thus far:

Through 9 Rounds
Rd
Player
TDs
20 Yd+ TDs
1
F. Gore
9
3
2
M. Jones-Drew
15
4
3
M. Harrison
12
3
4
J. Kitna
23
10
5
L. Evans
8
7
6
J. Norwood
2
2
7
NE Defense
0
0
8
J Shockey
7
0
9
C Chambers
4
2
Chambers should rebound and I anticipate Gore and Jones-Drew to swap scoring totals this year. I believe Evans and Shockey will remain consistent to last year and Norwood should improve.

But it is the mid-rounds of a draft that often tell the story and I think I did fairly well with my next several picks. Lendale White has upside for the Titans because Travis Henry is gone, Chris Henry is an extremely raw rookie who I doubt will see the field unless Chris Brown and White get hurt, and Brown is not proven to be much of a short yardage runner. White should at least get the redzone touches and it is clear the Titans want the second-year runner to win the job as a return on their investment. White has demonstrated more toughness in practice this year and if he can remain relatively healthy, he should be a sold #3 RB who could do better. As a Titans fan, I believe this team is underrated. The defense will actually perform better this year without Pac-Man Jones. Not because Jones isn't a talent, but offenses still had plenty of time to complete passes away from Jones due to the Titans difficulty rushing the passer. It appears DE Antwaan Odom is coming into his own and paired with Kyle Vanden Bosch, Tennessee will force offenses to make quicker decisions and more mistakes. I also like Tennessee's offensive line—it's an above average group and they have always been good run blockers. Don't be surprised if Tennessee overtakes Jacksonville in the AFC as the runner up team. If they do, White will be a big factor on the ground.

Donte Stallworth in round eleven seems like a potential steal to me. Six of his seven scores were from over 20 yards away and he's paired with a different, but equally good, quarterback in Tom Brady. If Randy Moss rebounds, Stallworth could be a huge beneficiary. If not, the former Eagle and Saint still has the skills to perform more like a #2 fantasy receiver at the draft day value of a #4. Health has always been the issue with Stallworth, but I'll gladly take my chances here.

I then chose a couple of back up runners who will see the field often in Chris Brown and Mike Bell. Both are capable of high production. Brown still has a chance to be the Titans starter and he is a big play back. Bell doesn't have the same kind of speed, but he'll get the call if Travis Henry can't stay healthy.

Alex Smith is a solid prospect this late. I've already discussed the development of his offense and he has demonstrated solid improvement each year. I wouldn't be at all surprised if he takes the step Philip Rivers did in 2006. I then took the chance on Brian Leonard because I'm playing the odds that Steven Jackson will experience a similar drop off as most of the 370-f/carry backs in years past.

Steve McNair, Charles Sharon, David Boston, (Giants rookie) Steve Smith, and Matt Stover round out my draft. McNair is a solid bye week player, who is often good enough to captain your squad for a few weeks. Sharon is a reach, but I felt like taking the chance when it was a possibility he could win a job. He's on the roster bubble at this point, but I believe he makes the team. David Boston looks like he could win the starting job and as long as the traffic incident doesn't blow up in his face he has the skills to be a quality starter at a bargain basement rate. I've talked enough about Steve Smith, the Giants rookie.

Although I'll find out for sure as the season goes along, a scoring system of this type does not seem to have as big of an impact on how one should rate these players anyhow. You always want to draft players who are likely to receive a high number of chances with the ball and especially in scoring situations. I only had to make two adjustments in this draft and that was to pick a QB and Team Defense 3-4 rounds earlier than usual. This wasn't something I planned going into the draft as much as reading the situation and reacting appropriately.


Crank Score Updates
2007 Crank Score Projections
QB
Player
Crank
RB
Player
Crank
WR
Player
Crank
TE
Player
Crank
1
P. Manning
69.30
1
L. Tomlinson
96.23
1
C. Johnson
64.03
1
A. Gates
25.89
2
C. Palmer
62.59
2
F. Gore
75.78
2
R. Williams
56.99
2
V. Davis
16.84
3
D. Brees
54.82
3
B. Westbrook
73.18
3
S. Smith (Car)
53.11
3
J. Shockey
14.42
4
J. Kitna
47.04
4
J. Addai
61.96
4
M. Harrison
50.31
4
T. Heap
13.00
5
T. Brady
44.37
5
R. Bush
51.74
5
R. Wayne
49.22
5
T. Gonzalez
12.38
6
M. Bulger
40.24
6
L. Maroney
48.58
6
L. Fitzgerald
45.48
6
B. Watson
11.23
7
B. Roethlisberger
37.81
7
M. Jones Drew
45.27
7
T. Owens
43.92
7
C. Cooley
10.69
8
T. Romo
36.39
8
E. James
42.76
8
D. Jackson
39.22
8
H. Miller
7.85
9
M. Leinart
35.78
9
S. Jackson
39.90
9
T. Holt
38.04
9
K. Winslow
5.95
10
C. Pennington
31.76
10
L. Johnson
33.91
10
C. Chambers
35.68
10
D. Graham
5.45
11
D. McNabb
27.88
11
T. Henry
37.02
11
R. Moss
35.26
11
E. Johnson
4.64
12
V. Young
27.71
12
R. Brown
35.05
12
L. Evans
32.63
12
G. Olsen
4.17
13
A. Smith
25.15
13
W. McGahee
32.43
13
R. Brown
31.07
13
O. Daniels
3.96
14
P. Rivers
23.25
14
C. Benson
26.37
14
A. Boldin
26.74
14
A. Crumpler
3.67
15
M. Hasselbeck
23.15
15
S. Alexander
28.73
15
M. Colston
25.70
15
J. Witten
2.78
16
S. McNair
19.78
16
R. Johnson
28.58
16
D. Stallworth
24.93
16
R. McMichael
2.32
17
J. Garcia
19.33
17
C. Portis
26.29
17
D. Branch
23.58
17
Dal. Clark
2.14
18
B. Favre
22.45
18
C. Williams
20.70
18
J. Galloway
22.56
18
B. Scaife
1.84
19
R. Grossman
22.04
19
T. Jones
20.61
19
T. J. Housh
21.73
19
L. Pope
1.18
20
B. Leftwich
20.69
20
W. Parker
19.14
20
S. Holmes
21.41
20
M. Lewis
0.99
21
J. Cutler
20.16
21
A. Green
16.91
21
J. Walker
19.94
21
J. Stevens
0.79
22
J. Delhomme
19.10
22
B. Jacobs
16.44
22
A. Johnson
19.41
22
M. Pollard
0.66
23
E. Manning
18.43
23
J. Lewis
13.40
23
L. Coles
19.01
23
Z. Miller
0.52
24
J.P. Losman
18.00
24
C. Taylor
14.52
24
D. Driver
18.30
24
C. Baker
0.36
25
J. Harrington
17.85
25
M. Barber
15.92
25
P. Burress
17.65
25
D. Martin
0.32
26
T. Green
17.38
26
L. Jordan
13.79
26
Mark Clayton
16.36
27
D. Culpepper
14.37
27
D. Foster
13.09
27
B. Berrian
15.69
28
J. Campbell
13.47
28
W. Dunn
8.24
28
H. Ward
15.19
29
M. Schaub
11.39
29
J. Jones
11.39
29
Cal. Johnson
14.76
30
T. Jackson
11.03
30
F. Taylor
16.38
30
V. Jackson
14.65
31
B. Croyle
10.63
31
J. Norwood
10.02
31
G. Jennings
13.46
32
C. Frye
9.19
32
D. Williams
9.60
32
D. Henderson
13.01
33
D. McCallister
6.14
33
J. Horn
12.93
34
L. Betts
4.13
34
S. Moss
12.36
35
L. White
6.32
35
E. Kennison
10.15
36
A. Peterson
5.92
36
J. Porter
9.47
Not many changes this week. Chester Taylor and Marion Barber move up the board because they solidified their opportunities to begin the season in roles similar to 2006. I'm still probably undervaluing Barber, but I think if there is a back that I'm doubtful will maintain his touchdown total from 2006, it's him. Not due to his skills, but opportunities in general may change.
Steve McNair, Jeff Garcia, and Joey Harrington move up. They are all still back ups from a draft standpoint, but I think the two veterans in Baltimore and Tampa are more solid options to invest as a #2 QB for your squad. They'll probably be on your waiver wire because they lack the upside of some other signal callers who will be drafted before them so just understand the value is there.