A Fantasy Perspective




7/10/07



Hall of Famer Steve Young once said there are over 40 responsibilities a quarterback has to execute on any given play to ensure that it is run to near perfection. In preparing fantasy rankings at the QB position, a fantasy owner does not need a checklist quite that long, however, it is very important to realize that Peyton Manning or Tom Brady do not succeed just because they are Peyton Manning and Tom Brady. I have proposed for some time while a quarterback must be talented and a good, quick decision-maker, his individual success is more a function of a talented supporting cast than his ability to make average players great. And before you present the argument that Brady has rarely ever had above-average talent around, I will contend that the Patriots do a better job of building their game plan around their personnel, thus, if Jabar Gaffney and Reche Caldwell are the best wideouts, then make your living by throwing short. If Randy Moss and Donte Stallworth are your options, perhaps going deep 2-3 times a quarter is the way to go.

At just about every position, a below-the-radar (and sometimes undrafted) player gets "it" for a season and goes from waiver wire hopeful to the final piece in your run for a fantasy title. This position is no different. Last season was a low-priced QB bonanza, as Philip Rivers, Tony Romo, Vince Young, Jeff Garcia and Jon Kitna all emerged from late round or undrafted obscurity to second-half surefire starters for those fantasy teams that were hurt by injuries or ineffective play from their original signal-caller. In 2005, Carson Palmer, Drew Bledsoe, Jake Plummer and Mark Brunell did likewise.

What I will attempt to do with this four-part series covering QBs, RBs, WRs and TEs is to give you what I hope is a fresh perspective on just about any player which switched teams that can have any kind of fantasy impact this season. Since a QB's fantasy success largely depends not only on his supporting cast, but also on his understanding of the offensive system as well as schedule among a host of other factors, I feel it is pertinent to put that on the table as well. And while it is often wise to take a wait-and-see approach on any QB changing teams due to the complexity of the game as well as other environmental factors, some fantasy owners just can't help themselves to catch the next big thing even if the odds suggest a change of scenery does take root in just one season. In order of projected fantasy impact, let's take a look the QBs who switched teams this offseason and their chances for fantasy success…

Trent Green
(From KC to MIA)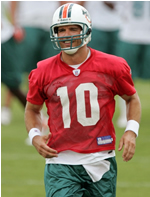 Let me be one of the first to say it – the Chiefs just don't seem to get it. While I recognize the importance of making the conversion to a younger team (and applaud it for an older team like Kansas City), they fail each year to substantially improve their talent base, especially in the draft. As the talent on their offensive line has slowly gone from old to ancient, the Chiefs have failed to make much of an attempt to re-fortify their front five through the draft. It would be one thing if they had a first-day pick or two that busted somewhere along the way, however, they have not committed a first-day pick to the offensive line since they drafted John Tait in the first round in 1999. And before this year's first-round selection of receiver Dwayne Bowe, the best selection at the position for the franchise may have been converted college running back Dante Hall in 2000. So while the free agent market has been kind to Kansas City over the years (Priest Holmes, Casey Wiegmann and Brian Waters to name a few on the offensive side), the team has made little attempt to maintain any semblance of the offense that led the league in scoring just a few years ago.
On the other side is Green's new team, the Miami Dolphins, whose game of musical chairs has led them to spend four draft picks over the last two years to acquire QBs (Daunte Culpepper, Joey Harrington, Green and 2007 second-round draftee John Beck). While I believe letting Culpepper go will ultimately haunt the Dolphins a year or two from now assuming Culpepper fully recover from his knee injury, the Dolphins have basically benefited from the Chiefs' youth conversion. Miraculously, in their two-or-three-stop quest from get from Point A to Point B, Miami likely has found a pair of QBs in Green and Beck that will put a stop to the revolving door at the position since Miami legend Dan Marino retired.
In Miami, Green will trade the long relationship he had with future Hall of Famer Tony Gonzalez for a trio of athletic WRs that he has not had since his days in St. Louis (and no, they are not in the same class as the Rams wideouts). However, Chris Chambers and Marty Booker have both shown they can be very good WRs in the NFL when they have a healthy QB under center and an offensive line that affords him enough time to make a quality throw. It would be fair to expect Green will be the best fantasy player on this list given his supporting cast and his familiarity with the offensive system (he worked with new HC and play-caller Cam Cameron initially in Washington over 10 years ago). Cameron has long shown the ability and flexibility to adjust his play-calling to his personnel, meaning Chambers and RB Ronnie Brown stand to profit the most. Green should be one of the first few #2 QBs off the board, given his rock-solid job status and supporting cast. The only upgrades – and it's a big one – that need to be made are improvements on the offensive line. Fortunately, his line in Miami is just about the same as the line he leaves behind in KC, so the upgrade in surrounding talent should mean better overall numbers for the veteran.
Matt Schaub
(From ATL to HOU)
There seems to be a pretty fair split opinion on how wise of a move the Texans made when they dealt two second-round picks and dropped two spots in the first round to acquire the Falcons' backup QB, a signal-caller that has started a mere two games in his three-year career. But Houston knew what most NFL observers knew, sending David Carr out under center one more year was going to destroy his confidence, certainly the confidence of the fan base and perhaps that of the team. Schaub has more than six solid years of experience in the West Coast offense (three-plus in college at Virginia - mainly under the supervision of OC's Mike Groh and Ron Prince - and three in Atlanta with Greg Knapp). While every team has some part of that offense worked into their playbook nowadays, all three of his previous coordinators coaches run pretty pure forms of the offense, meaning OC Mike Sherman and HC Gary Kubiak should be getting a QB that transitions pretty smoothly once he gets to learn his new teammates better. The biggest difference between Schaub and Carr? Schaub is several times faster at making a read and getting rid of the ball than his predecessor.
And whether they are getting credit for it now or not, Houston is making some good moves to solidify the offense – something their former QB would have like to seen happen under his watch. Start with the offensive line. Signing Jordan Black as an insurance policy for Charles Spencer's 50-50 return was a smart move, meaning Ephraim Salaam will not necessarily be forced into duty if Spencer cannot make it back this season. Getting Black ensures that LG Chester Pitts can stay inside, which is what Houston has wanted all along. Already, the Texans line up better on the left side of the line than they ever did in Carr's tenure. Eric Winston should be a fixture at RT for years to come, leaving the health of Mike Flanagan and the position battle of Fred Weary and Steve McKinney at RG the only question marks on a front that has had too many for too long. Inking RB Ahman Green gives the offensive a slightly healthier version of Domanick Williams and TE Owen Daniels showed in his rookie season he is able to come through when needed, leaving the #2 WR as the biggest question mark on the offense. Offseason pickup Andre Davis, return specialist Jerome Mathis and rookie Jacoby Jones would seem to be the front runners as Kevin Walter should be a better fit in the slot.
Very few fantasy QBs get to be #1 fantasy QBs without a stacked deck of options and an above-average offensive line. Andre Johnson, Green and Daniels are all quality targets for Schaub to find in the short, intermediate and deep passing game. Green's line in Houston should be just as good as the one he left behind in Green Bay, meaning the running game will be able to shoulder the load for the offense on a more consistent basis. And perhaps most importantly, Schaub is just a better pro QB than Carr is. He is a better decision-maker, can decipher defenses more quickly and can feel pressure in pocket – all things Carr either did not do as well or never had the time to do as a result of a poor protection. All told, Schaub is one more quality WR short of being considered a breakout candidate, so at this time, he figures to be a mid-range #2 option for 12-team league owners with the potential for 4-6 standout games this season.
Jeff Garcia
(From PHI to TB)
It made sense (perhaps too much sense) that the Eagles keep around a 37-year-old QB to serve as insurance for a rehabbing McNabb. However, it probably makes more long-term sense (and is more cost-effective) to keep A.J. Feeley in the fold. All told, Philadelphia's short-term loss appears to be the Bucs' short-term gain. It hard to imagine someone - even with as much moxie as Garcia - playing until he's 40, so this is probably a two-year plan at best. It would appear, though, that he will be behind center come Week 1 unless Chris Simms taps into the playing spirit of his father, Phil, as a result of the QB competition that will be taking place this summer.
As little credit as the Eagles WRs get on a regular basis (some of it deserved, some of it not), one would be hard-pressed to suggest Tampa Bay's options are any better. Joey Galloway's game is similar to Donte Stallworth's but no current Bucs appears to have the abilities of Brian Westbrook, Reggie Brown or LJ Smith. There is hope at TE (Jerramy Stevens and Alex Smith have talent at TE but have lacked consistency or exercised poor judgment in their careers) and WR (Maurice Stovall and Michael Clayton have the size but are either inexperienced or have failed to improve), but Cadillac Williams will not be Westbrook anytime soon, so don't expect Philly-like production from Garcia this season. However, he won't be the Cleveland or Detroit-bad either, so keep expectations around mid-#2 fantasy QB to be drafted in the later rounds as a backup to a top 5-6 fantasy QB. He should be a solid bye-week QB in Weeks 3 (STL), 6 (TEN), 7 (ARI), 9 (DET) and 14 (HOU).
Josh McCown
(From DET to OAK)
McCown really knows how to pick 'em. He has traveled from perennial losing franchise to perennial losing franchise in his five-year career. After starting in Arizona, he traveled up north to be a Lion. Unfortunately in Detroit, he played just about as much receiver as he did quarterback. In Oakland, he realizes he is keeping the seat warm for rookie JaMarcus Russell, but what he does in the meantime could mean another opportunity for him in 2008 or a one-way pass out of the league.
Even after Oakland and their miserable 2-14 record-setting (in a bad way) offense of 2006, there is reason for fantasy players to take notice of a team that plays in a black hole. Gone are two of the worst play callers the NFL has seen in years (Tom Walsh and John Shoop) and in comes a collective unknown but intriguing tandem (Greg Knapp and Lane Kiffin). The Randy Moss trade was a hard but necessary one as it was going to be hard for the new coaching staff to tell fellow wideouts Jerry Porter and Ronald Curry to go all out when the #1 WR wasn't doing it. (And we all know how well Knapp and Terrell Owens used to get along.) With that said, Oakland is moving in the right direction. Rookie TE Zach Miller will soon be a fine go-to option in the passing game and Curry flashed some #1 WR-type ability late last season. Porter may be inspired to play more like a #1 with Moss gone, but he has never displayed a long stretch of consistency at any point in his career. Either way, the offense will be improved because of the play-calling if for no other reason. The line is still the major concern and another o-line coach does not help matters for continuity, but then again, who would want any carryover from last year?
Figure on McCown assuming the starting role for somewhere between the first 4-to-8 weeks of the season. Even with Russell under center, this offense is light years away from reminding folks of the days of Gannon-Rice-Brown or Stabler-Branch-Biletnikoff, but they also will improve from the dreadful unit they were a season ago. McCown should not be drafted in most – if not all – 12-team leagues.
The following are a few more notable free agent acquisitions at quarterback this offseason. However, each was brought on to their respective teams strictly as a reserve, and you should not consider selecting any of them on draft day unless the #1 passer on the team falls to serious injury at some point in training camp…
Joey Harrington (From MIA to ATL)

* The anti-McCown. If Michael Vick's legal troubles keep him away from the game for any amount of time, Harrington will have logged starts for three different teams in three seasons when it could be argued that he hasn't been a starting-caliber QB since perhaps his second season in Detroit. Either way, Harrington can be a decent fill-in starter for a short time but is not someone that a team – real or fantasy – wants under center for more than a couple games.
David Carr (From HOU to CAR)

*Jake Delhomme should not have any immediate concern, but his long-term future is rocky at best. Giving Carr a year to depressurize and adjust to not being asked to be "the man" may do wonders for his ability to hone his quarterbacking skills. Admittedly, Carr has a long way to go but being out of the spotlight for a season may do wonders for him. Moving to a team that so ardently believes in defense and the running game will also be beneficial.
Patrick Ramsey (From NYJ to DEN)

*There is no need to use a pick with Ramsey. Jay Cutler's status as the Broncos' QB is pretty solid.
Brad Johnson (From MIN to DAL)

*An interesting option in the event that Tony Romo gets hurt or fails to build on his impressive early showing last season as the Cowboys have several top-notch weapons in the passing game. However, it is unlikely Romo will be losing his job anytime soon.