The Weekly Gut Check - Vol. 94
Below The Radar Long Shots: Bargains From The Basement
6/28/07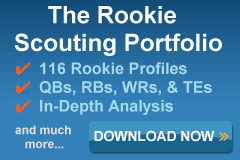 The "Gut Feeling" is often synonymous with a sense of desperation resulting from a lack of preparation. The Gut Check is a huge proponent of studying the numbers, but there's a point where one can place too much emphasis on the wrong information. This can result in the undervaluing or overlooking a player's potential. Therefore, The Weekly Gut Check is devoted to examining the frame of reference behind certain number-driven guidelines that fantasy football owners use to make decisions.

Although The Weekly Gut Check doesn't claim to be psychic, he does believe that he can dispel certain numbers biases and help you make the best choices for your team. We'll keep a running tally of The Weekly Gut Check's insights. This way you can gauge his views as something to seriously consider, or at least seriously consider running the opposite way as fast as you can!


---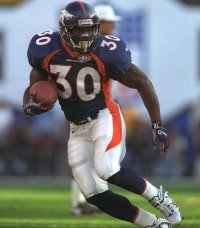 As a fantasy football owner there's little more satisfying than spotting a bargain. The Gut Check's first bargain was a RB taken in the 6th round out of Georgia by the Denver Broncos who gained 1484 total yards and 8 scores as rookie. Not bad for a third down back that played sparingly behind Garrison Hearst.

There have been far more draft day and free agent robberies that have gone un-prosecuted in the past decade. The Patriots shoplifted Tom Brady in round six. The Saints didn't recognize the gem they picked in Marc Bulger in the 6th round. Neither did their division rival, the Falcons, who let him slip through their fingers to the Rams in what should be considered a highway robbery. Of course Atlanta once purloined a Dirty Bird in the 7th round by the name of Anderson.

Are you enjoying these legendary swindles? The Gut check is saving some of the best for last. Green Bay pilfered Donald Driver from the bottom of the barrel in the 7th round. Last year, Marques Colston was looted just prior to irrelevancy. Speaking of irrelevant players, the Niners pirated Jeff Garcia and the Rams poached Kurt Warner. Pittsburgh pulled a fast one with the signing of a UNC bench player by the name of Parker. Then there's the ultimate act of grand larceny the occurred the day the Ravens signed a Priest from Texas that was playing second fiddle to an eventual Grass Valley Yoga Instructor.

These players all epitomize the phrase, "One man's trash is another man's treasure." Where several teams saw too tall, too small, too slow, or too unproven at least on team saw great vision, great hands, great instincts, and great effort. Admittedly, until these players proved they embodied more of the positive aspects on the field of play, they were considered nothing but long shots.

The Gut Check has a long shot he believes possesses the skills and opportunity to prove he not only belongs on an NFL roster, but also has the talent to fill the box scores with numbers that could make fantasy football owners happy on many a Monday morning. He's Ahmad Bradshaw, a 7th round runner acquired by the New York Giants that left Marshall early for the NFL draft.

Last year the Gut Check evaluated Mike Bell for his 2006 Rookie Scouting Portfolio and gave the Arizona back a score of 85, which equated to runner with potential to eventually start for an NFL team. It was a surprise Bell wasn't at least drafted, but teams chose to see this talented back with good vision, low pad level, and good acceleration running behind a sub par team as an unproductive player. But Denver wound up signing Bell and the rookie led the team in rushing scores and made 2nd round pick, Tatum Bell expendable.

The Gut Check gave Ahmad Bradshaw a score of 88 in his 2007 edition of the RSP and rated him 4th overall among runners in this draft class. Although Bradshaw dropped to the Giants in round 7, yours truly stands behind his evaluation. The rookie fell primarily for two reasons: slightly below average straight-line speed and two off-field incidents. But there are three reasons why the Gut Check believes Bradshaw has a chance to make an impact at the next level.

Before the Gut Check summarizes some of these skills he wants to make a point about his evaluation process. Yours truly observed Bradshaw in both a statistically significant game versus UCF and with mediocre results from productivity standpoint against UT. Generally, the Gut Check has discovered that a more telling indicator of a player's talent is his performance against a tougher defense, but stats don't really matter as much as that player meeting or exceeding the criteria of what makes a talented runner. The criteria are comprised of skill sets that help a player make good plays in game situations, but the results aren't always reflected in their stats. A good example was Joseph Addai's senior year performance against a very talented Auburn Tiger defense that did a nice job stacking the line to take away the ground game. Despite this fact, Addai displayed all the skills one would want from a future NFL feature back.

The first eye-popping skill one notices from this rookie is his vision. Bradshaw is a highly patient runner who allows blocks to develop, but it is his excellent peripheral vision the separates him from all but maybe three backs in this draft. One of the best situations to view a runner's vision is against a defensive line and linebacker corps that overmatches the opposing offensive line. This is most evident in short yardage situations. The Gut Check was privy to this situation involving Bradshaw when Marshall faced a stiff, Tennessee Volunteer run defense. Despite the UT defense getting frequent penetration in the backfield and quickly filling the holes the Marshall line attempted to open, Bradshaw regularly found the soft spot in the defense for the first down.

The second is Bradshaw's short area quickness and agility. This runner doesn't need to take false steps to change direction. He makes strong cuts regardless of how fast he is moving in another direction. There are a lot of backs that can make the quick cut, but lack the overall wiggle in running style that allows them to create room in tight spaces. The Gut Check has seen Bradshaw use a variety of moves but with an economy of east west direction that made him highly effective as a downhill runner. The ability to use head fakes, jump cuts and shoulder fakes in tight spaces while slashing through an opening that might seem out of Bradshaw's range of vision reminds the Gut Check of what made Ricky Watters and excellent back for several years.

Then there's Bradshaw's compact running style. The former All-Conference USA player isn't the biggest back, but his ability to maintain a low pad level, anticipate contact, and deliver a blow before the contact meets him makes him a special runner between the tackles. What fellow 5-9, 195-lb. back coming out of school does this remind you of? Yours truly immediately thought of Emmitt Smith—a back with possibly the best short area moves and peripheral vision in recent memory. It's just a comparison of their strengths, not their total game.

Like Smith, and unfortunately for Bradshaw, the rookie was also slow in the 40-yard dash—he ran a 4.6. But think about the 40-yard dash and what it is supposed to mimic on a football field:
Straight-line speed

Running away from defenders once 10-15 yards past the hole untouched—and how often does this happen in an NFL game?

Long range acceleration
In a league where a 10-15 yard run is gained with the similar frequency that a college runner would gain 30-40 yards, long-range speed is overrated. A more accurate combine number may be the 20-yard shuttle, which mimics:
Change of direction

Stop-start movement

Short area burst
These three skills are all important to a runner as he gets the ball at the line of scrimmage and has to elude defenders shooting the gap and penetrating into the backfield. This type of quickness is also important when spotting a hole and exploding through it. Let's compare Bradshaw's 20-yard shuttle time with some of the rookies from draft classes between 2005-2007:

A Better Measuring Stick
Player
Shuttle Time
Garrett Wolfe
4.08
Ronnie Brown
4.08
Ahmad Bradshaw
4.09
Ryan Moats
4.10
Brandon Jackson
4.14
Antonio Pittman
4.16
Mike Bell
4.21
Jerious Norwood
4.25
Wali Lundy
4.36
DeShawn Wynn
4.37
Leon Washington
4.37
Maurice Drew
4.41
Marshawn Lynch
4.46
Joseph Addai
4.48
One of the things the fly off this table is the fact Ronnie Brown has such a fast time for a larger back. This type of athleticism from a big back is something that scouts saw from him on film and contributed to his 1st round draft status. Although Ryan Moats is stuck behind Brian Westbrook and has had issues picking up the offense and pass blocking, he demonstrated very strong running skills when he filled in for the Eagles' starter. Maurice Drew and Addai are viewed as more powerful backs in style. Norwood has flashed great, big play ability and might have a shot at beating out Warrick Dunn in 2007.
Mike Bell, Moats, and Wolfe weren't fast runners of the 40-yard dash, but they posted good shuttle times. Two of the three have demonstrated the ability to run productively against NFL defenses. Wolfe was actually drafted on the first day, despite his size and speed limitations. Many scouts viewed Bradshaw as a 1st day prospect strictly on his running, receiving, and blocking skills. The big issue is that Bradshaw came out a year early with notable off-field problems.
He was kicked off the University of Virginia football team for underage possession of alcohol and obstruction of justice. When you really think about what this charge means, ask yourself whether Georgia Tech would have been forced to do something similar if the police caught choirboy Calvin Johnson with the marijuana he tried at some point during is college career. It's sad how we tacitly accept the fact that Johnson tried pot and admire him for being honest because he never got busted and claims he never did it again, but look down upon someone busted for a mistake that 40%-60% of underage college students make every year.
The next issue occurred at Marshall. Bradshaw walked into an unlocked dormitory room and stole a student's video game unit. This act definitely underscores a common, widespread arrogance among many student athletes who believe they are above the law. But if the rookie has truly cleaned up his act, both infractions will be chalked up to immaturity common among many other successful graduates who now live upstanding lives despite the fact they didn't get caught doing the same things, if not worse. Of course, Roger Goodell is making a political statement during his first season as commissioner and teams are reacting with more caution in light of Pac Man Jones, Chris Henry, and Tank Johnson's indiscretions.
So as with any long shot, there are risks. But Bradshaw has already opened eyes at mini camp and the Giants don't have a back with this kind of skill set. Brandon Jacobs has long speed and both he and Reuben Droughns can punish defenders, but neither have the elusiveness and quick-hitting skill New York once had from the retired Tiki Barber. Bradshaw could very well develop into a feature back if everything falls into place. From his draft position the odds aren't good, but he's a name worth remembering.
Just as a quick mention, another long shot is Chicago's free agent pick up, David Ball. The New Hampshire WR is a high jumper with just average speed, but incredibly good hands. At the East-West Shrine Game, Ball was nicknamed "Uncle Ben" for his skills as a receiver—to explain the clever moniker it's an alias for the more blatant "White Rice."
Jerry Rice has actually said that he believes Ball will make it in the NFL after watching the college star break the all-time greats division I-AA mark for touchdown receptions. Ball is behind several receivers, including Biletnikoff award winner, Mike Hass (a Gut Check favorite in a similar vein) for a spot on the depth chart or practice squad. But a closer inspection of the receiver corps in Chicago explains why Ball chose the Bears: Mushin Muhammad is in the twilight of his career and Bernard Berrian is the only proven receiver on this roster. Mark Bradley has promise, but his health has been an issue. The rest of the depth chart is wide open.
If you have room to take a shot on a player very late in a draft or just want to keep tabs on some potential waiver wire prospects, Ahmad Bradshaw and David Ball true are football players that just need the opportunity to prove that game smarts and 1-2 special physical skills is just as good, if not better than, elite physical ability and a raw game.