As discussed in this space last week, the remainder of my postseason columns will feature my NFL.com Playoff Challenge roster (for as long as applicable), followed by my weekly league predictions and DFS prognostications. The further we advance in the postseason, the deeper the analysis into the matchups.



NFL.com Playoff Challenge




NFL.com Playoff Challenge Roster
QB: Lamar Jackson (x2)
RB: Mark Ingram (x2)
RB: Raheem Mostert
WR: Tyreek Hill (x2)
WR: Deebo Samuel
TE: Mark Andrews
K: Justin Tucker
D/ST: Ravens (x2)

DraftKings/Fuzzy's

Since the pick-your-studs competition with Fuzzy's and the salary cap game of DraftKings essentially use the same PPR scoring (six points for passing touchdowns with Fuzzy's versus four fantasy points with DraftKings; three bonus points for 300 yards passing or 100 yards rushing/receiving versus no such bonus with Fuzzy's being the biggest differences), I'm going to combine the two.

Below you will find my position-by-position projections. Please note I have included DraftKings' dollar value for each player, followed by their projected point total in that format (Fuzzy's and then DraftKings). Each position is sorted by my DraftKings' projected point total.

Key for quarterbacks, running backs, receivers and tight ends:
P Yds - Passing Yards
P TD - Passing Touchdowns
INT - Interceptions
Ru Yds - Rushing Yards
Ru TD - Rushing Touchdowns
Rec Yds - Receiving Yards
Rec TD - Receiving Touchdowns
Rec - Receptions


In a pick-your-studs competition like Fuzzy's, Jackson would seem to be the prohibitive favorite to finish with the most points of any player this week. In DFS, however, I'm not sure the likely point differential between him and the rest of the quarterback field is going to be enough to pay the extra $900-1500 over some other very solid options. Unlike most of Baltimore's recent competition, Tennessee has the ability to milk the clock and limit the number of possessions the Ravens get. If we merely take a look at the two teams Baltimore faced during the second half of the season that have the combination of a good running game and solid defense (San Francisco and Buffalo), we'll see those were Jackson's "mediocre" fantasy games. While Tennessee may not boast a defense on the level of the 49ers and Bills, their running game is arguably as good as there is in the NFL after Baltimore's.

There are three realistic pivots from Jackson this week that come with a bit more risk but similar upside. Even if Houston-Kansas City ends up getting played in freezing temperatures, it's hard to imagine that game not turning into a bit of a shootout - assuming the Texans don't wait until the second half this week to unleash Watson. There's no question the Chiefs' defense is playing at a higher level since suffering their last loss (Week 10 at Tennessee), but Kansas City also has not faced a quarterback playing at an elite level over that time (Philip Rivers x2, Derek Carr, Tom Brady, Drew Lock and Mitchell Trubisky). One huge change from the first game: Kansas City S Juan Thornhill will not play after going on IR. Don't think for a second his absence doesn't impact Watson's willingness to take more deep shots, particularly if Will Fuller can play a decent amount of snaps.

With the defense playing well lately, Mahomes hasn't been needed as much as most fantasy owners expected. Houston stops the run reasonably well and should be able to put some points on the board on a regular basis, which may be just the recipe Mahomes needs throw 40-plus times and at least three touchdowns.

My favorite "non-elite" option of the week is probably Garoppolo. With George Kittle playing at such a high level, Minnesota's safeties are going to be hard-pressed to take their focus off the middle of the field. With HC Kyle Shanahan's running game doing its usual thing, the linebackers figure to have their hands full at well. As such, it could become a feeding frenzy for the 49ers receivers if the Vikings' cornerbacks struggle to hold up, as was the case for the better part of the season.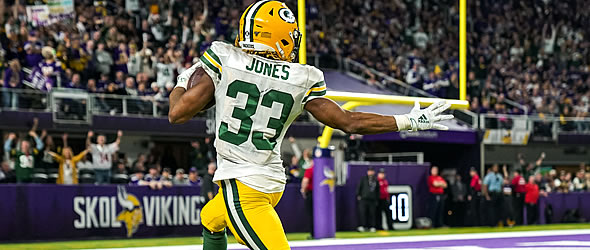 Running Backs
Player
Tm
DK $
Rec
Rec Yds
Rec TDs
Ru Yds
Ru TDs
Fuzzy
DK
Aaron Jones
GB
7,400
3
37
0
104
2
29.1
32.1
Derrick Henry
TEN
8,200
1
16
0
121
1
20.7
23.7
Dalvin Cook
MIN
8,000
4
44
0
82
1
22.6
22.6
Raheem Mostert
SF
5,800
3
26
0
73
1
18.9
18.9
Damien Williams
KC
6,000
4
35
1
46
0
18.1
18.1
Mark Ingram
BAL
6,700
2
21
0
66
1
16.7
16.7
Marshawn Lynch
SEA
4,800
2
18
0
48
1
14.6
14.6
Kyle Juszczyk
SF
3,100
2
26
1
0
0
10.6
10.6
Duke Johnson
HOU
4,700
4
39
0
26
0
10.5
10.5
Travis Homer
SEA
5,100
3
26
0
36
0
9.2
9.2
LeSean McCoy
KC
4,400
3
26
0
33
0
8.9
8.9
Jamaal Williams
GB
4,600
3
22
0
27
0
7.9
7.9
Carlos Hyde
HOU
5,000
1
5
0
53
0
6.8
6.8
Dion Lewis
TEN
3,700
2
19
0
12
0
5.1
5.1
Gus Edwards
BAL
4,900
0
0
0
43
0
4.3
4.3
Alexander Mattison
MIN
4,100
1
6
0
23
0
3.9
3.9
Matt Breida
SF
3,300
1
10
0
18
0
3.8
3.8
Justice Hill
BAL
3,900
1
10
0
11
0
3.1
3.1
Tevin Coleman
SF
3,500
1
5
0
13
0
2.8
2.8
C.J. Ham
MIN
3,100
1
8
0
4
0
2.2
2.2
Darwin Thompson
KC
3,400
1
5
0
4
0
1.9
1.9
Ameer Abdullah
MIN
3,200
1
5
0
0
0
1.5
1.5
Mike Boone
MIN
3,600
0
0
0
6
0
0.6
0.6

As my projections suggest, Jones is my top running back option of the week and there's not a particularly close runner-up. Seattle has surrendered more than 2,100 total yards and 19 total touchdowns to running backs this season. Prior to last week's Wild Card game versus the injury-ravaged Eagles, the Seahawks gave up two scores to the running back position in four straight games. In two of those contests, Christian McCaffrey and Kenyan Drake each went over 170 total yards. Even Philadelphia - with little to no threat in the passing game and a backup quarterback for most of the game - managed to get 94 yards rushing on 20 carries and 31 yards on six catches from the combination of Boston Scott and Miles Sanders. Jones should be a fixture in DFS lineups; he will be in mine, especially at the discount he offers over Henry and Cook.

I'm fairly certain I'd roll with Cook over Henry this week in DFS if I had to choose between the two (and I will undoubtedly try to work them into a few lineups with Jones), but $8000+ is a bit much for players I don't expect to have special performances. Henry could easily become a victim of game script if Baltimore comes out on fire, while the combination of injury risk and what should be a 49ers defense approaching full health could limit Cook's upside. Ingram would be a strong pivot from those owners looking for cheaper options than Henry and/or Cook, but his calf injury needs to be taken seriously. My projection for him should be considered his ceiling, as I believe Baltimore may try to hold him under 15 touches if at all possible.

Another staple in my DFS lineups this week figures to be Mostert. At $5,800 on DraftKings, he comes $900 cheaper than Ingram with less risk and $1600 cheaper than anyone else discussed to this point with similar upside. It'd be nice to see Shanahan let Mostert handle something closer to 16 touches on a regular basis than 12, but I'll rarely bet against a talented back that should be working in positive game script on a six-game scoring streak in an offense that produces mismatches and gets results as frequently as Shanahan's.

Not including the time he missed due to injury from Weeks 12-15, Damien Williams came through for the few fantasy owners who still believed in him late in the regular season. His late push was probably enough to get HC Andy Reid to commit to him as the lead back, but owners were burnt countless times this season by the Kansas City backfield and Reid's whimsical usage patterns. And if we are to believe Reid's claims that McCoy's regular-season absences were due to "load management," then it had to be with an eye toward the postseason. In that case, how can we expect much more than a split backfield?

IF it is reported between now and the start of playoff action Saturday that Ingram is going to be limited in any way, Edwards will be my flex in the majority of my DFS lineups. It's entirely within the range of reasonable outcomes he rushes for 120 yards and a touchdown if Ingram sits. It could be argued it might be even better for DFS players that Ingram starts, as it would lower Edwards' ownership and pay off in an even bigger way if Ingram leaves early or handles a lighter than expected workload.
Wide Receivers
Player
Tm
DK$
Rec
Rec Yds
Rec TDs
Ru Yds
Ru TDs
Fuzzy
DK
Davante Adams
GB
7,800
8
106
1
0
0
24.6
27.6
Tyreek Hill
KC
7,600
6
106
1
0
0
22.6
25.6
Deebo Samuel
SF
5,200
6
83
1
24
0
22.7
22.7
DeAndre Hopkins
HOU
7,400
7
83
1
0
0
21.3
21.3
Adam Thielen
MIN
6,200
6
83
1
0
0
20.3
20.3
A.J. Brown
TEN
6,000
6
72
1
0
0
19.2
19.2
Tyler Lockett
SEA
6,600
6
68
1
0
0
18.8
18.8
DK Metcalf
SEA
6,800
5
79
0
0
0
12.9
12.9
Kenny Stills
HOU
4,800
3
35
1
0
0
12.5
12.5
Stefon Diggs
MIN
5,600
4
57
0
8
0
10.5
10.5
Will Fuller
HOU
5,000
3
61
0
0
0
9.1
9.1
Allen Lazard
GB
4,500
3
44
0
0
0
7.4
7.4
Emmanuel Sanders
SF
5,400
3
26
0
5
0
6.1
6.1
Mecole Hardman
KC
4,100
2
34
0
6
0
6.0
6.0
Willie Snead
BAL
3,800
3
28
0
0
0
5.8
5.8
Corey Davis
TEN
3,700
2
28
0
0
0
4.8
4.8
David Moore
SEA
3,900
2
27
0
0
0
4.7
4.7
Geronimo Allison
GB
3,600
2
26
0
0
0
4.6
4.6
Kendrick Bourne
SF
3,700
2
23
0
0
0
4.3
4.3
Sammy Watkins
KC
4,300
2
22
0
0
0
4.2
4.2
DeAndre Carter
HOU
3,200
2
17
0
0
0
3.7
3.7
Seth Roberts
BAL
3,500
2
16
0
0
0
3.6
3.6
Marquise Brown
BAL
4,400
1
21
0
0
0
3.1
3.1
Tajae Sharpe
TEN
3,500
1
16
0
0
0
2.6
2.6
Olabisi Johnson
MIN
3,300
1
13
0
0
0
2.3
2.3
Miles Boykin
BAL
3,000
1
9
0
0
0
1.9
1.9
Demarcus Robinson
KC
4,000
1
9
0
0
0
1.9
1.9

Since he returned from his toe injury in Week 9 and through the end Week 16, Adams (78) trailed only Michael Thomas (88) and Christian McCaffrey (83) in targets. Only once over that time did Adams not see double-digit targets. Unsurprisingly, only once over that span did he finish with fewer than six catches. Some of that is a reflection on how good of a receiver Adams has become, but most would argue that his usage is more of a reflection on how little trust relative to Adams that Aaron Rodgers has in the rest of the receivers. As it relates to this week, Seattle hasn't shown much ability to slow down bigger receivers - or lead receivers, for that matter - lately, as Robert Woods (25.7 fantasy points), D.J. Moore (20.3), Larry Fitzgerald (14.8) and Deebo Samuel (24.5) all carved up the Seahawks' secondary. Adams is every bit as good as that group - if not better - and his team's reliance on him is probably heavier than anyone in that group as well.

Based on recent production, Hill is not a must-start in fantasy this week. Of course, most of us know better than to bet against him. It could be argued no one player has a better matchup. If I am correct in my belief this game has shootout potential, then there is little question Hill has overall WR1 upside. Last week, Buffalo failed to maximize the advantage it had in John Brown - a similar receiver to Hill - and he finished with 15.6 fantasy points. Don't expect Kansas City to make the same mistake. With Patrick Mahomes a good bet to throw for at least 250 yards and really no one else besides Travis Kelce likely to take a sizable chunk of those yards, it's entirely possible I am selling Hill short with my projection.

Interestingly, Houston did the bulk of its damage last week when it moved Hopkins out of the slot and allowed him to face Tre'Davious White more often. That seems notable considering how well Kansas City has defended perimeter receivers over the second half of the season. Are the Chiefs playing as well on both sides of the formation as White? Unlikely. As such, Hopkins could easily be the second-best receiver play of the week. In a pick-your-studs format like Fuzzy's, I imagine I'll line up with Adams, Hill and Hopkins. In my DFS lineups, I may alternate him with Hill in a few spots. In the Texans' Week 6 matchup with Kansas City, Hopkins finished with nine catches for 55 yards. In that game, it was clear then the emphasis was on Watson getting rid of the ball as quickly as possible. How much HC Bill O'Brien's belief in the offensive line has grown since then will most likely determine to what degree Hopkins can beat my projection.

DraftKings appears to be running a special on the 49ers this week, as I would argue each of their expected key players to this point are underpriced. The best bargain of the bunch may be Samuel, who went on a tear over the second half of the season. It was almost uncanny how often he came through for his fantasy owners, even with limited opportunities. Over the final six weeks of the season, he saw six or fewer targets five times. Despite that, he still produced at least 13 fantasy points all but one time. He even got occasional work out of the backfield as the season wrapped up and, of course, he took advantage of those opportunities as well. While it's much too early to say Samuel belongs in the same class as D.J. Moore, Kenny Golladay, Keenan Allen, Davante Adams and Allen Robinson, each of those "lead" receivers - most of whom we can consider bigger receivers - gave Minnesota trouble. As discussed earlier, the Vikings aren't going to give much help to their cornerbacks this week, so if Samuel is winning can win his individual matchup as often as he did during the season, he should be a solid DFS bargain.

There is a glut of mid-priced receivers ($6000-ish) that I have projected to post similar lines. Thielen is probably the best bet of the bunch given how much Kirk Cousins leans on him, but I'm not sure the difference is going to be significant enough from the other players I have projected in the same range (Brown and Lockett) to try to force him into DFS lineups. Owners also need to keep tabs on this week's ankle injury. If this is still an issue heading into Saturday afternoon's game, there are other similarly priced options with nearly identical upside. As for another mid-priced option, let's not forget that Fuller famously dropped three potential touchdown passes against the Chiefs in their first meeting. Positive regression could be coming for him in a big way if owners are seeking a lower-cost option with significant upside (assuming he is cleared to play this week obviously).
Tight Ends
Player
Tm
DK$
Rec
Rec Yds
Rec TDs
Ru Yds
Ru TDs
Fuzzy
DK
Travis Kelce
KC
6,400
6
72
1
0
0
19.2
19.2
Mark Andrews
BAL
5,600
5
68
1
0
0
17.8
17.8
George Kittle
SF
6,200
7
83
0
0
0
15.3
15.3
Nick Boyle
BAL
3,200
2
17
1
0
0
9.7
9.7
Jacob Hollister
SEA
4,000
3
36
0
0
0
6.6
6.6
Jimmy Graham
GB
3,300
3
34
0
0
0
6.4
6.4
Kyle Rudolph
MIN
3,400
3
31
0
0
0
6.1
6.1
Darren Fells
HOU
3,500
3
26
0
0
0
5.6
5.6
Jonnu Smith
TEN
3,400
2
25
0
0
0
4.5
4.5
Hayden Hurst
BAL
3,400
2
22
0
0
0
4.2
4.2
Irv Smith
MIN
2,600
2
18
0
0
0
3.8
3.8
Jordan Thomas
HOU
2,500
1
13
0
0
0
2.3
2.3
Anthony Firkser
TEN
2,500
1
12
0
0
0
2.2
2.2
Marcedes Lewis
GB
2,500
1
8
0
0
0
1.8
1.8

Three of fantasy football's top five scoring tight ends during the regular season are in action this weekend, giving owners in pick-your-studs competitions some hope of gaining some ground by taking someone like Andrews over Kelce or Kittle. The downside is that owners who don't go with one of these three options in DFS formats are facing long odds of keeping up with the competition if they go in another (cheaper) direction. Houston managed to keep Kelce in check (four catches for 58 yards) in the first meeting, but the majority of high-end tight ends have fared better than that versus the Texans this season. Most notably, Andrews (17.5), Noah Fant (21.3) and Jonnu Smith (16.7) had field days against Houston during the second half of the season. The Texans' defense took a big hit in Week 17 when it lost S Tashaun Gipson for the season. Gipson was added in free agency this offseason based largely on his ability to defend tight ends, so Kelce could be in a prime blowup spot.

The amount of production Tennessee allowed to tight ends this season (80-916-9) is reasonably close to Zach Ertz's final numbers for the regular season (88-916-6). Since the Titans' Week 11 bye, Jack Doyle (19.3), Darren Waller (11.2), Foster Moreau (10.4), Jared Cook (23.4) and Jordan Akins (10.4) have all reached double figures against them. Considering Andrews may be Lamar Jackson's only consistent option in the passing game and certainly appears to be his most trusted option, it could be argued Andrews has more upside than any other tight end on the board this week. In DFS, I'd be more than happy to take my chances with Andrews ($5,600) over Kelce ($6,400) and Kittle ($6,200).

If Kittle hasn't emerged as the most dominant force at tight end in the game today, he's pretty close. However, with the exception of some early-season performances that were the result of negative game script for their opponents, the Vikings have been exceptional defending the position. With players such as Anthony Barr and Harrison Smith usually serving as the primary coverage option, it makes sense why. For the sake of making a legit comparison, Kelce finished with seven receptions for 62 yards on nine targets against Minnesota in Week 9. The Vikings have allowed one touchdown to the position all season long. In short, there are other paths to take this week with more upside and less resistance than what Kittle offers/faces.

If owners absolutely must punt the position in order to get one more stud back or receiver into their lineups, I would recommend one of the "other" two Baltimore tight ends. The Ravens use multiple tight ends on such a regular basis - especially Boyle since he is considered the best blocker - that it should come as no surprise when he cashes in inside the 5 with defenses selling out to stop the run. Seattle has been awful against tight ends for the bulk of the season, so a pivot from one the top three tight ends to Graham is understandable - even if it doesn't come with much upside.

Key for kickers and defense/special teams units:
XP - Extra point
FG - Field goal
PA - Points allowed
TD - Defensive/return touchdowns
TO - Total turnovers
F Bonus - Points allowed bonus for Fuzzy's
DK Bonus - Points allowed bonus for DraftKings



Defense / Special Teams
Team
DK $
PA
Sacks
TD
TO
F Bonus
DK Bonus
Fuzzy
DK
49ers
3,000
20
2
0
2
1
1
7.0
7.0
Packers
2,800
24
4
0
1
0
0
6.0
6.0
Ravens
3,600
21
4
0
1
0
0
6.0
6.0
Vikings
2,700
27
3
0
1
0
0
5.0
5.0
Chiefs
3,200
24
3
0
1
0
0
5.0
5.0
Seahawks
2,600
27
2
0
0
0
0
2.0
2.0
Texans
2,000
27
2
0
0
0
0
2.0
2.0
Titans
2,400
34
2
0
0
-1
-1
1.0
1.0

It should not take fantasy owners very long to eliminate about half of this field. Good luck betting against Lamar Jackson and/or Patrick Mahomes, eliminating the Titans and Texans. Green Bay committed only 13 turnovers as a team for the season, which makes the Seahawks a poor option. San Francisco showed some vulnerability late, but with the defense getting heathier, the Niners may not feel overly compelled to rely on Jimmy Garoppolo as often as it did down the stretch. That would reduce whatever turnover upside the Vikings' defense has.

With seemingly no great low-cost options remaining, we are left with the four most expensive defenses left on the board. Tennessee is averaging 29.4 points over its last 11 contests and committed one or no turnover(s) over that span eight times. Considering the Titans will feature the running game so heavily and have a very realistic chance of knocking off the Ravens, I'd just as soon avoid Baltimore's D/ST. Houston has provided opponents a steady supply of sacks for the bulk of the season and could be in a bit of a compromised position again this week if they don't have Will Fuller available. If Kansas City is more successful in keeping Deshaun Watson in the pocket than Buffalo was last week, the Chiefs could be worth a play. Although the Packers have done a good job getting after the quarterback, I'd just as soon avoid betting against Russell Wilson if at all possible. Starting a defense against Seattle comes with sack upside, but Wilson does a fantastic job of mixing big-play ability with making the smart play. Regarding the 49ers defense, only six of 17 opponents registered more than one sack against Minnesota. Moreover, Kirk Cousins has only six interceptions in 16 games. As such, I would roll with the Chiefs in the majority of my DFS lineups if Fuller is ruled out and do my best to alternate Green Bay, Kansas City and San Francisco if Houston enters Sunday with a healthy offense.



---
Doug Orth has written for FF Today since 2006 and been featured in USA Today's Fantasy Football Preview magazine since 2010. He hosted USA Today's hour-long, pre-kickoff fantasy football internet chat every Sunday in 2012-13 and appears as a guest analyst on a number of national sports radio shows, including Sirius XM's "Fantasy Drive". Doug is also a member of the Fantasy Sports Writers Association.