ARI | ATL | CAR | CHI | DAL | DET | GB | LAR | MIN | NO | NYG | PHI | SF | SEA | TB | WAS

On occasion, it's good to set limits.

Of course, I'm talking about fantasy. (Outside of illegal activities, I am very much a person who supports thinking outside the box. If that comes as a surprise, perhaps you are new to my work.) Seriously though, how can we honestly expect to keep fantasy projections realistic if we don't analyze things from a macro perspective? Anyone can say David Johnson is going to get 300-plus carries or Antonio Brown will see 150 targets, but in order to give ourselves a chance to identify the players that typically win leagues - those middle-to-late rounders who outperform their draft position - it helps to be able to see how their workload could actually fit into the construct of their actual NFL team for the coming season.

Over the last two weeks, I went through the process of breaking down offensive coordinator tendencies in the AFC and NFC, highlighting backfield and target shares. That work set the table for this week, as I attempt to use that information to lay the foundation for how much players might be utilized this year. The problem with a lot of fantasy football projections is the math doesn't add up to a realistic team total in the end. Unless you are keeping a close eye on the overall play total for every team in a computer program (like I do with Microsoft Excel), it's easy to have one team finishing with 800 offensive plays and another going over 1,200 when all the individual numbers are calculated. (As a point of reference, most teams run somewhere between 950 and 1,050 offensive plays per season. A few will exceed 1,100, while a handful tend to finish with just over 900.)

As I stated two weeks ago, the one area in which my attribute-based PMA method needed to improve the most was in predicting actual opportunity. I believe I have corrected that flaw with the work I am doing this week, assuming it was even a problem to begin with. It all comes to a head next week, when I begin unleashing Big Boards like they are going out of style.

Especially for this week, I wanted to keep everything short, simple and to the point. The goal: provide quick analysis on one or two of the "team issues" that played a factor into the way I divided the workload for each team. As was the case over the last two weeks, the bolded numbers near the top are the totals for each column. While I tried to accurately project how many pass attempts each quarterback might throw, I ask that you pay more attention to the actual pass attempts and less to the individual breakdown. Also, just about every team finishes a season with several more pass attempts than targets, so if you are wondering why the targets and attempts aren't the same, that is why.

2017 Projected Total Offensive Plays: 1,055
2016 Total: 1,086

Let me start off by saying there is a bit too much talk about a 1,000-1,000 season for David Johnson from the Cardinals for my liking. With that said, they are one of the few clubs who could win their division going away if they stay healthy or finish 4-12 if Johnson can't withstand his massive workload. In fact, there isn't a single key player in the desert I am willing to trust to hold up the entire season (and maintain consistent production throughout) besides Johnson. Palmer and John Brown both carry plenty of injury risk, while Fitzgerald can't be expected to buck his recent trend of fading in the second half. The 160-pound Nelson could add 20 pounds to his frame and still be considered a poor bet to withstand the kind of punishment he is likely to receive with five or six targets per game, while Jaron Brown is recovering from an ACL tear and Chris Johnson lasted only four games in 2016. Ellington is the very definition of an injury risk. What am I saying? Say your prayers if you are counting on Arizona players this season.

2017 Projected Total Offensive Plays: 1,016
2016 Total: 995

Anytime a team makes a change at offensive coordinator, owners have a right to get nervous. Expecting a NFL play-calling neophyte like Steve Sarkisian to do as well as Kyle Shanahan is ludicrous. Expecting the Falcons to get 16 starts from all five of their offensive lineman again this season would be ludicrous as well. The 2016 Falcons were ridiculously efficient and it would have been a mistake to expect Shanahan to repeat that, much less Sarkisian. Now the good news: Sarkisian chose to learn Shanahan's system as opposed to forcing his new charges to learn his offense. He's made it quite clear he understands how much of a matchup advantage his running backs give him and he has already stated publicly Jones needs to get the ball in the red zone just about any time the defense even thinks about trying to guard him with one cornerback. Once the Falcons get into the meat of their schedule, they will probably realize Jones needs to be fed the ball everywhere else as well. (More on that next week.) An equally big takeaway (assuming Jones getting targeted nearly two times per game more than last year isn't breaking news): Hooper should finish as a top-15 tight end. Even if Gabriel doesn't see his role in the offense scaled back (I believe he will), Jacob Tamme leaves behind 31 targets from last year and finished with 81 in 2015. That alone is enough for Hooper to make the jump.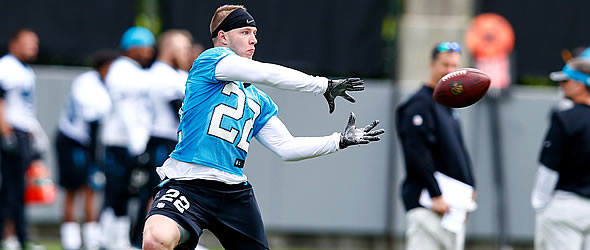 McCaffrey performing like a rich-man's Danny Woodhead would be just fine for fantasy owners.
2017 Projected Total Offensive Plays: 1,069
2016 Total: 1,052
Perhaps no team has beat the drum to their own philosophical change more than the Panthers. Perhaps no player on their team is creating more of an "I have no idea what he is going to do in 2017" response than McCaffrey. While things in the NFL are never as simple or complicated as we make them, asking McCaffrey to average 4.75 targets in a role he was drafted to fill and 10 carries as the backup running back in an offense that usually pushes 500 carries AND is trying to reduce the number of hits on Newton isn't asking too much. Maybe the rookie is nothing more than a rich man's Danny Woodhead this season, but is that so bad if that is his floor? His ceiling? How about 250 carries and 70-80 catches if Stewart succumbs to injury early. (I'm not kidding.) I'm going to go out on a limb and say there is only about a five-percent chance he disappoints owners at his current early fourth-round ADP in PPR formats if he plays in all 16 games.
2017 Projected Total Offensive Plays: 962
2016 Total: 967
Howard seems to have halted HC John Fox's insistence on committee backfields for now, so I'll turn my attention to the receiver position. I was tempted to make White the top receiver in this offense given the Bears' desire to feature him in 2016, but Glennon's recent recommendation of Meredith has me believing the offense will instead give the former undrafted free agent every chance to follow up on last season's unexpected success. Of course, it helps White has yet to stay healthy for any length of time. If he manages to do so in 2017, then Chicago should have a pair of 100-target receivers and some long-term stability at the position. Obviously, I'm expecting less than a full slate from White above and a bunch of complementary production everywhere else. And no, I didn't forget Zach Miller. Given his age, injury history and where the team is at in terms of its readiness to compete, I don't expect him to make the team.
2017 Projected Total Offensive Plays: 985
2016 Total: 1,010
The league's refusal to completely drop the Elliott investigation suggests a suspension is coming. A loss of G Ronald Larry and RT Doug Free makes trusting the venerable Cowboys' offensive line a bit tougher, even if they did keep their most important assets. Last but not least, Dallas' secondary was ransacked in the offseason, and while the additions the team made to its defensive backfield should end up being a net positive, asking for it to show in Year 1 is a bit much. All this is to suggest the Cowboys may be force to play from behind a bit more often in 2017. Will Dallas respond by making it Dak's team? If so, it may be a mistake, and not because Prescott can't possibly maintain his level of play, because I think he can. First and foremost, the schedule is ridiculously difficult for Bryant (something we'll go into more detail next week), so any downturn in game script and/or offensive line play could sink this offense in a big way.
2017 Projected Total Offensive Plays: 982
2016 Total: 981
Abdullah was an absolute workhorse at Nebraska, but the Lions have given little indication they plan on using him the same way through two seasons (albeit he was limited to two games in 2016). Since OC Jim Bob Cooter took over the play-calling duties prior to Week 10 of the 2015 season, Abdullah has yet to carry the ball more than 16 times. In those 10 games in which Abdullah has suited up, he has as many games with fewer than 10 carries as he has double-digit carry games (five apiece). Since the team did not address that position in the draft, one can only assume they like what they have on the depth chart and/or have no interest in making much of a commitment to the ground game. Considering the Lions' significant holes on defense, it may not matter if they were.
2017 Projected Total Offensive Plays: 1,004
2016 Total: 1,029
In fantasy, we tend to associate volume with production. Most of the time that is case, but Rodgers is all about efficiency and always has been. His 610 pass attempts in 2016 were easily a career high, so don't expect that to happen again this year. (His previous career high was 572 in 2015.) HC Mike McCarthy believes in a strong running game (435 attempts each of the previous two seasons before 374 last year), so owners can count on the Packers to find a way to run the ball 27 or 28 times on average in 2017. McCarthy threw his support behind Montgomery in a recent interview with NFL Network and seemed to attribute his lack of effectiveness in pass protection to lack of reps, which seems like a convenient thing to do before the season starts and a blown assignment leads to Rodgers getting blindsided. Williams remains a savvy late-round pick and strong candidate to end up splitting work with Montgomery by the second half the season, but it appears to be (mostly) Montgomery's show for now.
2017 Projected Total Offensive Plays: 975
2016 Total: 960
It's a sad state of affairs when the health (or lack thereof) of Dunbar swings the pendulum in the right direction for a talent like Gurley, but the former's knee injury - the extent of which has yet to be determined - on July 31 may be just what the latter needed to see the kind of passing-game involvement he should have. Making the offense less predictable (by keeping the same back in the game the majority of the time) is something the Rams should be striving for given their receiving corps, which would be a solid group if it was serving as a complement to a star wideout. At any rate, Woods is easily the best bet of this bunch to reach a 20-percent target share playing the Pierre Garçon role in HC Sean McVay's offense. If the Rams become the latest in a long line of DC Wade Phillips' defenses to enjoy huge success in his first year with a team, then McVay can probably afford Kupp to be strictly a chain-moving slot receiver in the Jamison Crowder mold as a rookie.
2017 Projected Total Offensive Plays: 981
2016 Total: 1,006
Assuming OC Pat Shurmur decides to keep the same small-ball offense he employed last year intact and Diggs can stay healthy for 16 games, he has a great chance to finish among the top 10 receivers in PPR formats. But the bigger story (and value) could/should be Thielen, who was already on an 80-target pace last season before averaging 10 over his final four complete/healthy games. Some may question whether he can maintain a heavy target share given the possible/likely improvement from Treadwell and possibly Floyd, but those two big-bodied receivers are more likely to steal a few red zone looks from Rudolph than eat into Thielen's looks down the field.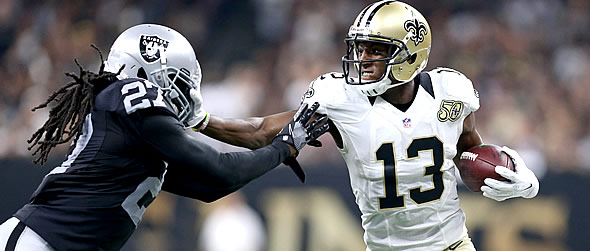 If the Saints get their running game rolling, there won't be much room for Thomas' targets to increase.
2017 Projected Total Offensive Plays: 1,071
2016 Total: 1,105
During the Brees/Sean Payton era, no receiver has ever topped a 23-percent target share. That's still a pretty high bar, mind you, but if the Saints get their running game rolling like they want to, there won't be much more room for Thomas' targets to increase, even if his share does. (He was at 18.2 percent last year for an offense that threw the ball 674 times.) Snead's piece of the pie is going to increase and Ginn should be good for at least 50-60 percent of Ginn's old 110-120 targets. It all boils down to whether Brees will, for the first time as a Saint, force-feed the ball to one receiver. History says he won't, so owners should be happy if Thomas simply matches last year's production.
2017 Projected Total Offensive Plays: 1,003
2016 Total: 1,018
Beckham getting a 25-percent target share should be pretty much a guaranteed thing barring injury. How the shares are divided after that is the big question. My reference point for this year's offense is HC Ben McAdoo's first Giants' offense in 2014, which found a way to pepper Rueben Randle with 127 targets and Beckham with 130 despite the fact he missed the first four games of the season. Larry Donnell even chipped a mindboggling 92 targets. In other words, there should be more than enough volume for two high-end fantasy receivers and enough left over for Shepard to be in the WR4 conversation. And if Manning is anywhere as inconsistent this season as he was in 2016, volume is going to be important.
2017 Projected Total Offensive Plays: 1,000
2016 Total: 1,080
The Eagles' primary objectives this offseason were to surround Wentz with playmakers while reducing the degree to which he needs to carry the offense. Check and check. Balance figures to be key in the passing game, especially considering the brutal slate Jeffery has in front of him, and it should come as no surprise if Philadelphia fails to have one receiver top 100 targets. The same balance may apply to the running back position, which could easily see three players amass at least 100 touches. Obviously, a relative lack of opportunity for everybody makes this offense, which should be substantially better in 2017, one in which they are several fantasy-viable players. However, it is possible none of them will consistently deliver the goods on an every-week basis.
2017 Projected Total Offensive Plays: 984
2016 Total: 996
I'm torn on Hyde, and it has everything to do with new HC Kyle Shanahan's recent comments about him. Hyde hasn't shown an ability to thrive in anything outside of a shotgun-based running offense (Ohio State and Chip Kelly's offense last year), plus I don't think he can thrive in an outside zone-running scheme. Last but not least, his penchant for missing multiple games makes him a tough player to recommend. I was willing to look past GM John Lynch's comments over the weekend about Hyde's conditioning as an executive doing what he can to increase trade value, but I take Shanahan's praise a bit more seriously. Does conditioning and commitment make Hyde a better player, and perhaps just as importantly, a better fit for Shanahan's offense? It can't hurt, and it may even allow him to play a full schedule. Consider me still very skeptical, but less so than I have been since the team drafted Williams.
2017 Projected Total Offensive Plays: 989
2016 Total: 1,012
The Seahawks want to run the ball 500 times. In fact, last year marked the first time since 2011 they failed to do so. Granted, it helps Wilson usually supplies about 20 percent of that total, but the running game is a priority to be sure. Figuring out how Seattle will split the other 400 attempts with a trio of injury-prone running backs is the real mystery. Owners are playing it smart by not pretending Lacy is going to be the next Marshawn Lynch, but Lacy's contract is a clear indication the team wants him to be the leader of the backfield. The Seahawks probably need to protect Rawls from himself, as his maniacal running style opens him up to a ton of punishment. As far as Prosise is concerned, would anyone be surprised if we are talking about him next year in the same way we are talking about Ty Montgomery this year? I wouldn't. In the end, Seattle would probably be happy with all three backs getting at least 100 touches and enjoy the problem of figuring out how to split the remaining 100-150 three ways.
2017 Projected Total Offensive Plays: 1,019
2016 Total: 1,066
While the Buccaneers continue to send mixed messages on what they plan on doing with their backfield to open the season and following Martin's return, we'll focus on the receivers. Evans drew 173 targets last year but only 70 during the team's 6-2 finish. It's hard to believe a team that wants to run the ball and just added Jackson will lead to increased looks for Evans. Fortunately for Evans and Jackson, Tampa Bay added O.J. Howard and figures to run even more two-tight sets than last year (the Bucs ranked second in the league with 329 snaps in "12" personnel, using one back and two tight ends 31 percent of the time), keeping players like Humphries from stealing their targets. Regardless, Evans will likely need an injury to Jackson in order to have any chance at coming close to repeating last season's fantasy production.
2017 Projected Total Offensive Plays: 1,008
2016 Total: 1,009
Few teams have one position in which the perceived backup (or complementary piece) could ultimately become the most valuable player from that team at that position in fantasy. The Redskins have two. Perine is a second-stringer at the moment but the favorite for goal-line work in what should be a good offense. Kelley has reportedly done everything in his power to improve his game and certainly caught the eye of HC Jay Gruden. Thompson appears to have no challenger for work on passing downs. It would be one thing if Washington had a stout enough defense to play conservatively in order to give its backfield 500 carries, but that's probably not going to be the case. Despite his improved physique, Kelley is still a league-average talent until proven otherwise and best suited to be a complementary back. Thompson is pretty much already locked into a complementary role himself, so the easy deduction could (should?) be that Perine will pass Kelley on the depth chart at some point.
Pryor is an easy player to love given his story and extraordinary athleticism, but he figures to suffer from the same schedule-related syndrome Dez Bryant and Alshon Jeffery will. (Again, we'll cover this next week.) So while goes in the mid-to-late third round of fantasy drafts and gets off to a good start this season, owners should rest easy when he faces perhaps the most challenging run of pass defenses any receiver will face in November and December. To be clear, Crowder isn't getting off easy himself late in the year, but he was already being counted upon to assume a huge role in this offense anyway and won't draw primary coverage from "shadow" corners. He didn't need the benefit of lining up in the slot (which he will) or an easier slate to help him see more targets than Pryor, but he is going to have that working in his favor as well. Unless Pryor takes on an OBJ-like role in this offense or Crowder gets hurt, Crowder is the Washington receiver owners should want in fantasy come playoff time.
AFC | NFC
---
Doug Orth has written for FF Today since 2006 and been featured in USA Today's Fantasy Football Preview magazine since 2010. He hosted USA Today's hour-long, pre-kickoff fantasy football internet chat every Sunday in 2012-13 and appears as a guest analyst on a number of national sports radio shows, including Sirius XM's "Fantasy Drive". Doug is also a member of the Fantasy Sports Writers Association.