The Divisional Round of the 2017 NFL postseason continued a recent trend as the most exciting round of the playoffs, with the Vikings defeating the Saints on a last-second improbable touchdown grab by Stefon Diggs, and the Jaguars going into Pittsburgh to beat the overconfident Steelers for the second time this season.
Leonard Fournette and Le'Veon Bell dominated for DFS owners, with the two players combining for five touchdowns in what turned out to be a shootout at Heinz Field. In the AFC, Tom Brady cruised to a 337-yard, three touchdown game as the Patriots easily defeated the Titans in route to their seventh connective AFC Conference Championship game.
I was fortunate to own both Brady and Bell on my cash game ticket this week, but unfortunately, the surrounding cast in my lineup did not come through with enough supporting production to defeat my opponent.
Below is a review of my losing cash game ticket, including an explanation why I went with two tight ends.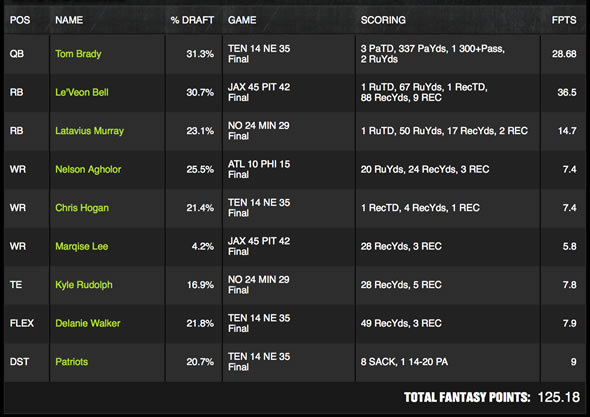 Quarterback: Tom Brady
Points: 28.68
Grade: A
Brady was the no-brainer start in cash games for a multitude of reasons. First, the Patriots had the easiest opponent of the four games this weekend, and I love playing Brady at home in the playoffs. Second, an angry Tom Brady is always a good thing to own in DFS, as the Patriots took out their frustrations of having to deal with a reset article suggesting dissension between Brady, Belichick, and Robert Craft. Although he didn't go bananas against the Titans, I am more than happy to get nearly 30 points in a cash game from my quarterback.
Running Backs: Le'Veon Bell and Latavius Murray
Combined Points: 50.2
Grade: A
I identified Brady and Bell as my foundation players for this stack based on the theory that they would give me at least 50 points to build around. With Bell Scoring 36.6 and Brady posting 28.68, that assumption proved to be correct.
Murray seemed to have the best chance of scoring a touchdown among the sub 6k running backs and his relatively small salary allowed me to spend up for Brady and Bell. Murray's 2.6 yard per carry average was a disappointment against a Saints team that allowed the 18th-most points to opposing running backs, but he did manage to score a rushing touchdown and salvage his day.
Wide Receivers: Chris Hogan, Nelson Agholor & Marqise Lee
Combined Points: 20.6
Grade: F
The remaining players on my ticket after Bell and Brady all disappointed, starting with my receiving corps of Hogan, Agholor, and Lee. The three wide receivers combined for just nine receptions on the day, with only Hogan managing to reach the end zone.
I knew that going with two of the most expensive players in Bell and Brady would limit my options at wide receiver, but this was a calculated idea based on the fact that I was not very excited about the elite level of wide receivers. Antonio Brown was a consideration, but I was worried he would re-aggravate his calf injury.
I was high on Agholor as a possible high volume player for Nick Foles, with Desmond Trufant shadowing Alshon Jeffery on the outside. Instead of Foles looking to Agholor as an outlet, Foles spread the ball around to eight different receivers, completing 23 of 30 passes for a modest 243 yards.
Tight End: Kyle Rudolph
Points: 7.8
Grade: C-
Rudolph caught a touchdown when Vikings played host to the Saints Week 1, and he has been more active in games against opponents with strong cornerback play. The logic behind him garnering more action against the Saints proved to be correct, as Rudolph posted a season-high eight targets. Unfortunately, he managed to only turn those targets into five catches for 28 yards and zero touchdowns.
Flex: Delanie Walker
Points: 7.9
Grade: D
I had 5k left to spend from my budget, and I was not impressed with my options at wide receiver and running back for my flex play. Of the remaining players available to start for 5k or less, Walker appeared to have the most volume upside as Marcus Mariota's most reliable option. The volume was there with six targets for 49 yards, but Walker did not reach the end zone as anticipated.
D/ST: New England
Points: 9
Grade: B-
Picking a DST in the playoffs is a bit more challenging than in the regular season, as playoff teams by nature are usually well coached and do not give up D/ST touchdowns. A return touchdown is always a bonus, by I usually target a D/ST that is playing against a quarterback who will extend plays and open themselves up to getting sacked. I went back and forth between Pittsburgh against Blake Bortles and the Patriots vs. Marcus Mariota. My budget did not allow me to go with Pittsburgh, and in hindsight, the Patriots turned out to be the better play.